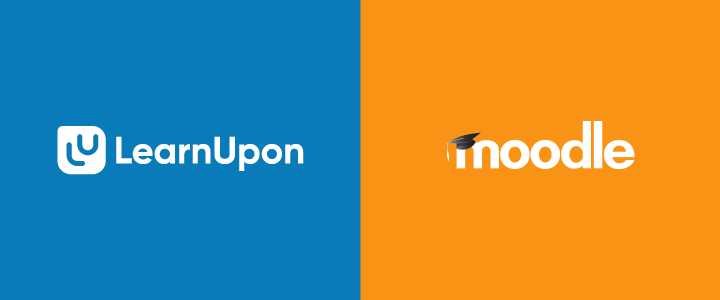 5 min reading time
Moodle vs. LearnUpon Cloud LMS – How to Choose?
Choosing between an open source and cloud-based learning management system is one of the most important eLearning decisions many organizations face. At LearnUpon, we often hear from businesses that chose Moodle as their first LMS, only to find that it wasn't the right fit. Moodle can be a good option in some learning and training environments. But despite its low cost and flexibility, Moodle's not the best learning platform for every organization.
In another post, we've taken a look at Totara vs LearnUpon Cloud LMS and how both compare.
Moodle's weaknesses even make it a potentially costly choice for those with conflicting needs and requirements. If you're thinking about switching from Moodle to a cloud LMS, this list of the pros and cons of both options will help you to make the right decision.
Moodle – or Modular Object-Oriented Dynamic Learning Environment – is used mostly in education settings, chosen by thousands of schools, colleges and universities to deliver online courses to students. Decision makers from other areas are sometimes attracted to Moodle when they hear that it's free (which it kind of is) and can be openly customized (if you have the resources). But with these benefits come serious downsides that prove costly for businesses.
Companies should be skeptical of the value of a "free" learning platform and aware of the costs accrued by the resources needed to maintain, update and support any eLearning system.
If you've experienced these issues and are considering switching from Moodle, there are a few factors you must assess. By focusing on the nature of your organization's training needs, you'll be equipped to choose the best solution for your admins and learners.
Moodle v. cloud-based LMS: how to choose
| Need | Moodle | LearnUpon's cloud LMS |
| --- | --- | --- |
| Do you have a budget for an LMS? |  No |  Yes |
| Does your team include a Moodle expert? |  Yes |  No |
| Do you have a dedicated Moodle resource? |  Yes |  No |
| Would you benefit from quick and easy set up? |  No |  Yes |
| Could you use free 24/7 technical support? |  No |  Yes |
| Do you want a simple interface admins and learners enjoy using? |  No |  Yes |
| Are your admins and learners highly technical? |  Yes |  No |
| Do you want to constantly customize your LMS? |  Yes |  No |
| Do you need to easily manage groups of users and learners? |  No |  Yes |
LearnUpon is the best fit for your organization if:
You have a budget for a cloud learning management system. If your organization has a training budget, purchasing a cloud LMS is a smart move. By investing a fraction of your budget in an LMS, you'll enjoy the security of a commercial platform that offers professional development and support services. Not all learning management systems are expensive either. You can find one that fits your budget, however limited. .
You value the security of technical support. As with any software installation, there are a number of technical issues that can arise during the setup and use of a learning management system. With an open source solution like Moodle, your team is left to resolve these alone. A good cloud LMS vendor, on the other hand, should include support in their packages. If you choose LearnUpon you can rely on free 24/7 technical support as standard.
You'd like quick and easy set up. A cloud-based LMS is a product that's been developed to be easy to set up and use. Many of the decisions you face when you select an open source solution like Moodle will already have been tried and tested. With a commercial LMS, a full set of features are ready to use at purchase, requiring no additional configuration or customization. LearnUpon customers are up and running delivering courses minutes after they purchase.
You'd like a learning management system that's easy to use. A good cloud LMS vendor will have invested resources in researching and developing features that make delivering and completing courses easy for users, admins and learners. They'll have spent time researching and developing UX and UI, so that the interface is as intuitive as possible. Open source solutions like Moodle tend to be more difficult to navigate, lacking resources to invest in impactful research and development processes.
You'd like strong reporting features. Most cloud-based LMS providers understand the nature of your learning and training environment. As a business, they should know that measurement is essential to the successful delivery of eLearning and provide a full set of reporting features that allow you to improve the effectiveness of your courses.
Moodle might be a good eLearning system for your organization if:
You have no budget to purchase a cloud learning management system. The perception of low cost is the main driver of Moodle's popularity. For those without a budget, an open source solution like Moodle might be the only option. But if your organization has a budget, remember to add up the hidden costs you'll need if your team spends hours installing, configuring and maintaining open source software. You'll need to purchase servers to host Moodle and ensure the platform can handle content for all learners. With a cloud-based LMS like LearnUpon, you don't need to worry about technical specs. Your LMS vendor will manage all of that for you.
You have a large in-house IT team that includes a dedicated resource with Moodle expertise. Even Moodle's advocates admit that the eLearning system is not for the faint-hearted. Although Moodle can be downloaded for free, someone must be available to install, configure, maintain and update the platform. Because Moodle isn't a commercial product, you won't turn the key on an intuitive feature set that's ready to use. While the breadth of customization options can be attractive, it also generates a lot of extra design choices that must be made by your team. With Moodle, you lose the benefit of having a team of professional experts who have refined features over multiple iterations and tested user-friendly design choices for you.
You don't need technical support. Lack of support is a famous Moodle drawback. If you go with Moodle, your team will need to own everything from designing the platform at the highest level to managing all technical issues, breakages and bugs. All future updates and security patches for the platform must be handled by your team. And every time a new version of Moodle is released, all courses, modules and components must be individually updated to stay compatible. You should only choose Moodle if you're fully comfortable with proceeding without external technical support.
You require a lot of customization. Freedom is one of Moodle's most-loved features. If your needs are complex and unpredictable, an open source solution like Moodle is probably the best option. You'll have access to a library of free plugins that allow you to tailor the platform almost any way you like. But if that sounds attractive, remember that customization can be time-consuming and should be properly resourced.
You manage sophisticated users and learners with great technical skills. Even Moodle's most passionate fans admit that the platform isn't easy to use. This technical difficulty makes Moodle a poor choice for businesses and associations charged with delivering courses to a range of learners of varying backgrounds and skill-levels. A serious risk of selecting an open source option like Moodle is that learners become distracted from completing their courses by the complexity of the LMS itself, jeopardizing results and completion rates.
Reporting doesn't matter. Reporting is widely acknowledged as a major Moodle weakness. You should only choose Moodle if you're happy to proceed with the most limited reporting options that give a partial sense of user, course and system performance.
Neither an open source nor a cloud learning management system is the right fit for every organization. If you're still struggling to decide, think about where most of your needs fit with the strengths and weaknesses above. A clear sense of how things like budget and support matter to you should make your decision a little easier.