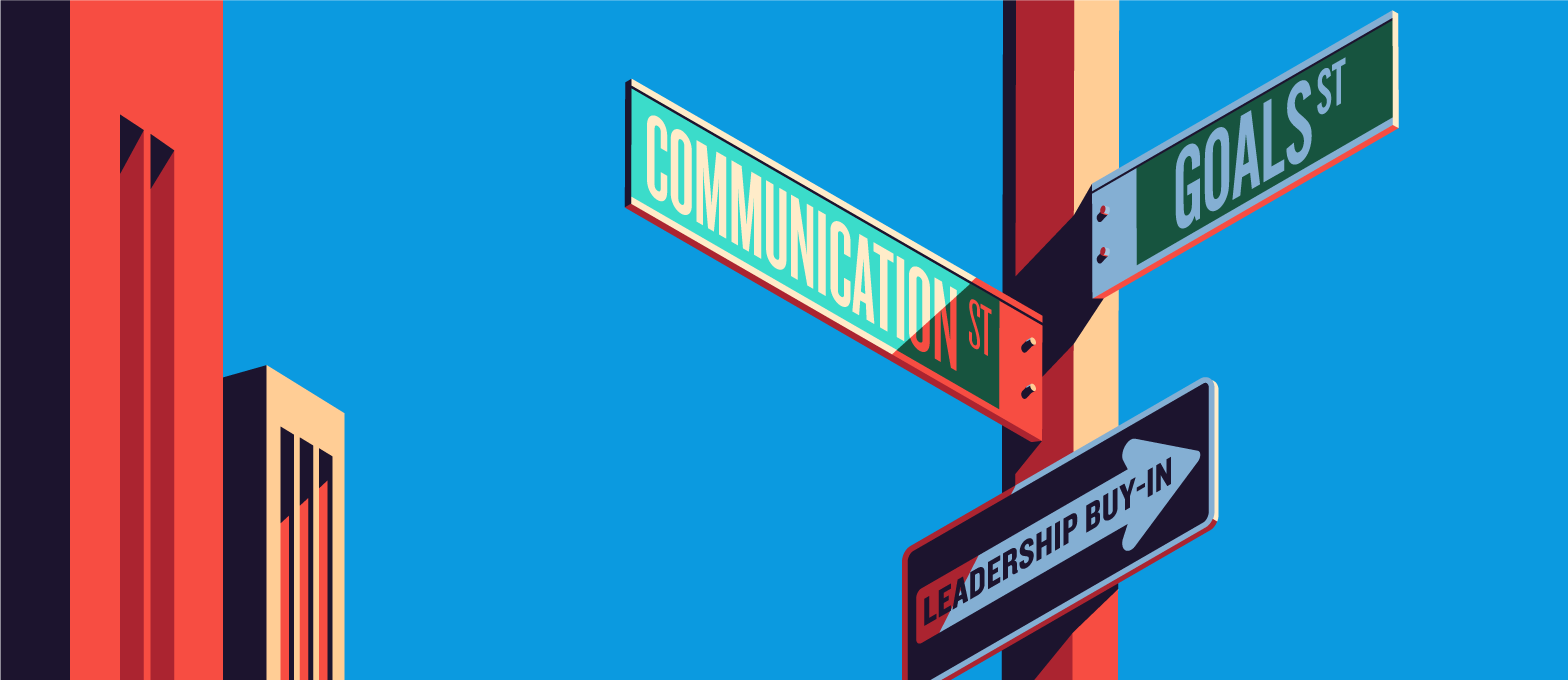 4 min reading time
Leadership Buy-In: A Guide to Training Success
It's every learning leader's dream to create a training machine within an organization that truly contributes to success. As the Chief Learning Officer, Head of L&D, or Training Director, it's what you are here to do. But, how do you get there? 
The C-suite often views learning as a box to be ticked. It's the "we've heard we should do it, so we'll create a learning team" reasoning, and once it's formed the team is left to their own devices. But that's underselling its value and constraining the impact your team and your learning strategy can have on the organization. 
As the learning leader, we want to not only help you become the internal advocate for training but also show you how to work with your C-suite team to create a truly successful strategy that elevates your corporate learning to new heights. 
The disconnect between learning and leadership
Most know first-hand that what you want as a learning leader isn't necessarily the same as what the Director of Customer Success or Head of Sales wants for their team. Your goal could be to increase late-stage customer retention through product-update training. So, if your Sales and Success teams are focused on new customer acquisition and onboarding, something is off.
This leads to a gap in strategic alignment, making it difficult to demonstrate how your training initiatives connect to the business's goals. 
McKinsey  said it best in their analysis of a Brandon Hall Group study on the business impact of learning strategy: 
"Only 40 percent of companies say that their learning strategy is aligned with business goals. For 60 percent, then, learning has no explicit connection to the company's strategic objectives. L&D functions may be out of sync with the business because of outdated approaches or because budgets have been based on priorities from previous years rather than today's imperatives."
Because of this fracturing, there's a lack of awareness on the impact that learning can, and should, have on an organization. Here's an extract from Degreed that sums up this divide:
"The disconnect between C-suite executives and enterprise learning strategies often comes down to impact."
So, how do you communicate your needs as a learning professional, to your peers? Put aside your departmental differences and focus on what you have in common to get meaningful results. 
Bridging the gap
The role of a learning leader
Learning and development is a crucial part of any organization. You take the time to understand the business's strategy and future needs, which is then woven into the type of training you offer. You create a tapestry of skills and learning initiatives that equip your learners with the best tools to do their jobs, and benefit the overall goals of your business. 
There's certainly no 'quick fix' solution to gaining leadership buy-in. Instead you'll need to put the time in to understanding the needs of those you train. 
Getting leadership buy-in
Communication
Open up the lines of communication and talk to other C-suite members. Find out what they expect from the learning team, and crucially, how training can help their teams reach their goals. You want every department from Sales to Customer Support and Success to HR, to understand how training impacts the way they function for the better. We discovered, in our recent survey, that 57% of learning leaders wanted clearer goal setting within the organization. Without straightforward guidance, goals can't be achieved to their full potential. 
Strategic alignment
Once you've opened up inter-departmental communication, you can start to align your strategies and feed into the overall organization's goals. For example, increasing revenue by X% or reducing employee churn by Y% through employee training, will lead to increased productivity. But you can get more granular than that. Internally, you might hear that employee engagement is low, leading to a high turnover. So, you talk to HR and find out that they have a set of goals to increase employee retention by 10% by the year's end. All you have to do is find a way for your training to aid HR in achieving that goal. 
Goal setting 
Your learning team should consider seeing beyond completion and engagement rates as metrics. Instead, speak the C-suite's language. Talk about how a training course influences revenue and how training impacts the goals the company sets.
When in doubt, focus on the facts and stats. Don't know where to start? This on-demand webinar, Forecasting ROI: Assessing the Potential Value of Your Programs, will help you to grasp the basics of ROI, and utilize your initial calculations as a way to set your goals.
Regular input
It's crucial to keep up communication open between leadership. Find out what noticeable impact they've observed through your training initiatives. And above all, demonstrate these impacts and achievements through tangible reports, which you present to your C-suite team.
Sell your training as a way to solve some of the Chief Sales Officer's (CSO) challenges. Don't just say employee training will increase retention rates. Establish that this training will boost, for example, the Sales team's performance by giving them the skills they need to create a campaign that aligns to your business's revenue increase goals. 
For further insight on this approach, we love this post from Degreed on how to demonstrate the benefits of your training initiative. 
There's no one size fits all solution to gaining leadership buy-in. It's not an easy challenge, but it is achievable. Make sure to communicate, gather feedback, and demonstrate the value that your team is adding to the business. A whopping 60.5% of organizations we surveyed didn't measure the return on investment of their training. If you fall into that category, and want to find out more on how to measure your training's ROI, we recommend reading this eBook.