What is an LMS?

The search for an LMS is a little confusing at first. At LearnUpon, we like to simplify things. That's why we've created this guide on the basics – What is a learning management system? What are the most important features of an LMS? What benefits can an LMS offer to you and your learners? And what's the best LMS for you?
What is an LMS?
When tasked with finding a suitable LMS, often people don't even know what an LMS is. Don't worry. Most people have used an LMS at one point, some without even realizing it.  Here's an explanation of what is a Learning Management System? And what does an LMS do? Some basic information:
The definition of an LMS is:
"A learning management system (LMS for short) is a software application that is used to administer, track, report and deliver training"
In simple terms, a Learning Management System or LMS, allows you to create, deliver and report on training courses and programs. That's it boiled down to its most simple form. Similar to describing accounting software, as software that helps you do accounting. There's much more detail involved, but that's a good start. 
There are hundreds of LMSs to choose from. Each is different. This is why businesses find the process of selecting an LMS complicated.
Types of Learning Management System
There are a couple of broad types of Learning Management Systems for you to choose from. To help you decide which is for you here's an explanation of them:
Open source versus Commercial
Open source LMSs are 'free' and commercial ones incur a cost. The old phrase "there is no such thing as a free lunch" comes to mind here. Open source LMSs require a lot of set up, hosting, maintenance and upgrades to keep afloat. This can actually prove to be more expensive than a subscription or license to a commercial LMS for your organization.
Installation versus Cloud-based (Saas)
The choice here is whether to install a Learning Management system on your organization's hardware or to use a cloud-based service. Some organizations go the route of a full installation due to their network limitations. Most companies opt to use cloud-based, software as a service (SaaS) to avoid all of the work, upkeep and additional cost.
A Deeper Look at Cloud LMS options
The best LMS for your business depends on your circumstances. One of the major choices used to be whether to choose an installed LMS or a cloud-based one. In recent years cloud-based LMSs have become the popular choice. The ability to access your LMS in a browser anywhere, at any time is more convenient. It maps better to your learners' workstyle too. 
A cloud-based system is one that doesn't require you to install specific hardware or software in order to access and use it. By logging into a website you can access the features of the software. 
A cloud-based LMS most likely uses a Saas business model. Our friends over at Salesforce explain the benefits of Saas very well:
"Instead of installing and maintaining software, you simply access it via the Internet, freeing yourself from complex software and hardware management. The provider manages access to the application, including security, availability, and performance. SaaS business applications are usually accessed by users using a thin client via a web browser."

Name
Benefits of cloud-based/Saas software include:
Higher adoption

Lower upfront costs

Zero maintenance/upgrades of software

Easier integration
Who uses an LMS
The simple answer is anyone who is delivering training. An LMS makes this a manageable tasks. It reduces the time spent on course creation, delivery, and reporting. This is especially true at scale. There are many different types of organizations that use an LMS here are some common examples:
Small to medium enterprises use an LMS to reduce the amount of time people are spending on training. The find training is laborious and time-consuming to do manually. It frees up time to do other tasks.

Large enterprises use an LMS to handle larger scale training efforts. And to train different audiences. This includes

employee training

for compliance and

onboarding

. And also extended enterprise training – training partners, resellers, and even their customers.

Companies that have a product use an LMS to

train their customers on the product

. This includes software companies, medical device providers, and many others. The

benefits of this type of training

is a reduction in customer attrition/churn and a more engaged, valuable customer.
What is an LMS used for?
We're often asked by businesses who have been introduced to our LMS "how do your customers use it?". The answer is that every one of our customers has their own unique approach. However, we can distill down the hundreds of stories into a high-level list:
Employee Training

and

onboarding

– An organization is training their own staff

Extended Enterprise

–Training to learners external to the organization such as partners, resellers or customers

eCommerce

– Selling eLearning courses on a storefront so that a person can purchase a course without any manual effort required by the vendor.

Client focused – Providing training to the clients of

training companies

. Each client can be given their own partition of the LMS called a

portal

.

Compliance Training

– Tracking the completion of mandatory courses, credits or certification in order to have evidence of compliance.

Association – Using an LMS to provide their members with an LMS to purchase and take courses.
What are the benefits of an LMS
An LMS can be a valuable tool if your organization has training needs. Not only can it help your learners, it can also significantly benefit you and your organization as a whole.
Saves time
Compared with traditional training (face-to-face sessions), a system like LearnUpon can optimize your training process.
With traditional training, your learners have to take time out of their day, miss work, travel – it's inefficient. 
Implementing an LMS fixes this. Learners can log in to your platform to complete courses wherever they are. Whether it's on the bus to work, during a coffee break or setting aside half an hour at their desk, there are significant time savings for them and for you.
Cost reduction
Traditional learning not only wastes time, it wastes money too. Instructors, training days, travel costs, training materials, location hiring – the list goes on and it adds up. Getting a system like LearnUpon cuts these costs down.
By creating economies of scale you reduce costs even further. Your training is all online meaning your learners can train at any time. It's a valuable bonus that really impacts your bottom line.
Adaption and reusing training materials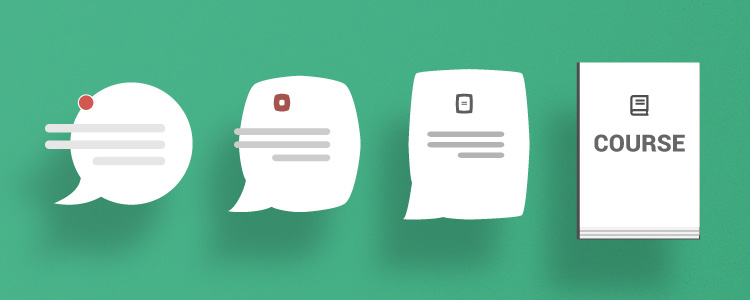 Uploading your pre-existing training materials fast tracks your training efforts. Using files like powerpoints or PDF or uploading or embedding video content, courses can be built quickly and at no extra cost. You also don't need any technical expertise.
Greater choice of training methods
With an LMS you can choose a number of different approaches to training and use the most appropriate one for the situation or subject matter. Choose from various media types, assessments, and even blend live and on-demand content to suit your business's needs.
Automation
One of the big pain points for many businesses wanting to train is trying to organize it. From notifying learners to enrollments to tracking completions – it's a lot to micro-manage.
With a learning management system, laborious tasks become automated. You can automatically add learners, enroll them in the appropriate courses, roll out exams, issue certificates, and access reports. It leaves you free to get on with more important tasks.
Reporting
One of the biggest benefits of a learning management system is the invaluable data you get. You can get endless reports like exams completion rates, training histories, course progress… the list goes on. 
These are stats that give you real insights and show you how your training is impacting your bottom line. These reports can be run on an ad hoc basis or scheduled to automate the process.
Centralized training
With an LMS your course content, data, and training materials are all in one handy place. Your learners can effortlessly access courses and you can deliver consistent, effective training to everyone across your organization.
Features of a Learning Management System 
There are many LMS options on the market that cater for various use cases and organizations, thousands in fact.
Each LMS has a different feature set. There are some features that are deemed to be 'standard' and will give you a good basis for understanding what an LMS is. The most basic use of an LMS is for someone to create training programs, enroll learners and then report on the completion of training. 
(We have a long list of the features LearnUpon has to make it easier for those creating shortlists etc)
Here is a list of the most popular/common features you'll find in an LMS:
Creating courses
LMSs generally allow you to either upload your pre-existing training courses or to create courses by uploading each module. ELearning has its own set of standard file types so that your courses should work on any LMS (so long as the LMS adheres to the standards).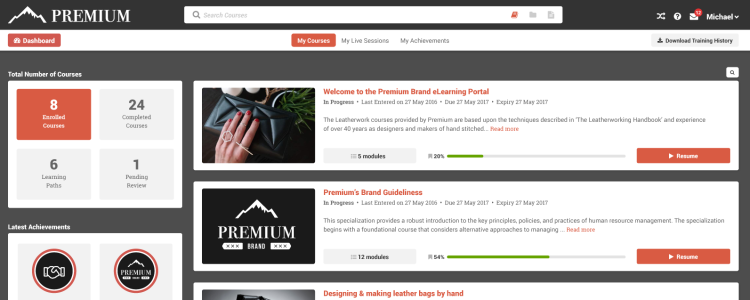 If you have training material in document, video or audio formats you should also be able to upload those into the system and arrange the order of the course. You should also be able to create examinations, quizzes, and surveys within the system to assess learner performance and gather feedback.  
For example, you could build a basic course by uploading a Powerpoint presentation. It can be an instructional video that the learner has to watch. Then they do a quiz comprising of multiple choice and true or false questions (to name a couple of the most common questions types).
You should be able to furnish the course with descriptions, imagery and other optional details and then publish the course.
Enrollment
Once a course is published you'll decide which of your learners are to be enrolled. On a rudimentary level, you'll send them an invitation by email to access the course.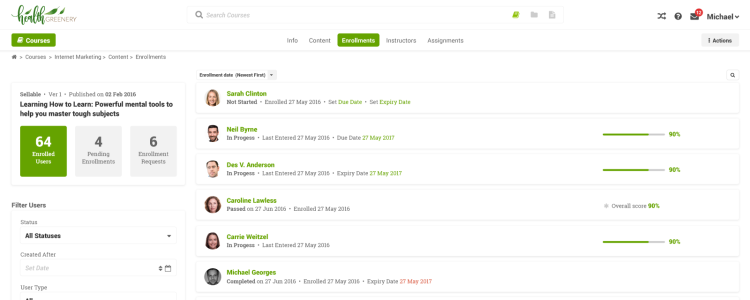 It's important to understand that an LMS enables you to train at scale with thousands of learners enrolled in courses, with different course permutations as required. The learner should be notified of their enrollment, the time frame to complete the training and the reward and purpose of the training.
Reporting suite
To understand how your learner is progressing or how they performed, you can run reports. There should be a full suite of reporting tools to give you data on uptake, progression, and performance.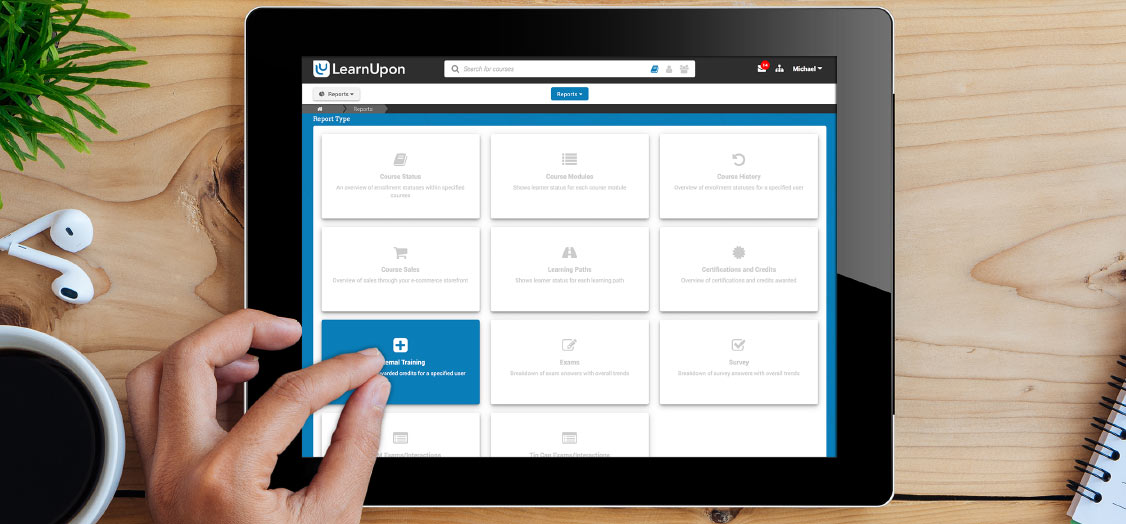 Most modern options will allow you to automate the sending out of reports whilst or run them on an ad hoc basis.
What is the best LMS for you?
The best LMS for you is the one that satisfies your needs best. That includes the way in which the LMS vendor does business and supports you.
Why not check out our features checklist to make it easier for those of you checking off requirements on a list.
Train your employees, partners, and customers with LearnUpon. The powerful learning management system that has the features and a knowledgeable team you need to achieve training success. Get your free trial and demo today!