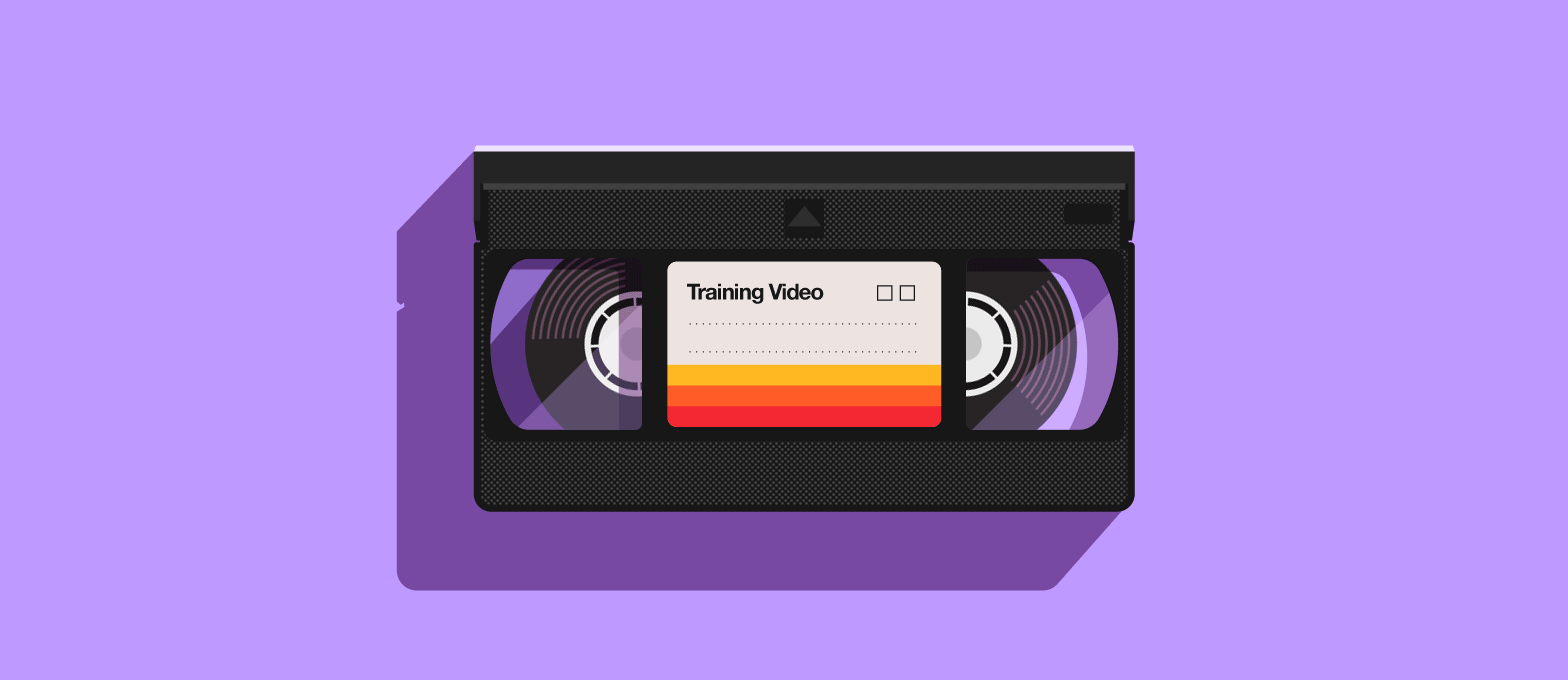 5 min reading time
How to Create Employee Training Videos
Video has always played a central role in employee training. Back in the day, businesses had VHS tapes featuring generic, cheesy health and safety or compliance training. These got the job done, but, (thankfully!) things are a little different now.
New technologies have made creating and sharing visually engaging videos easier than ever. With beginner-friendly editing software, LMSs, and even the phone in your pocket, any Learning and Development team can quickly produce impactful training videos. Let's show you how.
Why are training videos for employees so effective?
We're big fans of video-based eLearning. Why? Because it's the perfect way to make training more interesting and engaging for your employees. For product education, onboarding, or even compliance (a potentially dry subject) videos have been proven to make training more enjoyable as:
Creating training videos of your own vs. off-the-shelf
When it comes to employee training videos, there's a decision you have to make: buy off-the-shelf videos or create your own. Not the easiest decision as off-the-shelf content has its perks – there's certainly less work. However, it also has its downsides.
Pre-made videos can be generic and the information contained may not always be correct for your particular business or industry. If they don't tick these key boxes, they're not worth the price tag.
Learning and Development teams tend to choose pre-made videos as they don't believe they're capable of creating their own. This is a mistake; creating your own training videos is achievable.
It's surprisingly attainable to produce great video content, without needing expensive filming and editing equipment. By creating your own video content, it ensures it's tailored to your situation too. You have the power to customize content to meet your organization's specific training objectives.
Producing your own video content also makes training more personalized. You can feature real employees and company scenarios. We're big fans of this at LearnUpon. In fact, when we log into our LMS, our CEO greets us in a friendly video – it adds that personal touch.
How to make a training video
As we mentioned above, you don't need much to create your own training videos – just the phone in your hand and some simple-to-use video editing software. Let's get into the practical steps involved in making a training video from scratch.
Equipment needed to create employee training videos
To get started you'll need:
A camera
A lapel microphone
Screen capture software
Video editing software
Everyone has a cell phone or laptop with a built-in camera. And, if you're using screen capture software you won't even need a camera.
In fact, if you're just getting started creating videos, we recommend focusing on the audio over video quality. Poor audio is more distracting than poor visuals. Therefore, getting an inexpensive lapel microphone is a small investment that makes a big difference to sound quality.
How to film a training video
Next, there's video presentation style. There's no Oscar category for 'Best Business Training Video', so keep things simple and within your available resources.
Don't waste your time on high-end production, intricate editing, and interesting angles. Instead, be practical and hone in on what matters most – the content.
For presentations, you have a couple of options:
Screen capture
Screen capture with face capture included
Subject speaking to a camera
Different videos suit different formats, so pick the one that suits the information you want to communicate best.
For example, for a software product demo, a straightforward screen capture will likely focus the viewer's attention.
If it's explaining a specific topic to the viewer, then a video featuring the trainer or your CEO speaking to camera will work best. Or why not use a combo of these styles to create the most engaging and effective videos?
Training video software
There are plenty of tools available that make screen capture a breeze. Soapbox by Wistia, Camtasia and Screencast-O-Matic are all good, light-weight options that are perfect for beginners.  

Once you've captured your video, you'll need to edit it to deliver a streamlined experience for the viewer. This includes removing any dead air and awkward pauses.
Camtasia Studio is a robust screen capture tool that also packs a punch in terms of editing options. Super simple, it's one we use, here at LearnUpon. But, if you need a more feature-rich editing tool, try Adobe Premiere (pro-level editing), iMovie (free), or Final Cut Pro X.
Adding videos to your eLearning courses
Once you have created your videos, it's time to place them into a course. Here, you've two options to choose from:
Upload the video file to your LMS (e.g. mp4)
Embed the video in the course (if you have already uploaded the video to a hosting service such as YouTube or Vimeo)
A good LMS enables you to embed external videos from sites like YouTube, so you can supplement your own videos with relevant outside video resources. Just make sure they are accurate and add value to the content you've already created. This also comes in handy if you find yourself lacking the time and resources to produce your own videos. Adding TED Talks or explainer videos works well to make training more engaging and memorable for the modern learner.
When your learner gets to the video section of a course, they'll hit play and enjoy the content being streamed through their browser.
How to stop employees skipping through videos
On to a question we get asked a lot by our customers: how do I stop my learners from skipping through videos?
It's an understandable question. You've spent time carefully crafting your video content, the last thing you want is your learners to skip through it without watching. And, if a learner is interrupted in the middle of a video, they shouldn't have to start back at the beginning when they resume their course later.
This is where video tracking comes in. A helpful LMS feature, it tracks course progress and bookmarks it for the learner. This means that they can't skip forward in the video, and if the learner opens a new browser window the video pauses.
Helpfully, when your learner returns to the video later, it picks up from exactly where they left off. You can even set a minimum percentage that they have to watch, before they can move forward. So, if you choose 100%, the learners must view the full video, before moving on to the next module.
Getting started with employee training videos
Videos are an impactful and surprisingly simple way to elevate your course content and make it more engaging for your employees. However, if you're still hesitant, we suggest you start small. First do a short screen recording, gain confidence, and  build from there. And, of course, leave any questions in the comments below, we'd be happy to help to get you started.