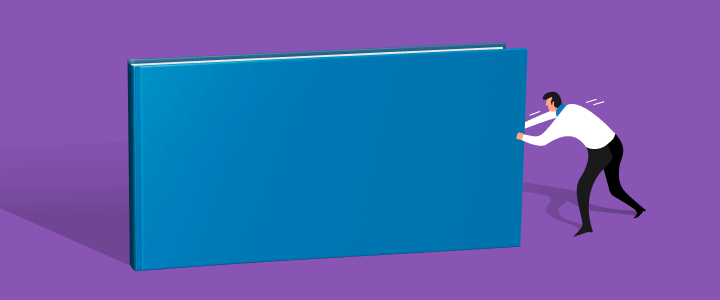 4 min reading time
Scale Your Training Efforts with an LMS
If you're trying to successfully scale your online training you may be coming up against one major issue – your LMS isn't growing with you. Outgrowing your LMS is one of the most frustrating things a training professional can encounter. But, let's be honest, it's a great problem to have to solve. Unless your LMS is designed to handle large learner numbers with efficient workflows, an increase in your user count can lead to challenges. And it's not just volume of learners that you need to consider. Your LMS needs to manage learner workloads while offering the right blend of features to support enterprise level training. In this post, we'll explore the features that will allow you to successfully scale your training efforts with the right LMS.
Keys to scaling your training
Investing in the right LMS allows your training to grow as your business grows. Some LMSs won't scale with your requirements because:
They're over-reliant on manual activities that cannot be repeated
They're built to handle small numbers of concurrent users
They offer limited options to allow you to create custom integrations with 3rd party systems
To successfully deliver your training to a growing user base you need an LMS, like LearnUpon, that:
Makes it easy to administer training through automatic, repeatable tasks
Can handle large volumes of concurrent users
Supports third-party integrations with your HR, CRM, sales, and marketing systems so your learners can access courses easily and you can rely on accurate data, particularly when it comes to reporting
LMS features that allow you to train at scale
Your main objective is getting your training out to as many learners as possible as quickly as you can, so you need to know that your LMS isn't going to slow you down. Here are the features you need to ensure you achieve just that:
Portals
In a nutshell, portals make it quick and easy to manage and roll out training. LearnUpon offers multi-portal functionality so you can manage courses for multiple audiences in one central location, ensuring you have easy access and full visibility to your training. You can quickly create stand-alone portals for different learners, organizing them by team, department or learner type (customer, partner, reseller). Each portal can also be independently branded and configured. And if you require several portals with similar configuration you just create a copy of one of your pre-existing parent portals.
Having a multi-portal structure within your LMS also allows you to create, edit and manage all courses within your parent portal. When you've got your courses ready to go you can copy individual courses down to the relevant sub-portals. The same goes for licensing courses, all you need to decide is the number of enrollments per portal and the time allowed per course. As a result, you can avoid duplicating tasks making it quick and easy to scale the administration of your training.  Even better you can assign dedicated admins to portals to handle the day-to-day meaning less work for you and a much more scalable solution.
User creation
Creating users needs to be quick. An LMS that supports batch uploads is vital when you're dealing with high volumes of learner data. This functionality allows you to create multiple users at once, synchronize users using an API or source users by integrating with a HR or CRM system using SSO. If you plan to use eCommerce functionality to sell your courses online, then you'll want your learners to be able to come to your portal and self-register so you can be completely hands off when it comes to creating users.
Webinar integration
Webinar administration can be a time drain, particularly if you have to manually track attendance. An LMS that offers webinar integrations such as GoToWebinar and supports automatic attendance tracking is a must.  Another bonus of this integration is that you can deliver training to learners in multiple locations at one time. All you have to do is set up and host the webinar – the LMS integration will look after the rest. You can also set clever automatic workflows, for example, allow attendees to access a post-webinar exam in order to earn their certification. To facilitate speed of webinar set up you can simply clone the course, update the instructor, time and date details, and you're good to go.
Notifications
With high learner volumes, you need a fast and efficient way to remind learners they have training to take. Automatic email and iCal reminders are a must-have feature that will do just that. You can also personalize these notifications to catch your learners' attention and increase completion rates.
Certification
Use certificates to incentivize your learners to complete training. If you have hundreds of learners completing courses each day, manually generating certificates just isn't practical. So automatic certification and recertification are a must-have feature. Customizable certificates allow you to import a certificate template and can be set to automatically populate the certificate with the learner's name, course achieved and date completed.
Reporting
Reports allow you to accurately measure the success of scaling your training efforts. Set aside time to identify the data you need to track to generate meaningful reports before you even roll out your first course. This will ensure you're capturing that essential information from the very start. And it will also allow you to make improvements to your training as you go.  Reports can also be scheduled to send via email by PDF or excel. You can even send reports to anyone in your organization – they don't even have to be using your LMS!
Beyond features: The true path to scalable success
An LMS that truly allows you to scale will have a team of dedicated customer support reps who you can turn to when you need to get answers to technical questions. Ideally, the LMS should also have a customer success team whose main objective is to ensure you succeed. It's a relatively new trend in the software industry and most LMS vendors haven't invested in this yet. With LearnUpon, your customer success rep will work with you to plan your implementation, launch and set those vital milestones that you can measure your scaling success against.  Are you ready to scale your training efforts? See how LearnUpon could work for you, schedule a demo today!