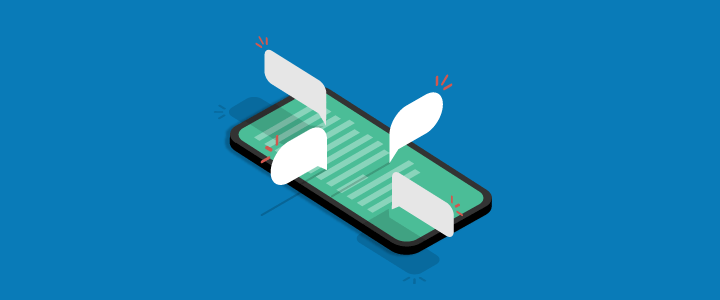 3 min reading time
The Benefits of Using an LMS Forum
We're all looking for the best way to support learning. Companies leveraging the reliability and efficiency of eLearning want to ensure that there's a social element to the experience for their learners. And social learning helps them to achieve just that. Using a discussion forum in your learning management system (LMS) is one way to introduce a social component to learning. In this post, we explain what a forum is, how it works, and list the benefits.
Solving learner isolation
As eLearning became more popular, learner isolation became an increasingly discussed topic. The argument was that learning should take place in a social setting, like a training room, and that 'distance learning' could not successfully recreate that learning environment.
The asynchronous nature of a learner independently launching a course and completing it troubled those with a preference for a face-to-face approach to knowledge sharing. Tools like webinars and gamification did not yet exist. But one possible solution to this challenge was already available, it just wasn't being applied to eLearning. In the early days of the internet, asynchronous social tools like chat rooms and discussion forums allowed people to communicate with others on a scale that had never been seen before.
What is an online forum?
An online forum is an environment where discussions take place. Websites like Reddit and Quora are full to the brim with discussions on every topic imaginable. Usually, a topic is created by an individual to spark a discussion or simply to seek further information. The subject matter varies depending on the forum and often small communities emerge to discuss niche areas of interest. These discussions are stored to form a repository of knowledge and debate so that others can learn from them.
What are the components of an online forum?
The features of all website forums are pretty similar. Each forum is built for their specific purpose and audience. This means that they have unique characteristics. Each has its own terminology, structure, and rules. Broadly speaking, there are some common components that make up an online forum.
An organized structure for the discussions, usually called topics or threads
An ability to search for topics
User profiles: each user, or person, that contributes to the discussions has their own identity and role
The ability for users to react, respond, add to a topic
Moderation, usually undertaken by users who have been assigned a moderator role, helps to keep all discussions appropriate and on topic
All of these features are found in an LMS discussion forum. It's important to note that discussions that take place within an LMS forum are only available to individuals who have been granted permission to access it.
How are discussion forums social?
There are two 'social' elements to forums. The first is obvious. A forum facilitates individuals to interact with each other. With the introduction of names and profile pictures, a forum can become a very human and personal space. This 'social contact' is important in reducing the feeling of isolation. Secondly, a forum allows learners to observe others, and then imitate their approach. This is the basis of Albert Bandura's social learning theory.
What are the benefits?
Using a forum in your LMS is easy to set up, but will require some planning to ensure you and your learners get the best out of it. You need to think about how your company learns and what role you want your forum to play. Some organizations incorporate it into a rigid structure, while others let it form organically. For example, you may need to decide what topics should you initiate and who you should appoint as moderators.
These considerations depend on your company culture and learning goals. The great thing is, once you get it right, a forum will benefit both. Some benefits you will see include:
Learner engagement Seeing others taking part in discussions motivates us to get involved. This increases learner engagement and use across your LMS.
Peer-to-peer learning This adds another learning opportunity to each and every course or topic. A learner can see how their peers tackled questions and learn from the discussion that ensues.
Information storage A forum is a way to crowdsource information. This user-generated content becomes an important knowledge share resource over time. This is especially true when learners share information that cannot be found in other sources.
With the right strategy, an LMS forum can become a central part of your corporate training.