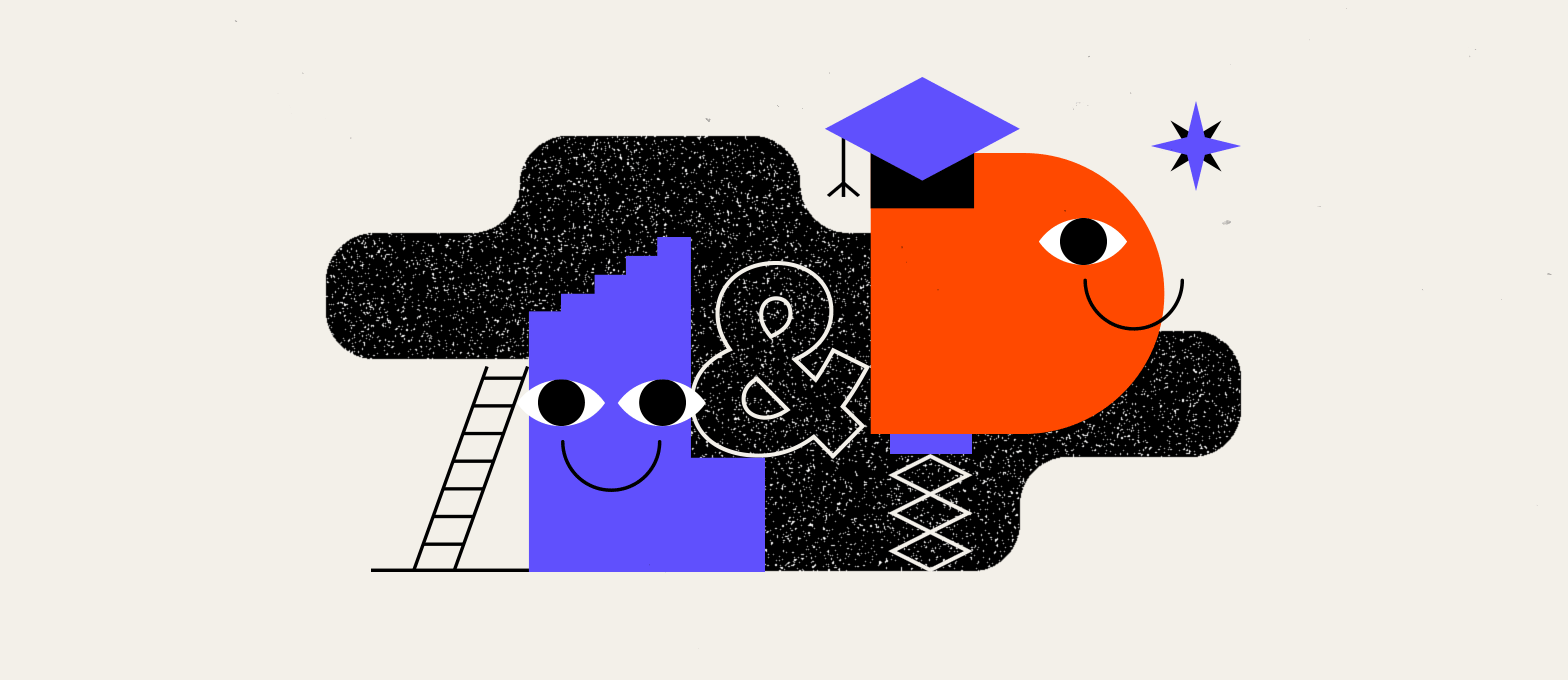 9 min reading time
How To Create an Effective Learning and Development Strategy
When you think about the rapid switch to remote working, multi-generational workforces, and technology booms, L&D really has had to adapt to many changes over the years. The L&D industry is constantly evolving, so those working within it must continue to be agile, and implement the best approaches and strategies. Let's take a look at how to create a high-performing L&D strategy that will help you increase ROI and boost employee efficiency.
What is a learning and development strategy?
A strong learning and development strategy is essential for organizational success as it outlines how to develop people's capabilities, skills and competencies. The aim is to provide employees with the necessary skills and tools to perform their jobs to the required standard, thereby meeting the needs of the business.
It should start with a thorough understanding of the organization's internal and external influences. This includes the industry, the company itself, and the rationale that underpins the overall business strategy.
Employees need to feel valued and invested in. By providing opportunities for upskilling, an effective L&D strategy will also enable organizations to develop leaders from within.
Who is responsible for learning?
Previously, workplace learning was the responsibility of the L&D department, but that is no longer the case. A successful learning strategy requires a strong organizational learning culture. This means that each person must bear some responsibility for their own learning, and sometimes, the learning of their teams.
The learner
Things are very different to how they were years ago, employees must now focus on their own professional development in order to continue to expand their skills and experiences. Learners are more likely to take ownership when it will help with their career progression.
The manager
It's important to note that managers are learners too and will also benefit from self-directed learning. When it comes to learner engagement and knowledge transfers, they are critical. Managers must take responsibility for their team's learning and become L&D champions.
The organization
An organization can often have the most to lose from not taking responsibility for L&D. Without a strong learning culture, there is a risk that employees won't have developed the skills they need to stay afloat in an ever changing business landscape.
It all starts with strategy. To be successful, learning programs must be aligned with the company's overall goals and objectives. Taking charge of learning will benefit everyone, whether it's for business growth, personal or professional development.
The benefits of having an effective training strategy
It gives direction to training efforts
Unfortunately, there is often a misalignment between L&D teams and the wider organization. Learning leaders can sometimes get too focused on what is traditionally easier to measure, such as attendance or completion rates. 
To prevent this, you need to understand what the overall business goals are, so that you can align your learning strategy to them. This will give your L&D teams an idea of what types of upskilling and reskilling they'll need to carry out.
It formalizes your corporate training to ensure it's given the required attention and respect
A formal L&D strategy will provide your organization with a clear vision of their learning and development goals. It also shows people in the business how your L&D plans support the overall business strategy. In other words, it will serve as a road map for gaining greater buy-in from your employees and leadership team. 
It ensures training needs are actually being met
A well-defined strategy helps learning leaders to define goals and prioritize them. Since L&D requirements are constantly changing, this is why you need the strategy. Tying learning outcomes to business outcomes should be a cross-functional effort, with alignment agreed before launch.
Why do I need an L&D strategy?
L&D supports the talent function through professional development by teaching new skills to employees and managers, while actively improving the quality of existing ones. Not only is it cost-effective, but it also results in improved employee performance, highly skilled employees, increased employee loyalty, and greater overall success. Let's delve deeper into some of the advantages of effective organizational training.
Better teams
Employee training is vital for people's development. Outdated knowledge can quickly jeopardize a company's ability to meet performance benchmarks. It's important to note that employee satisfaction isn't always associated with monetary rewards. Most employees believe that learning new things and improving their leadership and technical skills will provide them with more benefits.
Leaders who feel empowered in the workplace will be better at influencing and gaining the trust of their employees. As a result, those employees will feel more autonomous, valuable, and confident in their work.
Improves performance
Employee training is driven by the need to increase productivity and performance. And when done correctly, it achieves exactly that. It equips employees with the knowledge they need to carry out their responsibilities, and the skills learned will help to produce higher-quality work, in less time. 
It also gives new hires a clear understanding of their roles and responsibilities. In the long run, having high-performing employees will allow you to expand your business and handle an increased workload, if necessary.
Better team learning and collaboration
"Team learning is vital because teams, not individuals, are the fundamental learning unit in modern organizations. This is where 'the rubber meets the road'; unless teams can learn, the organization cannot learn." – Peter M. Senge
By sharing experiences, insights, knowledge and skills through L&D programs, teams work more effectively. To stay competitive, organizations must rely on employees to learn. It's so important for each team member to understand the company's objectives and, more importantly, to work together to achieve them.
For great teamwork, team learning is crucial. L&D initiatives show employees how to communicate and support one another. They are also more likely to be engaged when team relationships are positive. For that, you really need to have an organizational learning culture.
Boosts morale
L&D is not only used for upskilling or onboarding, it also has a direct impact on morale and culture by increasing employee engagement, lowering turnover, and allowing for more innovation.
Many organizations now have multiple generations in the workforce, and because each generation has distinct characteristics and learning styles, a traditional, one-size-fits-all training strategy may not work. However, with the right approach, effective training can be made accessible to everyone.
When it comes to eLearning, for example, Gen Z, Gen X and Millennials are more likely to adopt technology quickly. But how do you engage employees who aren't as skilled in IT? The right tools are key here. Especially in today's world where dynamic and hybrid learning is the "new normal". Your LMS will play an important role in this process. It's the framework that supports L&D content and ensures that your learners can access it no matter where they are.
Better attraction and retention
The hiring and onboarding process is well-known for being costly and time-consuming, and unfortunately, retention can also be a major challenge. Employees no longer stay with companies for decades, and companies no longer keep employees for their entire careers. However, retaining valuable employees can be achieved through continuous learning development. In fact, employees at companies with internal mobility opportunities stay almost 2x longer, according to LinkedIn's 2021 Workplace Learning Report.
Training and development has become so ingrained in business today that it is now considered a perk. Offering career development opportunities helps employees feel valued and loyal to the company, which leads to higher employee retention. It also demonstrates your commitment to providing them with the resources they need to do a good job. As a result, they're more likely to enjoy their work and stay with the company for a longer period of time. One of the most significant advantages is that you'll have more opportunities to hire from within, lowering your company's recruiting and onboarding costs.
Steps to creating a learning and development strategy
When it comes to learning and development, organizations often run with a strategy that isn't regularly reviewed or updated to meet the needs of the always-changing landscape. Here are five key steps that every organization should take when developing a successful L&D strategy: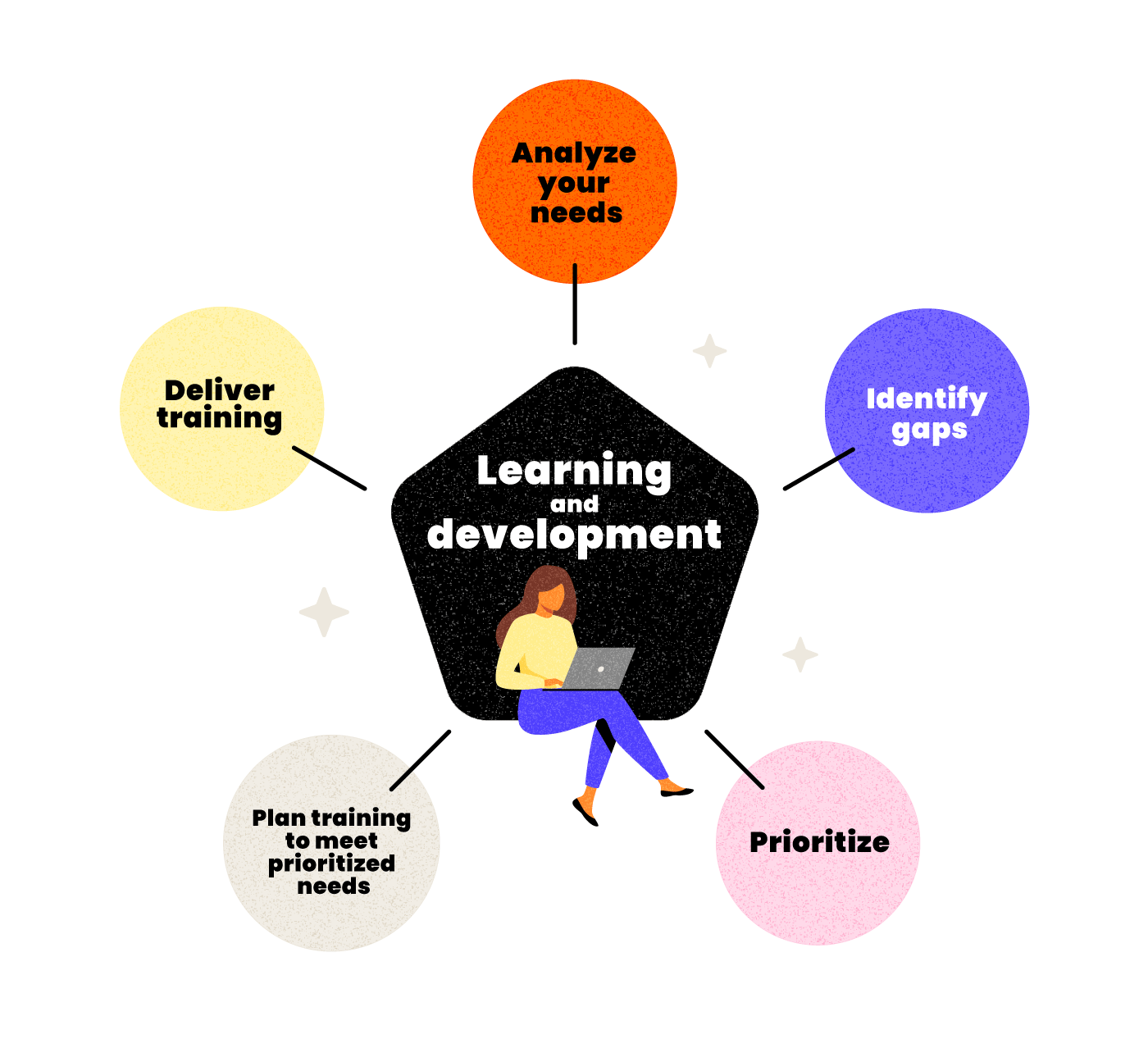 Analyze your needs
By now, the importance of training is clear, but it's only really valuable when you can connect value to business. You must identify and set attainable goals for each type of training your company delivers. These should be linked to organizational development and be people-focused. You need to be able to measure the tangible impact the training has had on your business.
Focusing on your goals from the start will help you create a strategy that is tailored to your company's specific situation. Ensure these goals are communicated throughout the organization, so that everyone understands what the strategy is looking to accomplish.
Identify gaps
Perform a skills gap analysis for the areas where your L&D program will be focused. This may vary by department, and you may need to conduct several (for example, an analysis for the sales team, the marketing team, as well as one for manager onboarding).
This will give you a much better idea of the level of training required for each department and its employees. You'll then be able to create targeted and personalized learning experiences.
Prioritize – you can't do everything!
From your skills gap analysis, you should have a list of learning requirements, and now you need to decide which ones are most important. You've most likely identified a range of projects that you'd like to try, but you can't do them all – you must set priorities.
First and foremost, any major issues that require immediate attention, such as security or compliance training, should be prioritized. Now look back at your company objectives, it's likely these are ordered from most to least important. If retaining top talent is a key goal, then employee onboarding will be the logical option.
You can also look at how many employees the training will affect, how many customers it will benefit, cost and time savings, and so on. From here, you should be able to determine your priority list.
Plan training to meet prioritized needs
At this point, you'll need the information to create relevant learning experiences for each of your team members. It's important to incorporate a range of modalities, as well as a blended approach. So, take the time to choose the right blend, this may include formats such as video, text, coaching/mentoring and so on.
It will take some trial and error to find the right mix of learning for your company. It's only natural to not get everything exactly right, and that's perfectly fine!
Deliver your training
It's time to put your L&D strategy into action. Get feedback from leadership before scaling it up, and make changes as needed. You should also consider a "soft-launch", with a smaller group. This will let you address any kick-off issues and make necessary changes before launching at full-scale.
Once you've launched your L&D strategy across the company, make sure to communicate it. Show that you're making an investment in employee development and that you'll need their support for it to succeed. Learner engagement starts from the top-down, so it's important to have L&D advocates in key roles across your organization. Make sure you get leadership buy-in from all departments. It will be easier to communicate with learners with leadership on your side.
Don't forget to make training part of the routine with ongoing communication. You want learners to make training "something we do," rather than "something we have to do. Tools within your LMS, such as push notifications and reminders will help. Consider how your company communicates and take advantage of it!
The aftermath
Track performance
Knowing the ROI of your training programs is a necessity. Without learning metrics, you could be delivering training without any reward. Having an in-depth understanding of a metric like ROI, will help demonstrate how impactful your team's training efforts really are.
Your LMS will equip you with the data you need to accurately measure the effectiveness of your training programs. You'll have access to reports like completion rates, learner progression, assessment scores, survey responses, and much more. This information will help you evaluate the effectiveness of your training, identify areas for improvement, and ensure that your business objectives are being met.
Gather feedback
One of the many ways to improve your training is to collect feedback from learners; they know exactly what's going on and what needs to be changed. Your LMS will allow you to open up communication with built-in feedback features, like surveys. 
Make changes
Be flexible and adaptable. Initial learnings, training progress, team member feedback, new business objectives, and more must all be considered and used to refine and improve your L&D strategy over time. Taking an agile approach to training will allow you to change direction based on new data and insights.
Learning and development should be an integral part of any organization's business strategy. It has a big impact on morale and culture as well as employee skills and abilities.
Want to learn more about building organizational learning using people and processes? Read our blog post, 'Is Your Organization a Learning Organization?', and learn ways to make training part of your routine to achieve organizational goals.