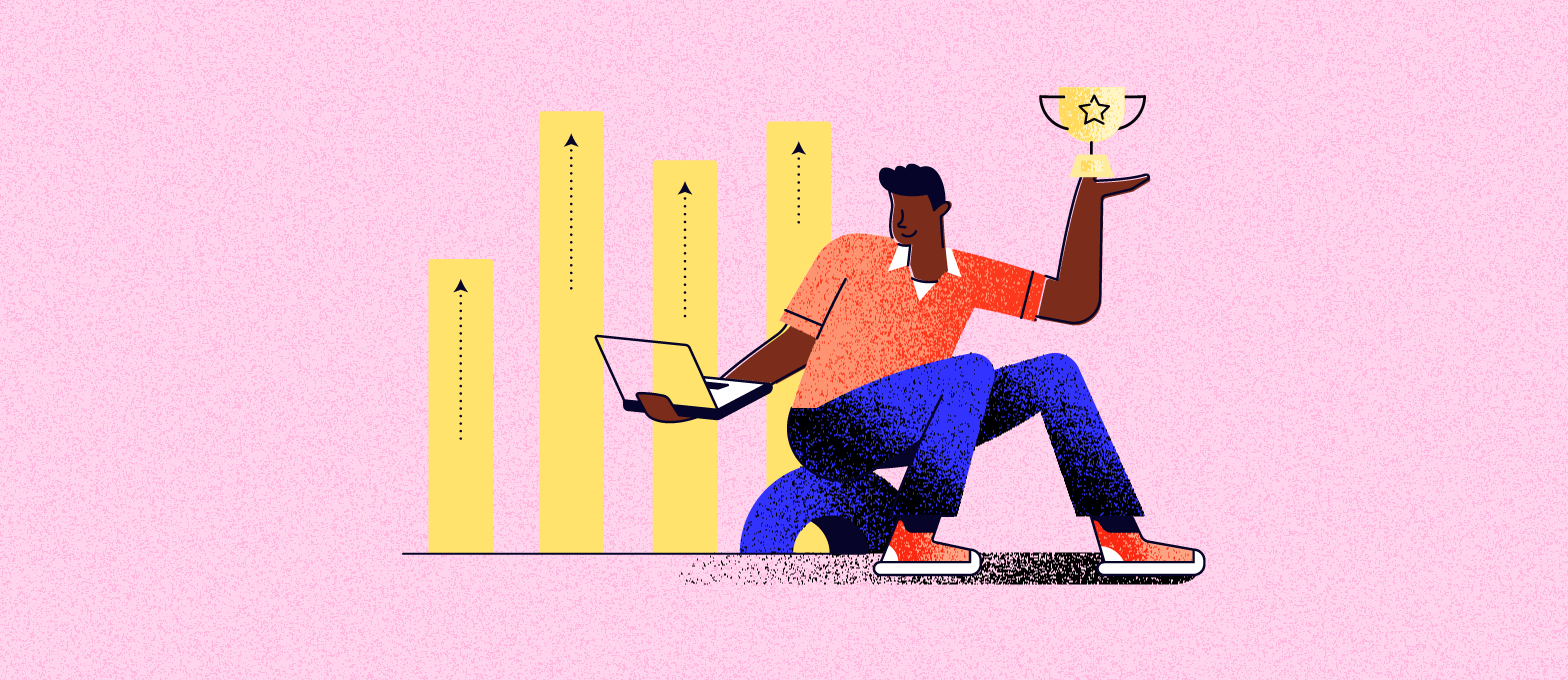 8 min reading time
The Most Effective Learning Delivery
The way we work and learn is always changing. That's why it's so important for companies to be able to adapt and provide employees with solutions that suit their lifestyle, especially when it comes to training. But, with so many training delivery methods out there, we understand that it can be hard to choose.
Chief Learning Officer's 2021 Learning State of the Industry Survey uncovered that only 7% of respondents feel that their learning delivery methods are fully prepared to meet business needs.
Learners now expect readily available, online and blended, consumer-grade experiences. Depending on the content, they also want it personalized, and to mirror the way they consume information in their everyday lives. This poses a challenge for organizations. There isn't a one size fits all answer, but when these challenges are understood, they become easier to overcome.
Learning Delivery Infrastructure
53% of respondents said that their learning delivery infrastructures and functions are somewhat prepared to meet business needs.
In today's world, it's hard to find an organization that's not making use of eLearning in one way or another. Changes in L&D continue to evolve, and this is closely tied to IT infrastructure decisions, strategies, and priorities. A successful L&D function expects its infrastructure to support the development, management and delivery of its training programs. It also needs to take the requirements of organizational design, policies and procedures into consideration.
L&D needs to be agile and a connected function within the organization. It's important to focus on what learners actually 'want to do', and provide them with the appropriate tools and resources. A great way to start is by developing a training course catalog, and clearly defining learning paths for each role and type of learner.
An LMS, if used correctly, can make it easy for learners to see their learning paths and know exactly what courses are available to them. An LMS will also help trainers to monitor course completion rates and learner progress. Successfully implementing an LMS does take planning, and again, there are multiple types to choose from. The primary types are cloud-based or self-hosted, it just depends on the needs of your business.
When discussing L&D infrastructure, it's important to mention support. Without it, your L&D function simply won't work. No matter how great your LMS is, learners will face some common issues such as access, security, or password resets. So, having a dedicated support team, whether in-house or external, will help you deliver and manage your L&D programs. After all, if a learner faces a roadblock to learning, it will affect engagement, and motivation will be lost.
Top Training Delivery Methods
There are many things to consider when evaluating what training delivery method you should use, such as budget, size and type of workforce, location, time frames and whether or not you have an LMS in place. Adding to these considerations, there are a variety of training delivery options out there to choose from. Most organizations use multiple types of delivery methods, but the question is, how do you choose the methods to best suit your needs? 
Firstly, you should start by looking at what's available to your organization and how they align with your goals, audience and content. Here, are the top six training delivery methods identified in the 2021 Learning State of the Industry Survey:
Self-paced learning
A whopping 76% of respondents said that self-paced learning was the top learning delivery method utilized in their organizations. This form of delivery lets learners take control of their learning. They don't need to complete courses at the same time as others, and they can proceed at their own pace – it's all about flexibility.
There are many different learning styles, and there will always be different types of learners, but self-paced learning is one way to satisfy them all, as it enables people to learn, whenever they are motivated to do so.
For content that doesn't often change, such as compliance training, onboarding, and soft skills , self-paced learning is a really effective training delivery method. If you have more dynamic content, and discussions are required, then you always have the option to use live, interactive online learning.
Coaching and mentoring
Coaching and mentoring can be really impactful approaches to employee development. Organizations may use one, or both of these methods to enhance the skills, knowledge and performance of their people, especially to develop specific skills and goals. The role of the leader is no longer just to supervise, and increase productivity, it's about encouragement. Both of these methods also help leaders within an organization to build better relationships with their team through continuous learning and development.
The goal of coaching is to drive optimal performance and improvements at work. It focuses on skills and goals, and normally lasts for a set period of time. Whereas mentoring tends to describe a relationship between a more experienced colleague, who shares their knowledge and expertise to support the development of a co-worker with less experience. This method usually lasts for a longer period of time.
As 72% of the survey's respondents view coaching and mentoring as a top priority, it's important to look at ways to support it. One way of course, is to create a culture of learning, and work towards being a fully-fledged learning organization. This will encourage employees to seek, share and apply new knowledge and skills to grow themselves and the business. This method is also expected to increase over the next 18 months, so it is definitely one to explore.
Classroom-based ILT
Nowadays, classroom based instructor led training (ILT), may not always be possible, but that doesn't make it any less effective. It's a fantastic training method, especially when you want learners to work out problems and challenges as a team. Also, some topics are just simply more suited to in-person learning such as technical training, communication skills, or executive team development. In-person training is a great way to train multiple employees at the same time, and encourage peer-to-peer interactions.
The downside to this method of training is that it takes time out of the working day. In a post-pandemic world, other disadvantages include travel, catering expenses, room hire, and so on. However, a key advantage of classroom-based ILT is the interactivity, as learners can ask questions and get instant responses. This is most likely why 70% of respondents chose this as their preferred training method. It's ideal for organizations with a dedicated training venue, when employee interactivity is important, and when the subject matter requires practical experience and demonstrations.
Even though this popular method is classroom-based, your LMS will help facilitate the training delivery by scheduling sessions, automating invites and reminders, waitlisting for sessions at capacity, and providing rotas of attendees for instructors. And delivering this training as part of the working day is really worthwhile, as it's sure to improve your employees performance in the long-run. 
Instructor-led eLearning
67% of respondents chose instructor-led eLearning as their preferred learning delivery method, and 52% expect it to increase over the next 18 months, so it's clear that we must continue to be more agile and responsive in how we train.
Instructor led eLearning enables organizations to deliver training in the form of text, video, and documents, all in real time. They can deliver course content from anywhere, and learners can attend from wherever they are located. This form of training delivery is most effective for large groups, where there is no dedicated venue, or when learners are geographically dispersed. But it's important for organizations to ensure they have the adequate IT capabilities for this to work properly.
With remote or hybrid learning now being the "new normal", one big advantage is that learners can access it from anywhere. With this type of training, there is no need for travel or hospitality costs, and training can be broken down into smaller modules, making it easier for learners to consume. An LMS will also have the added benefit of webinar integration and recording tools, so that learners can re-watch later to get clarity on a topic which may have been missed earlier. You'll also be able to track progress through real-time quizzes or polls.
Combining live sessions with on-demand content is a great way to engage learners and get feedback. With an LMS, you'll be able to manage both in one place, reducing time and effort.
Formal on-the-job training
Even with today's modern learners, on-the-job training is still proving to be a popular method of training delivery, with 60% of respondents choosing it as their preferred method. Let's face it, it's a great way to get hands-on learning that relates to an employee's actual role. Now, it does need a more experienced employee to show the new person the ropes and offer insights. But, the benefit is that it allows the new employee to ask specific questions, and the trainer can adjust the training depending on the skills that the new employee needs, or in some cases, already has.
On-the-job training also creates buy-in, and shows new employees that there are future career growth opportunities within the company. What better way to encourage organizational learning than having managers and co-workers take the time to train together? Videos and learning modules can be utilized to enhance these types of training programs, and an LMS can help with managing this blended learning approach.
Even with its many benefits, on-the-job training does have its downsides. The major one being time. The trainer needs to dedicate their time, meaning they may need to put a hold on their own job responsibilities.
Collaborative learning
60% of respondents to the 2021 Learning State of the Industry survey listed collaborative learning as a top learning delivery method. But what is collaborative learning?
Collaborative learning is a situation in which two or more people learn or attempt to learn something together. Unlike individual learning, people engaged in collaborative learning capitalize on one another's resources and skills.
Interestingly, Bersin by Deloitte states that 80% of workforce learning happens through on-the-job interactions with peers and managers. The challenge is scaling this way of knowledge sharing. The tools that are available to learners are key here, and a strong LMS, combined with a strategy for user-generated content can help organizations capture the value of internal subject matter experts.
Social learning LMS features like internal chat functions, discussion boards, question and answer tools, and blogs are all fantastic ways to drive company wide collaboration. Of course, everyone in the company needs to be involved in the process of creating and implementing training, providing support, and fostering a collaborative learning culture.
We've said it before, and we'll say it again, training delivery methods are evolving and will continue to do so as technology advances. Companies grow and learning needs develop, so the best approach for L&D professionals is not to focus on the latest training delivery method, but instead to set their sights on the right training delivery method to meet their learners' needs.
Download the full Chief Learning Officer research snapshot, The Most Effective Learning Delivery, and use these insights when selecting your learning delivery methods.