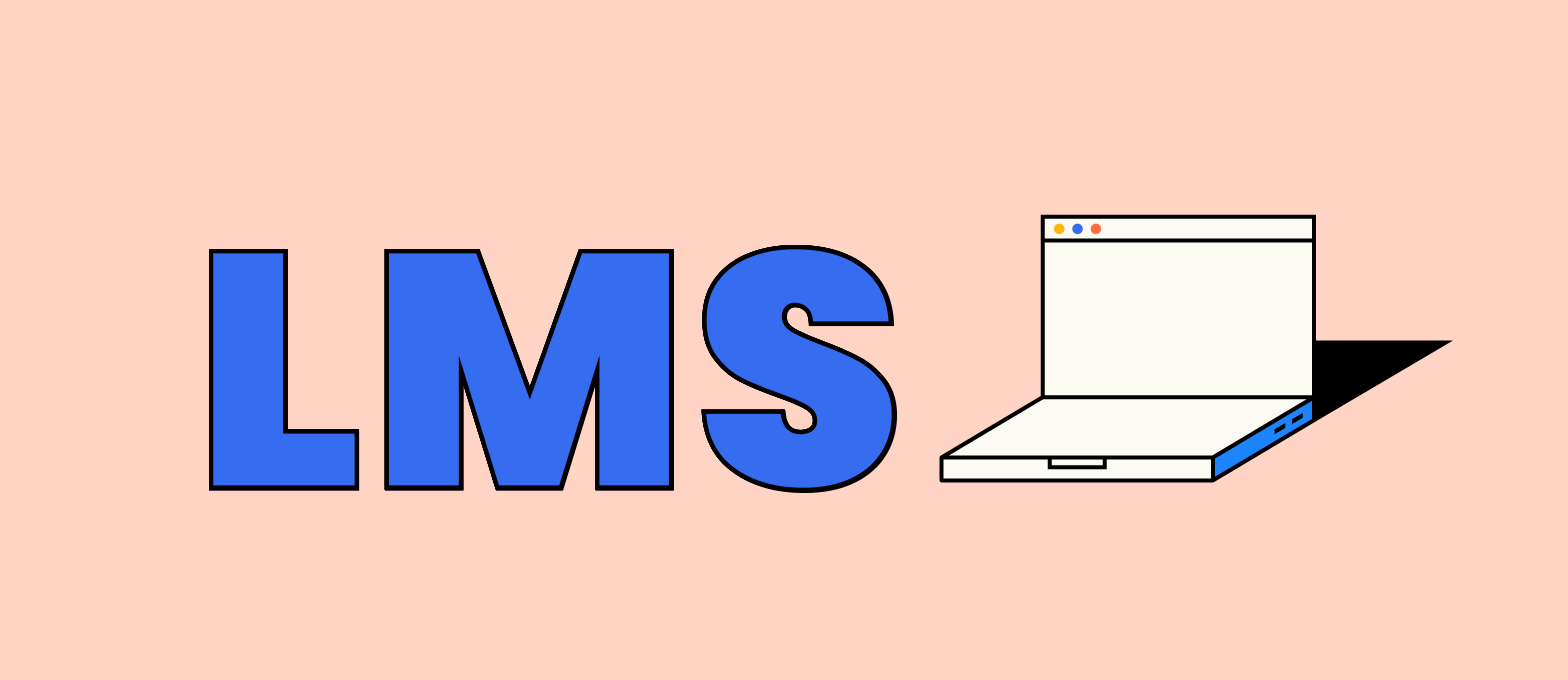 18 min reading time
Top 29 Learning Management System Features You Should Consider
So, you're looking for a new LMS and want to ensure you get the right tool for the job? You'll want to find a platform that will sit at the heart of your entire learning ecosystem, engaging your learners and accelerating business growth.
To put it simply, you need a learning management system (LMS). An LMS helps streamline training delivery by minimizing the time spent on manual admin tasks. LMSs make your life easier by enabling you to easily create, manage, and track your training, all in one place.
The pieces that truly make up a great LMS are its features. But before we take a deep dive into the top features of an LMS, let's start with the basics; what is an LMS and what are the types of LMSs available?
What is an LMS?
"A learning management system (LMS for short) is a software application that is used to administer, track, report, and deliver training." – Wikipedia
In simple terms, an LMS allows you to create, deliver and report on training courses and programs. There are hundreds of LMSs to choose from, each offering different features and capabilities. And with so many options, businesses can find the process of selecting an LMS that will meet their specific needs a real challenge.
In choosing an LMS, it's important to consider how you plan to deliver training. Then match your organization's needs to an LMS that offers the corresponding features. It's also important to realize that no LMS will have every single feature – and if it did, it would be a nightmare to use.
Types of learning management systems
The term learning management system is a broad tag attached to a lot of different tools. Under closer inspection, these tools have some major differentiators and serve very different users. For example, an LMS used by a university is a very different piece of software than one used by a software company. Let's examine some key factors that will determine the type of LMS you'll need.
 #1: Small medium business (SMB) vs. Enterprise
At first glance, there is very little difference between an LMS for a small organization and a large one. The same features are often shown and the interface may also even look the same. The main difference is of course, scale. An SMB needs a reliable tool to create and deliver training, as the primary focus is generally the speed of set up and ease of use.
An enterprise LMS on the other hand, needs a little more power. These organizations have 500 or more employees and that number can rise to the tens of thousands. They may even provide training to customers, partners and sometimes, the general public. This increases the user count dramatically. The LMS they choose needs to be engineered from the ground up to handle the larger volumes of data and complexity. Once you hit a certain point, automation of tasks, segmentation of users, and integration with other tools is required to keep things operational.
# 2: Open source vs. Commercial
Open source LMSs are 'free' and commercial ones incur a cost. Open source LMSs require installation, hosting, maintenance and regular upgrades to keep them running. This can actually prove to be more expensive than a subscription or license to a commercial LMS.
#3: Installation vs. Cloud-based (Saas)
The choice here is whether to install an LMS on your organization's hardware or to use a cloud-based service. This is becoming less and less prominent as most organizations have fully moved over to the cloud. With that said, some organizations go the route of an on-site installation to adhere to specific industry legislation or network requirements.
#4: Integrated
Simply put: Can you integrate the LMS with other software? Modern LMSs take into consideration the existing software and systems that an organization has in place, then allows them to be integrated for a seamless user experience and data exchange. Common integrations include webinar tool integrations, payment gateways, and CRMs, like Salesforce.
#5: Course-creating, or not?
Can the LMS create training content or not? Most modern LMSs allow you to create courses as well as distribute them. You can take content like presentations, documents, graphics and video, and arrange them in a course builder tool. There are also standard file types specific to eLearning such as SCORM, and xAPI.
All LMSs compliant with these standards should allow you to upload these files and launch the premade courses in the LMS. In some rare cases, an LMS may not have a course builder and you have to rely solely on the standardized files rather than having an option to use both.
Top LMS features
There are many LMS options on the market and each has a different feature set. There are some features that are deemed to be 'standard' and will give you a good basis for understanding what an LMS is. The most basic use of an LMS is for someone to create training programs, enrol learners and then report on the completion of training. (We have a long list of the features LearnUpon has to make it easier for those creating shortlists etc).
When looking for a new LMS, we suggest you focus on answering two core questions:
Does it create a great user experience for learners and admins?
Does it have the features required to deliver effective training?
Depending on your organization's specific needs, the LMS features you require will vary. To help you with your search, we've compiled a list of the top 29 LMS features that are most wanted and used by organizations today. 
Course management
The main function of an LMS should be that you can easily deliver course content to your learners, so it's essential to get an LMS that makes course creation as simple and straightforward as possible.
A great LMS lets you drag, drop, and arrange content into place, making it easy to create courses. On top of this, you need to be able to use multiple content formats; PDFs, slides, videos, audio, and even live training sessions.
SCORM & xAPI compliance
The most widely used methods for standardizing learning content are SCORM and xAPI. So, you need an LMS that has the ability to upload SCORM and xAPI course files in an instant. The process should be simple, and your preferred authoring tool should be compatible with your chosen LMS, so you can feel assured that your files will function properly.
Learning Portals
As your organization grows, you'll inevitably have more learners and audiences to train, and more often than not, different departments will have separate learning goals and needs. For this, you'll need a multi-tenant LMS, one that will allow you to create Learning Portals for each of your audiences.
These are like "mini" LMSs, where you have one top-level portal from which you can control each of your sub-level portals. When a learner is added to a portal, you can then tailor the course content within that portal to meet their specific training needs.
Managing training content at scale should be a fundamental element of any LMS. And, by copying course content from one portal to another, this is easily achievable.
Branding
An LMS is an extension of your business, and for learners, it's the center of their training programs. So, having a consistent theme and design will help create a seamless user experience and enhance learner engagement. Think about it, your brand and your LMS is a reflection of you, so make sure it's an accurate representation. If the user interface is slow and outdated, what will that say about your company? Having your own consistent visual identity will make it recognizably yours, and ideally, an environment they know and trust.
Not all LMSs are uniform, some might let you simply change a logo while others are much more customizable. For example, with LearnUpon, you can make the LMS your own by changing logos, colors, adding animated banners to your dashboard, and more.
White-labeling
When simply branding an LMS isn't enough, you can go one step further with white-labeling. It lets you customize URLs, remove any references to the LMS provider, as well as any visual indicators that the platform was outsourced. Essentially, it makes the LMS completely your own.
A white-labeled LMS sits between an off-the-shelf solution and a fully bespoke one. The ability to white-label differs between vendors, so you need to decide if it's a 'nice-to-have' or 'need-to-have' before selecting an LMS.
Integrations
Your LMS should help automate training and reduce the amount of time-consuming admin tasks. By having a solution that integrates with the software you're already using (like a HR system, CRM or webinar tool), you can automate actions such as user creation and access, data synchronization, enrolments, and more. With Single Sign-On (SSO) for example, your learners only have to sign in to one system, like Google Suite, and they're securely logged into your LMS.
Additionally, if the solution has a RESTful API or is connected to Zapier, you'll be able to push and pull data directly in and out of your LMS. This can then be used to create and add users to groups, enrol them in courses, and send data back to third party systems.
Automation
LMS automation removes repetitive admin tasks allowing you to spend less time micromanaging training. Many LMSs will automate adding and removing users through integrating with your HR or CRM systems. You can even set up auto-enrolments based on criteria that assigns your learners to the right courses or learning paths.
Ensuring learners are up-to-date on their training is vital, especially if the course is mandatory. For that, you need an LMS that sends triggered notifications advising learners about assigned courses and any upcoming due dates.
Learner experience
Having a learner-friendly platform is paramount for creating a great learner experience. After all, you want them to focus on training, rather than learning how to use your LMS.
A good LMS makes it easy to access training and is responsive on any device. So whether a learner is in the office or commuting to work, they need to be able to access and complete training anywhere, at any time, on any device.
Another way to support learners and show them that learning is a priority is to make additional courses available to them (outside of the mandatory ones). Providing a catalog of courses from which they can self-select, and self-direct their learning, will encourage learner autonomy.
Exams
Exams are a great feature to test learners on their knowledge and measure progress. From multiple choice to true or false and more, you'll be able to experiment with different question types to test your learners. An LMS exam feature should also allow you to automate exams so that learners know how they performed with auto-corrected exams, which are great for self-reflection.
Surveys
Gathering important feedback and evaluating each learner's experience within an LMS, as well as the knowledge they attain, is vital to keeping your training engaging and up-to-date. With a survey function, you'll be able to capture important feedback right inside of a course, and use reports to help break down the answers.
Webinar integration
When delivering courses that feature webinar sessions, you want to ensure it's as seamless as possible, and that you have access to your data all within a single solution. Webinar sessions not only make it easy and engaging for you to instruct learners, but they also help learners to engage with the training topic.
Connecting your favourite webinar tools like Zoom, MS Teams, GoToMeeting or Webex will allow you to schedule and manage webinar sessions within your LMS. And choosing a tool that your learners are already familiar with will have additional benefits, like reducing training costs and improving team collaboration. Not only that, but the integration will provide additional features such as auto or self-enrolling, real-time polling, virtual breakout rooms and attention monitoring tools.
Of course, the aim of any integration is to reduce the duplication of work and to automate time-consuming tasks, but an LMS with an integrated webinar tool will enable you to take your organization's virtual classroom and blended learning to the next level.
Blended learning
Blended learning combines online education with traditional place-based classroom methods. However, when it comes to eLearning, the traditional classroom methods can be replaced by webinars, making training even more accessible and convenient.
This feature encourages personalization of the eLearning experience by combining the best aspects of in-person teaching with technology-based eLearning methods. It also enhances the learner experience by supporting anytime, anywhere learning.
In today's world, we've quickly learned how essential video conferencing is, particularly when it comes to remote training. So, it's important to have an LMS that integrates with the most popular webinar tools available, such as Zoom, GoToWebinar, Adobe Connect.
Gamification
Gamifying your training activities will help create an engaging learning experience. It's used to set clear goals and motivates learners by using milestones, and achievement recognition.
Gamification elements include badges, points, and leaderboards which of course, add a bit of healthy competition!
Configurable user roles & permissions
A great LMS should be powerful yet simple. That's why user roles are so effective. Not only do they help define a structure and hierarchy, they allow you to easily create different user roles and groups to make training management much more efficient.
Every company has an organizational structure or hierarchy filled with Directors, Managers, and other staff with varied roles and responsibilities. And, you may want to replicate that structure in your learning platform. The benefit of using role types is that you can automate your user management by instantly assigning learners to courses or learning paths based on their responsibilities. You will also be able to pull reports by group, isolating important data about specific segments, a simple action that can save you time and effort.
The ability to view, edit, create, and delete rights for different users is also a need-to-have feature. It not only enables you to effectively delegate training management tasks, but it ensures that each user doesn't get overwhelmed by unnecessary options, allowing them to focus on the task at hand!
Groups
Simply put, a user group is a group of people who have common interactions within an LMS. Think of it as a way of joining learners together who all need to be able to carry out a particular task, and need the permissions to do so. Anyone who isn't in that group, will not be able to access the course content published to it.
Groups offer many benefits, one being the ability to quickly organize users into segments based on the characteristics that you set, such as by team, role or location – it's all up to you! And because groups offer automatic filtering rules, learners can automatically be added or removed from user groups based on milestones. For example, you could set up a filter to look for all users that joined your company in the last 30 days, and pull them into a group for new hire onboarding training. But remember, you aren't limited to just assigning courses or filtering reports, the possibilities for what you can do with user groups is only limited by your creativity!
Social learning tools
Without a doubt, social media has become ingrained in our everyday routines. So much so that we are always connected to the rest of the world, whether via Facebook, Twitter, LinkedIn, or any of the numerous social networking sites available today.
To make their training programs more appealing and engaging, top companies are increasingly relying on LMSs with social learning capabilities. An LMS that seamlessly engages learners through social learning enhances the learning experience as well as drives continuous engagement.
These tools encourage learners to share their learning experiences and knowledge gained from training. It also promotes communication between trainers and learners. By facilitating this communication through an LMS forum, it creates a space where learners can support, and learn from each other. It also acts as a repository for learners to search and find additional training information. It's an excellent tool for fostering your company's learning culture.
Reporting
Reporting is one of the most valuable LMS features you'll ever use. Without it, how can you know the impact your training is having?
LMS reports should showcase data on learner progression, survey responses, exam results and so on. It's also helpful to be able to export or schedule reports so they're sent straight to your inbox. You can then use these reports to identify trends or highlight any opportunities for improvement. Reports can also give insights into what users want to learn and how. For example, you might have a lot of video content, but notice that courses get a higher pass rate with written content. Using this information, you can create more written content to meet your learners' needs.
Skills & Certification tracking
You may often need learners to cover specific material in order to be certified and ready to do a job, and this is exactly what certification programs are for. After all, it's nice to train your employees, but you'll have no way to measure performance and improvement if you aren't tracking skills development and certifications.
Tracking skills learned and certifications completed also gives your learners a sense of achievement by certifying them for successfully completing their training. An LMS should allow you to customize certificates as well as setting them to automatically generate. So, when your learner completes their course or learning path, they're instantly awarded – no input needed from you!
Need to recertify your learners? It's important to be able to set expiry dates on certificates and for learners to be automatically re-enrolled and notified when it's time to take the latest version of the course. This allows you to report and record your training so you know who is certified and who's not. Let's not forget how important it is to be able to instantly access your securely housed records so that your business is always audit ready!
E-commerce
With e-commerce functionality, you can create a built-in store or integrate with payment gateways like Shopify, Paypal or Stripe to make selling (and shopping for) training courses simple. It also allows you to create and sell bundles of courses and manage different plans for different groups of customers.
LMSs that include an e-commerce capability make it easy for customers to browse, preview, and purchase training materials or course catalogs. You could also take it a step further and make learning a membership benefit by offering exclusive discounts on courses based on membership type.
Learning paths
Managing an increasing number of learners isn't easy. You have to create learning content, analyze learner progress, and assign courses to the relevant users. And that's where learning paths can help. The learning path function within an LMS is essentially an automation tool that enables you to plan and structure training activities by grouping courses together so a learner can master a particular topic or program.
Not all LMSs offer the same functionalities, but there are different learning path types available. For example, sequenced learning paths fit when courses need to be in a particular order. Once a course is complete, the learner will then get access to the next, but they need to complete all courses in order to complete the path.
Sequenced learning paths can save you a lot of time with hassle-free enrolments, especially when roles and responsibilities overlap, certain skills sets are shared, or when courses are mandatory for all employees.
Another, more flexible option is learning paths with learner choice. This is when the learner must complete a specific number of courses available to them. For example, a learner is given 5 courses to choose from, with the completion goal being 3. They pick the 3 they want to take and the order in which they complete them. This option gives the learner more control over their learning and works best when the order isn't important.
Data migration
Migrating from one LMS to another can often be a painful and challenging task due to the technical complexities involved in transferring valuable data and course information. But changing LMS can be like moving house. If you do your research, pack your stuff carefully and deliver it to your new place, moving is a lot simpler.
Data migration offers many benefits, one of which is the freedom to switch your LMS so that you can take your progress and important training data with you. The best part is that you'll be able to reupload all your information to the new LMS so that you're not starting from scratch.
Dynamic Rules
Dynamic rules can save you time and money by automating processes such as course enrollments, populating user groups, sending notifications and assigning certifications with a set of 'if this, then that' rules. For example, you can set up a dynamic rule that awards certifications to new employees that complete onboarding training. Once that course is done, you can then automatically enroll them into the next course of their training plan.
Notifications & Reminders
Think of notifications like a personal trainer, they appear at the right time to give us the push we need to complete a task, and that's exactly what LMS notifications and reminders are great for. Not only do they help users stay on top of training activities, but they reduce complexity by allowing you to set up automated emails that nurture learners through their training. These emails are then triggered once a user has a specific interaction with your LMS.
You'll be able to send dynamic-content notifications to users through email, your learning suite, or even through integrations like MS Teams or Slack. You'll also have the additional benefit of being able to customize your messaging or adding a personalized touch like a learner's name. The emails will automatically send once set up, providing you with peace of mind that your learners will know when it's time to get training.
Multilingual interface
Many organizations have employees, partners and customers they need to train located all over the world. A multi-language LMS enables businesses with global audiences to localize learning programs, and roll them out across multiple regions quickly and easily.
Choosing an LMS with multilingual support ensures your learners have access to a system that's in their native language, improving adoption and increasing engagement with training.
Security
It goes without saying the protection and security of your company's and your learners' information should always be the #1 priority when choosing an LMS. So, it's crucial that you look for one with advanced safety protocols in place, and that they meet the industry standards for cloud security and data privacy. Some third-party certifications include; Service Organization Control (SOC) 2 certification, the EU's General Data Protection Regulation (GDPR) compliance, or IS0 27001 with Certification Europe.
Something else to note is that safety often starts with people. When choosing an LMS, you should determine if the vendor's employees are part of an employee security awareness program. This may include security training, background checks, and confidentiality agreements.
Reliability
When you have hundreds or even thousands of learners within an organization, and you need to track, monitor and assess users, selecting the right LMS provider is critical to achieve a reliable uptime record. This means continuously monitoring the performance of servers and offering high availability hosting architecture that boasts an average of 99.99% uptime, as standard.
It's important to look at the level of service interruptions, what percentage of the time is the app available, and are there loads of scheduled maintenance windows? If your LMS is down, your learners won't be able to access courses, creating an unnecessary barrier to them completing their training.
Responsive design
A responsive LMS is an important part of any successful learning program, as it enables you to design and deliver course content that is accessible across different platforms like laptop, mobile, or tablet devices. For learners, this means a seamless and flexible learning experience on any device, at any time. This level of flexibility increases course uptake as it enables learners to choose how, when and where they want to learn.
Remote or mobile workforce ready
With billions of smartphone users in the world today, it's almost guaranteed that there's a mobile device within arms reach. Globally, how the workforce utilizes technology to communicate and collaborate has changed, and popularity in remote work continues to grow.
An LMS must be remote or mobile-ready to ensure learners have access to materials at all times so they can take courses on the go, anytime, anywhere whether it be on a mobile-friendly LMS or via an app.
Learners can participate in training from any location using whatever device they own if your LMS has mobile capabilities, a responsive design, or native mobile apps. This is particularly useful for courses that need learning outside of the work day, or for distributed teams where learning can occur between calls or visits.
Single Sign-on
Take a moment and think about how many username and password combinations you have to use to access all your accounts and apps every day. Now consider that all of those services could be accessed through a central authentication service that asks for your credentials once, and lets you in. That's SSO in action. Pretty convenient, right? Other than convenience, an LMS with SSO has two other major benefits:
Efficiency: It reduces the workload of the IT department, as less users are requesting password resets for multiple applications.
Security: Learners only need one set of login details for verified access to different systems which can significantly increase the security of the IT environment.
This powerful feature will increase the adoption of your LMS and your training programs as learners will have streamlined access to their learning.
Choose an LMS that sits at the heart of your learning ecosystem
We understand that building training programs takes planning and care, so make sure the LMS you choose has all the features required to create, deliver, track  and maintain your training programs. Creating use case scenarios will make it easier to differentiate between the "need-to-have" features and the "nice-to-have" ones.
Essentially, the goal is to have one powerful solution to manage, deliver and track your training. So, if you're looking for an LMS that ticks all the boxes on your checklist, check out LearnUpon LMS. It offers everything you need to streamline and centralize training management across your company.