How to Onboard your Employees with an LMS

A new hire has joined your organization. You want to train them, impart them with the knowledge to get them up and running in their role as quickly as possible. But how? 
Using employee onboarding software like a Learning Management System (LMS), particularly in a growing organization, is fundamental to the success of new hire training.
In this post, we'll talk you through everything you need to know to successfully onboard your employees with an LMS.
From what exactly is onboarding, to the best practices, to the benefits an LMS can have for your business. Let's jump in.
What is employee onboarding?
Before we get into the nitty-gritty, let's clarify what is meant by employee onboarding, and why you need software to do it effectively. 
Employee onboarding is the process of new staff acquiring the skills and information needed to become an effective member of your organization. It can encapsulate anything from process training to company culture to security protocol and so on. 
Depending on your business and the role, onboarding can occur within a couple of days, several months or even over a year. The overall outcome should empower new hires to do their role effectively and ensure employees are confident in their abilities.
What is employee onboarding software?
Companies use software to manage the onboarding process. Spreadsheets and docs are too unreliable when it comes to delivering and tracking new hire onboarding. Most organizations use HR software, like Bamboohr, to track the human resource aspect of the onboarding process. Notifications are sent out automatically on a cadence. The new hire is kept engaged throughout. 
But what about the training and development aspect? That's where an LMS comes in. New employees are given access to an LMS portal where they complete on-demand eLearning courses, watch introductory videos and take exams. They can be encouraged to complete their training with gamification features like badges and leaderboards. 
Connecting a HR system and an LMS centralizes your new employee's information in one place so it's easy for you to track their performance!
The benefits of employee onboarding
Implementing an effective onboarding strategy boasts numerous benefits for both employees and your business. These include:
New employees can be productive faster

Attracts top talent

Passes important information on to new hires

Decreases turnover

Boosts performance

Ensures compliance with organizational procedures

Reduces micro-managing
Using employee onboarding software helps to make the process manageable, reliable and stress-free.
What businesses need employee onboarding?
If your business is hiring new staff then employee onboarding is essential. In fact, you already are doing it! 
However, to make it effective it's important you formalize the process and develop an onboarding strategy. It's particularly pertinent if your organization is expanding and needs to implement a consistent practice.
The methods of delivering employee onboarding
If you want to implement a formalized onboarding process for your organization, there are a few ways to do this. Many businesses turn to a learning management system (LMS). Depending on your size and type of business, different methods can be applicable to you. These include:
Instructor-led training

– Completed in either a group or with individuals and is usually done in person or through webinars/video-based learning

Online training – All of the training materials are organized into online courses for your learners to complete

Hands-on training – Usually one-on-one training that takes place on the job

Blended training

– Using a combination of the methods mentioned above to deliver training
Using employee onboarding software such as an LMS
A learning management system or LMS can be a clever move for growing businesses that want to improve and optimize their new hire process. This tool can have big benefits and offer you features that refine and simplify how employees integrate with your organization. Here are some of the features and benefits an LMS can have: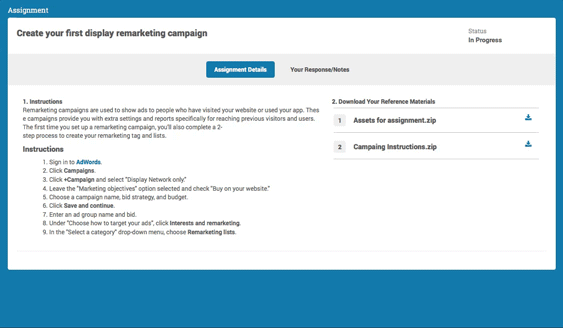 Fast course creation
Delivering training to your new hires should be fast and simple, and with an LMS it is. 
Your business can upload pre-existing content or create new training courses with a few clicks.
To assess performance and get feedback, exams, quizzes and surveys can be created and rolled out. And rich media (video, audio, etc.) can be added to make your courses more interactive and engaging for your users.
Collate learning material
If you have been doing onboarding training on an ad-hoc basis or through traditional Instructor Led Training (ILT), then you probably have a collection of resources that would benefit your new hire training. 
However, it can be difficult to ensure your learners have access to everything they need, especially if there is a large number of new employees or they are remote hires. 
An LMS can collate all of your learning materials into one handy resource. This ensures that your employees have access to everything they need and that everyone is getting the same level of information and training they need.
Add users instantly with an integration
One of the biggest benefits of an LMS is how easy it is to add your users to your LMS and ensure they are getting the training they need. Adding users can be done a couple of ways – using batch uploads or individually added. 
For employee onboarding, a popular method is to integrate your LMS with your chosen HR system. This means that when your new hire is added to your HR system, they are immediately added to your LMS too. No extra work is needed from you and you have peace of mind that your learners are doing their training ASAP.
Meet targets with the help of due dates
Targets are a great way to keep your new hires on the right track. With each course, you can select a time period that their courses need to be completed by. Be it a week, a month, or whatever you want, due dates allow you to know your new hires are consistently meeting their goals and keeping up with their training schedule.

Group learners
Different hires require different training and need access to particular courses. You can make sure this happens with groups. 
Groups are a feature that separates your learners into segments with each one having their own tailored content. You can create groups based on whatever criteria you wish like teams for example – customer support, sales, marketing – and once a new hire logs into your LMS they have access to all the same courses as their fellow team members.

Assign managers
Employee onboarding often has stakeholders who want to track new hires' progress. An LMS allows you to do this. You can assign managers, HR or whoever you'd like in your organization, to monitor their development, give feedback and even assign courses to learners.
Learning Paths
Need to train your learners on a series of courses? A Learning Path ties them together in a logical manner so that each learner follows the program of training you have designed. It's a great way to plan out training programs that cover a larger topic or take place over a longer period of time, like employee onboarding.
Gamification & certificates
You can reward employees throughout the onboarding process with gamification and certifications. From giving badges and points for finishing individual modules to awarding certificates for completing the onboarding process, it's a great motivator for your employees.

Reports
Importantly, reports are also available for you to monitor and improve your onboarding training. You can access the performance of new hires and ensure they are keeping up to speed, gaining the knowledge they need. And you can measure how your new hires performed overall to see where your course can be even better.
Best practices for employee onboarding software
When you're deciding on delivering employee onboarding, there are some practices we suggest to ensure success. From having a cohesive plan and schedule for your training to getting management involved in investing in an LMS that has the best features for your business. All of these together will help you deliver effective training and provide your hires with the skills they need.  
Setting up employee onboarding software is easy
New employee training is an excellent way to get them up to speed quickly. Train your new employees with LearnUpon. The powerful learning management system that has the features and a knowledgeable team you need to achieve training success.
Get your free trial and demo today!