3 min reading time
LearnUpon and Zapier: Integrate Your Most-Used Apps with Your LMS
Integrations make your life as an LMS user simpler. They eliminate repetitive tasks and help your organization scale as it trains. At LearnUpon, we've made integrating with your preferred tools even easier. You can now use Zapier with LearnUpon to connect your most-used apps to your LMS.
With lots of new integration options available right at your fingertips, let's explain Zapier and how you can make the most of it with LearnUpon.
What is Zapier?
Zapier is an automation tool that allows you to connect your software via an integration based on a system's API. With over 1,500 apps available within Zapier, it provides you with the flexibility to use them together and make different actions occur based on easy to create workflows known as "Zaps". For example, you can integrate your LMS with your HR or CRM system to transfer learner data.
Why we love Zapier
Zapier has proven popular for many reasons, most notably:
1. It connects the systems you use every day
If you need to share information between your software systems, Zapier facilitates this with ease. Once you connect the apps and decide what information you want going back and forth, you can transfer your data and get your systems talking.
2. Automates repetitive tasks
When you connect two or more systems, you can automate tasks and reduce admin overhead. Your admins no longer have to, for example, manually add the users of one system to another. If you create a Zap, they can be added automatically.
This also reduces the possibility of human error as it's all done through the app. So, you'll never have to worry about uploading the wrong data again.
3. Everyone can integrate, not just developers
Conventionally, integrations need to be done by someone who is tech-savvy, but Zapier gives everyone the power to integrate. You don't need a developer to build custom integrations. You can set it up on your own, reducing costs and the number of people involved in your projects.
LearnUpon and Zapier
Now that you can use LearnUpon with Zapier the possibilities are endless. You can self-sufficiently connect your tools via API and easily integrate with your HR system, your CRM, Slack, your webinar software, your calendar app, your analytics… the list goes on. Here are some of the workflows you can create:
1. Automatically add new learners
One of the most popular features organizations' like to use within their LMS is an HR system or CRM integration. If you're training your employees and customers, it's likely you will have to transfer their data from these systems in order to add them to your LMS.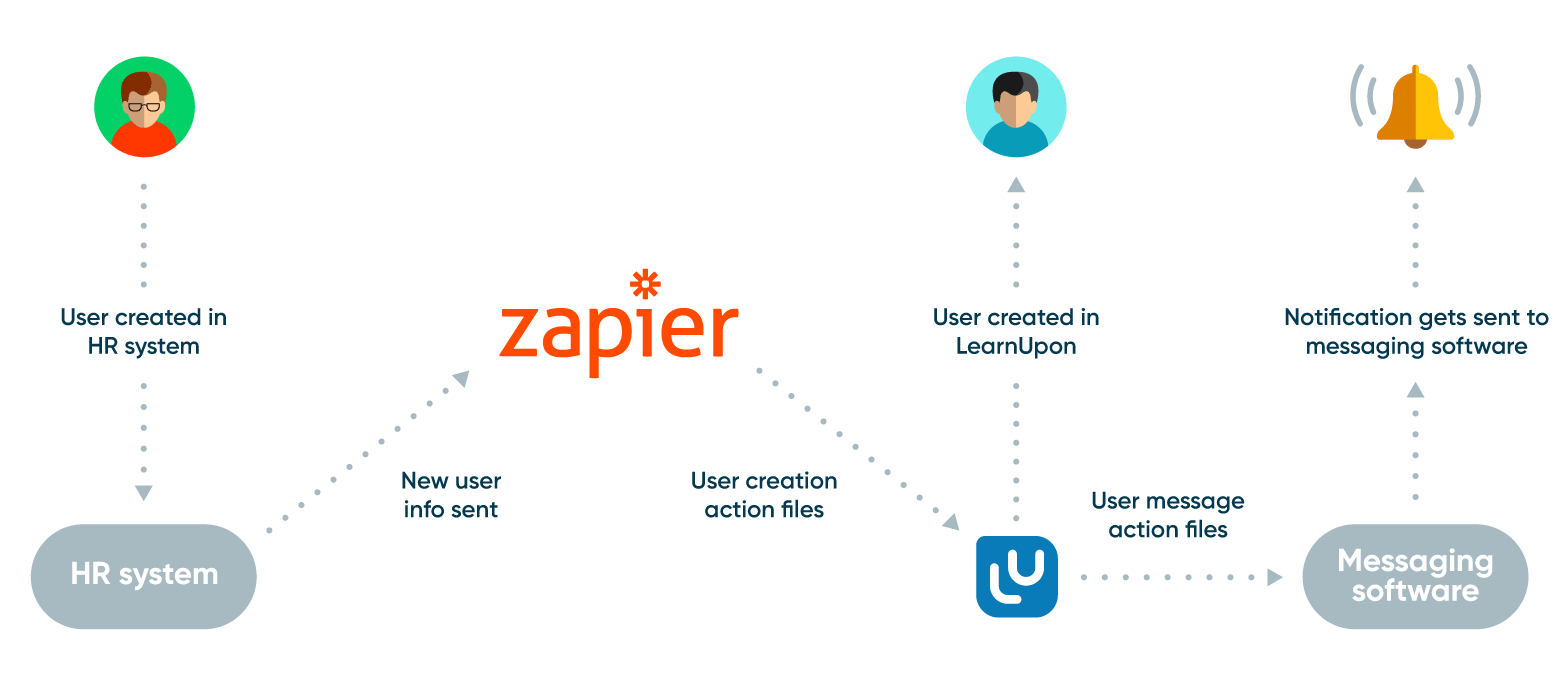 With Zapier, it's super simple. By setting up a zap, you can tie together LearnUpon with your chosen solution, like BambooHR or Salesforce. So, now when you add a new team member to your HR system or customer to your CRM, the zap sends their information from that system to your LMS and they are automatically added as a user – no further input needed from you!
2. Record Enrollment Completions
You can also send data from LearnUpon to your chosen systems with Zapier. Take, for example, enrollment completions.
Many organizations need to track enrollment completions for record-keeping purposes in their HR system or CRM. Additionally, the wider organization might want notifications of achievements pushed to Slack for their internal discussions.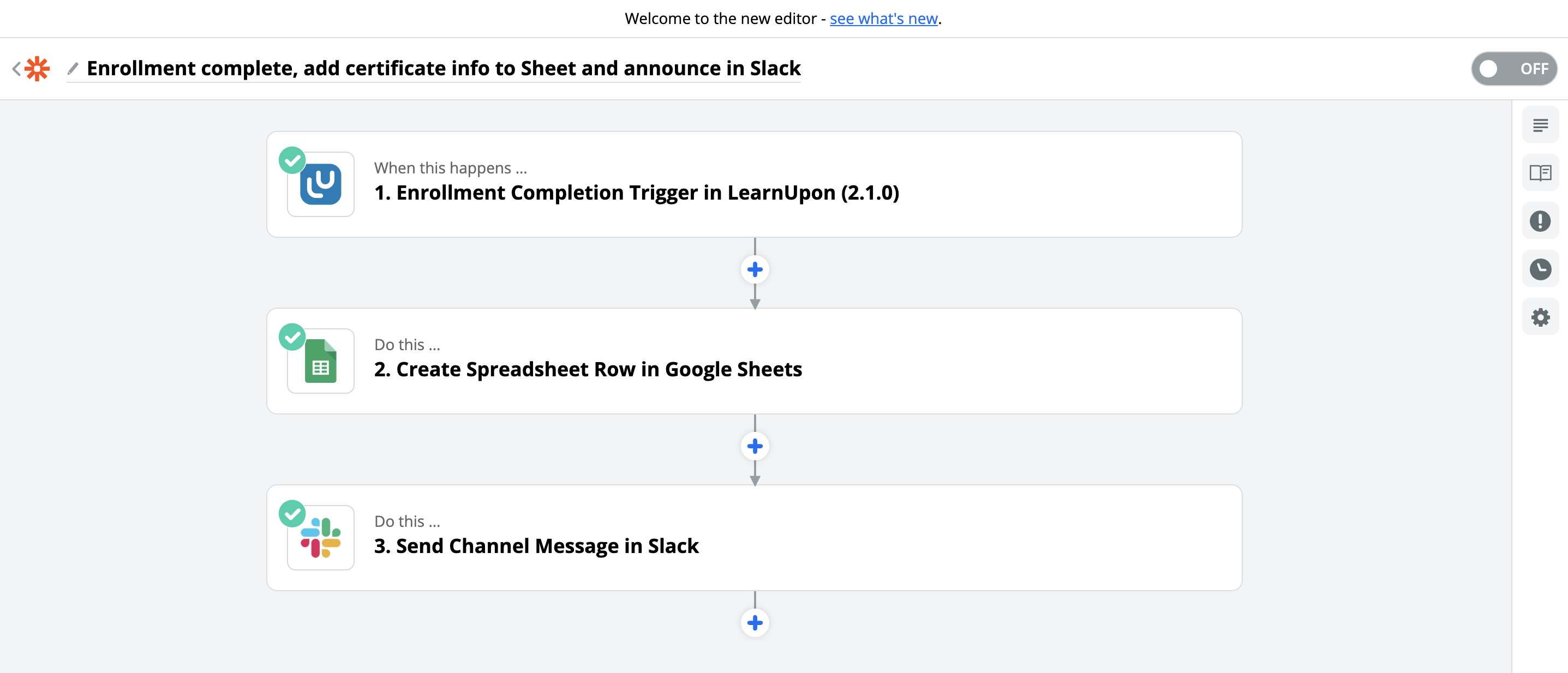 Using Zapier, you can set up a zap that will send your enrollment completions automatically to your HR system for your records and a notification to a Slack channel on completion of courses from LearnUpon. You only have to set up one zap and now your data is automatically being shared between systems.
That's not all you can do with LearnUpon and Zapier: Here's a list of our favorite actions you can automate:
Invite a user to your LearnUpon portal
Create an enrollment for your user
Add a user to a specific group
Create a brand new group
Search for a user in LearnUpon
Search for a group in LearnUpon
This is just the tip of the iceberg when it comes to creating automated workflows with LearnUpon and Zapier. You can create different actions using multiple systems, and Zapier is flexible enough to ensure they all occur, saving you lots of time and helping you manage your day-to-day training.
If you'd like to know more about using Zapier with LearnUpon, reach out and email us at hello@learnupon.com or if you're already a LearnUpon customer chat with your Customer Success Manager. We'd be happy to answer any questions you have.