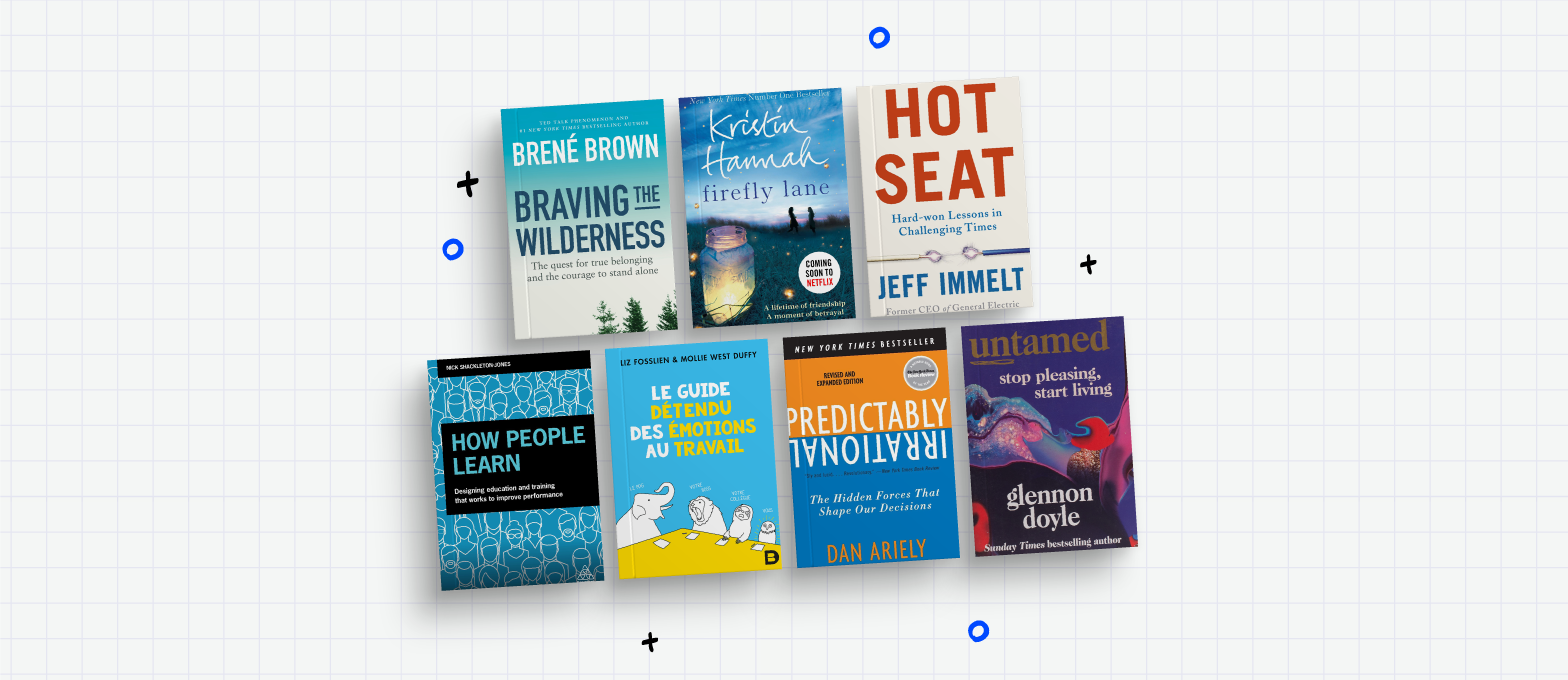 3 min reading time
Learning Impact Book Club Reading List
The Learning Impact Digital Series focuses on bringing you insights and knowledge from the best and brightest in the learning industry. As we approach our 18th episode, we wanted to take a moment to reflect on some of the resources that have been shared by our guests.
Throughout our series, we've asked all 7 of our leadership speakers "what was the last book that you read?". Each speaker shared a unique book and we've collated all of their responses just for you, as part of our first Learning Impact Book Club reading list: 
1. "Braving the Wilderness" by Brene Brown
Recommended by Dr. Karen M. Gilliam, CLO, NASA: "I love her work… I love her writing, I love her role-modeling around risk and vulnerability. There's a lot to gained on personal insight just in reading her books and listening to her talks."
2. "Predictably Irrational" by Dan Ariely
Recommended by Rob Lauber, CLO of McDonald's: "It talks about hidden forces that shape our decisions. So it's kind of interesting to sit there and read about the cost of social norms, or the cost of zero cost. From a consumer lens or from a human behavior lens why we make some of the decisions that we make, even though when we step back and look at them, they're pretty irrational. It's not a new book, but it's a good read."
3. "How People Learn: Designing Education and Training that Works to Improve Performance" by Nick Shackleton-Jones
Recommended by Christopher Lind, Head of Digital Learning at GE Healthcare.
4. "Untamed" by Glennon Doyle
Recommended by Heather Conklin, SVP & GM, Trailhead, Salesforce: "It's about helping women, really, to tap into who they really are. It talks a lot about societal things that are out in the world that shape how women are perceived in the world and how we all show up. And so this is a book about letting some of that go and embracing more of your true self."
This book was also recommended by our first Inspire speaker, Brittany Wagner!
5. "Hot Seat" by Jeff Immelt
Recommended by Brandon Carson, Director of Learning at Delta Air Lines: "He's the former CEO of GE and he started his tenure there after Jack Welch, so he replaced a much-loved CEO, and came in on September 10th, 2001 as CEO. So, 9/11 was the next day, that was his second day on the job as CEO. It's a great book, it's a great read. He talks a lot about the mistakes that he made and just the challenges of taking on a business like that in such a tumultuous time."
6. "No Hard Feelings: The Secret Power of Embracing Emotions at Work" by Liz Fosslien and Mollie West Duffy
Recommended by Dee Kapila, Head of Customer Education at Miro: "This is a fantastic book about… there's this idea that emotions don't belong in the workplace, but then there's also been this wave recently around how important it is to be authentic and vulnerable at work. And I think people and leaders struggle with both sides of that equation, and I think this book does a great job of bringing together some of the research and ideas in this space and making sense of all of it. I highly recommend it."
7. "Firefly Lane" by Kristin Hannah
Recommended by Sonia Malik, Learning Strategist and Alliances Manager at IBM: "I watched the show, loved it, but wanted to read the book to know what happened at the end!"
So that rounds up our first Learning Impact Book Club post. Stay tuned for further recommended reading from our Leadership track speakers. Or if you've already read any of the titles mentioned, please feel free to share your thoughts in the comments below