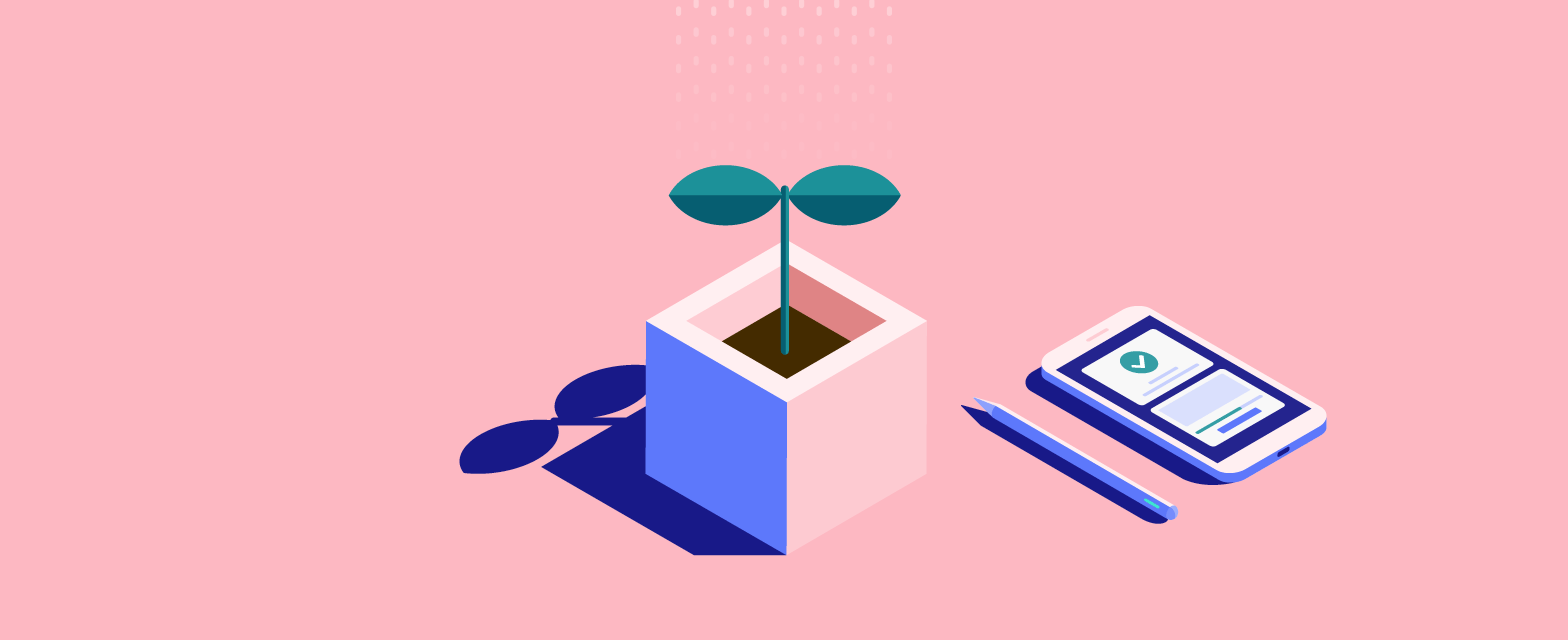 9 min reading time
20 Tips for Creating a Learning Culture in the Workplace
Having each and every team member aligned with your business's goals is a substantial step to success. We're talking about knowing your values, product, customers, mission, conventions, structure… the list goes on. But as a growing organization, how do you ensure every member is acquiring the knowledge they need? The answer: a learning culture.
Developing a learning culture needs a little time and effort, but in the long run, it delivers impressive results. Here are our top 20 tips for creating a learning culture in your workplace.
What is a learning culture in an organization?
A learning culture is when an organization puts a strong emphasis on encouraging its members to understand its values, practices, beliefs, skill sets, and conventions. This enables employees to gain the knowledge and abilities needed to perform at their best, better satisfy your customers, and help your organization grow.
Why is a learning culture important?
Learning cultures impact all areas of your business, from productivity to retention. In fact, an IBM study focusing on the value of employee training showed that 84% of employees within the best performing organizations are receiving the training they need compared with 16% in the worst-performing companies. And in another recent eLearning report, 94% of employees said investment in training and development is one of the major reasons they would decide to stay in a role for longer.
It matters to employees and it helps your business grow, making it one of the most important practices for your organization.
Building a learning culture in 20 steps

1. Examine your current learning strategy to find learning gaps and weaknesses
We're sure you're doing some type of learning right now, be it formal or informal. However, before you can start creating your own learning culture, you have to tear it down and build it back up again. This means assessing how your employees are currently learning, what they're learning, the training materials they 're being provided with, etc.
Through this research you can identify your organization's learning strengths and weaknesses. From here, you can then start to create a strategy that nurtures powerful and effective learning for your employees.
2. Plan what you need and want your employees to learn
Some learning will be organic and informal. But it's also essential to have structured and formalized learning too. For example in product knowledge training, codes of conduct, or onboarding, these should all be planned down to a tee so that your employees acquire the knowledge needed.
Importantly, this planned training helps you establish a baseline of knowledge throughout the organization as everyone will have received the same resources, and you can measure its impact too.
3. Empower subject matter experts
One of the most common stumbling blocks businesses experience when creating a learning culture is learning materials. There's plenty of information you want to offer your employees, but creating the materials is a big task. We suggest pulling in subject matter experts and getting them to recommend and create content for your employees to gain knowledge from. Whether it's managers or other employees, subject matter experts can create the most impactful materials and point you in the right direction of where to find top-notch resources.
4. Ask employees what they want to learn
Your employees have a wealth of information that can help you create a better learning environment for them; ask them about it. By asking your employees where they're experiencing knowledge gaps, what skills they would like to learn, and where they believe learning can be cultivated, you'll discover directions to tailor learning and better cater to their needs.
You can capture this feedback in a number of ways. Face-to-face, via email, or if you have a learning management system, surveying your learners is a fast and efficient way to collect the information you need.
5. Make training easily accessible
Employees won't want to learn if the process is arduous. You need to ensure that it's as seamless and friction-free as possible. If you're delivering courses through an LMS, choose a user-friendly solution. It should be effortless to log in and start training, the dashboard should be intuitive, and your employees should be able to train when and where they want via mobile learning.
Accessibility also encompasses awareness of where training happens. When you're launching a learning program, make sure to tell your employees that courses are available and where they can find them. This will make the whole process as simple as possible for your learners.
6. Ensure learning is a top priority from day one
To build a true learning culture, the concept of learning should be ingrained in your employees from the moment they join your organization. Beginning with well-planned and effective onboarding via courses in your LMS, workshops, and mentoring, your new hires will become accustomed to learning from the get-go and, if given the opportunity, they will continue to learn throughout their career with your business.
7. Set aside time to learn
Impending deadlines, on-going projects, endless meetings – it's hard to find time to learn. It's the number one reason why employees feel held back from learning. If you're part of an organization, developing a learning culture, you have to be an advocate for learning time. Your employees need to know that they're not only allowed, but encouraged to take time out of their day to brush up on their skills.
Some businesses implement a company-wide rule that team members can have 2+ hours of training a week, or ask managers to remind people it's okay to focus on learning. Either way, letting everyone know they have the time should foster a culture of learning.
8. Experiment with learning methods
When it comes to introducing and encouraging learning in your organization, the world is your oyster. There are a myriad of ways to get employees learning that are waiting for you to experiment with. For less-structured learning, there is one-on-one coaching, group problem solving, etc.
Face-to-face training sessions and online training courses via an LMS are widely used for more formalized training types. Both are incredibly effective when used in isolation or when brought together in a blended learning model.
Through these learning methods, you can also mix up the content you're delivering. Videos, webinars and ILTs, slideshows, and more; when brought together they create a dynamic learning experience that hooks in your learners.
9. Create a library of resources
Using your LMS, you can collate a collection of resources and store them for your employees to access whenever they want. This central repository can hold any documents that you believe are helpful to your learners, but aren't essential. They can log into your LMS, shop around, and pick a document, video, or slideshow on a topic they want to learn about whenever they want to.
10. Integrate learning into day-to-day life
To make learning a habit in your business, it needs to be intertwined into your employees' day-to-day life. Once again, accessibility comes into play here. By having a mobile-friendly LMS, your employees can dip into training when and where they decide so it becomes part of their day. Availability is also a big driver as the more courses and learning opportunities you offer your employees the more likely they'll start to learn and have access to resources that interest them.
Day-to-day learning practices can be informal too. Simply having a chat about a process or interesting article with your team can be a regular learning opportunity.
11. Make it social
People like to learn with others. They like to chat about ideas, share resources, and hear different perspectives. So, why not nurture this in your organization? One of the best ways to do this is with the forum feature in your LMS. Employees can post topics, ask questions and interact with each other to make the learning process more social.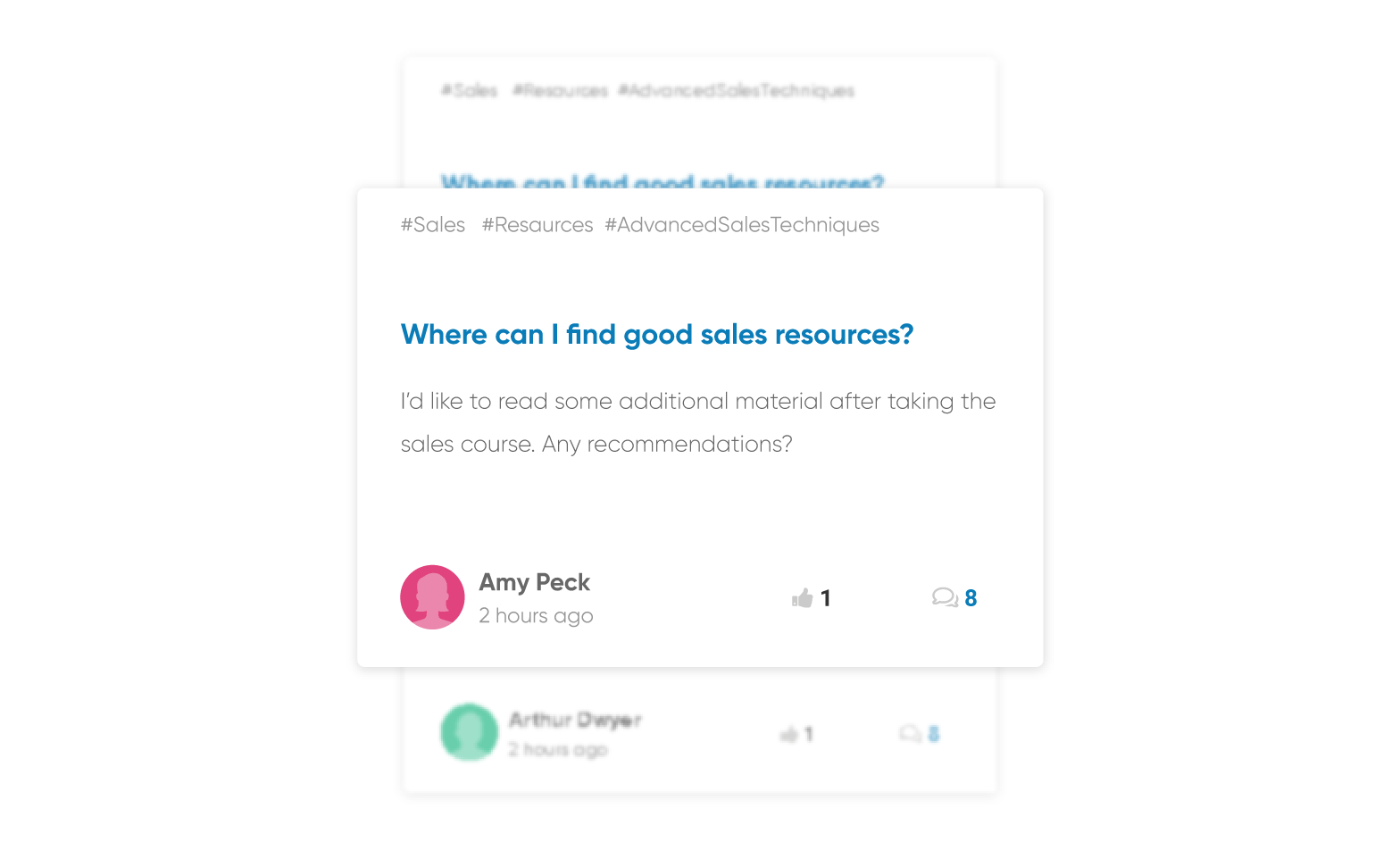 12. Make learning fun
Learning doesn't have to be dry and dull. If you put in the effort to make it fun and engaging for your employees, they're much more likely to want to be involved and want to learn.
At LearnUpon, we like to use Gamification within our LMS to spice up training sessions. By rewarding employees with points and badges, it motivates them to keep on learning in a fun way. Leaderboards add a friendly competitive edge too as every employee can see who's engaged in the training.
13. Promote learning
Employees aren't going to learn if they don't know about it. It's time to unleash your inner marketer and promote learning throughout your organization.
If you're about to launch a learning program, make learners aware of it by sending around emails, putting notifications on Slack, and getting management to let their staff know about the training. Also, let your employees know what's in it for them. Knowing the advantages of learning is a big motivator.
14. Make a habit of knowledge sharing
If you find information that's helpful to you in your role, chances are it's going to help out someone else in your organization, so why not share it? The best learning cultures have open communication. People should be encouraged to talk about, and share what they've learned.
There are a couple of neat ways you can get your employees sharing their own useful resources. At LearnUpon, we're big fans of Slack. We have a designated Slack channel where our team mates can post valuable information they've discovered.
We also love using our LMS forum. There's a very long thread filled with resources that every employee contributes to. Whenever there is an opportunity to do so, we share.
15. Make it on-demand
On-demand training enables your employees to access learning materials anywhere and at any time. For a modern-workforce, it's more flexible than traditional training as it's based on their schedule. On-demand learning can mean different things to different businesses. For some it's offering an LMS that lets learners access the courses that they're enrolled in. And for others, it's offering a selection of courses within an LMS and your learner can pick and choose the courses they want to complete. Either way, as long as you are making training easy to do, your employees are much more likely to be involved.
16. Reward learning
Recognition is important. Employees want to be acknowledged for the time they've invested in learning. We recommend having company-wide initiatives that reward your team members for their hard work. These can be small, such as a shout out about how well someone has performed in an email or on Slack. Or it can be larger and more motivating, like a prize for the employee with the most courses completed over a six month period.
This will not only help with the uptake of the courses you're delivering, but it will show your employees that you value the work they put into learning.
17. Keep it continuous
It's a common pitfall. Businesses decide to invest in learning, but then only offer a course or mentoring session once every six months. Or they roll out a couple of courses, but never add more. A learning culture isn't a one and done practice. It needs to be continuous, constantly worked on, with new courses and resources being handed out so that it becomes a habit in your organization.
18. Link in leadership
The culture within a business comes from the top down. If management is emphasizing the importance of something, the employees follow. Therefore, from the get-go, you must link in management.
Done in several ways, they can be active participants in the learning itself through coaching or mentoring, or even creating course content for training programs. Or they can be learning advocates, continuously promoting and encouraging learning to their team members.
19. Give feedback
To get and keep an employee engaged with learning, give them continuous feedback. When they've completed a learning session, let them know what they've done correctly, where they can improve, and importantly, reiterate how the learning process can help them reach specific goals.
Conversely, ask for feedback from your employees too. Did they feel a course helped them? Is the information applicable to their role. Learning is a two-way street and feedback is one of the best ways to nurture it.
20. Measure and adapt
If you are focusing on formal learning via an LMS, remember to measure its success. It's one of the most powerful tools you have. Through measuring engagement, completion rates, exam results, training histories, etc, you can discover the real impact learning is having on your employees.
This continuous monitoring will enable you to tweak and adapt your courses to ensure they're tailored to your employees needs, and importantly, more effective for them.
How do you encourage a learning culture in your organization? Let us know in the comments below.