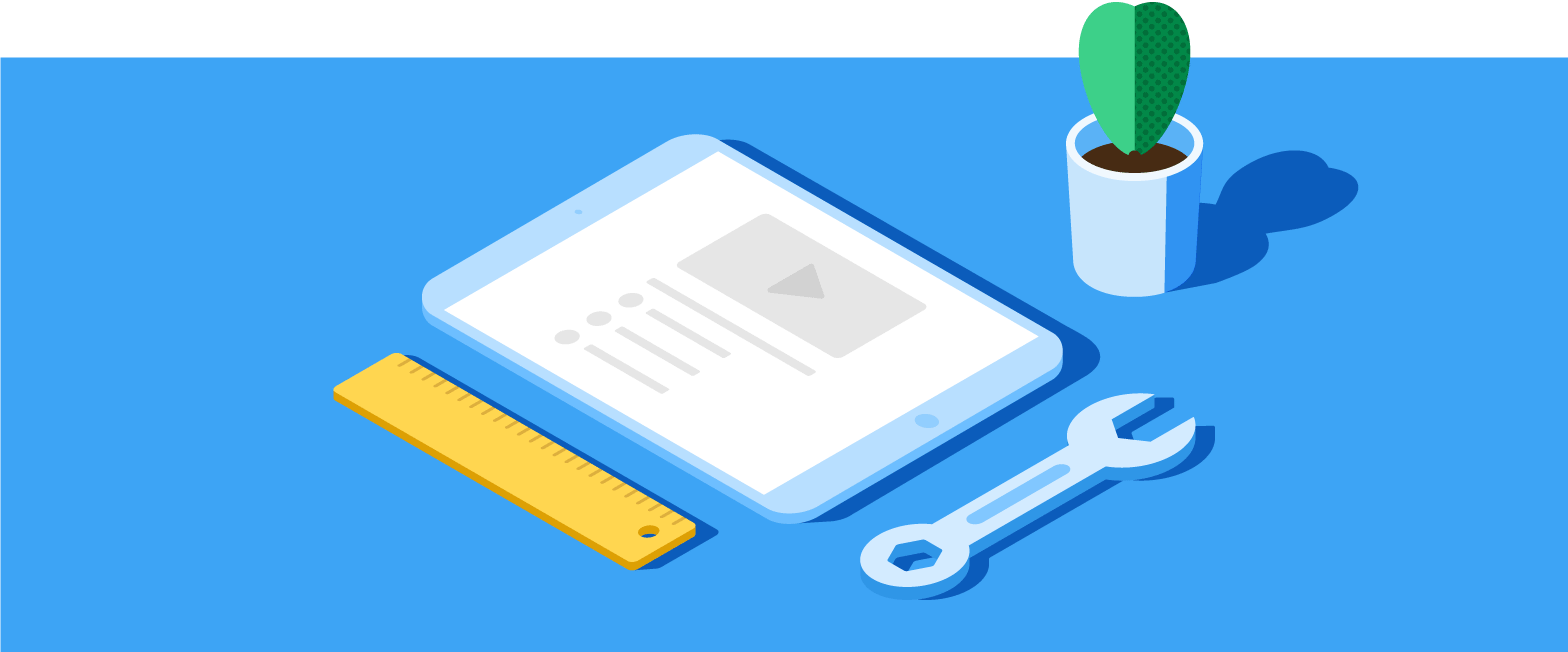 15 min reading time
The Best eLearning Tools You Need Now
An eLearning professional is only as good as their best tools. As well as learning management systems, there are now all kinds of nifty online apps that can help you to organize your work, research trends, create course content, network with peers, and communicate with learners. The team at LearnUpon organizes eLearning projects and helps customers with course content every day. So we asked members of our development, customer support and design teams to recommend the top eLearning tools they can't work without. Whatever your role, you'll find something here that's sure to make your training a little smoother and more polished.
The Best eLearning Tools
Best eLearning tools for productivity
Trello is a project management tool that is easy to use, making getting organized a breeze. Trello's method is based on the Kanban technique, which uses a clear visual order to manage the production processes. Why it's a great eLearning tool: eLearning projects usually require input from a range of stakeholders. Trello makes it easier to coordinate everyone's input and track the status of different tasks. Trello offers many methods of project management, including cards, lists, boards and color-coding. Relevant team members can be effortlessly added to cards, and only those involved in that specific project will receive notifications. Trello works particularly well with different instructional design methodologies, including ADDIE.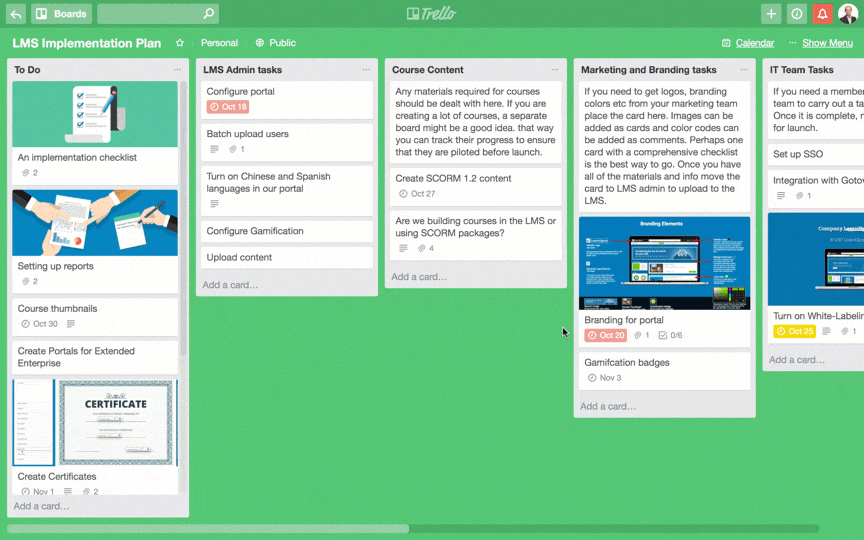 Google Drive is our favorite form of cloud storage here at LearnUpon. With teams working in different locations across the globe, Google Drive provides a safe and central location where all team members can access the files they need at any time. Why it's a great eLearning tool: Many eLearning teams have members that work remotely, are based in different offices, or travel frequently. Google Drive is useful for ensuring that team members have instant access to the most recent version of a file, avoiding the delay and potential confusion of email chains. Google Drive is also ideal for storing brochures and educational documents that account managers may need access to from eLearning conferences and other remote locations.
Momentum is a to-do list extension that can be used with the Google Chrome browser. The main strength of this eLearning tool is that it's so easy to use. When you first install the Momentum plugin, you'll be asked for  your name, location, and a focus for the day, which will be used to personalize your to-do list later. Why it's a great eLearning tool: An online to-do list is an essential eLearning tool. Momentum's ease of use makes it our favorite! Its simplicity makes it all the more likely you'll add and track tasks, improving your productivity.
Google Calendar is one of our favorite eLearning tools for staying on top of team meetings and keeping up with employees, customers, partners, etc. It offers many handy features, such as the ability to add notes, send text notifications and schedule recurring reminders. Why it's a great eLearning tool: It's important for eLearning professionals to have their days fully organized. After all, organization is the key to productivity! One of the major benefits of using Google Calendar is how widely used it is, so you don't have to worry about compatibility across devices or organizations. You can also set recurring events, where training sessions can be scheduled weekly, annually, etc.
eLearning projects, such as the curation of course content, requires the input of a variety of people. Mural is an ideal program to use for people to organize, share and develop their ideas. Essentially, Mural is a collaboration and brainstorming design board where teams can collaborate and share ideas, no matter where they are, making it perfect for businesses with global offices or remote workers. Mural makes it visually pleasing to track tasks and projects, in addition to creating storyboards, etc. Why it's a great eLearning tool: Mural allows team members to visually contribute their ideas to an eLearning project while collecting all information in one place, which is ideal for eLearning employees who can't be in the office all the time, or need to travel a lot. Because Mural enables team members to collaborate and share ideas in the same place, it avoids confusing email threads and increases productivity.
Just Press Record is a hugely helpful app that makes for a great eLearning tool. It's a mobile audio recorder that allows you to record, transcribe, share and organize audio. Recorded audio content can also be synced between devices (including iWatch) via iCloud. Why it's a great eLearning tool: The ideas discussed in eLearning conference presentations and webinars often makes for great course content. Rather than painstakingly taking notes and having to transcribe them afterwards, Just Press Record does it for you. It's not only productive, it saves you time too! If you utilize blended learning, Just Press Record is perfect for recording and sharing in-person training sessions or webinars.
Tomato Timer is a website and app dedicated to combating procrastination, resulting in more effective time management. Tomato timer is based on the Pomodoro Technique. This technique uses a timer to break down work into intervals, traditionally 25 minutes, separated by short breaks. This tool is simple to use and you can even customize your timer. Why it's a great eLearning tool: The stages of planning, tracking, and recording are fundamental to the technique, making Tomato Timer a great eLearning tool for productivity. Plus, since learning, taking a break, and going back to review is considered an effective method to fight the forgetting curve, Tomato Timer gets bonus points for promoting knowledge retention.
Best eLearning content creation tools
Camtasia is a screen recording and editing software suite that makes it easy to capture what's happening on your computer. During the editing process, you can add "hotspots" to the video that make any element on screen clickable. Why it's a great eLearning tool: There's lots of ways that Camtasia can be used for eLearning. Instructors will find it useful for recording videos that learners can watch at their convenience, while account managers can use it to show prospective customers how LMS features work. Camtasia is an awesome content creation tool for eLearning; you can also create SCORM courses, add animations, quizzes, and more.
While there are countless eLearning authoring tools on the market, Elucidat is particularly strong at creating responsive online and mobile course content that's compatible with HTML5. Elucidat uses cloud technology, which makes for a great collaboration tool. Why it's a great eLearning tool: Elucidat's built-in review and commenting features makes it easier for remote eLearning team members to work together. It's also great for course developers and instructional designers who need to develop online learning content that loads quickly and runs on a huge range of browsers and devices.
Articulate Storyline is an eLearning authoring tool that creates interactive course content. With an interface similar to PowerPoint, it's easy to import existing presentations and make them more engaging by adding features like triggers, variables, and layers. Why it's a great eLearning tool: Storyline's similarity to PowerPoint makes it particularly useful for designers and developers who are new to eLearning authoring tools. Storyline can help you engage learners and gives you the ability to add effects after you've imported your PowerPoint content to Storyline.
YouTube has become the go-to place for people looking for all forms of video content. It hosts a huge repository, where users can upload videos or create playlists to curate content in a way that suits their interests. Why it's a great eLearning tool: Video content is a big trend in eLearning, and it's a tool all eLearning professionals should utilize. Adding video content to your eLearning courses makes them more interactive and fun. YouTube tends to be the first place people go when they want to learn something fast, making it a great place for instructors to add eLearning videos. Plus, video content uploaded to YouTube can be easily embedded into most eLearning content.
No list of eLearning tools would be complete without Microsoft Office, the popular package of productivity software programs. PowerPoint, Word, and Excel are used in organizations across the world to create documents, presentations, and managing reporting processes. Why it's a great eLearning tool: Microsoft Office Suite is one of the most popular eLearning authoring tools out there. PowerPoint and Word form the basis of many training programs. It integrates easily with many learning management systems. For example, LearnUpon can export training reports to Excel and email them to your team automatically.
As a rapid eLearning authoring tool, the main benefits of Adobe Captivate are responsive design at an affordable monthly fee. Adobe Captivate's library of over 25,000 templates and assets are popular with course developers and instructional designers. Why it's a great eLearning tool: Captivate is a great eLearning authoring tool in which eLearning developers and designers can work projects through from storyboarding to exporting a completely responsive course. Courses created in Captivate are responsive across a large range of devices. The games, interactions, layouts, and cutouts included in the library can contribute to highly engaging course content.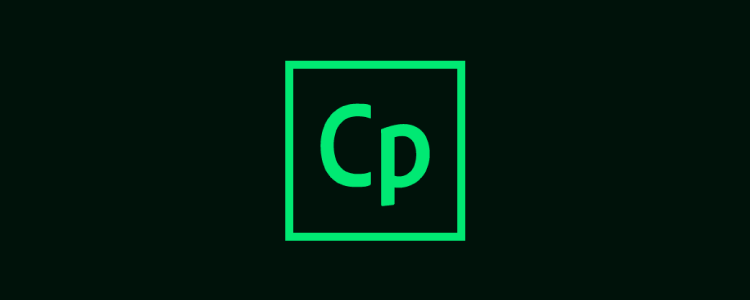 Google Docs provides an alternative to Microsoft Office. The main advantage is that the suite of eLearning tools is free. Spreadsheets, presentations and slides are created and stored online, making collaboration across teams a breeze. Why it's a great eLearning tool: At LearnUpon, we find Google Docs most useful for allowing multiple team members to collaborate on the creation and editing of shared documents. With all files stored in the cloud, team members can give feedback and make edits in real-time.
Wistia is an incredibly handy video hosting platform. It provides organizations with a customizable video player that fits their needs. Videos can be shared securely and are easy to manage and track. Why it's a great eLearning tool: Wistia is a perfect eLearning tool for hosting your training content. You can create onboarding videos for new hires in your organization, or product tutorials for your customers. It also has great analytics, so you know if your audiences are watching your videos.
If you're a design newbie or looking for a quick way to make an infographic, header, or slide, Canva is the perfect eLearning tool for you. It's easy to use, and excellent for your speedy design needs. Why it's a great eLearning tool: Canva has lots of templates for a wide variety of customizable content types that can be added to your eLearning content quickly and easily. It enables you to make your course material more visual and engaging for your learners with minimal effort.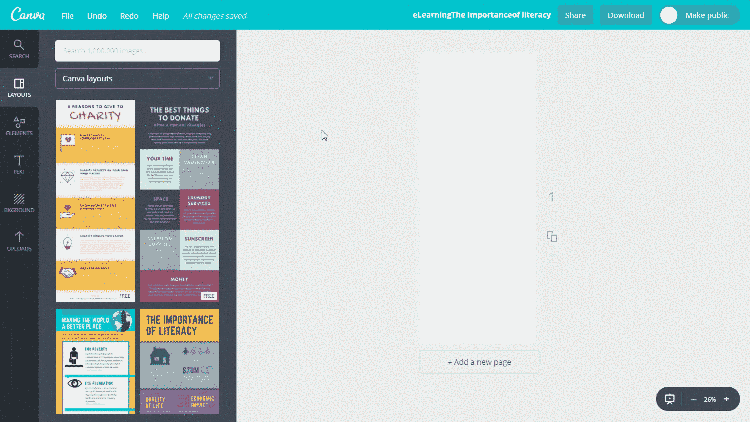 Worried you're making spelling or grammar mistakes in your training content? Then Grammarly is perfect for you! It's a tool that ensures your grammar is first-rate by pointing out if you've used "your" instead of "you're", or if you've forgotten a dreaded Oxford comma. Why it's a great eLearning tool: Bad grammar and incorrect spelling in eLearning content comes across as unprofessional, so having correct grammar in your courses is essential.  Grammarly ensures that your learner can easily comprehend their training and be clear about what they are meant to achieve.
When you think of Zoom, you probably think of it's premier function – a video communications tool. Zoom gives you the ability to communicate via video for meetings, presentations, webinars, and more. But here at LearnUpon, we consider it a great course creation tool too. By recording your Zoom sessions, you'll have some some great eLearning content at your fingertips! Why it's a great eLearning tool: Valuable knowledge and learning happens in team meetings, product sessions and presentations. If you record these events through Zoom, you can use them as course content in your eLearning training. Here's our step-by-step guide on how to record your Zoom meetings to create eLearning videos.
There's a multitude of free stock image websites out there, but we think Pexels is a great one. Pexels provided high quality, free images that are all tagged and easily searchable through their discover pages. Why it's a great eLearning tool: Using images in your eLearning course content has many benefits. They boost retention, help break down complex topics, and makes your content visually pleasing. Pexels is the perfect site to use when adding images to your eLearning courses. Read our how-to on creating engaging images for your eLearning courses.
Mega Creator is an online design tool that lets everyone create awesome visuals without special skills and costly design software. Why it's a great eLearning tool: Mega Creator offers a diverse media library of images, icons, illustrations, and animations. You can easily find the perfect visuals to enhance your e-learning materials, from presentations and webinars to quizzes, ensuring engaging educational content. Moreover, it has a user-friendly interface. So, you'll be able to create professional e-learning materials with ease.
Best eLearning research tools
Reddit is home to the busiest forums on the internet, known as subreddits. Subreddits cover an astounding number of topics, with a great deal of breaking stories first appearing on the platform. That's one reason why reddit is often called "the front page of the internet". Why it's a great eLearning tool: There are multiple eLearning-related subreddits where eLearning professionals from across the industry share and discuss topics. Some of these subreddits include r/training, r/instructionaldesign and r/elearning.
On Quora, users ask questions on widely varying topics, with the questions being answered by a community of approximately 300 million monthly users. Submitted answers are up and downvoted, making it easy to understand the community's consensus. Why it's a great eLearning tool:Quora can be used for three main ways in eLearning. The first is research. By following relevant topics like Training and Learning Management Systems, you'll receive email updates about new questions. The second is advice. If you need advice on a topic, ask the community to submit their best answer. And finally, Quora can be used for networking. If you have expertise on a topic, submitting answers will help you build your reputation among peers.
Scoop.it is a tool used by professionals and organizations to find, curate, and share content. Through their software and technology, Scoop.it aims to make content publishing more time-efficient and impactful. Why it's a great eLearning tool: Organizations should write and publish their own content if they want to compete it today's fast-paced business world. Scoop.it is a great eLearning tool because it helps you make your content effective. Scoop.it is useful for searching, curating and sharing the most relevant content with learners and colleagues. The latest news on your chosen eLearning keywords will be delivered to you to re-share with your network.
Feedly is a free tool that helps you to source and collect content from your favorite websites, blogs, RSS feeds, and YouTube channels. Your Feedly stream provides a single location where you can read and store news on whatever topics you choose. Why it's a great eLearning tool: Once you add your chosen eLearning topics or publications to Feedly's RSS feed, you'll get a list of news that's updated every few hours. Feedly's clear and attractive layout makes it easy for you to flick through articles while quickly picking out the bits of most interest to you.
BuzzSumo is a content marketing platform that is great for researching content and conducting competitor analysis. It helps you to provide the content your audience wants by exploring what content is popular by topic or website. In a nutshell, BuzzSumo can help with content insights, influencer identification, alerts, and competitor analysis. Why it's a great eLearning tool: BuzzSumo is a great eLearning tool for keeping up to date with trends and popular topics in the industry. Whether you're writing eLearning content, constructing a new training course, or want to analyse why a competitor's content performs so well, BuzzSumo provides you with insightful information.
Best networking tools for eLearning
LinkedIn is the leading social network for professionals. With member profiles, specialist groups, and a news stream, LinkedIn is used by a growing number of employers and professionals to network, promote services, and find jobs. Why it's a great eLearning tool: As an eLearning tool, LinkedIn has many applications. On a basic level, it's become all but essential for professionals to have a LinkedIn profile to support their reputation. LinkedIn also provides a platform to network with peers and thought leaders and to stay in touch with real-world connections. LinkedIn's many eLearning-related groups are useful for staying up-to-date with industry news and asking questions for industry experts to answer.
Twitter is a social network built around conversations. It's the place to get real-time updates on what the most important and influential people in your industry are thinking, reading and watching. Why it's a great eLearning tool: Twitter provides less formal networking opportunities than LinkedIn. You can follow eLearning thought leaders and engage with them easily. Twitter is also essential for keeping up with, and contributing to, major eLearning conferences. By following a hashtag, you'll get a blow-by-blow account of discussions as they develop.
Best communication tools for eLearning
Mailchimp is a marketing automation platform and an email marketing service. It's super easy to use and allows you to create newsletters and email campaigns, making it easier for you to communicate with your learners. Why it's a great eLearning tool: Mailchimp is one of the best eLearning tools available for keeping in touch with your learners. If you're launching a new course or want to share organization news, Mailchimp's easy to use platform makes it a great option. It's also great for creating landing pages, signup forms, and marketing ads. Furthermore, Mailchimp's built-in analytics tools help you analyze data so you better understand what works and what doesn't.
Slack has become something of a phenomenon in the workplace. Often viewed as an alternative to long email threads, Slack delivers real-time messaging across teams and devices. Why it's a great eLearning tool: Slack is great for correlating inputs and communications between diverse eLearning project teams. As well as listing all of the individuals you're connected to, Slack makes it easy to group teams around the channels you need. You can also use Slack to share files and make free VoIP calls. Slack is our favorite way to stay in touch with all of our remote teams at LearnUpon and we use it constantly. Its huge range of emoticons and funny Slackbots make work communication unusually fun.
Tiny Letter makes it easy for anyone to create a personal newsletter. Created by the team behind MailChimp, it's a free way to share content by email. Tiny Letter allows you to send updates, digests, and dispatches to learners via a newsletter. It's perfect for people who don't need all the business features that come with Mailchimp. Why it's a great eLearning tool: TinyLetter is ideal if you don't need a professional email service but would like to share updates with learners or networks. You can embed a form on your website or ask Twitter followers to subscribe. Tiny Letter offers an easy way to send your best eLearning content to your audience's inboxes. As well as sharing what you're reading, watching and listening to, you can use emails to update learners on courses and projects or share new work you've created.
Paper.li is one of the easiest ways to curate content by email. The app gathers articles, videos, and photos from Twitter, YouTube and RSS feeds on the keywords you choose to create a newspaper-like publication to share with your community. Why it's a great eLearning tool: Paper.li can be used as an eLearning tool for networking and building thought leadership. When your newspaper is shared on Twitter, the accounts whose content you've collected will receive a mention. You can also share your personalized newspaper on Facebook and LinkedIn, or email it to your contacts.
IFTTT stands for "If This Then That". It's a handy communication tool that makes connections between apps, like Gmail, Facebook, Instagram and Reddit. If something important happens in one app (let's say your company name is tweeted), it triggers a related reaction, like the tweet to be emailed to you. IFTTT calls these commands "recipes". Why it's a great eLearning tool: There are many ways that eLearning professionals can use these recipes in their work. For example, instructors could create recipes to notify learners  via social media that a class has been cancelled or postponed. IFTTT can also help you to boost your networking efforts by automatically sending a thank you tweet to new followers.
LearnUpon's cloud-based learning management system helps businesses train their employees, partners, and customers. Save time, automate, and manage your training at scale with a system that grows with you. The platform is also backed up by an exceptional, award winning 24/7 support team. It provides you with the knowledge and experience you need to engage your learners and achieve training success. Why it's a great eLearning tool: LearnUpon's powerful LMS makes it simple to manage, track, and achieve your corporate learning goals. LearnUpon improves your learners' training experience with an easy to use platform that works on any device, any where, any time. It's quick to upload and create course content without needing technical expertise. Put time back into your day by assigning and automating training tasks. You can also use reports to track and analyze training performance. Get your free trial and demo today!
What eLearning tools do you recommend?
So that's the list of our favorite eLearning tools. Is there any we missed? Let us know your preferred eLearning tools in the comments below.