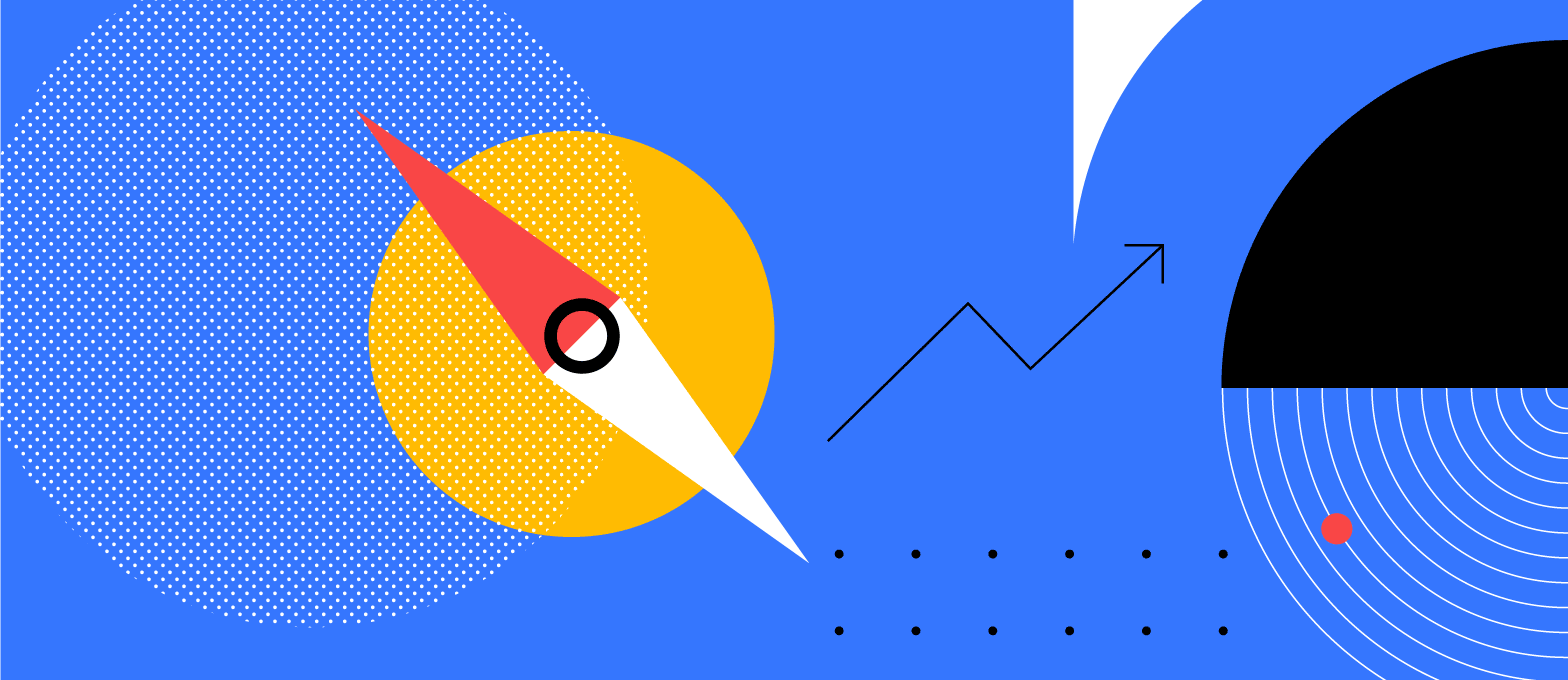 7 min reading time
Selecting an LMS: Top 8 Considerations
What makes a great LMS that's worth your business's investment? With so many options on the market, this is more complicated than you may think. Ultimately though, you should aim to find an LMS that meets your need to deliver corporate learning, in a scalable, supportive way.
Needs and wants in mind, the journey to selecting the best LMS becomes much clearer. You just need to pinpoint the solution that will most likely help your team achieve this.
Most decision-makers (53% according to Capterra) select an LMS based on the most obvious thing – features. But, we're not 100% convinced this is the right move.
Smart decision-makers look beyond features. They dig a little deeper and fully evaluate what a learning management system can do for them. And you should too.
Focus on the user experience
Don't get us wrong, features should still play a substantial role in your selection process. They just shouldn't be the be-all and end-all. Instead, it's a balancing act – a balance between the features you need and the user experience you want.
The user experience is an often snubbed part of the buying process, but in reality, it has a tremendous impact on your training outcome.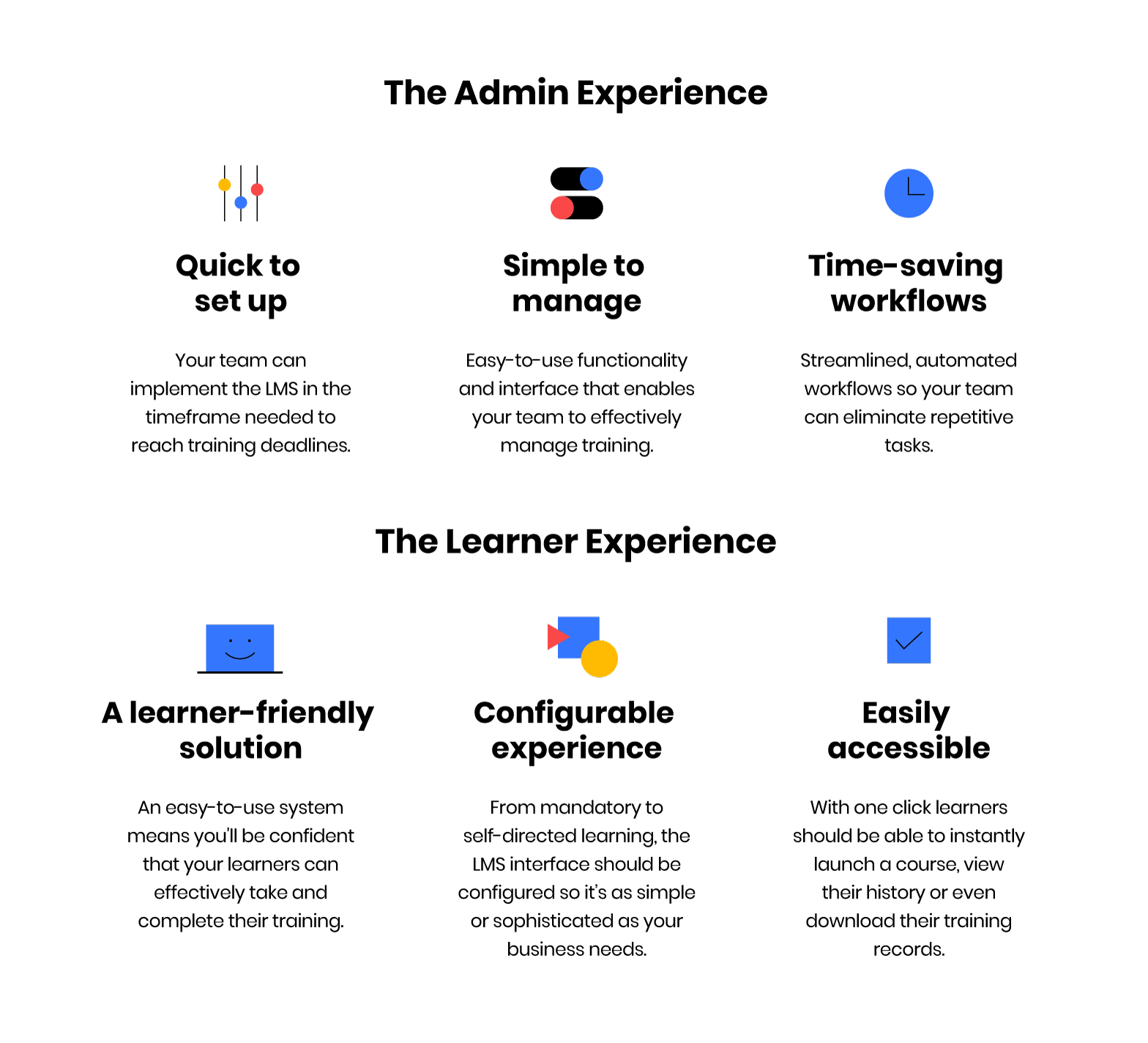 Take, for example, learner engagement and adoption. Encouraging user adoption is one of the biggest challenges with an LMS. If you get an LMS that's stuffed with features, and has a cluttered, cumbersome learner dashboard that impedes the learning process, is it really the right LMS for your business? Probably not.
Instead, a great LMS user experience should do one key thing: make your learning goals easier to achieve.
Choose features wisely
User experience top of mind, it's time to narrow in on the features your team needs to deliver training.
The critical thing to remember here is that features should align back to the overall goal of your training program. Knowing this, you will be able to hone in on the ones that will help you to reach this goal.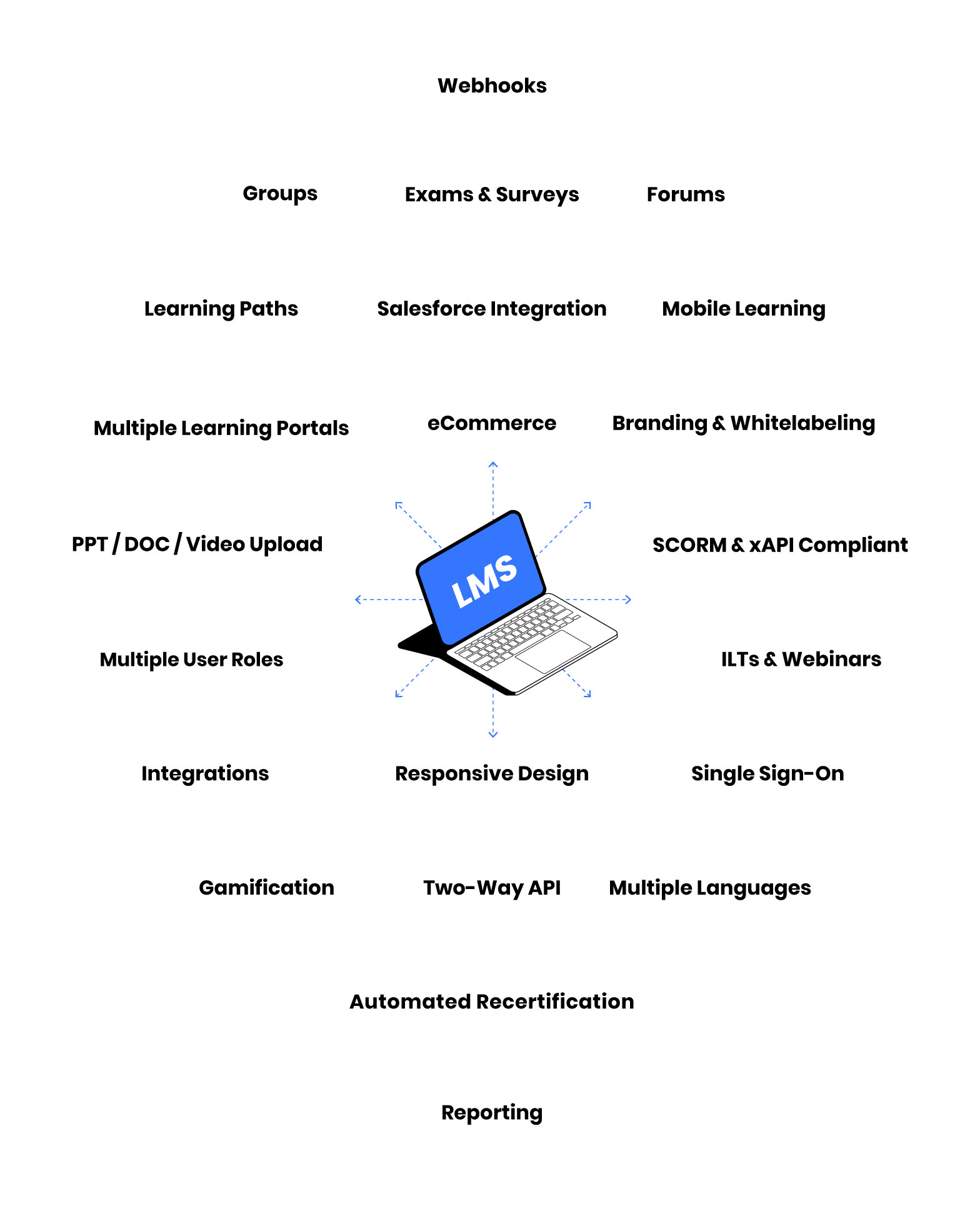 It will also stop you from falling into the trap of buying a solution that's jam-packed full of features that you won't need or use – you'll be able to right-size your LMS. Thus, preventing you from wasting money and negatively impacting the user experience.
This is easier said than done. If your business has never had an LMS before, how do you know what features and functionality will actually be needed?
We suggest starting with your goal and working backward. This means looking at what is currently preventing your organization from reaching that goal, figuring out how an LMS can help, then aligning this with the LMS's features.
Let's walk through a couple of examples:
Mapping out this process empowers you to select the features you need and skip the unused ones that will ultimately clutter up your LMS. And, importantly, it will make your LMS buying process much more targeted.
Make integration a top priority
No software is an island. Instead, each software solution forms part of an ecosystem that works in unison to automate tasks and improve workflows. An LMS should be viewed no differently.
However, integrations seem to be a sore point for many businesses. Brandon Hall discovered that 87% of large organizations and 75% of small to mid-sized organizations list it as the top improvement desired in their next LMS. So, how do you ensure the LMS you're investing in has the integrations you need?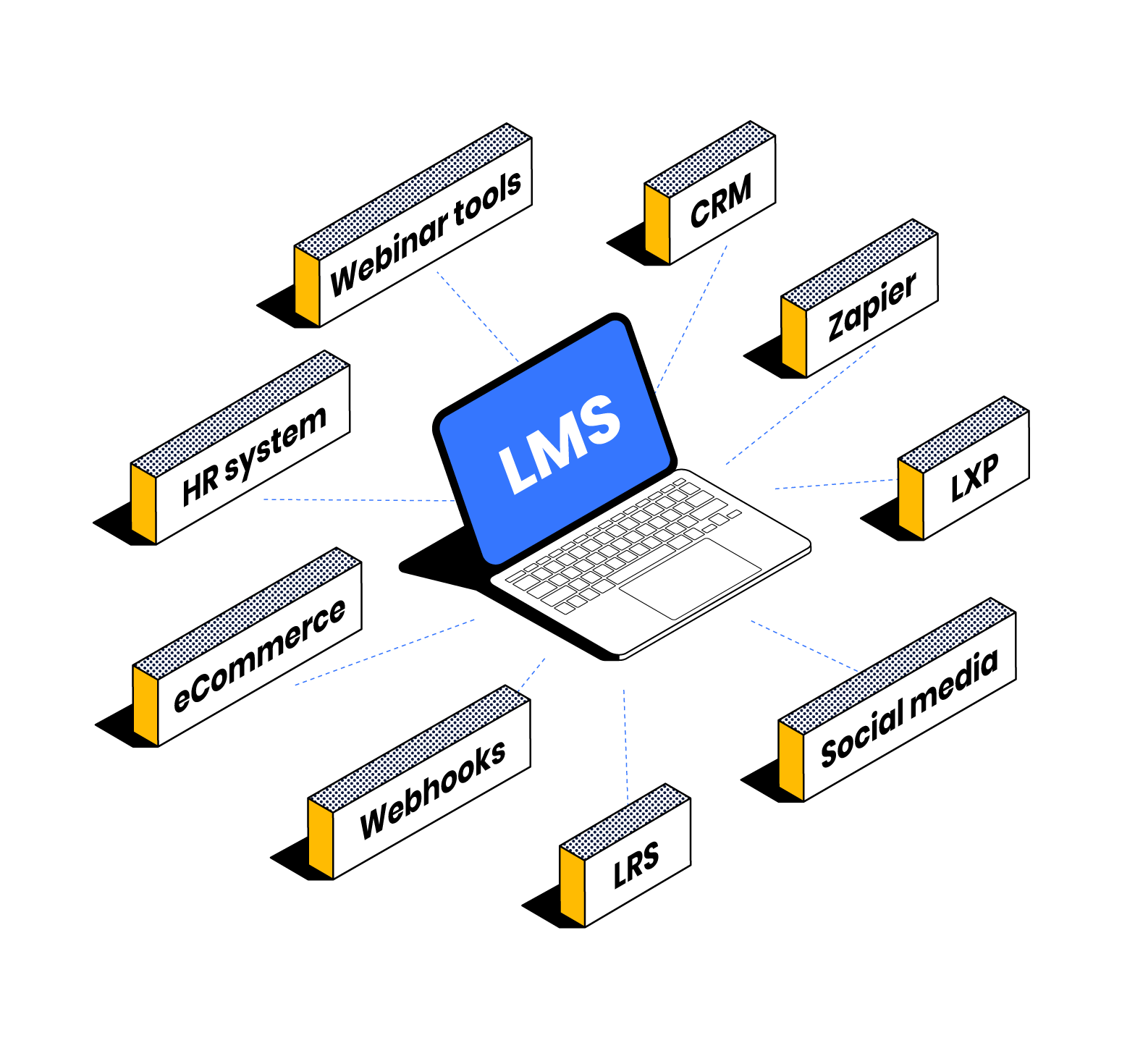 Again, early on in your search you should get all your ducks in a row, and decide which tools you want to connect to the LMS.
Let's go back to the example goal of improving employee retention to see how planning integrations would work.
Here, it's crucial that every employee's data is added to the LMS so they're able to access their training. Therefore, it makes sense to get an LMS that integrates with your HR system. This will ensure that when a new hire is added to the HR system, they're automatically added to the LMS too.
On top of this, training needs to be easily accessible to employees. So, setting up Single Sign-On (SSO) will let them bypass the login screen and get them into the LMS at the click of a button.
They will simply land on the dashboard and be faced with course content that's valuable for them, removing any barriers to training.
This is just the tip of the iceberg. For customer education, you can connect with your CRM, and add hundreds, even thousands of customers to the LMS, saving you valuable time. Or, for live training sessions, simply integrate with your preferred webinar tool. The list of possibilities goes on.
Quality of customer support
If you've used an LMS in the past, you'll understand the value of great customer support. Businesses no longer want just another piece of software – they want a partner to help them succeed. Again, Brandon Hall's report stresses this with 69% of organizations wanting a partner and 66% wanting better technical support from solution providers.
But, what does quality customer support look like?
For us, it's a team that's with you through every step of your corporate learning journey – a strategic Onboarding Specialist, a dedicated Customer Success Manager, and knowledgeable Technical Customer Support Reps. They are there to work with you as a partner throughout onboarding, implementation, and beyond.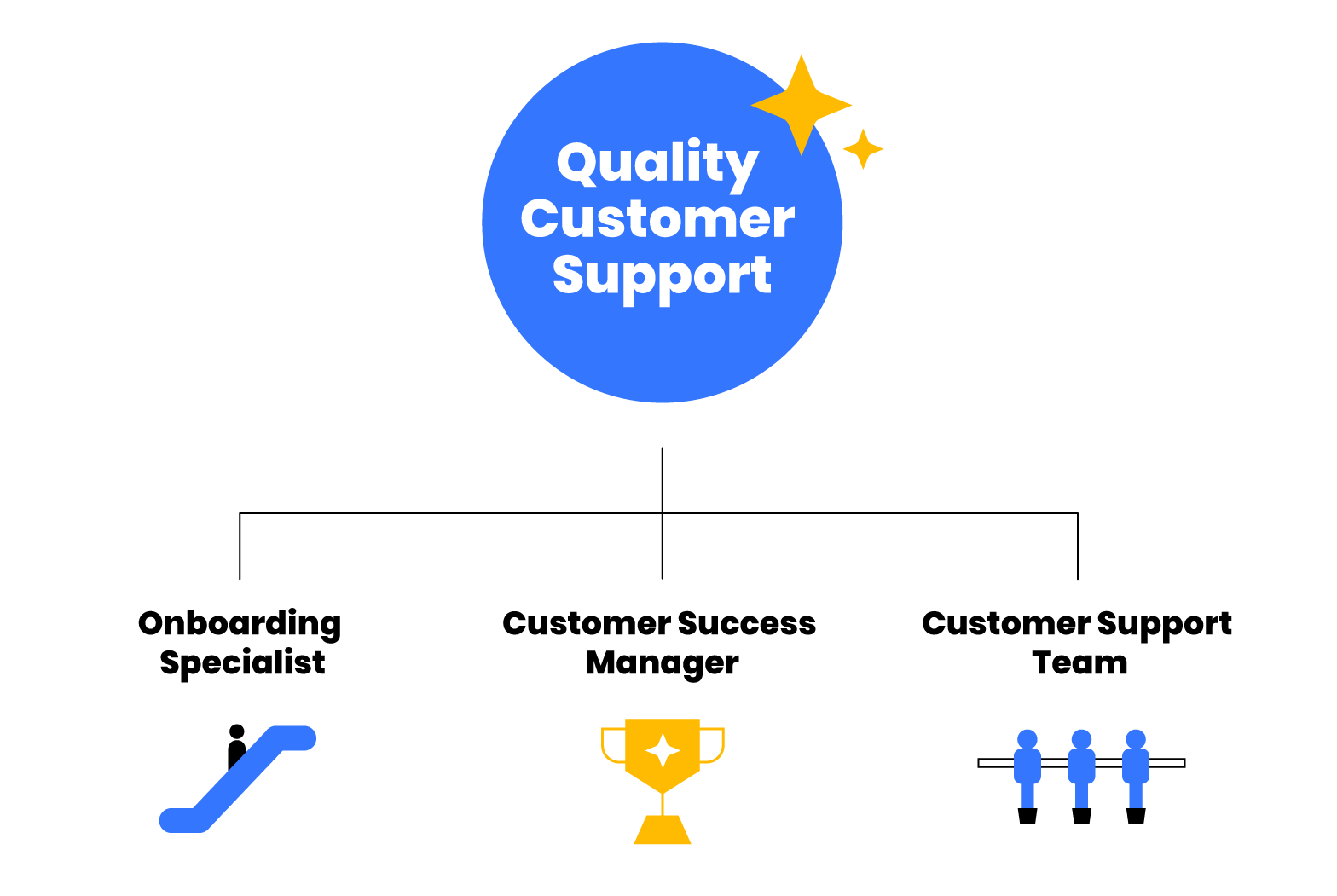 To figure out the quality of a vendor's customer support, ask the fundamental questions. We suggest you question each vendor on your shortlist about basic information like their support hours, channels of communication, response time, and more. This will give you a sense of how much the vendor has invested in their service.
You can also assess the customer support reputation by reading about existing customers' experiences in online reviews or by asking each vendor what about their customer NPS score, a measurement of customer satisfaction, is (if it's good, they'll tell you!).
Here are some questions you should ask yourself when assessing a vendor's customer support:
Will our team have a dedicated Customer Success Manager?
What are the support hours?
Are public holidays covered?
Do they provide email support, telephone support, or both?
Do they have a fast response time?
Are there positive reviews online referencing their customer support?
Approach to pricing
There's no one-size-fits-all pricing model in the LMS industry. And, this makes comparing quotes from multiple vendors a little confusing. By and large, pricing is based on usage volumes, or the number of active or registered users required.
Depending on your usage needs and feature requirements, different pricing models return different costs. If you're uncertain about what your business will need, start by focusing on your business's use case and then focus on projected usage.
Here's a simple example: if you have to roll out compliance training to your 1,000+ workforce, as it's mandatory training, your projected usage will be 1,000+ active users. Or, if you're rolling out onboarding training to new customers, look at your customer growth rate the past couple of years. If on average, you gained 500 new customers each year, then it's a good guess that the projected usage will be 500 active users.
From here, you can start to approach vendors, and get a more accurate assessment of the pricing model that's right for you. And remember, your pricing plan isn't set in stone. If you need to adjust it, a good vendor will work with your team.
Once you have a good grip on pricing, don't forget to ask for a list of additional costs. You don't want to get caught out with hidden fees. For example, if the pricing model you prefer is based on user or usage limits, ask what happens if you exceed these limits. Most solutions are upfront about all of the costs involved, but it's always best to keep this in mind when budgeting for your LMS.
Other factors you should consider when evaluating vendor prices include:
Is there a content or course upload limit?
How many administrators are allowed?
What length of contract is available?
What is the cancellation policy?
Implementation timeframe
Depending on the complexity of the integration and the efficiency of the vendor, how long LMS implementation takes varies drastically. We're talking about anything from a couple of hours, right up to a couple of years.
Quick, straightforward launches also depend on your company's internal procedures. When comparing LMS vendors, it's smart to ask questions about timelines. It will help create a crystal clear image of how prepared they are to help you meet important learning deadlines. Thankfully, if you're getting an out-of-the-box cloud solution many of these won't matter to you, but it's still an astute move to ask about timelines for things like requirements workshops, data migration, admin training, and so on.
Don't forget to also inquire about other businesses with similar needs and how long it took for them to get up and running. This gives a clearer idea of the timeframe to expect.
Scalability, reliability, security
The big three: scalability, reliability, and security. These have the potential to impact the viability of your programs, your business's reputation, and the long-term suitability of the LMS. By questioning your preferred vendors' approach to these areas, you will be able to make an informed decision on whether you can trust them with your business's data. And, most importantly, whether the LMS they offer will grow with your organization.
Here are some questions to ask your shortlisted vendors about these issues:
Will we have the ability to scale our usage?
Can we increase our active users if required?
What is the average downtime? Is there constant system monitoring in place?
Do you have a Disaster Recovery Plan?
Have there been any previous data breaches?
Product roadmap
It's unlikely that you'll discover a solution that ticks every box from the get-go. However, the learning landscape evolves rapidly. As well as inquiring about existing features their LMS provides, it's crucial to question vendors about their upcoming plans for development.
The availability of an up-to-date roadmap will give you a sense of the resources the vendor has invested in continuously improving and enhancing their product. Their roadmap should clearly illustrate how the LMS has been consistently updated to reflect changes in the industry and show how it will continue to be the right solution for your growing business.
Download The LMS Buyer's Guide
Are you on the hunt for the best LMS for your business? Download our eBook, The LMS Buyer's Guide, and discover how you can confidently invest in a learning management system to reach your business's learning goals.