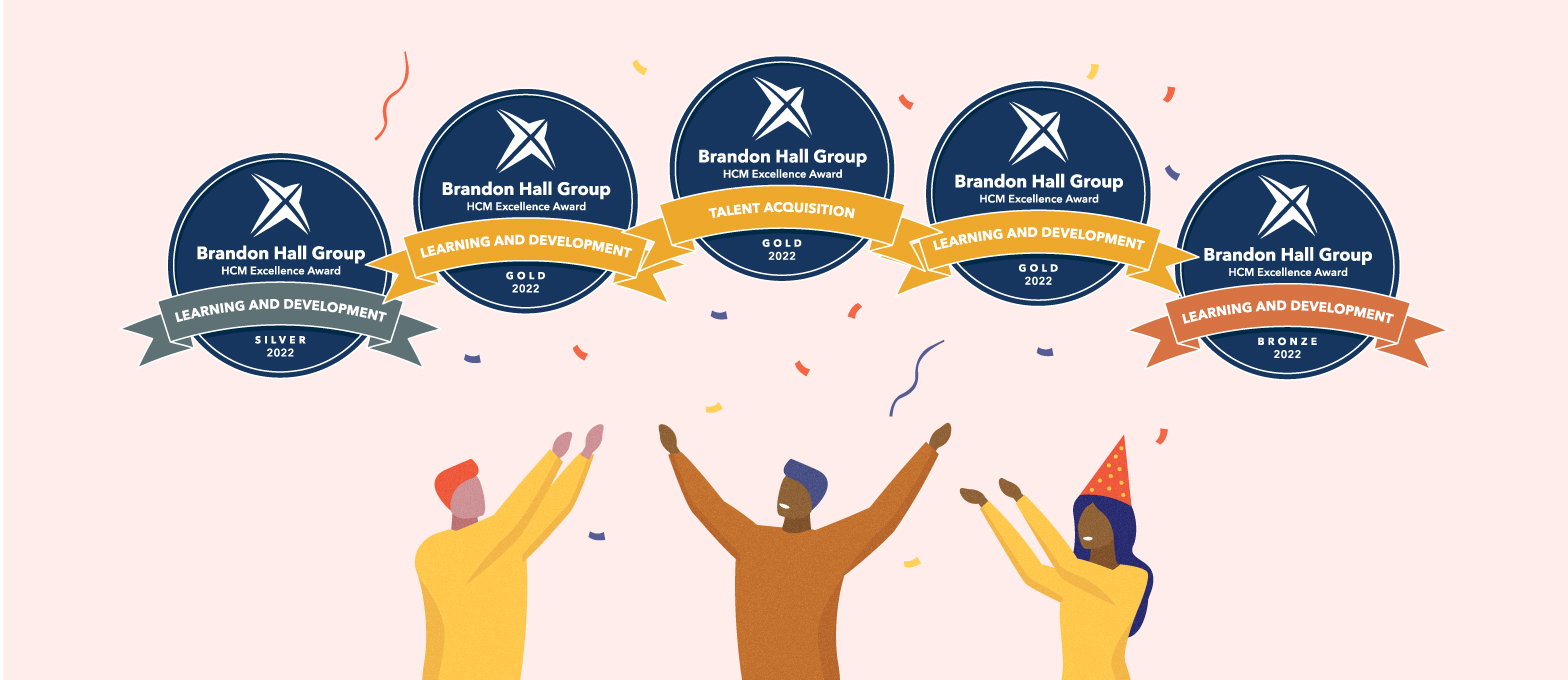 4 min reading time
LearnUpon and Customers Win Big in Five Categories at the 2022 Brandon Hall Group HCM Excellence Awards
We're delighted to announce that in partnership with five customers, we received honors in multiple categories in the highly anticipated 2022 Brandon Hall Group HCM Excellence Awards. 
The awards recognize organizations that are achieving exceptional things in learning. From deployed programs, strategies, modalities, processes, systems, and tools that have achieved measurable results, these wins highlight continued commitment across multiple categories of learning excellence. 
Building on the success of last year's HCM Awards, we're honored to receive awards in all five programs entered: 
Gold for Best Advance in Creating an Extended Enterprise Learning Program – Netskope and LearnUpon

Gold for Best Customer Training Program – Broadcom and LearnUpon

Gold for Best New Hire Onboarding Program – Brown Thomas Arnotts and LearnUpon

Silver for Best Advance in Learning Technology Implementation – Enlyte and LearnUpon

Bronze for Best Advance in Compliance Training – The Adecco Group and LearnUpon
Speaking following the announcement, LearnUpon CEO Brendan Noud said:
"We've always been of the mindset that learning should be simple, and its impact should be big. Putting customers at the heart of what we do enables us to partner with ambitious companies that are delivering great learning that achieves results. We're honored to receive this recognition alongside our customers from the Brandon Hall Group and the HCM Awards program."
One of two annual programs, the Brandon Hall Group HCM Excellence Awards are highly respected across the learning and development industry. Each entry is evaluated by a panel of veteran, independent senior industry experts based on these criteria: fit the need, design of the program, functionality, innovation and overall measurable benefits.
"Excellence Award winners distinguish themselves through their growing understanding that all the functions of HCM are integrated and must work together to move businesses forward," said Brandon Hall Group Chief Operating Officer Rachel Cooke, leader of the HCM Excellence Awards program.
According to Brandon Hall Group Chief Executive Officer Mike Cooke; "Our award winners demonstrated the vision, agility and innovation needed to excel in the unchartered hybrid work environment." 
Want to build learning strategies that drive real business results? With LearnUpon as a central hub, you can easily create and manage learning programs for every audience, and importantly, deliver them in an engaging, learner-friendly way. What's more, at every stage, our people are by your side to help you do just that. Contact our team today to get started.
Not ready to schedule a demo, but still want to get access to LearnUpon? Try Experience LearnUpon. You'll have the opportunity to explore LearnUpon, launch a course, and see first-hand how our learner-friendly LMS makes delivering great learning simple. 
— About LearnUpon and Netskope
Netskope is a business redefining cloud, network, and data security. A leader in SASE, Netskope provides unrivaled visibility, real-time data, and threat protection when accessing cloud services, websites, and private apps. Investing in a learning solution (LearnUpon LMS) and creating a blended learning strategy, Netskope created a one-stop-shop that delivers high-impact training to over 10,000 customers, partners, and also its employees in a scalable way. Read their story >
— About LearnUpon and Broadcom
A global leader in the semiconductor and infrastructure software space, Broadcom's mission is to help companies connect everything, enabling them to become effective, modern digital businesses. With LearnUpon, Broadcom launched its Enterprise Software Academy as the tool to educate and onboard the Agile Operations division's thousands of customers, in a scalable way, with 8,000+ users receiving training and onboarding at scale in less than one year.
— About LearnUpon and Brown Thomas Arnotts
Part of the Selfridges Group, Brown Thomas Arnotts is a renowned department store group providing luxury shopping experiences for millions of customers worldwide. In line with their vision to Reinvent Retail, and with a view to creating a new luxury shopping and wellness experience like no other in their new Dundrum store, the L&D team members designed a revolutionary program that differed from anything they had done before. Using LearnUpon, the team achieved its goal: delivering on a broad curriculum of training initiatives to support learning in an innovative and efficient way, with 400 new hires fully onboarded in advance of the new store opening. Read their story >
— About LearnUpon and Enlyte
Enlyte is the parent brand of Mitchell, Genex, and Coventry, a leader in cost-containment technology, independent medical exams (IME), provider and specialty networks, case management services, pharmacy benefit and disability management in the Property & Casualty (P&C) and Collision Repair Industries. Using LearnUpon as a single solution to combine the existing breadth of knowledge and resources across the three businesses, the organization ensures a consistent employee and customer experience, delivering training to over 8,500 users to date.
— About LearnUpon and The Adecco Group
The Adecco Group is a Fortune 500 company that provides a range of workforce, talent, and technology solutions to over 100,000 companies and organizations across a range of industries worldwide. With LearnUpon LMS driving its global Integrity & Compliance Training program, the team at the Adecco Group can support its 35,000+ colleagues (employees) in maintaining the highest standards of ethical conduct and ensuring the business meets its legal obligations, with learning that is fun and interactive.
— About Brandon Hall Group HCM Excellence Awards
The 2022 Brandon Hall Group HCM Excellence Awards are given for work in Learning and Development, Talent Management, Leadership Development, Talent Acquisition, Human Resources, Sales Performance, Diversity, Equity & Inclusion, and Future of Work.
Brandon Hall Group operates the largest and longest running awards program in Human Capital Management. As an independent HCM research and analyst firm they conduct studies in Learning and Development, Talent Management, Leadership Development, Diversity, Equity & Inclusion, Talent Acquisition and HR/Workforce Management. These benchmark studies help organizations by providing strategic insights for executives and practitioners responsible for growth and business results.
Coupling the research studies with the best practice from the awards, Brandon Hall Group has helped more than 10,000 clients globally and more than 28 years of delivering world-class research and advisory.