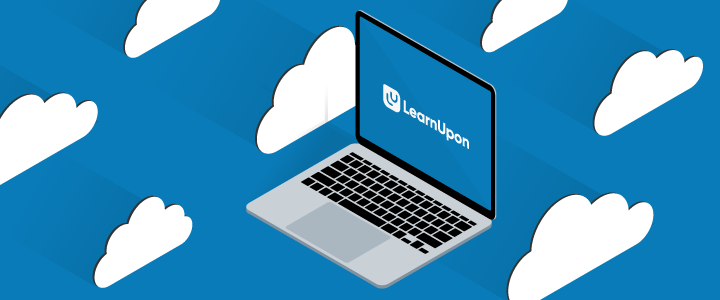 5 min reading time
What are the Benefits of a Cloud LMS?
When choosing a learning management system (LMS) you'll be faced with a choice: Cloud LMS or installed solution? Depending on your business and what you'd like from your LMS, there are lots of considerations that will sway your decision. In this post, we're going to explain what a cloud-based LMS is, what a SaaS LMS payment model looks like, and the benefits of choosing an LMS that is cloud-based.
What is a Cloud LMS?
A cloud-based LMS is a solution that doesn't require you to install specific hardware or software in order to access and use it. By logging into a web portal you and your learners have access to the features of the cloud-based LMS solution. Most social applications are cloud-based and the business world is following suit. Quickbooks and Clio are examples of some of our own customers who employ a cloud-based SaaS model themselves.
What is a SaaS LMS?
Software as a service (SaaS) is a cloud-based subscription model. With a SaaS learning management system, you pay a subscription in order to gain access to the software. Usually, software as a service allows you to scale your 'plan' or subscription level to meet your business's needs rather than paying for a license that may be more rigid. The SaaS LMS providers pricing model is typically based on actual usage of the product or service so, it's considered to be a more scalable investment.
What are the benefits of a Cloud LMS?
1. Cost-Effective
A cloud-based SaaS LMS will usually be more cost-effective than an installed LMS. You don't have to make a significant capital investment to purchase software on day one. The cost is based on your usage metrics, such as users or portals, so you only pay for actual usage of your cloud LMS. This means that cloud-based LMS solutions are normally more cost-effective in the short term. In the long term, you also don't have to pay for maintenance, upkeep, and support so you'll never be charged huge upgrade costs in the future.
2. Free Trial
Most SaaS LMS providers allow you to use their software for a trial period before you commit. This is usually 30 days. You can play around, test the system and make sure it meets your requirements. Our customers generally pilot a course with internal stakeholders and use the trial period as a proof of concept. This increases your confidence in your choice and helps build a relationship of trust with the cloud LMS vendor.
3. Implementation Time
Cloud-based LMS solutions tend to not have a complex and time-consuming installation process. You don't have to have lengthy meetings with project managers to discuss installation and implementation of the system making it a speedier process. In the case of LearnUpon, you can create your portal, brand it, create courses, and manage enrollments on the very first day.
4. Easy to Use
Web applications are ubiquitous. Whether it's using Facebook to catch up with friends, uploading files to Google Drive, or making yourself heard on Twitter, you're using a cloud-based web portal. Commercial software is no different. This means that a cloud LMS falls in line with the more common choice for users thus making adoption easier. There is a familiarity that makes it much easier for your learners to use. From the moment a member of your team logs into their dashboard from a device such as a tablet, there may be no going back to a static, installed LMS.
5. Configurable
If you require a highly-customized LMS solution, an installed solution is the traditional choice. What I would suggest is that you examine the actual level of customization you need. Many businesses find that a high level of configuration works for them. SaaS products like cloud learning management systems generally allow you to change color schemes, templates, turn features on and off, and even brand and white-label. A cloud LMS might be as customizable or shall we say configurable as you require!
6. Mobile-Friendly
Cloud-based apps should allow you to use the software from anywhere on any device. Any device that can access your portals web page can be used to access your LMS. An LMS with a responsive design ensures that the user interface responds to the size of the device.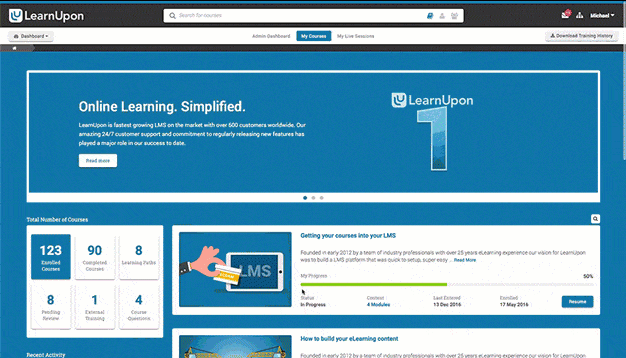 This enables you to work on your eLearning strategy on any device. And more importantly, it also allows learners to take their training on any device, wherever they are. This convenience will increase adoption and improve training completion.
7. Secure and Scalable
Cloud LMSs have to be highly secure in order to give confidence to their customers. They should have secure code and processes. They should adhere to industry standards and should undergo regular independent tests. Data should be encrypted in transit and at rest to ensure that your data is always safe. Cloud-based applications should also take advantage of their infrastructure to instantly scale to meet your number of users and be highly available. All of these factors will mean that the system you choose is not only a safe platform on which to house your data but also one that scales to match your growth.
8. Low Maintenance
The maintenance of a cloud-based SaaS LMS is taken care of by the vendor. Most cloud-based LMS solutions will have a near constant uptime, and the teams maintaining the software are performing this task as their primary goal. Your internal technical staff may have other priorities over the maintenance and troubleshooting of an installed solution. LMS providers like LearnUpon usually have customer support which is available 24/7. This ensures that you have no disruption to your use of the system. The cost of this should be part of the subscription fee rather than an added cost.
9. Streamlines Training
Cloud-based LMS's should be designed to be easy to use. They should be built from the ground up with this at their core. Design decisions should be made with a careful examination of actual customer use. The process for developing and delivering content through a cloud-based LMS on day 1 is as follows:
Define learning objectives
Create your content
Upload your content and arrange into courses
Enroll learners
Ensure learners complete the training
Reports on completion and performance
Feed that information back into the course creation process
Choose The Right LMS for Your Business
A cloud LMS is a great choice for any business that wants an easy-to-use system that will save them time and money. With great features and lots of benefits, it's a worthwhile investment for a growing business today.
Start delivering better training today
Train your employees, partners, and customers with LearnUpon. The powerful learning management system that has the features and a knowledgeable team you need to achieve training success. Ready to get started? Talk to LearnUpon today!