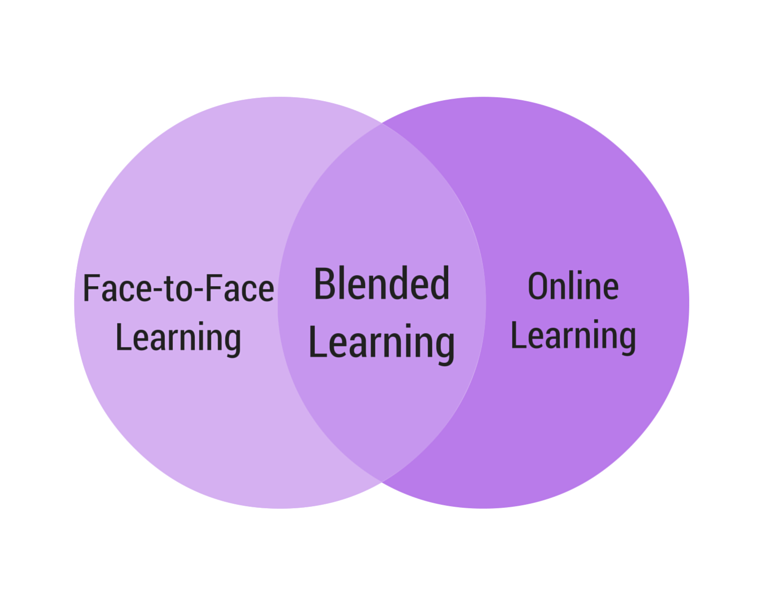 Blended learning is a term used to describe the combination of traditional, face-to-face learning methods with technology based, eLearning methods. eLearning can be integrated before, after, and during face-to-face training sessions. It's this integration of synchronous (offline) and asynchronous (online) methods that defines blended learning. One of the main benefits of using a combination of online and offline learning methods to deliver training is that it provides both learners and instructors with a well-rounded learning experience.

Blended learning comes in many forms:
Learners can prepare for face-to-face training sessions by completing online learning activities that introduce them to the content that will be covered in the classroom. These activities could include reference reading, watching videos or answering a pre-course questionnaire to assess the learners abilities. Instructors can then analyse reports on the content completed, for example the results of the pre-course questionnaire, to identify areas that need to be focused on during the classroom-based training session. This allows the instructor to personalise the course content to meet the learners needs. Another benefit of this approach is that it can help ensure that all learners turn up to the face-to-face training sessions at the same knowledge levels on a particular topic, removing the need for the instructor to cover the basics for certain learners while others are sitting around getting bored while topics they already know are covered.

During the classroom-based training learning can be enhanced through the use of multimedia content or computer based exercises.

After the training session, learners can complete post-course questionnaires in addition to submitting assignments to a learning management system (LMS) for the course instructor to assess. The learners can also received feedback on completed assessments via the learning management system.

Online collaboration, in the form of group chats, can encourage learners to discuss the course content long after the face-to-face session has taken place with the instructor acting as a mediator.

One of the great benefits of blended learning is the ability to create an online resource within your learning management system (LMS) for learners that they can refer to before and after classroom based training to reconnect with the course materials.
Considerations
It's important that blended learning isn't used just for the sake of it. It's up to the course instructor or facilitator to ensure that the learning objectives are being met. If they're not then you may need to rethink the approach. Start off by listing your learning goals before identifying the content or tasks that need to be undertaken in order to meet each goal. Once you have completed this you can think about how each goal could be achieved in an online and/or offline learning setting. At the start of the course provide your learners with the course structure, learning goals and milestones so they know what to expect and can remain focused throughout the course. If the online setting is not suitable then don't force it, the most important thing is to ensure the medium being used to deliver training is enhancing the learning experience for your learners through engagement.
Conclusion
The aim of blended learning is to combine the strengths of both traditional and online learning methods to provide learners with an engaging learning experience. By using this 'best of both worlds' approach to learning you'll soon discover that this model benefits learners and instructors equally. In LearnUpon we have put a particular focus on making it easy to setup blended courses which can contain any combination of face-to-face and online components. Online course content such as videos, documents and interactive SCORM content can be easily combined with exams, assignments, surveys and face-to-face / classroom based components to ensure maximum engagement between the learners and the instructor.