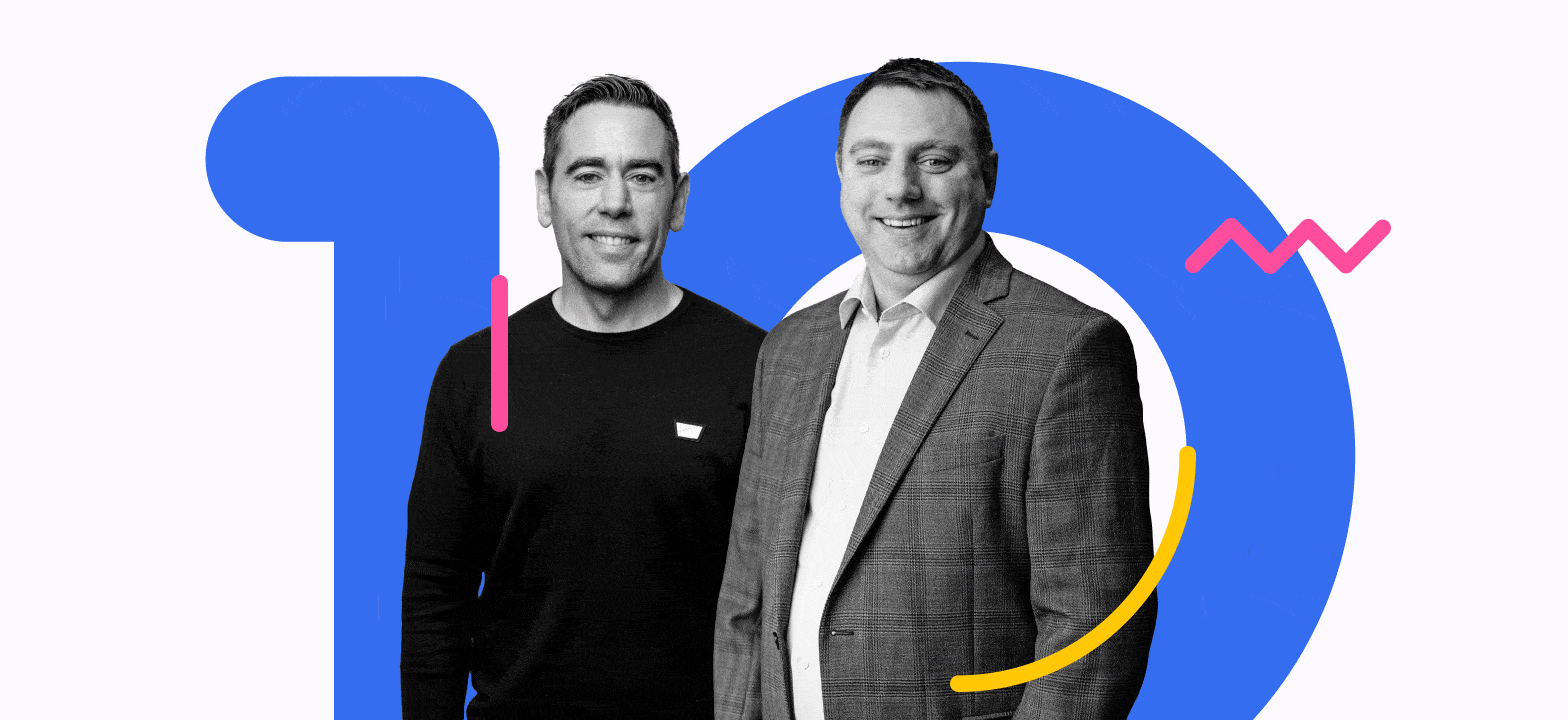 13 min reading time
Lessons Learned From 10 Years in the LMS Space
It's an exciting month for all of us at LearnUpon – we are incredibly proud to be celebrating our 10th birthday. While it's taken hard, fulfilling work (and some luck along the way), we are so grateful for the encouragement and recognition that we have received from our partners, customers, and those within the LMS and eLearning industry to get us where we are today.
To celebrate this significant milestone, we sat down with CEO Brendan Noud and CTO Des V. Anderson, LearnUpon's co-founders, to chat about the valuable lessons they've learned over the last 10 years.
The beginning
Tell us, what inspired you to start LearnUpon 10 years ago?
Des: We knew there just had to be a better way of doing things. I think it all goes back to the customer-centric focus of LearnUpon's product and team. On a personal level, for the two of us, we were drawn to the challenge. That was the inspiration initially, and it's still the same today.
Brendan: I always wanted to have a go at starting a company, and that came from my parents. You definitely get inspired by that, if your parents are entrepreneurial, and you're used to helping out with that as you grow up. And then I think that LearnUpon was the logical step in terms of our experience, and meeting Des was a big factor. It comes down to the right opportunity. When it comes around, you just have to go and do something like this. We had been working in the space for so long and could see the approach that other vendors were taking, so we knew we just had to try and do something better.
That leads into the challenge of it. We're both quite competitive and motivated, so we don't take failure too easily. I think once you start, there is no going back.
What were your visions for LearnUpon in 2012, and how have you met them or even surpassed them?
Des: I think we always imagined that we would be where we are, but we always felt maybe we wouldn't get there? We had a healthy sense of realism in everything we did, and that fed back into our company culture. We definitely surpassed any of our dreams. Particularly for a start-up, you just don't know how it's going to work out. There is always a chance things could fail, and at times you need as much luck as hard work to succeed. We were relentless, we devoured the challenge from day one, and that set such a great foundation for everything. 
Brendan: I was always very optimistic that we would build a great company. I saw how the LMS space was at the time, and I saw the potential of where it could be. There was no reason we couldn't be better than anyone else in the market. So, from that perspective, I think we were quite confident in our own capabilities. At the same time, when you're hanging out with so many other start-ups, you realize how tough it is, and there is a lot of failure when you start a company. I would always be quite measured in my ambitions. But there is still a drive there.
The highlights
What do you see as the biggest highlights since LearnUpon began?
Des: I think it's the 300 people that would never have met, or built their careers in certain directions. Just thinking about that is pretty amazing. That's probably the biggest highlight, the fact that LearnUpon has given people the opportunity to move into different careers that they maybe would never have explored otherwise. People have gotten connected. We've had a few engagements. To that point, there is a whole lot of history there.
Brendan: Yeah, there are lots of things. We're not overly focused on awards, but it's always nice being called out as a leader in our field by industry experts. One of the awards that stands out is being named Technology Ireland Company of the Year in 2018. I'm still really proud of this achievement as it recognises the hard work and dedication of our team. I even remember the nominees; they were winners from previous years, inspirational Irish tech companies. Then it hit me, we were one of them. That was pretty cool.
And then there are highlights from the customer side, like those big wins. You know, when you're in a really competitive deal, and you come out as the selected vendor, there is a great buzz from that.
When we started LearnUpon, we wanted to build a great platform, but we also wanted to build a great company that people would want to work for. I think we've achieved both of these goals.
Tell us about your favorite "firsts" at LearnUpon?
Brendan: I'll never forget our first hire. From that point, we were a real company. Not that LearnUpon was a hobby, but we had to keep growing the business, getting customers and getting revenue every month because we had to pay rent and salaries.
But from a business perspective, because it was a very competitive space and you were competing with much bigger companies with lots more funding, there was that challenge of getting ourselves in front of prospects. Just to get a seat on the short list, that was tricky in the early days. We knew that if we could just get the conversation, we had a story to tell and a great product to show them.
Des: A favorite first of mine was when we grew out of our platform service providers' offerings, which meant we had to migrate to our own self-managed AWS instances. It felt like we had somehow graduated from university. That was extremely challenging, technically speaking, with a lot of moving parts. But it was all very rewarding, with many learnings and a sign of the times to come as we grew.
Celebrating successes and challenges
What has been your biggest "lesson learned" in the last 10 years?
Brendan: Try not to get distracted by things. Like in the early days, we had potential resellers and partners coming in offering to resell our product. These were small, one-person companies. And at the time, I was all for it. And then you go through the process of putting a reseller agreement in place and training them on how to sell the product. It's just not worth the time, because nobody is going to sell your product better than you. 
Des: Never stop learning, and it doesn't get any easier. Similar to what Brendan said about getting distracted. It's the same technology, getting distracted by the next technology, or trying a new design pattern on your product, like going outside the box on your code, they'll always come back and bite you. You're almost creating technical debt as you code. So it goes back to not bringing in too many libraries, or too many things that you become dependent on.
Remain honest and true to yourself and never let yourself go outside of your own persona. That can be hard to do when there's a lot of pressure coming at you from different directions. Over the years, we were extremely honest about what we were trying to do. The way that we behaved 10 years ago is the same way we behave now.
Let's get personal
What is your favorite part about your job? What excites you most?
Brendan: Getting to work with and learn from such an amazing team. The Luppers we've hired have such varied and interesting backgrounds and experience, so it's great fun getting to know them, learning from them, and combining our skills and knowledge to solve challenges.
Des: I love seeing Luppers interact as they do. I'm in a privileged position that I get to work with pretty much every team. Seeing and feeling the energy from each team and their cross-team collaborations is a sight to behold, and it's one of the things that gets me up in the morning, knowing that I get to work with extremely talented people.
To that end, I also get to witness what I call LAKs (Lupper Acts of Kindness). Our team and culture are very special, more special than we realize. As a collective, this excites me, because it creates a world of opportunity that is up to us alone to execute and take advantage of. As a result, I'm excited for the future because I know that the team we have is sitting on this HUGE ship of potential.
What other CEOs or CTOs do you look up to, and who has inspired you to have the work ethic that you do? Who is your business role model?
Brendan: We're both big fans of Brian Halligan (CEO of Hubspot) and Dharmesh Shah (CTO of Hubspot). They're hugely successful, inspirational leaders and have built an amazing culture at Hubspot.
In terms of my work ethic, I'd have to give a shoutout to my parents, both of whom were great role models for myself and my siblings and instilled in us the importance of hard work. My mother, in particular, successfully ran her own restaurant for 35 years, only recently retiring. She's the reason I was inspired to start LearnUpon from my kitchen table in 2012.
Des: Michael Lopp is a standout technology leader to me and has helped me over the years to frame what I'm seeing, and also helped me learn and act upon that.
Like Brendan, the founders of Hubspot are two people that I highly respect. They are not so dissimilar in personality to Brendan and myself. As a result, our two companies are actually quite similar under the hood.
What is the best piece of leadership advice you have received?
Brendan:  I've been fortunate to have received lots of excellent leadership advice over the years. Probably the nugget of advice I've heard the most, and I think is really important, is to over-communicate, particularly as the company scales.
Des: "Tomorrow is another day", multi-faceted advice I received some years back from a coach of mine, meaning 3 things:
1) Sometimes your day doesn't go to plan and that's okay. You still have tomorrow to fix it and make it better.
2) That also indicates that we are human; we all make mistakes, screw up, get it wrong. The beauty of that is that we get to make it better and learn.
3) When it comes to creating something new, don't boil the ocean, start small, and iterate over time.
What is one of your biggest mistakes and how did you learn and grow from it?
Brendan: I've made lots of mistakes throughout my career, which I've tried to learn from and hopefully not make the same mistake again! I would say one of the biggest was a few years back when I reacted to a situation by making a very quick decision, which I felt at the time would solve the problem I was faced with. However, I hadn't properly thought through the implications of my decision. It soon became clear I'd made the wrong call. I've learned from that experience and now take a little more time with important decisions.
Des: Related to the advice received above, about 3 years into the LearnUpon journey, I was not operating in an "experiment, try things" mode. I was operating under, "today we have to fix all the things and it has to be perfect." At that juncture, I was scared of making a mistake that might somehow sink this amazing ship we were building. This helped me experiment more, learn, ideate, and iterate. This is all super important to moving forward, not stagnating, and continually making things better over time. You can't always nail it on the first try.
If you could go back in time to when you started LearnUpon, what piece of advice would you give yourself?
Brendan: It's a long journey (10 years and counting)! So try to stay fit and healthy, make time for exercise, pace yourself and be sure to celebrate the successes and milestones along the way!
Des: Two things here: I wish I had learned the "tomorrow is another day" mentality sooner, and a little more "what does this look like in 5 years' time". I didn't ask myself that enough. We were moving fast. Moving fast is good, as long as you couple it with a pause for 2-3 minutes to ask that question and be okay with the answers you have. Especially asking, "If we do X, what would it take to undo it if we had to?"
The LMS Space
How has the industry evolved over the last decade?
Brendan: There are different trends that come into vogue in the LMS and eLearning industry. At one stage, gamification was the new must-have LMS feature on the block, with LMSs focusing their messaging and product development around this capability. You had to have badges, leaderboards, and gamified learning. And so, everyone jumps on the latest feature, and that's how they make decisions around what technology they want to buy, which doesn't always work in the long run.
More recently, new developments, like machine learning and VR have been key in shaping the future of learning. Every year there's new trends emerging in the LMS space.  We try to take a step back, understand the impact of these developments, and think about them from the customer's perspective. What are they going to get the most value from?
There has definitely been more focus on the learner experience. If you go back 10 years, a lot of the focus was on the administrator and their job, and that was a motivator for us when creating LearnUpon – we wanted to make the LMS admins' job easier and less frustrating.
Des: Over the last decade, elements like uptime and the rapid delivery of features have now become the norm in the industry, thanks to cloud-based LMSs becoming the go-to learning solution. Some LMSs are being left on the shelf based on the unreliability of out-of-date technology or the way that they're deployed. That wasn't necessarily true when we started out. And of course, how people learn has changed dramatically. It's all about micro, on-the-go learning, and it's no longer about the long, time-consuming, information heavy courses.  Today, the most important aspects of any training program is the core LMS and delivering the best learning experience possible.
What were the unique ingredients that helped you build LearnUpon into the company it is today? How does LearnUpon stand out from other companies?
Brendan: It's the platform and the people that set LearnUpon apart, and I think that's been the case from the start. There are over a thousand LMSs out there to choose from, and there's much more to selecting an LMS than finding a piece of software that ticks every box on your features checklist. What matters most is having a true partner that is invested in your success and in the success of your business.
What's your big prediction for how corporate training will change in the long-term?
Brendan: A digital-first mindset. I believe that teams are more and more focused on, and valuing, L&D, especially high-quality L&D. Ensuring focus and spend alignment in this area will become more of a priority. But more importantly, relating to ecosystems, collating all your learning data and reporting on that will be a key long-term sustainable component. Your focus is about ensuring it's happening; the impact is in how it's happening.
Bringing learning to the learner is key. But all in all, your focus will help you view your ROI and, more importantly, the impact your L&D initiatives have and where the upskilling opportunities lie within your team, helping to quench the thirst your teams have for learning and upskilling.
To do that, it's about the integration of all your systems. Be it Slack, MS Teams, Salesforce, Zendesk, you name it, across your L&D initiatives, and finding innovative ways to collate and analyze your data spread.
LearnUpon and the decade ahead
LearnUpon went from 95%+ in-office to a fully flexible team when Covid-19 hit in March 2020. Tell us about how having a remote and hybrid workforce has impacted LearnUpon's company culture?
Brendan: It's really interesting, and I see it myself on a personal level. I have spent the last four days commuting into and out of the office (I think one evening it took me an hour and 45 minutes to get home). People have their personal lives. And that's really important. Work shouldn't get in the way of that. The idea that people have to spend two or three hours a day in a car commuting doesn't make sense. It's incredible that it took a global pandemic for the world to realize that.
And so I think from our perspective, we're 100% supportive of people working from where they want to, and it's great! We've been able to hire people from locations that we wouldn't have before. On the other hand, there is the cultural impact, and that's a big thing that makes LearnUpon a special place to work. And so it's trying to not lose that while giving people the flexibility of working from home. And because our company culture is so important to us, we're always looking for ways to create great experiences, so when people do come into the office, there's a reason to come in – it's collaborative, it's fun, and it's social.
Des: Spot on Brendan! Ultimately, people are happy when they feel connected. 
Where do you see LearnUpon going in the next 10 years? In what ways do you expect it to grow and change?
Brendan: I hope we continue on the journey we've been on for the last 10 years. In many ways, we've grown fast. And there's still a huge opportunity there for us. We've had a great 10 years, but the reality is, there are tens of thousands more companies we can be a really great partner to, and a great LMS for. So I hope in 10 years' time, we're further on that journey and when you stop someone on the street and ask them to name an LMS, LearnUpon will be their answer.
Des: That's a great way of putting it. As we continue to grow, that creates exciting new opportunities for LearnUpon as a product and a company. Here's to the next 10 years!