How to Improve Customer Retention with Training

All businesses experience losing customers. It's normal. However, just because it's normal doesn't mean you should accept it. Customer attrition happens for many reasons. They just might not be the right fit. How can you improve customer retention?
But, if we dig down further, we often uncover that you may be struggling with customer retention because of problem points encountered while using your product or service – points that are completely preventable. 
If your business is focusing on customer retention, we'll explain in this post how you can find problem points in your customer's journey. And how you can implement great training to retain more customers.
What pain points impact your customer retention rate?
Before we get stuck in, let's explain what pain points are and how they're hurting your retention rate. Many call them friction or problem points and here's an easy to understand definition from QuickSprout:
"Friction is any variable, website quality, or user behavior trend that is slowing down (or entirely halting) the progression of your company's sales cycle."

Name
Importantly, these points can happen at any time and for a number of different reasons. However, if you examine your customers' lifecycle, you'll find patterns – a number of customers experiencing the same problem at the same point. It's critical to understand how these points affect your retention rate.
Using customer training to overcome pain points
1: Find where your customers are struggling
To overcome problems in your customer's journey you first need to find them. Many businesses keep a watchful eye on how their customers interact with their product. They have a good idea of where potential hurdles are and this is a great starting point. Others might find it more difficult to pinpoint. Either way, research is key to discovering your product's specific weaknesses. 
Look through any records you have of customer behavior in your CRM or other customer management tools to see the primary drivers for them choosing to no longer use your product. You can also look at your current customers' usage patterns and, depending on the volume, in a few months you should have collected a lot of data to analyze. 
With this data, map out where you're losing customers. Here's a sample graph of what it might look like.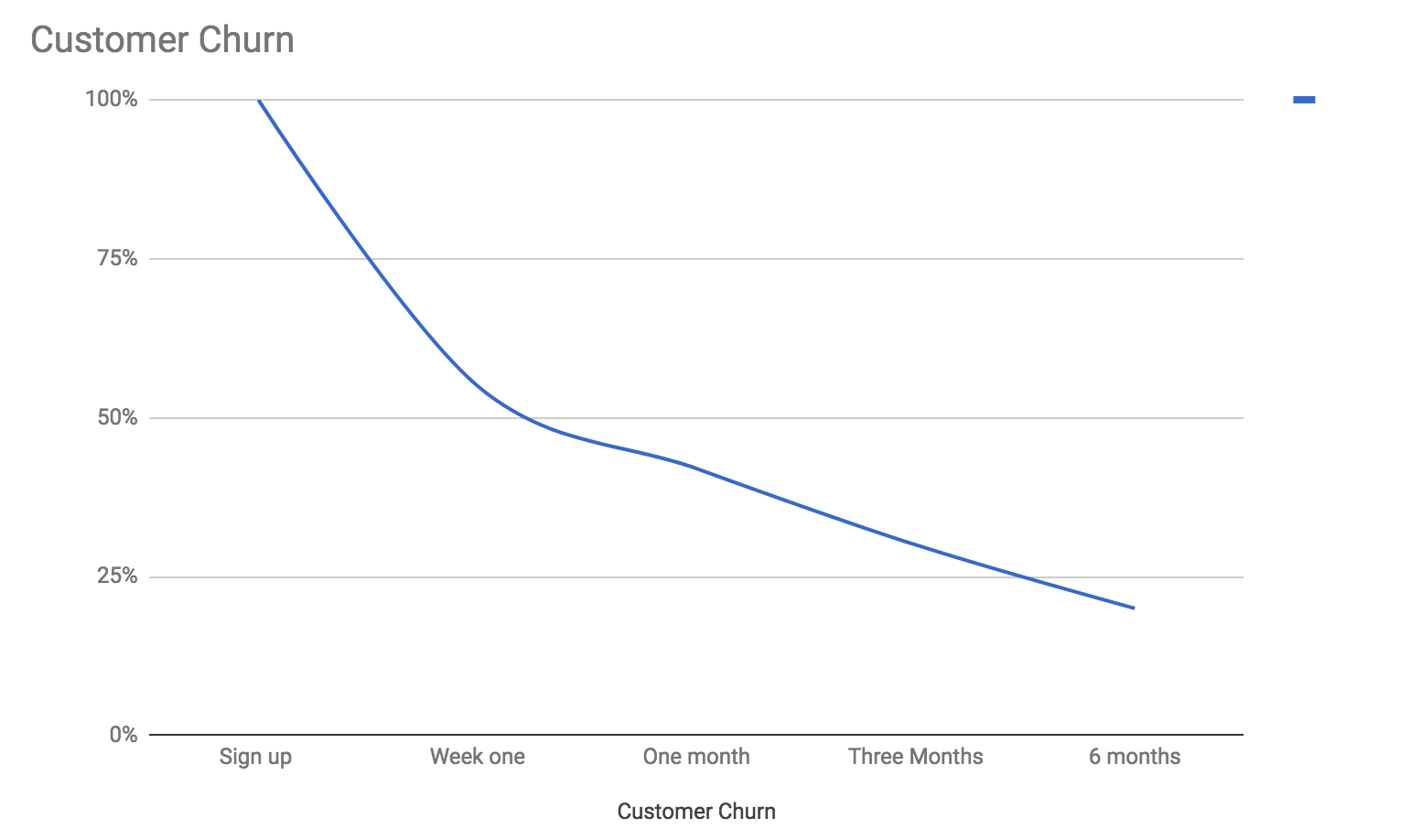 2: Investigate what's happening in the customer journey
Next, it's time to investigate why you are losing customers at these specific points. Once again, not all customers will leave for the same reasons, but you should find commonalities in their experiences. Understanding these will help you to create training that positively impacts these issues. 
To find out what's happening, first look to the people who know your customers best – your customer-facing teams. Get insight from the support team, success managers, sales, and marketing. They'll have first-hand knowledge and can tell you where customers are struggling. 
Then move on to the customers themselves. Reach out and survey customers to see what's impacting their journey. Or get your team members to interview customers who've experienced problems. 
Some problem points can be complicated, but it's likely you'll discover that a lot of the reasons are easily fixable by planning the right customer training. 
Common complaints are customers not knowing what to do when using your product or feeling unsupported when learning how to use it and customer training can help with resolving this.
3: Plan your training with customer retention in mind
Now you can start to plan training to help your customers with these issues. This training should directly help customers overcome the specific problem they're encountering so that they have an effortless life cycle experience with your product. 
Above we noted that customers commonly feel they aren't being properly trained. It can be difficult for them to adapt to using a new product. To counteract this you can build a course for your new customers, a handy step by step tutorial that shows them how to start using your tool. The customer will feel supported in learning how to use your product and this boosts customer retention. 
Once they have taken that course, you can enroll them in another course that shows them even more actions or features of your product to help them become successful. Then, to minimize support queries, you can provide an FAQ course that will help reduce the strain on your support team.
You can also add exams and quizzes to test customer knowledge on the topics that have been covered in the training to help with information retention. You can even add Gamification to make the learning process more fun and engaging. 
If you have a learning management system (LMS), this can be done easily. Just set it up so new users are automatically added to your LMS when they sign up for your product and set them on a learning path that automatically enrolls them in the necessary courses – simple!
4: Roll out and test your customer training
With your customer training planned, all that's left is to roll it out and see how your customers respond. Look at your customer training reports and the impact training is having on their engagement with your product.
Analyze exam and quiz results to see where there are still knowledge gaps. Refine your training accordingly. You can also continue to survey customers – active and lost – to see where they're succeeding and failing. This collated feedback will prove invaluable. 
Test your customer training too. Some businesses find their customers respond well to video tutorials while others prefer text-based walkthroughs. It's down to you to find the training sweet spot that will help you to retain more customers and boost your ROI.
How to improve customer retention today?
Have a great product or service? Train your customers with LearnUpon. The powerful learning management system that has the features and a knowledgeable team you need to achieve training success. 
Get your free trial and demo today!