8 min reading time
Building the Best LMS in Australia
In 2015, LearnUpon decided to set off on a journey to become the best Learning Management System (LMS) in Australia.  With only a handful of customers in the area at the time, we knew our LMS was the powerful solution that the market needed. But, we also wanted to provide the same high standard of support that our customers in other areas of the world experience.
So, we made a decision few other LMS vendors do, we set up a LearnUpon office in Australia. In October 2016, we opened our first official office in the heart of Sydney and quickly expanded our team with a heavy focus on support.  Fast-forward to today. LearnUpon has grown from having a handful of customers to over 60 in Australia and New Zealand, with new customers signing up every week.
The Australian eLearning Market
The Global E-Learning Market is poised to grow at 7.2% over the next decade to reach approximately $325 billion by 2025. The Australian eLearning market is supported by several government agencies and is playing a key part in this global expansion.
The Australian Skills Quality Authority (ASQA) is the national regulator for the vocational education and training (VET) sector and it seeks to ensure that training meets the needs of the Australian industry. ASQA (or, in some cases, a state regulator) has registered around 5,000 training providers, known as Registered Training Organisations (RTOs), to deliver vocational education and training (VET) services.
Australian eLearning is also supported by organizations such as The Australian eLearning Association (AeLA), which represents over 50,000 Australian eLearning educational professionals and organizations who design, deliver and assess workplace learning and development in the eLearning sphere.   There are attributes of the Australian market that lend themselves to the adoption of a corporate LMS:
Geographically dispersed – Australia's "tyranny of distance", both within the country and from the rest of the world, is unique. eLearning is perfectly suited for a large, dispersed country. The logistical practicalities and cost of live, in-person training makes eLearning an attractive option.
Positive regulatory framework – The Australian government agencies recognize that Australia needs a highly-trained and flexible workforce to ensure industries have skills to increase productivity, maximize competitiveness, adapt to rapid technological change and foster innovation. They also encourage industry to have a role in policy direction through bodies like Australian Industry and Skills Committee (AISC).
Mobile device penetration – Smartphone penetration has increased from 44% in 2012 and is forecasted to reach 74.44% in 2022. The widespread availability of mobile devices makes Australia an ideal market to deliver training on any device, anytime and anywhere.
Favorable industries – Key industries in Australia such as financial, mining, construction, engineering, and healthcare industries require compliance training. Other popular industries such as business consulting often incorporate eLearning to scale their revenue.
LMS Market in Australia
LearnUpon committed early to the Australian LMS market because we believed that it was a market that had significant potential, and was being underserved. The cost of LMS deployment can be unnecessarily high and open-sourced solutions do not suit many corporate LMS needs.
LearnUpon believes that a modern, cloud-based LMS that is quick to set up, is easy to use and is backed up by local Australian support would be the best LMS solution for many Australian enterprises.
Traditional LMS Solutions
LMSs, in general, have a bad reputation which comes from the clunky and overly complicated options that were historically available. Implementations can take months or even years. A report by Brandon Hall on LMS satisfaction and spending trends found that almost 50% of the respondents were looking to change their existing learning management system (LMS). Common complaints with traditional or custom LMSs are:
Difficult to use
Poor customer support
Lack of mobile features
Too expensive/hidden costs
That being said, a more traditional LMS may be the right solution if you need a highly customized LMS, and if you have the budget and technical resources required to achieve this.
Open-source LMS solutions
The most common open-source LMS is Moodle. As Moodle originated in Australia, it is a relatively popular solution. Moodle can be a good option in some learning and training environments. But despite its initial low cost and flexibility, Moodle may not be the best option for corporate organizations. Moodle's weaknesses make it a potentially costly choice for those with conflicting needs and requirements. We outlined the pros and cons of Moodle versus a cloud-based LMS in a previous post.
Cloud-based LMS solutions
Cloud-based LMSs are instantly available and can be set up in hours or days depending on the complexity of your use case. Cloud LMS providers release updates and improvements on a much more regular basis. These new feature releases ensure that the system is constantly being improved on your behalf.
As the system is web-based, it provides learners with the flexibility to complete online courses wherever they want and on any device. It also provides similar flexibility to administrators to create courses, assign them and run reports and analytics whenever they want.
Any device with an Internet connection and a browser can access a cloud LMS. Cloud LMSs are typically more affordable than traditional or custom LMSs. They offer tiered pricing plans so you can choose the plan that best meets your usage needs. The main advantage of this approach is you can move to higher plans as your business scales.
Questions to determine the best Australian LMS
With so many LMS vendors on the market, it can be difficult to choose which one is best for your organization. We've identified the top 10 things to consider when selecting an LMS.  When selecting an LMS in Australia, or anywhere, there are key requirements that must be met:
Does the LMS have all of the minimum feature requirements?
Is the user interface modern and user-friendly?
How good is their customer support?
If you're an Australian organization looking to roll out your training, there are other specific questions we recommend you consider:
Will I have access to local Australian customer support?
At LearnUpon, we believe that customer support and customer success are critical components to be considered when purchasing an LMS. Local support will be especially key in Australia. As an example, let's say you're an Australian company based in the Northern Territories, your LMS vendor is US-based and their support is also US-based (let's say – New York). If you log a support request at 8:30 am ACST on the 23rd of May, that company is unlikely to see that request until the following day as in New York it's 7:00 pm on the 22nd of May. This can have a severe impact on your ability to resolve an urgent issue should the worst happen.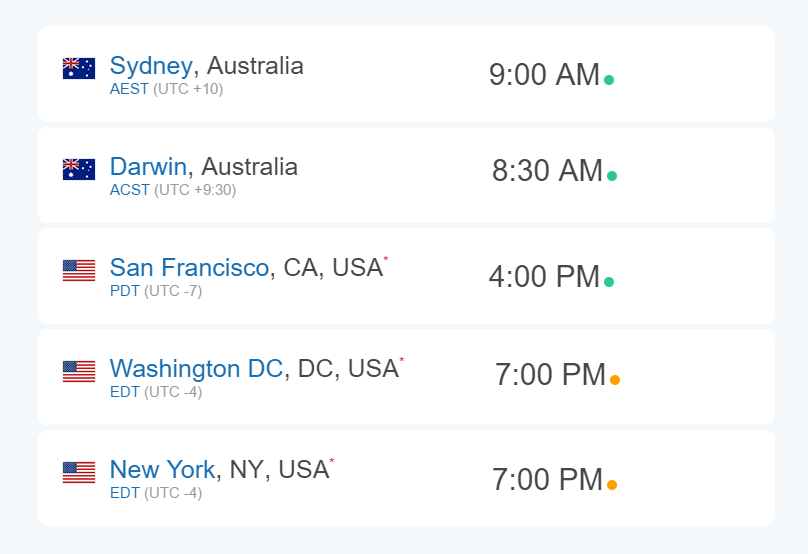 With LearnUpon you're not just getting an LMS, you're getting much more, a team of passionate and experienced individuals always willing to go the extra mile. The support team is manned 24/7 between our office here in Sydney, and our other offices in Dublin and Philadelphia.
Does the vendor understand the Australian market?
This is surprisingly overlooked, having a vendor that not only understands you, but your use case and the eLearning space as a whole is invaluable.
How is your eLearning content delivered?
LearnUpon has implemented a sophisticated CDN (Content Delivery Network) which ensures a fast, smooth and reliable content delivery experience to all learners no matter where in the world they're based.
Is the platform ready for mobile learning?
The demand for mobile learning, or mLearning as it's also known, has exploded over the last number of years. Learners now want to access and complete courses on their phone and tablet devices, in addition to the desktop. In order to support learning outcomes, training should be easy for users to access. Our LMS customers in Western Australia and the Northern Territories, where access to traditional devices may be limited, appreciate the ease with which their learners can access course material on their tablet or phone.
Common LMS use cases of Australian eLearning by industry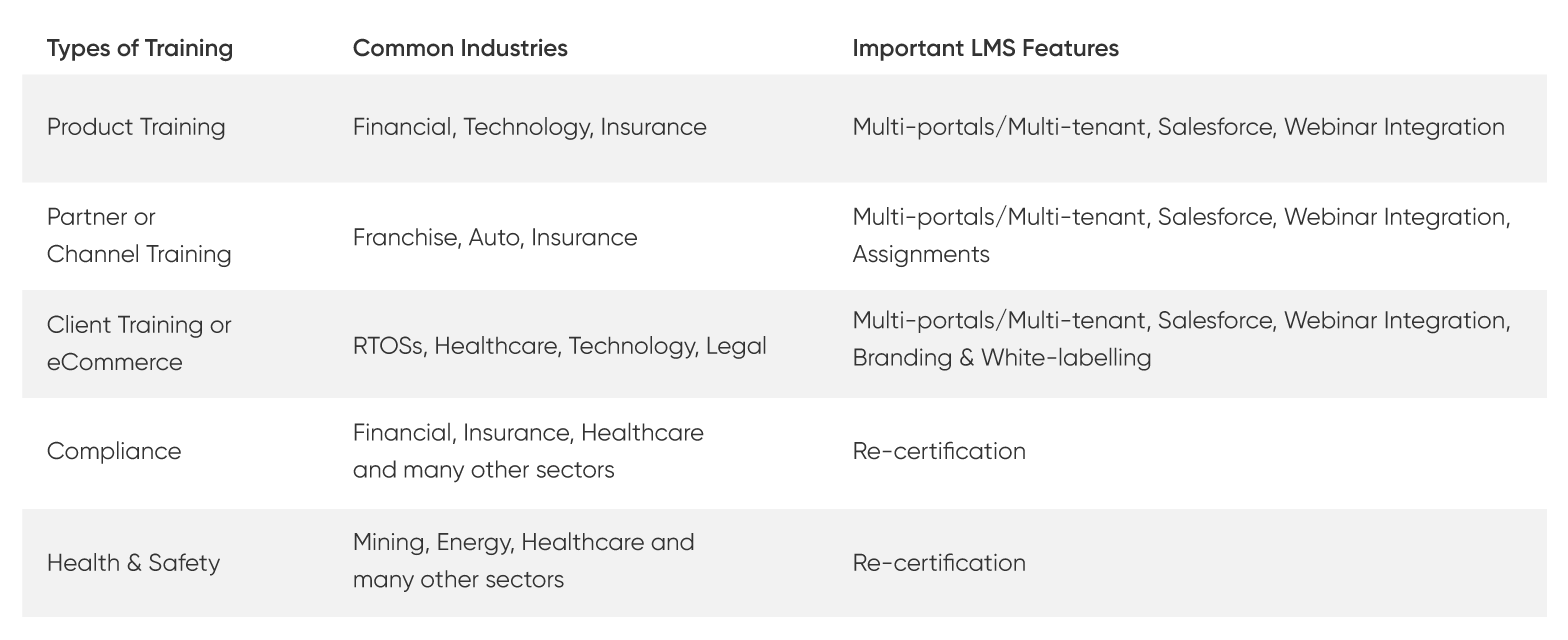 Popular LMS Features in Australia
Webinars: The ability to schedule and automatically track live webinars within the LMS is one of the most common features used by our Australian customers. This is due to the geographical distance that separates much of the country. There's significant cost savings to be had from moving traditional face-to-face learning to live webinars.
Re-certification: If you need to recertify learners at regular intervals, having the ability to set expiry dates on certifications and automatically reassign training to learners when their renewal becomes due is important.  It is also important to have the ability to run certificate reports to easily identify learners who are past due.
External Training & Assignments: This is the ability to upload records of training taken outside of the LMS. It is used by many of our customers,  allowing them to capture data on all training that has been done.
Robust Reporting: Due to the regulated nature of much of eLearning in Australia the ability to track and report on training is critical. The ability to filter reports, automate reports and to have downloadable reports will save administrators time.
Australian LMS Customer Experiences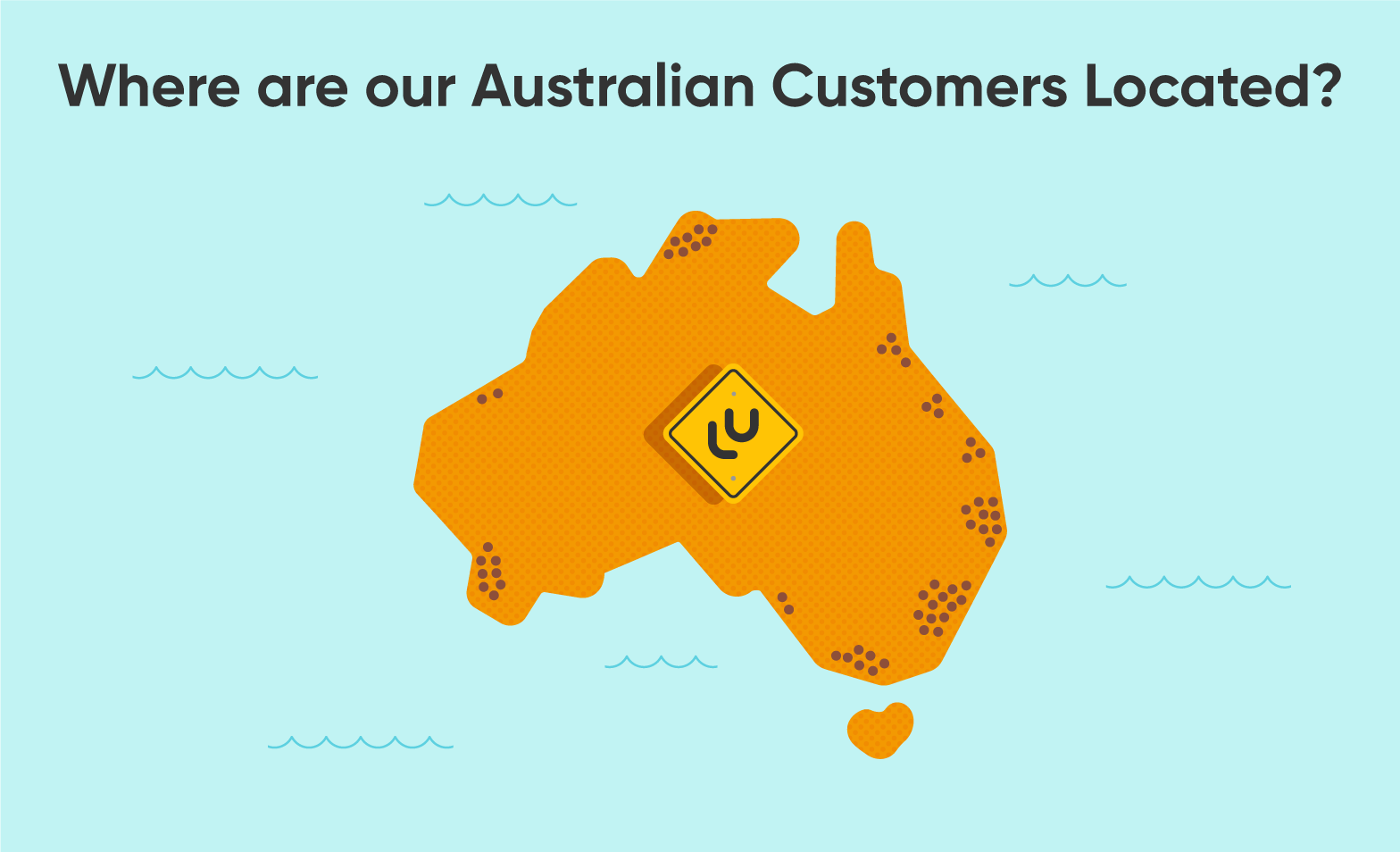 Our LMS supports companies all over Australia, helping them to roll out their training quickly and easily across various industries from mining and engineering, through to pharmaceutical and healthcare providers.  Take, for example, EpiGroup based out of Perth WA, one of our first Australian customers. They deliver a range of different compliance and risk-based training to businesses and staff remotely across Australia. The importance of access on the go has been especially important for their clients, many of whom are in rural parts of Australia or on offshore oil rigs.
We support Business Analysis Excellence Pty Ltd in Melbourne VIC, who provide online endorsed training programs and courses to Business Analysts from more than 18 different countries around the world. The International Institute of Business Analysis (IIBA®) and the International Requirements Engineering Board (IREB®) recognize and endorse the Business Analysis training courses that they deliver through LearnUpon.  One of the biggest advantages of being a local LMS is that we can be hands-on with our customers and help guide them through what can sometimes be a daunting process, especially if you're new to eLearning.
"LearnUpon's customer support is second to none which is extremely important given our client's unique challenges. The software is bullet-proof."
James Teakle, Managing Director at EpiGroup, Perth – WA
"You guys are doing a great job and we appreciate that you are always looking at ways to improve your system, your support is very responsive and friendly."
Judy Powell, Partnerships Manager, Lung Foundation Australia, Brisbane – QLD
"CSR Ltd was looking for an LMS that not only suited our needs today but had the flexibility to grow with our deployment, most importantly it needed to be supported locally. A key decision in selecting LearnUpon was the dedicated Australian office, this gave us the confidence that if we needed help it was close at hand. Many other LMS options required wanting overnight or extended delays due to their locations overseas."
Anthony Gunther, Training Manager – Product & Application, CSR Ltd, Sydney – NSW
"LearnUpon has been a key enabler for us to deliver our Business Analysis training to students based in more than 18 countries around the world. Their reliable customer support and robust training platform have provided us with the ability to grow our online training business with confidence. We value the key role they play in our online training offering."
Esta Lessing, CBAP® Training Director, Melbourne – VIC
Reach out to find the best LMS for your organization
Selecting the best LMS can be difficult. We believe that due to the Australian time zones the best LMS for Australian organizations must understand the market and have a local presence in Australia. LearnUpon committed early to the Australian LMS market and our Sydney office is key to our global 24-7 support. Our customers are a big part of our journey to become not only the best LMS in Australia, but the best LMS in the world. If you're based in Australia and would like to find out more about LearnUpon, please feel free to drop me an email (sebastian.pain@learnupon.com) or you can contact a member of the Australian team on +61 283 111 209.