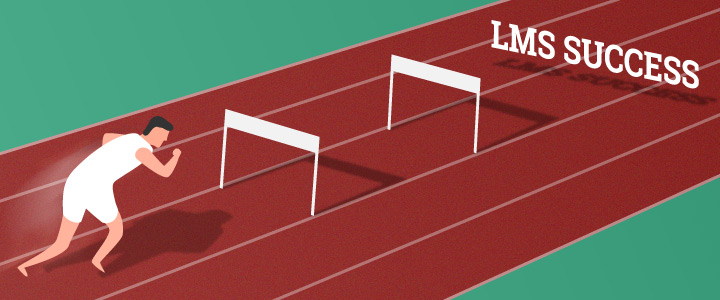 5 min reading time
5 Challenges with Implementing an LMS & How to Overcome Them
With every new piece of software, there are implementation challenges. And a Learning Management System is no different! There are important decisions to be made, tasks to be assigned and a learning curve for all involved.  No need to worry though, we're here to help! Here are 5 of the biggest challenges we see our customers face when implementing an LMS, and successful tactics to overcome each one.
Challenge no. 1: Your team doesn't have a focus
For companies, there can be a lot of stakeholders involved with eLearning – managers, instructors, designers, course creators, developers…the list goes on! With so many team members involved it's difficult to manage tasks, set goals and get everyone on the same page.
Overcome this by creating an implementation guide
An implementation guide may seem like just another task to add to your long to-do list, but believe me, it can save you serious time and prevent implementation headaches. Your guide can be short and sweet, and simply contain the key points that everyone should know going forward. We suggest including:
The goal of implementing the LMS such as delivering compliance training to 5,000 employees, training 1,000 customers on your new product features or reducing the cost of your internal training
Team members involved and their roles
Links to helpful information and details of your LMS provider contacts
A set of rules for everything from course content to course naming conventions such as how often will new courses be introduced and who will be managing it
It's a simple idea that saves you time in the long run.
Challenge no. 2: You don't know how long it will take
One major obstacle we see all the time at LearnUpon is incorrectly estimating the amount of time it will take to implement and roll out your online training. While LearnUpon is designed to be quick to setup, and we see many of our customers launch successfully within a number of days, there are many other variables to consider which can delay your LMS implementation.
For example, we sometimes see customers underestimate the amount of time it takes to build (or purchase) their course content or to get access to the technical resources they need from the IT Department to configure Single Sign-On (SSO) or APIs for integrating your LMS with your HRIS or other 3rd party software. Before you can launch all of your ducks need to be in a row.
Overcome this by having a schedule
For many companies setting up an LMS time is of the essence so it's essential you make a realistic schedule. This should map out each objective that needs to be achieved and the date it needs to be delivered by. Significant dates that should be included are:
The 'Go Live' date
Content delivery deadline
A 'Soft' launch/test date
IT approval dates, etc.
Also considering potential issues that may derail your schedule is a prudent move, such as, course content not being delivered on time (a very common one!) and the tactics you have in place to overcome it. For course content, the solution could be to hire an extra instructional designer or purchase content from a 3rd party provider.
Whatever the issue, make sure you have a backup plan.
Challenge no. 3: Your user roles aren't decided
Admins versus managers, managers versus instructors – who within your organization will be added and what will their role within your LMS be? User roles need to be thoughtfully considered as they provide each user with the appropriate level of access rights and privileges – as mapped to their needs.
Not having this figured out can lead to a "too many cooks" situation when managing your training.
Overcome this by deciding who does what ASAP
Allocating clear roles and responsibilities before your launch will save you time and stop your team members from becoming confused.
Outside of your LMS, it's smart to discuss the tasks each person on your team will own. From uploading content to assigning courses to adding users to running reports, knowing who is responsible can make LMS implementation much more efficient.
Once this has been decided you can start assigning roles in your LMS. With LearnUpon, for example, you can be an administrator, manager, instructor or learner. Each has its own level of privileges, therefore depending on team members duties, you can start to assign them a role within your LMS.
Challenge no. 4. You're uncertain how to add users to your LMS
Perhaps, the most important part of implementing an LMS – user onboarding. But establishing the best way to add them for your organization can lead to an internal debate. It needs to be decided early on to ensure a smooth transition for you and your users.
Overcome this by deciding who does what
Users can be added in a number of ways, and it's up to your company to decide what is simplest and most achievable to do. Luckily with an LMS like LearnUpon, adding users is simple whatever method you choose.
Single: You can add each user individually. You'll need to add an email address, name and any other information needed to build a user's profile (or you can choose to let the learners complete their own profile when they first login). This instantly creates your user and they are notified by email right away.
Batch: You will need a CSV file for this option that includes your user's details. You can upload this straight to the LMS to create multiple users in one easy action (and automatically add them to Groups or enroll them in Courses if you want).
Automatically: If you have a lot of users, and/or are constantly adding new users to your LMS, automating this task is probably the best option. You can integrate with your HR or CRM system so that each new user's information is triggered to send to the LMS automatically. Although this may entail a little more organization, it saves time and means you never have to think about adding a new user to your LMS again!
Challenge no. 5: You don't know how to get the word out
You've got your LMS, you're ready to train, but you don't know how to get your learners' on board. Both internal and external content rarely does well without a push from a marketing style campaign or by getting managers involved. This leads to your LMS lying unused and your targets not being met.
Overcome this by developing a marketing plan
Luckily, there are lots of awesome features that can make it easy for you to capture your learner's attention and ensure they are taking the courses:
Decide to batch or automatically add your learners to your LMS via your HR or CRM system to ensure they are added as a user
Choose groups to divide your learners into and decide courses to assign and automatically enroll these learners in
Pick due dates for your future courses to ensure your learners are meeting their deadlines
Set-up reminder emails and in-app notifications for learners to remind and encourage them to complete their training
Outside of your LMS, reaching out to managers and teams to notify them of what's coming up is always a smart move. It helps build awareness before launch.
Also running some sort of competition or free giveaway for those who successfully complete their online training by a certain date can be a great way to get the word out about your new LMS and to help generate learner engagement.
When in doubt…
Different businesses will face different challenges when implementing an LMS, but hopefully, these tips will help you overcome some of the most common ones. However, when in doubt ask your customer success representative, they're always happy to help!