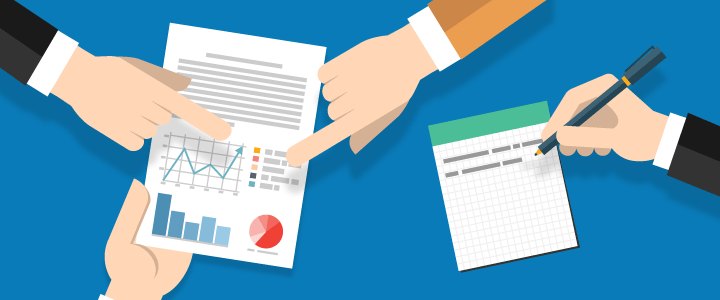 5 min reading time
What LMS Reporting Tools Do I Need?
One of the best parts of using online training is the powerful LMS reporting tools. Learning management system reports have big benefits for your business when delivering training; with LMS reporting features being one of the most commonly wanted features by our customers.
For example, LMS reporting is essential if you're:
Tracking how your training impacts your customer retention rate
Tracking the completion rates of your employee onboarding training
Monitoring which employees are certified for compliance training
If you've never used an LMS or only getting the grips with your current system you may not be aware of the information that can be tracked. You might even include extra LMS reporting data when you see what's possible and, most importantly, how easily reports can be run. For each report let's look at the data you need and what report best meets that need.
What Learning Management System reports do I need?
1. Learner Progression
The LMS reporting you need: Course Status Report
The Course Status Report is the most commonly used learning management system report for businesses in LearnUpon. At first glance, this report will give you a status update on every learner enrolled in a specific course or courses.
You'll see the learner's profile information, if they have started the course, when they started, if they have completed the course and if they passed, failed as well as their score (if applicable). The data in this report can be filtered to the exact segment of users you need to report on.  For example, all users that started but didn't complete the course, users in a specific group/team or even by granular profile data criteria such as your custom user data.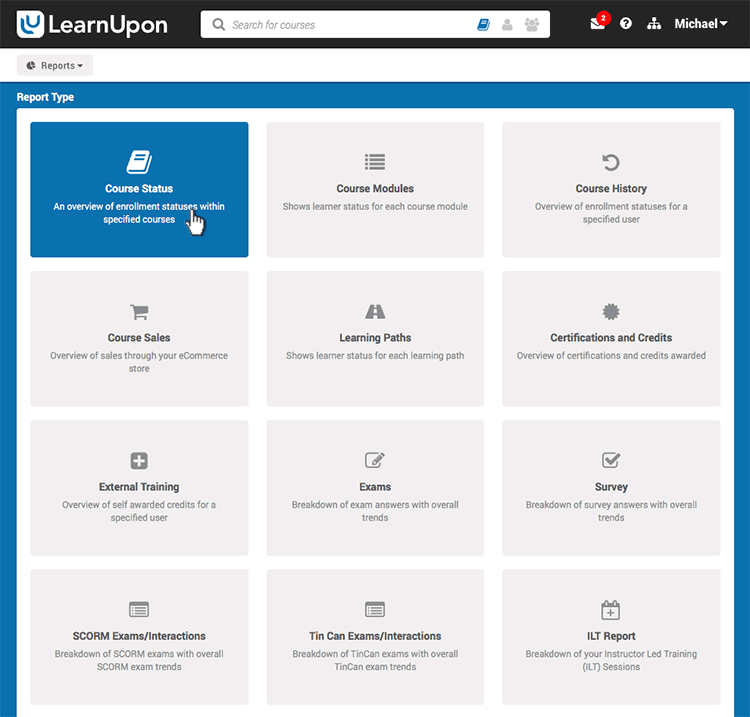 2. Course Status
The LMS reporting you need: Course Status Report + Due date filter
To identify who is falling behind on their training you can run a course status report and then filter by the course due date. This handy LMS reporting tool shows you anyone who has missed the due date. You can then give them a gentle nudge, in the form of an email reminder, directly from the report result screen making it easy to 'encourage' timely completion of the assigned training.
3. Exam Results
The LMS reporting you need: Exams Report / SCORM/xAPI Exam/Interactions
If you need to delve into the detail of how each question in an exam was answered then the choice of report you run depends on whether the course is SCORM/xAPI based or not. These posts are great explanations of SCORM and xAPI. If the course isn't SCORM/xAPI based you'll need to run a native exam report.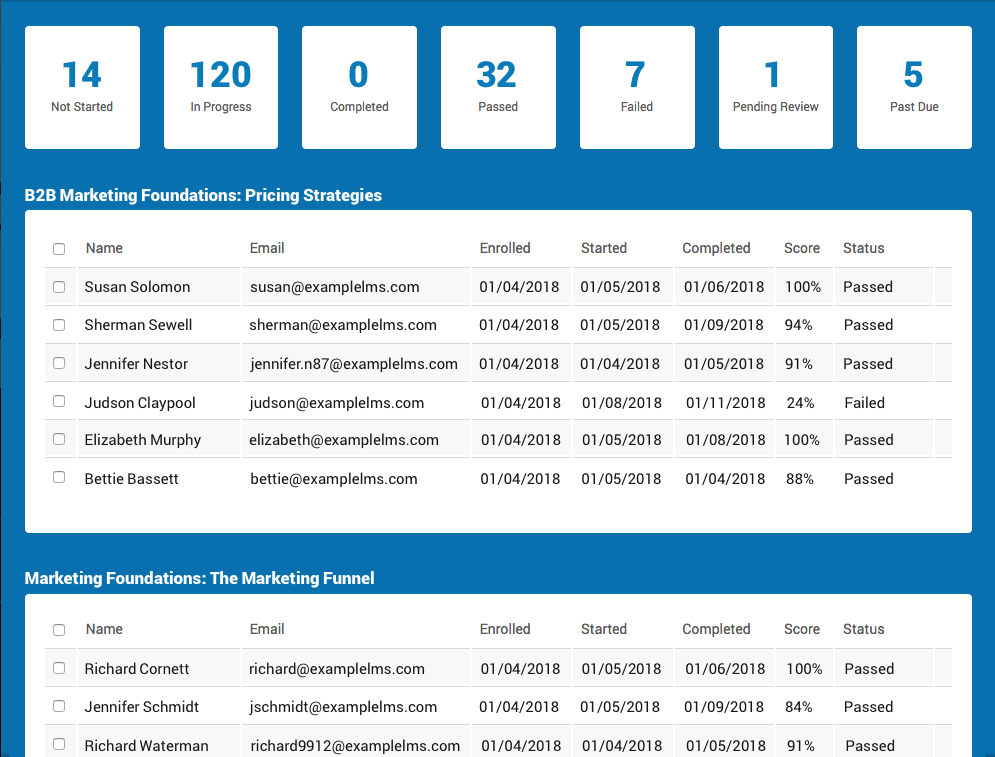 4. Module Completion
The LMS reporting you need: Course Module Report
If you notice that certain courses are not being completed in a timely fashion you might have a bottleneck in a particular section, or to use our terminology, module. A course module report gives you a detailed % breakdown of each section of the course. A section that has a low % completion rate may indicate that there's an issue with that particular module that needs to be addressed.
5. Learner Course History
The LMS reporting you need: Course History Report
If you need information on an individual's training history you can run a course history report. With a couple of clicks, you can see each user's full course history. This is perfect if you want to check in to see what courses a particular user has completed in a set period of time.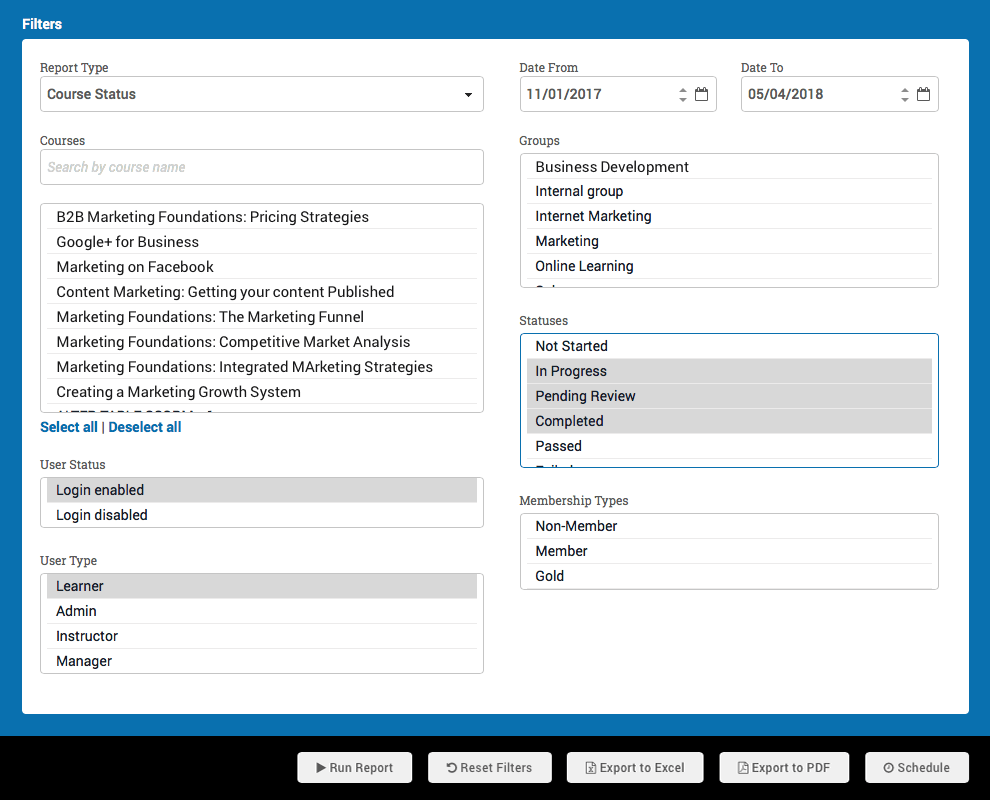 6. Certification
The LMS reporting you need: Certification + Credits
To get this information you'll need to run the 'certifications and credits' report. You can run this report to filter the data by user or by course. The user report drills down to all the certifications held by that user, while the course report generates a list of all users that are certified in that course. You can also select all courses – perfect for an overall view of certification.
The expiry date is shown on these reports as well as auto recertification dates to make it easy to oversee re-certification programs.
As you can see from the title, this report type includes credit details so you can see whether Jane Doe has been awarded her CPD credits as well.
7. Learner Feedback
The LMS reporting you need: Surveys
Adding surveys to courses is a great way to get feedback from your learners on the courses you're running. This report allows you to gain insight and spot trends. The survey report has two output formats: charts and transcripts, to allow you to get an overview or go into detail on the data.  
8. ILT Attendance
The LMS reporting you need: ILT Report
Instructor-led training is a live training session which is conducted face-to-face or in webinar form. You can blend your live training efforts with on-demand elements in your courses. It's important that you know how each session is going, what times are most popular and if there are waitlists building up. The ILT report gives you a breakdown of all of this – allowing you to filter by course, user, instructor, and location. You can, for example, see which sessions a particular user attended this year.
9. Top selling eCommerce courses
The LMS reporting you need: Course Sales
This report shows the total value of sales for a selection of courses over a defined period of time. The number is taken from the price you set for the course in your storefront. This allows you to see which course is the most successful from a sales perspective and feed that information into your eLearning strategy. Other benefits include granular information on discounts provided to your customers from coupon usage and granular data on your sales tax collections. These can be exported to your accounting departments as needed.
Schedule your LMS reporting
If you're using the same LMS reporting tools regularly you should set up schedules to save yourself time. Scheduled reports allow you to automate your reporting processes without the need for any technical resources or manual effort.
Sharing your learning management system reports
LearnUpon's LMS reporting features allow you to quickly generate rich, actionable data. And you can export that data into branded PDFs or Excel spreadsheets. This information can then be easily distributed to your colleagues and partners.
When setting up scheduled reports you choose the recipients you want to send it to from a user list in the app.
So, for example, you can run a Course Status Report on your 'New Hire Orientation Course', set up how frequently you want it to generate and send (daily, weekly or monthly) and then select a user from the drop-down who is in your HR team that you want to receive it. That user will then receive the report into their inbox that informs them on the new hire's progress without ever having to even log into your LMS.
Maybe the recipient isn't a user in the LMS? No problem, just use an email address. Set up schedules for:
Users who don't have the ability to run reports within the LMS but need access to them, for example, a learner
Sending reports to a client's email address
Sending reports to distribution lists, such as the HR Team
When choosing an LMS, think about who needs the LMS reporting data, and when. You should be able to get your data with a couple of clicks of a button and, you should be able to let the LMS do the hard work so you don't have to.