7 min reading time
Checklist: 10 Tips to Prepare for Your LMS Demo
One hour. That's the typical length of a Learning Management System (LMS) demo. It sounds like plenty of time, but in reality, that 60 minutes flies by.  A practical LMS demonstration is the best way to evaluate the solution. You can see the system in action, ask questions, and find out if it aligns with your expectations. But with such a small window of time, how do you guarantee you're making the most of your LMS demo?  Based on our experience helping thousands of organizations find an LMS, we've compiled a list. It details everything you and your team should do to prepare for your demo.
How to prepare for your LMS demo
1. Who should attend?
Once you've made a list of vendors that fit your basic needs and you've committed to sit in on a demo, you should decide who needs to be present. As an LMS touches many parts of the business, not just the team delivering the training, you'll probably have a long list of stakeholders that could attend. To decide who should be there, consult with those who will have input not only on the selection but also the continued use of the system. This will help with the understanding of the system and the adoption of the LMS in the long-term.  For example, if you're moving from another complex system, it's important to include a member of your tech team if integrations are a must-have. Or if you have a higher-up that isn't convinced an LMS is needed, ask them to join so they can see the benefits of the system. Don't forget, to let your potential vendor know who will be attending in advance too. This should help them tailor the demo to address the stakeholder's concerns.  Some possible attendees include:
LMS administrator(s)
Content Creators
Trainers
IT Professionals/Managers
Department Managers (Depending on use case it could be HR or Customer/Partner Success)
CEO/CTO/COO
2. Define your training needs
A good LMS vendor will do their research before the demo takes place. They should know about your organization and the training you need to provide. But to help them along in the process, and ensure your demo is tailored to you, it's smart to be prepared to tell the person doing the demo exactly want your organization wants to achieve. This should include:
What your company does
Who your target customer is
What audience(s) you wish to train
What your expectations are from an LMS
What results you plan on achieving
The time frame of your planned LMS implementation/training roll-out
We also suggest telling the vendor straight up how you plan on evaluating the solution and what criteria you want them to meet. An honest vendor will tell you if they can meet your conditions, and adapt the demo to meet these needs.
3. What features are a must-see?
It's very common for a checklist to be used to map out every single feature that you require to manage training. Bring this to the demo and ask your vendor to demo each one for you. Commonly, we get asked to show features like:
Learning Portals
Content creation
SCORM and xApi functionality
Assessments, Exams, and Surveys
User Roles
Adding Users
Enrollments
Mobile Learning
Integrations
Reports
Certification
Branding and White-Labeling
Gamification
Forums
By including your feature requirements the demonstrator can tie these all together in the clearest manner. Also, we recommend explaining why you believe you think this feature is indispensable. The vendor might have other, better features or workflows that they can show you that will make managing training that much easier.
4. How do you want it to look and feel?
When selecting software like an LMS, there are varying levels of customization for how the product will look to you and your users. We don't just mean pure aesthetics here. We're talking about how clean and modern the user interface looks and feels, and how it renders on different devices.  Before the demonstration, you should decide which branding you would like to feature within the LMS. A powerful LMS demo should be done in a portal that matches your branding to give you a clear expectation of what can be achieved visually.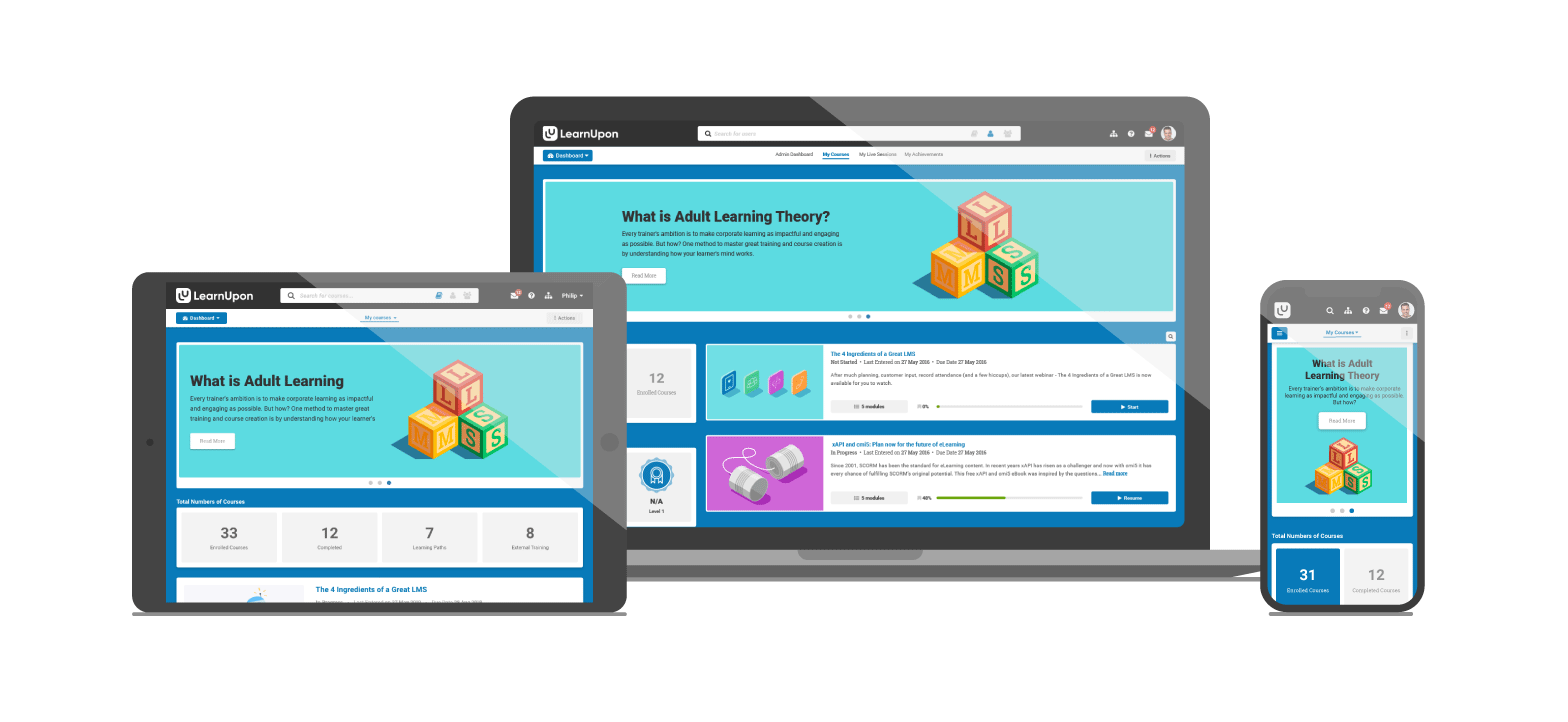 Also, it's prudent to ask to see how smooth and user-friendly the solution is to use from both an administrative and a learner perspective. Ask the demonstrator to show you how basic tasks are done by users and how simple they are to achieve. This should give you a clear picture of how intuitive the platform really is for your users.
5. Who are my users?
Speaking of users, they are the most important element of any software you will choose. Whether it's a small or large number, you have to consider a couple of things before the demo. A good starting point is to ask these questions:
Who are my users and how will they need to interact with the system?
Do I need those users to have different roles that match up with the roles they occupy in your organization?
How many Administrators, Instructors, Managers, and Learners will our organization have?
This allows you to mentally map out the experience each will have, which is key to adoption. Some of those individuals should join you on the demo (i.e. Admins and Managers), and they can speak of their experiences and expectations. A secondary point: How exactly will they be entered into the system? From the vendor's point of view, it might be sufficient to say "we have added our users". You'll need to put that in the perspective of your organization's day-to-day activities as they may be different for the demo. In the demo, a user could be created with the click of a button, but how does that scale if you have hundreds of users? How can you automate the process if it's in the thousands? If you join the demo with a plan formulated for how this looks in your current and planned situations, it's easier to see if the software will support both. And, if you're interested in integrations, this is the perfect time to talk about that too.  Recently, we had a very prepared organization send a list of fictional users. They wanted to see how they were placed into the system and how they can control the access level of different roles. This gave the demonstrator an example to work through on his demonstration, which resonated with the evaluator.
6. Will I need groups?
Once you know who your learners are, and how you get them into the system, you should think about how you want to group them. An LMS should allow you to create groups so that you can segment users, allowing you to easily manage larger numbers of learners, assign managers, and report on each separately. Here's a simple example. It includes basic groupings to make it easier to organize employee training. Some organizations whiteboard this process to help them identify which groups need training.

If a separation within a single portal is not enough, you can always give different segments of your users into separate Learning Portals, "mini-LMSs that enable you to train distinct audiences in their own portals",  as long as the LMS offers this.
7. How will I communicate with my users?
With your users added, how can you communicate with them? Will you be using manual or automatic communication? If you're using automatic notifications, can you change elements of the information sent out?  There are lots of options here, so the best way to decide your preference is to work through a simple process and add-on features that make the process more efficient. The LMS should ensure that users are notified and reminded of their training to help completion, but how are they managed? Can they be automated? It's a good idea to give the vendor a real-life picture of what you expect from your LMS in regards to communication. That way the demonstrator will focus more time on this. From experience, we know that this is a major talking point for those in charge of training who don't have an automatic means to push learners to complete courses.
8. How will I reward my learners?
Once a learner completes a course, it's important to recognize the achievement. Therefore, plan to ask how you can reward learners within the LMS.  If you need a defined process of certification, then a demo should clearly show you how those certificates are created, how they're awarded, and the types of records you and your learners have access to. Once again, we recommend you provide a picture of this workflow before the demo. That way the vendor can walk you through that journey, covering each and every point you need to see. Gamification is another popular way to award learners throughout their training. Known to increase engagement and enjoyment of your courses, you should also consider how your organization could use a feature to add some extra incentive for the learner.
9. What is the pricing structure?
Do you understand the pricing structure of the vendor whose demo you will be attending? Is it clear and transparent? The software pricing structures can often be purposefully complex. We, here at LearnUpon, have a very clear pricing model to avoid any confusion. Requesting time during the demo to make sure you're completely clear on the pricing and any other fees will help you have a crystal clear understanding of how much the solution will cost your organization.
10. What are my next steps?
A demo is the best way to get an overall picture of how an LMS works. But what information do you need after the session? There's a lot of information to absorb and probably more questions to be answered. Whether it's pricing structure, sales collateral, video, images, a trial portal or technical documentation, make sure you know your next steps so that you're in control of the process and making the most of your time. If you have any questions about preparing for your LMS demo, let us know in the comments below. We'd be happy to answer.