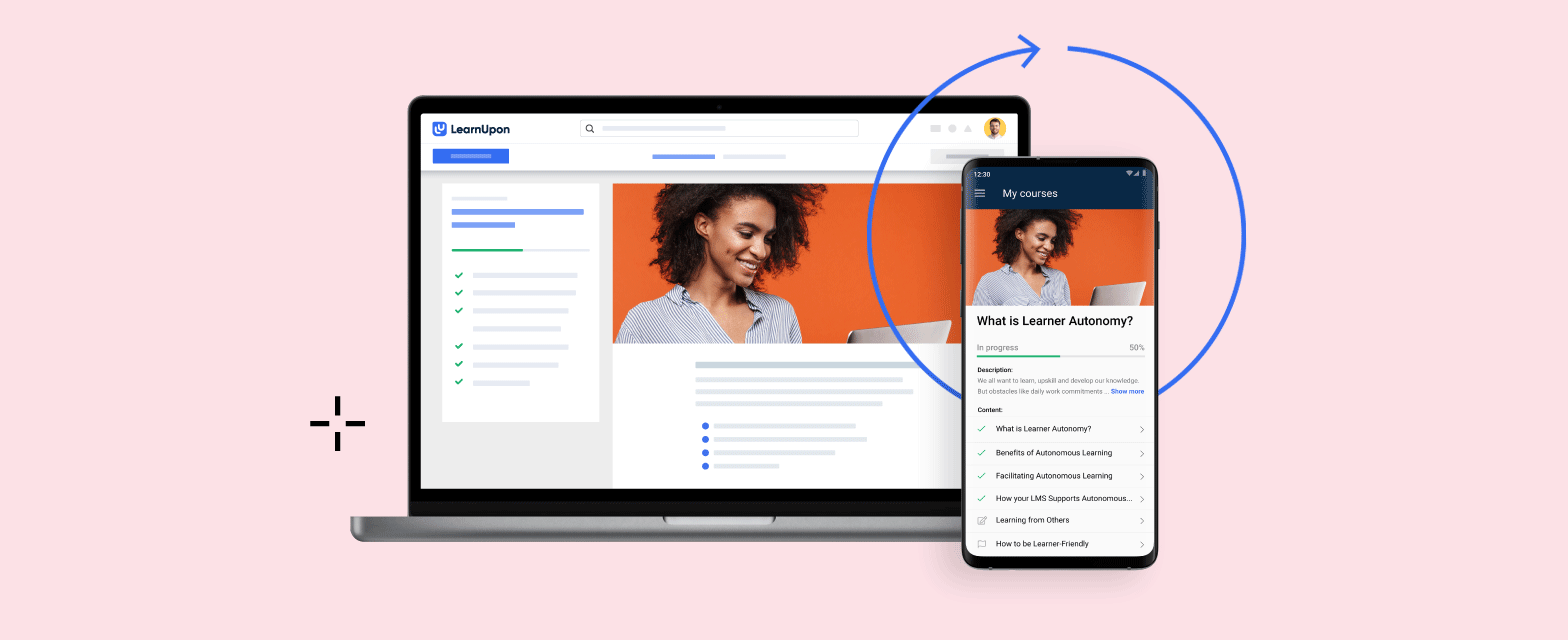 2 min reading time
Introducing LearnUpon for Android: Empowering Learning On-the-Go
Today, every member of your organization's ecosystem relies on their mobile device. Whether it's your employees and partners needing it on the job or your customers using your software on their phone, it's an essential part of their day. And now, you can make it an essential part of your learning strategy. 
We're excited to announce LearnUpon's new Android learner app. Joining our existing iOS learner app, now your learners can easily access training and learn on-the-go all through the handy device that lives in their pocket! 📱
Boost engagement with mobile learning
Mobile devices are a fixture of everyday life (we check our phones on average 63 times a day). This means there are lots of opportunities when it comes to mobile learning. Think supporting those learners who simply prefer the experience of learning on mobile apps, or making sure field employees have access to learning away from a desk. 
No matter how your users choose to learn, with LearnUpon's Android app progress and enrollment histories are automatically tracked across web and mobile devices. Your learners can always pick up where they left off – in the office, on the move, or on-site.  
You can also ensure learners are always in the know. Whether it's promoting a new product training course to partners or making sure employees meet essential compliance training deadlines, our app catches the eye of your busy learners and keeps them coming back with push notifications for new enrollments and reminders about upcoming due dates. 
Importantly, with our app, there's a consistent look and feel as your unique portal branding is synced across devices – so it's recognizable to your audience. It's an environment they know and trust.
Deliver mobile-friendly content to your Android users
Only about 50% of companies have learning content that is optimized for mobile learning, but with LearnUpon's course creation features, you have the tools you need to focus on producing mobile responsive content. You can choose from a range of interactive content options like embedding bitesize videos for Android app users to watch on the go or dropping in a SCORM file created in a responsive authoring tool like Articulate Rise. 
With mobile-friendly content in hand, you have the tools you need to deliver training that makes an impact. Critically, you can prove it and improve on it! By gathering detailed feedback from learners in-app with course Surveys.
Download LearnUpon's Android learner app today
Already using LearnUpon? You and your learners can find LearnUpon's Android app by searching "LearnUpon LMS" on Google Play. Check out the Android guide for more details on the app. 
Or, if you're interested in learning more about how LearnUpon's mobile app can work for your organization, chat with our team today.