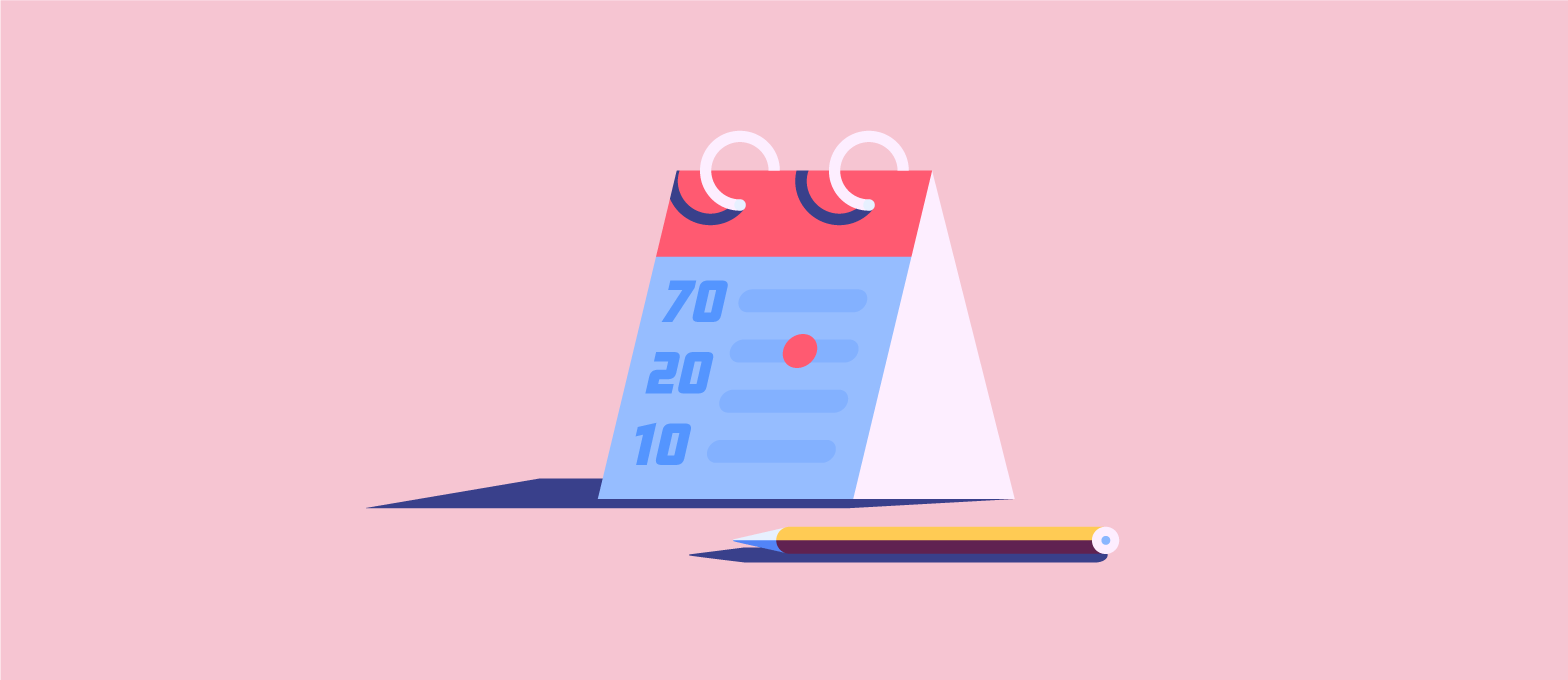 4 min reading time
How to Create a 70 20 10 Development Plan for Your Employees
Does your organization want to encourage employees to take an active part in their own learning and development? Do you aim to foster collaboration within your teams? A 70 20 10 development plan can help you to achieve both of these objectives.
A 70 20 10 development plan prioritizes on-the-job learning as it accounts for 70% of learning and development. Then mentoring with colleagues and superiors, which accounts for 20%, and finally, formal learning making up the last 10%.
There are many benefits to this approach; it's flexible, cost-effective, and doesn't require too much oversight from senior management. But it can be difficult to implement if it's a brand new approach for your company. However, by making a plan, developing a strategy and investing in the right tools, the process will run a lot smoother.
Create your 70 20 10 development plan
1. Make a plan
All successful learning and development initiatives start with a plan. Begin by assessing where your organization is at the moment. For example, is on-the-job learning already happening on an informal basis? How much of your time and budget do you put into formal learning? Do you have team leaders and managers who are ready and willing to play a bigger part in developing their teams? Ask both your managers and employees where they feel there are training gaps at the moment.
When you've collated all this information, consider how it all fits with your organization's broader goals. The ultimate goal of your training program will be to support these. With all this research to hand, you'll know exactly where to start with creating a new learning and development plan.
2. Create and implement your strategy
Your strategy is a more detailed version of the plan above. It should show exactly how you're going to achieve the organization's goals through the 70 20 10 method.
For example, if your organization's goal is to grow its digital footprint, the Marketing team might be assigned an online course about social media, email marketing and growing web traffic. Senior members of the team could then demonstrate some of the principles explored in the course step-by-step so that the rest of the team fully understands it. Finally, the team is allowed time to develop their own ideas and put them into action – with oversight from their managers.
The three elements of 70 20 10 work together to give employees a thorough and well-rounded understanding of the topic. Your strategy should document each goal and how the three elements of the 70 20 10 plan will combine to achieve it.
3. Invest in the right tools
Now that you know exactly what you want to achieve and how you want to achieve it, it's time to think about the practicalities of implementing the plan – what tools are you going to need to achieve your goals? Find out what you already have in place, and identify the gaps that you need to fill. You don't need to rush off immediately to purchase a suite of new software; invest in what you need most first.
The most common tools used for corporate learning are:
A learning management system (LMS)
An LMS helps you to effectively deliver, manage, and track employee training. Purpose-built LMSs allow you to create engaging courses, set exams and assignments, collate resources, host a forum, automate the day-to-day management training, and much more.
One of the benefits of investing in a powerful LMS is that it may have a number of the features you need already built into one system. Your learners will have everything they need to collaborate and learn from each other, as well as independently. Formal learning will maintain an important place in your learning and development program, but it will be supplemented by a system that gives your employees autonomy to learn for themselves.
A project management tool
A project management tool is essential in a collaborative environment; it helps keep teams on task. With them, you can use automated features to ensure the most important jobs are always assigned to teammates on time, and deadlines are met.
Messaging tools, like Slack, help avoid messy, clogged inboxes by allowing conversations and learning to happen in real-time. Conversations can be one-on-one or involve whole teams.
Content creation software
High-quality content creation software is crucial. You want your learners to stay actively engaged with your content throughout their training, so high production values are key. Investing in an authoring tool is a smart move to helping you produce engaging training courses.
While the right tools are important, creating a culture of learning is also paramount to the success of the 70 20 10 model. All employees, from senior executives down to new hires need to be involved. If possible, make sure your employees know that actively participating in creating this culture can lead to positive performance reviews and opportunities for career growth.
Putting a 70 20 10 learning and development program in place will take time, but there are considerable rewards when it's successful. Your team will be better equipped to meet their goals, communication will be more open, and individuals will be empowered to take control of their learning and their careers.
Does your organization use the 70 20 10 model? How did you create the right learning culture and put it in place? Leave a comment below and let us know.