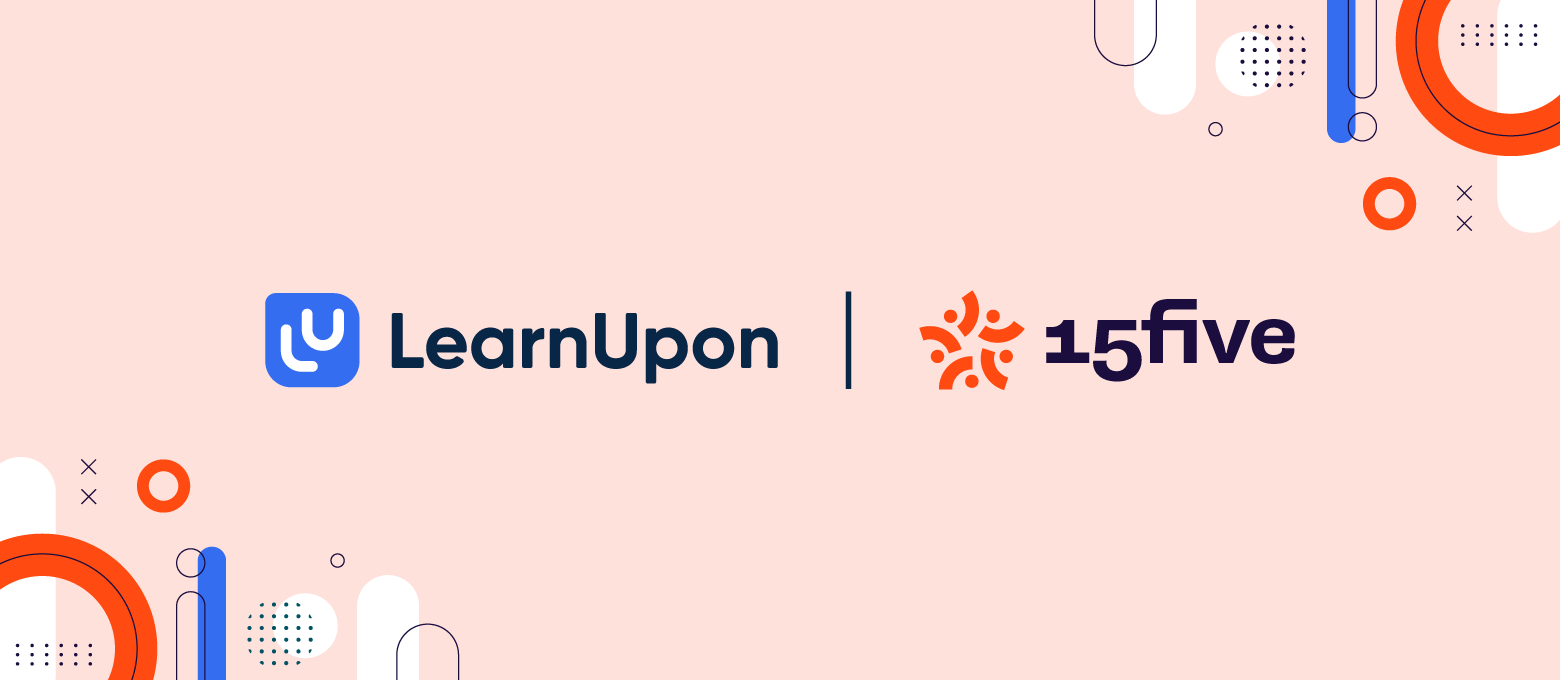 1 min reading time
Announcing LearnUpon and 15Five's Partnership: Where Unstoppable Teams Are Made
To ensure your people are performing at their best and your organization is growing, your business needs the tools to get there. The tools that make unstoppable, high-performing teams. And that's where LearnUpon and 15Five's new partnership comes in. 
Bringing together best-in-class learning management and performance management software, LearnUpon and 15Five empower you to put learning at the core of your managers' performance strategy.
15Five Manages Performance, LearnUpon Develops it
With 15Five's human-centered performance management platform, your business can create effective managers, highly engaged employees, and top-performing organizations. Offering multiple features, including engagement surveys, 1-on-1 tools, OKRs, and more, the solution combines software, education, and community to develop successful managers and unlock peak employee performance.
Using LearnUpon, your organization can create, manage, deliver, and measure learning through a single, centralized solution. With a focus on the user-experience and industry-leading expertise, we help you deliver impactful training that inspires your people to know, do, and achieve more.
Through our partnership, 15Five and LearnUpon are brought together, via a simple, smooth Single sign-on integration. This allows your people to seamlessly move between the two platforms, empowering them to log in to and train in LearnUpon from 15Five, and helping your business to:
Drive productivity and performance as all your people—from managers to their employees—are receiving strategic training that grows themselves, and in turn, your business.
Turn critical insights into action as your managers can take the data and knowledge gaps uncovered in 15Five and use them to create and encourage learning opportunities for their team members in LearnUpon.
Automate and scale-up how your organization manages and delivers training so all your employees can quickly and easily gain the skills they need to be their best.
Offer engaging, effortless, and impactful learning experiences that create a culture of learning within your organization.
Get started with LearnUpon + 15Five
Are you a LearnUpon customer? You can get started today with 15Five by reaching out to your Customer Success Manager or checking out our 'how-to' guide here. If you're interested in discovering more about LearnUpon and 15Five's partnership can help your business and its people grow and succeed, talk with our team today.