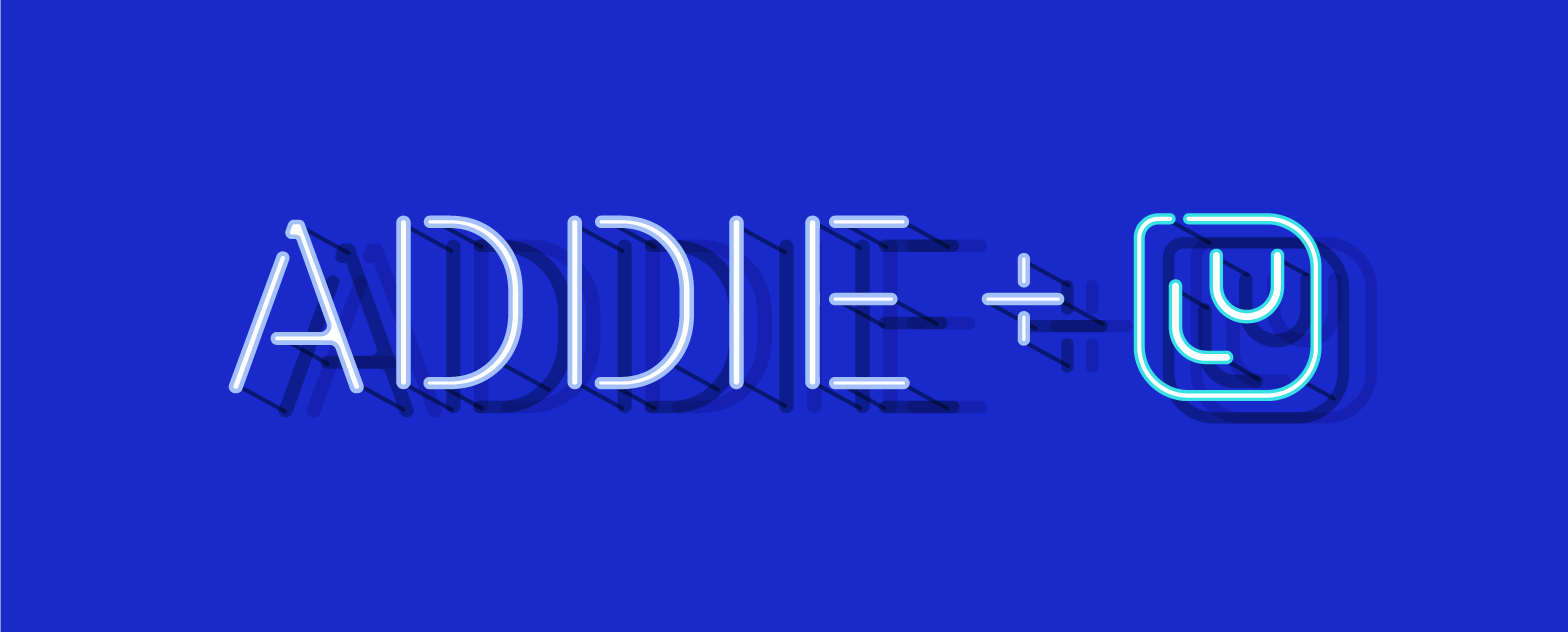 5 min reading time
Using Addie to Manage your LMS Implementation Project
In the past, we've written about ADDIE, an instructional design model that's perfect for organizing eLearning projects, most notably course content creation.
It's an invaluable workflow that can be used in corporate learning beyond content. Take, for example, your learning management system (LMS) implementation. Often a complicated process, there's a lot to track and manage, but ADDIE can make the whole thing run smoother and more efficiently.
What is the ADDIE model?
We have an in-depth post explaining exactly what ADDIE is, but here's a quick overview:
ADDIE is a five-stage development process comprising of Analysis, Design, Development, Implementation, and Evaluation. Done incrementally, these five stages help your organization achieve its goals in an efficient, planned way. Critically, the ADDIE model advocates for a reflective and iterative process so that you learn from past mistakes and continuously improve your processes in the future.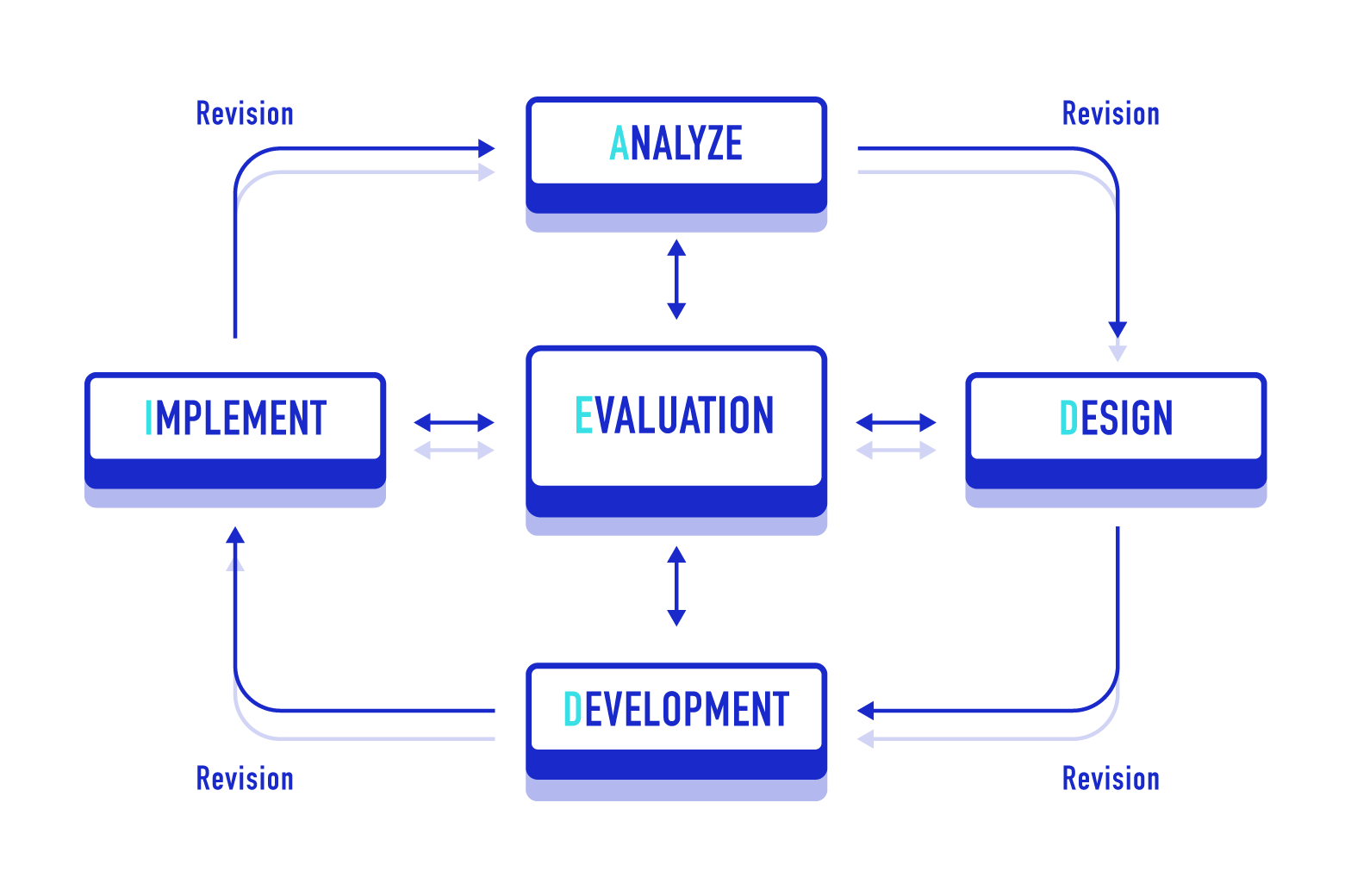 How to use ADDIE to manage your LMS implementation project
As we mentioned above, the ADDIE model works across a number of training tasks. Today we're focusing on the implementation of your learning management system. If you're in the market for an LMS or have just invested in one, it's crucial to outline a course of action for its implementation. There are a lot of balls of juggle – content, users, integrations, branding…the list goes on. With ADDIE, you can prepare for every eventuality and stay on top of the process.
1. Analysis
The first step in ADDIE is to analyze your current situation. When it comes to your LMS implementation project this means digging into your current learning practices, the resources available to you, and why you're implementing an LMS.
Critically, at this stage, you're trying to find out your ultimate goal so you can then create a plan to achieve it.
We suggest asking yourself questions that can help you get a clear idea of your goal. Questions can be:
Who is our organization's learning audience?
What results do we want to achieve by implementing an LMS?
What is missing from our current training strategy that an LMS will help us address?
Here are some examples of what the answers to these questions might look like:
We want to ensure that all of our employees are receiving our mandatory compliance training so that it is recorded and stored in case of an audit. 
We want to deliver onboarding training to our new customers to increase product adoption and reduce the strain on our support teams. 
These are high-level examples, but at the end of this stage, you should have a full understanding of your audience, goals, and resources. With this information in hand, you can then dive into the practicalities of implementing your LMS.
2. Design
When project managing the implementation of an LMS, it's more accurate to call this the planning stage, as it's where you'll take your research and build an actionable plan around it. Depending on your organization, there can be a lot of things to plan.
First, you need to know who is involved in the process. Admins and managers will need to decide as they'll be managing the training. Then there are the team members who will be creating your content. And also tech and security teams who will help with any technical requirements you might have.
From here, you can move on to planning what features and workflows you want to set up in the LMS before you launch. For example:
How are you going to add users? Will you upload all users via a CSV or would you like to integrate with your HR system or CRM to automatically add users?
Are you using an authoring tool or just uploading your own content?
Do you want to use gamification to engage and motivate your learners?
Are you planning to group your learners, e.g. Onboarding, Team Sales, Team Support, and so on?
Having a definitive list of the features you want to set up and use in your LMS will make the actual implementation that much smoother.
Finally, a go-live date. Most organizations have a set date that they want to launch, but is it realistic? We suggest planning out the timeline of your project so that you can achieve what you need to by the due date.
Don't worry if this stage seems overwhelming, your LMS provider should be there to help. Also, ask the Sales and Support teams to help you along the way. They should give you all the advice and assistance you need to make your plan easy to put into action.
3. Development
All planning done, it's time to get cracking on actually setting up your LMS for training.
Using your plan, start setting up the features you need to manage and deliver your training. For example, you can integrate your tools with your LMS to prep for data transfer or organize your learners into groups so that enrollments are simpler to manage. This is the stage where you also add your content too so that it's all ready for your learners to enroll in once you've launched.
It's important to note that the development stage will have a bit of a learning curve. You'll be learning how to use your LMS and figuring out how to set it up to meet your exact requirements. Once again, you should lean on your LMS vendor for help. A good solution will be more than willing to hop on a call or reply to an email to answer any questions you have and guide you when needed.
The last part of the development phase is perhaps the most critical – test. Before your launch, we recommend you get your admins, managers, and a selection test learners into your LMS to do a trial run. Hopefully, this will catch any issues and allow your team to fix them before launch.
4. Implementation
The big day has come – launch. Your learners will start being added to your LMS and enrolled in their courses.
If you've completed the previous stages correctly and worked with your LMS vendor, this should run as planned. But, just to be sure, keep an eye on the process for the first few days post-launch so that you know everything is running smoothly. Also, communicate with your vendor and ask for their advice on how the process is going throughout. They'll be happy to listen, reassure, and guide you through the process.
5. Evaluation
A crucial aspect of ADDIE is to reflect on past processes and seek ways to improve future ones. And for your LMS implementation or any software implementation, this is critical.
You can evaluate your whole process in a number of ways. One is by getting feedback from all of the stakeholders involved and the learners too. Ask them what they believe worked and where they see opportunities for improvement. Do this face-to-face or via surveys to get as much data as possible.
It's also a smart idea to evaluate the LMS features and workflows you've implemented. Ask yourself and your team if they're meeting your needs and performing as expected.
With this information collated, you can then assess areas to improve, ask your vendor for advice, and build a better process for implementing LMS features in the future.
ADDIE is a simple process, but these 5 steps really do help real businesses implement their LMS. If you follow the model and have a vendor that is willing to help you whenever you need it, the whole process should go off without a hitch. Let us know if you use the ADDIE model in your eLearning strategy and if it has helped your organization.
What is Project-Based Learning? A Guide for Corporate Trainers