How To Use Storyboards To Build Better eLearning Courses

Today, we're explaining a simple step you can add to your course building that makes the whole process more streamlined – storyboards.
Used to outline what your course content will look like, it's a clever method that helps you build better courses that you can use in your learning management system (LMS).
What is a storyboard?
In simple terms, storyboards make your eLearning ideas visual! They are a graphic organizer made up of a collection of images shown in a sequence that outlines the story you want to tell.
It shows how your chosen media i.e. video, slides, etc. will play out shot by shot. It can be used in combination with other content creation models like ADDIE to built effective training programs. 
Why you should use storyboards for your content creation
Used in many industries, storyboards have a number of benefits to course builders including:
Share your vision – When building a course, there can be many key players involved – managers, stakeholders, subject matter experts, tech teams… the list goes on. Creating a storyboard can be an efficient way to present a visual aid to them so you are all aware of what your course will look like. As people are clearly seeing what you've planned, they can give better feedback and be confident in the ideas that you are presenting.
Add focus –

Storyboards can give your eLearning a focus as it outlines important aspects such as objectives, the highlights, and the overall goal for a learner.

Invest time now, save time later –

Storyboarding may seem cumbersome at the beginning, but it can save you lots of time. Not only does it give you clear steps to building your course, it cuts back on endless feedback after the course is produced as it's already been approved by stakeholders.

Boost engagement –

With a clear vision of what your course will look like, you can pinpoint weak spots, see where your course flows and where learners get stuck. You can then add and improve, thus making your course more engaging to learners.
Before you start with your storyboard
Before you jump into creating your storyboard there are some questions you should ask yourself to ensure your storyboard and course will be as powerful as possible. 
Who is the target audience?

What eLearning courses have been effective with this group before?

How advanced are they?

What is the goal of the course for your learners?

How does the story you are trying to tell fit with your goal?

What is my timeline?

What key scenes need to be in my course?

What tools are available and/or suitable to use?

What course content do I already have?

What media is best for this course?
The tools you need
There are a number of tools available for creating storyboards.
Storyboard That and Boords are both great options. You can also use Photoshop to map out a storyboard of your own.
Many eLearning professionals choose PowerPoint as it is easy to use and the results can be uploaded to your chosen authoring tool. Alternatively, storyboarding doesn't have to be high tech. A simple piece of paper and a pen can do the trick!
How to create your storyboard
Step 1: Draw your blank thumbnails
The first step is simple – draw your thumbnails. Thumbnails are blank squares where you can illustrate the images that represent your story.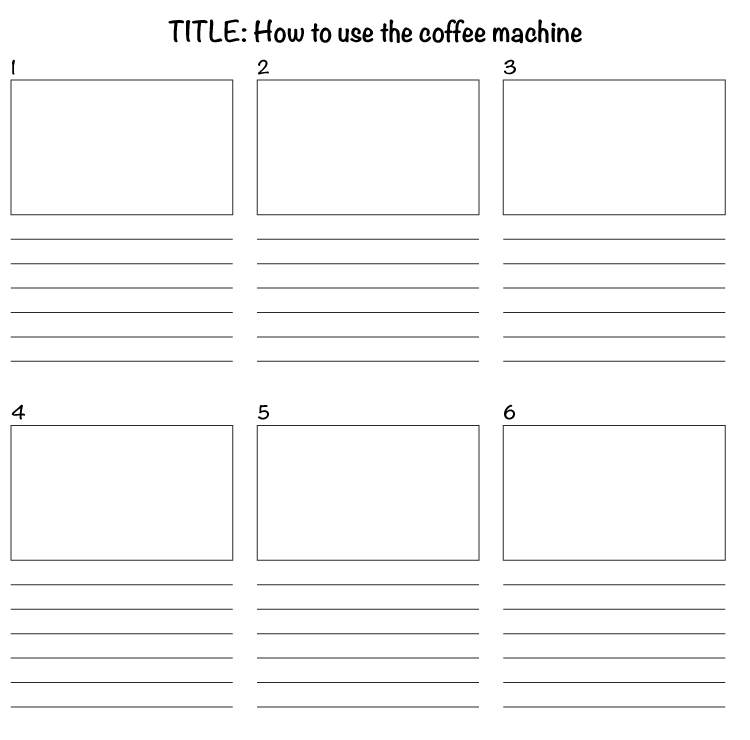 You should also add a place for the title, number your thumbnails and have space underneath for you to name your scene and what action will be taking place within this thumbnail. You can additionally add a space for the script, annotations, audio or any other steps you may want to include.
Step 2: Add your title, scene name, action
Start filling out your blank thumbnails by first adding in your course title as well as your scenes name, the action that will be taking place in each box and any script that corresponds to the scene.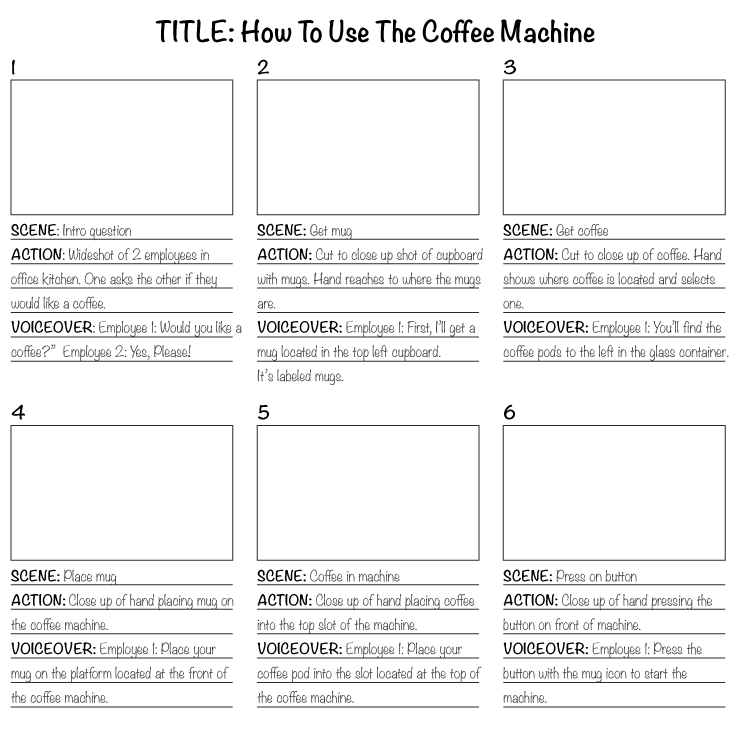 The action description should be a concise explainer that clearly sums up what is happening in the scene. If you find it's too difficult to explain the action, then perhaps you need to break that scene down into 2 or 3 separate ones. Remember, it's show not tell so it's okay to have multiple thumbnails in your storyboard!
Step 3: Start Sketching
Now you're ready to start drawing your storyboard.
Here, you are mapping out how your idea looks visually. It doesn't have to be highly detailed, but it should give an overall sense of everything that is happening in the thumbnail.
Some suggested aspects you should include are the point of view that the learner will be seeing the course and what characters, images, or words will be on the screen.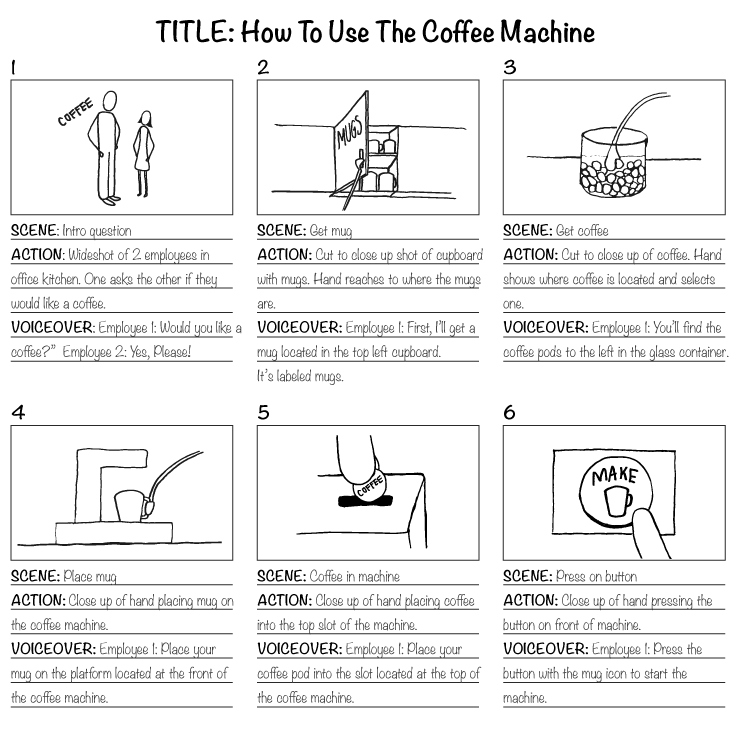 Don't worry if you're no Picasso, as long as you are creating a clear picture you're on the right track. You can also pair your script, annotations, and audio at this stage too.
Step 4: Critically assess and adjust
After you've finished drafting your storyboard, it's clever to look at it with a critical eye. Rarely are storyboards perfect after the first attempt, therefore it's recommended you go back and ask yourself the questions suggested above again.
You can also make sure your story makes sense or if it needs to be added to or cut down. Just keep fine-tuning your storyboard until you are happy.
Step 5: Start production
Once you and your team are happy with your storyboard, you can go ahead and start production!
It may seem like a lot of work or even a daunting task, however, storyboards can really benefit you and your learners. Give it a try and see how they can work for you.
Have you ever used storyboards before? Let us know your tips and opinions in the comments below.
Download the eBook: 36 Essential eLearning Tools You Need Now
Enjoyed this post? Get more of the best tools to create a successful eLearning strategy with our free eBook – 36 Essential eLearning Tools You Need Now