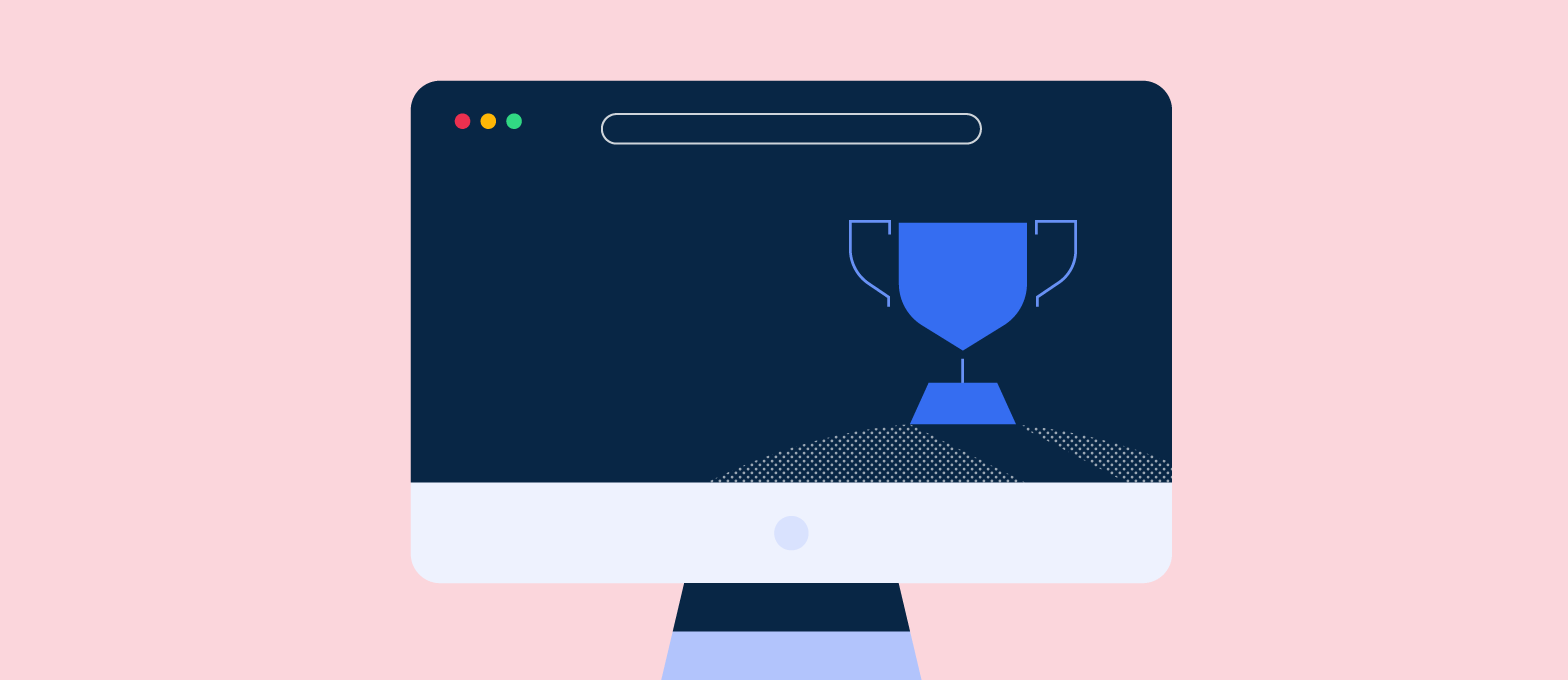 6 min reading time
The Best eLearning Websites to Bookmark (2022 Update)
From webinars and eBooks to design tips and podcasts, there are an infinite amount of eLearning websites and resources available online today.
For every training challenge, there are hundreds of learning leaders who freely share their own experiences, along with helpful tips and insightful advice. With so many resources, how do you sort through all the noise and find the most helpful resources for you and your team?
We've compiled an A to Z of the best eLearning website resources out there. Whether you're looking to lead a powerful learning strategy, gain new eLearning skills or simply learn a training trick or two, these resources have you covered. .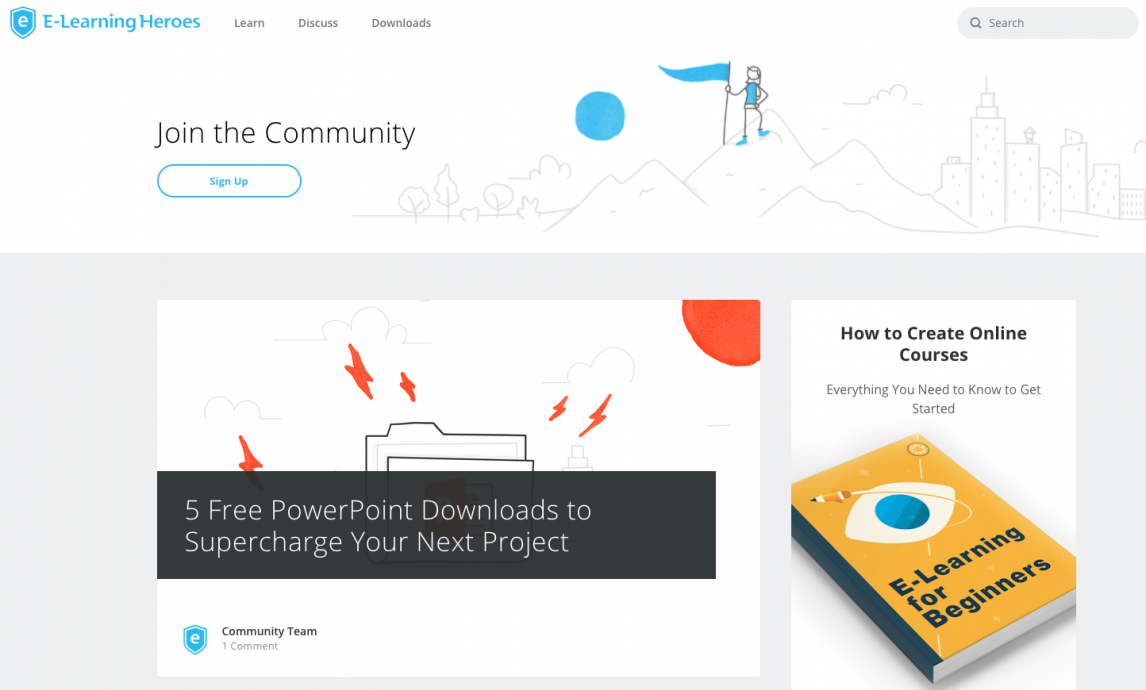 Resource Type: eLearning Community
A superb community for course creators. It's a great place to ask, answer, or read about your burning eLearning questions. Resources include discussions, downloads, and eBooks.
Resource Type: eLearning eBooks
E-Learning Heroes have a stellar selection of eBooks for you to download. Each aims to help you learn the ropes, get answers, or brush up on your learning skills. With titles including 'E-learning for Beginners' and 'The Insider's Guide to Becoming a Rapid E-Learning Pro', there's a lot to learn.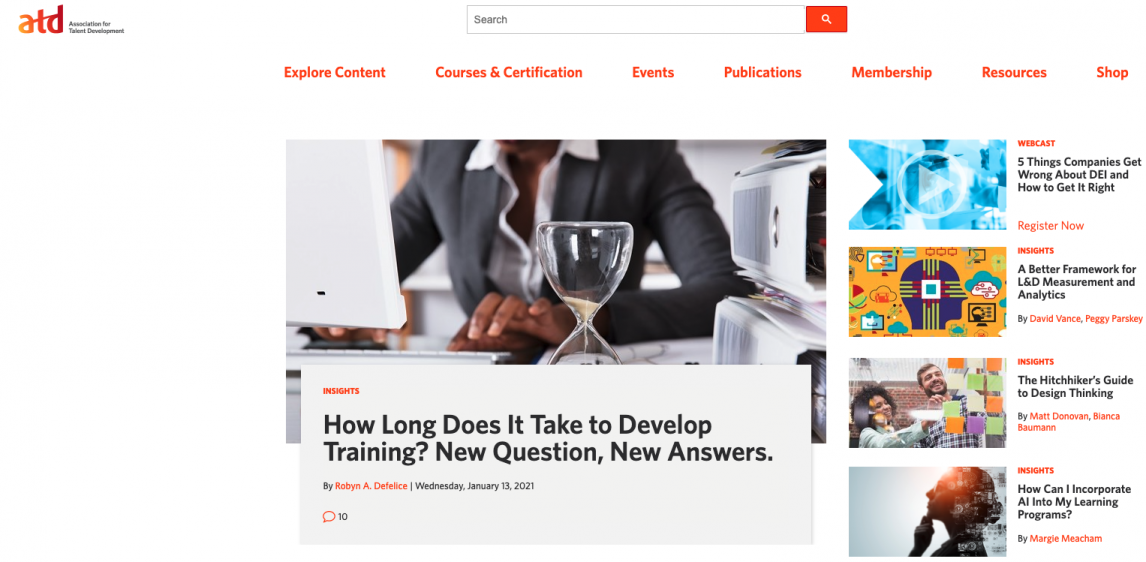 Resource Type: Learning Community
ATD, or the Association for Talent Development, is a membership organization that's all about furthering your skills in learning and development topics. From courses and certification to resources and tools, ATD has lots on offer in its membership center.
Resource Type: eLearning Company Blog
Aurion Learning is a blog written by eLearning experts, who use unusually creative techniques to help the company's clients find a solution to learning and development challenges. Check out their resources page too for insightful tips.
Resource Type: Content Design
Video design is a huge element of online training. It makes content more interesting for your learners and increases engagement. So, it's important your team knows how to get it right. Camtasia's blog has straightforward tips that really help.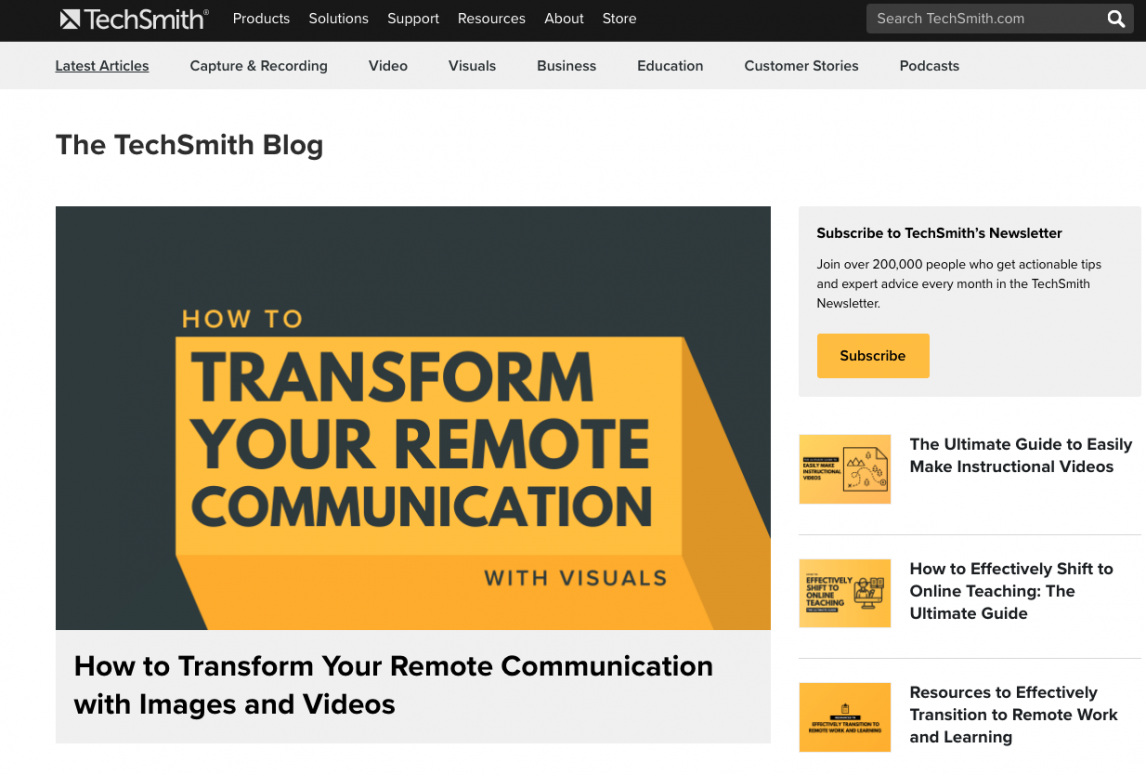 Resource Type: eLearning Professional's Blog
Cathy Moore's blog aims to help you achieve engaging training. Writing about issues like "How to really involve learners" and "How to get everyone to write like Ernest Hemingway", Cathy also features examples of these tips in action so they're super easy to implement.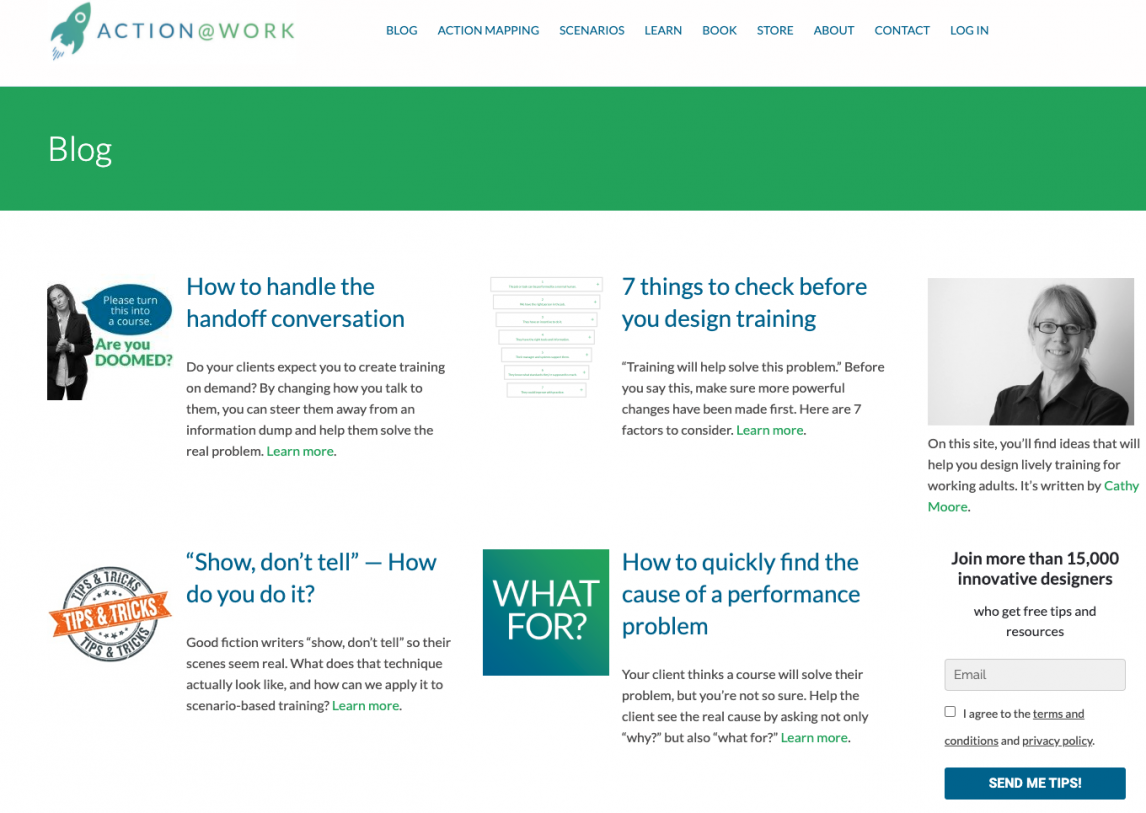 Resource Type: eLearning Industry Blog
Described as 'a multimedia publication focused on the importance, benefits and advancements of a properly trained workforce', Chief Learning Officer offers industry know-how. Covering topics such as leadership, learning delivery and strategy, it's an invaluable resource.
Resource Type: eLearning Podcast
This eLearning podcast is hosted by Connie Malamed, an eLearning, information, and visual designer. The podcast is all about 'helping you design smarter learning experiences'. Covering topics such as implementations of authoring tools to blended learning, this excellent resource also features expert guests.
Resource Type: eLearning Community, Blog and Resources
The eLearning Guild is considered the oldest and most trusted source of information for eLearning professionals. Filled with insightful content, eLearning Guild is a must-join community. They offer different packages for members that provide you with access to valuable assets that will improve your eLearning.
TWIST is the official blog of The eLearning Guild. It's a great website to peruse if you're looking for insights, ideas and perspectives on the eLearning industry. The blog offers unique points of view, with each post including the personal 'twist' of the writer.
eLearning Guild's Research Library is a bountiful resource full of informative materials. They work with industry analysts and leading practitioners to bring you case studies, presentations, white papers and research reports all about eLearning.
Resource Type: eLearning Blog
eLearning Industry is a one-stop-shop for all things eLearning. It covers an array of topics, such as trends, best practices, authoring tools, design, and development. If you're looking for tips and tricks, this blog is sure to have something for you.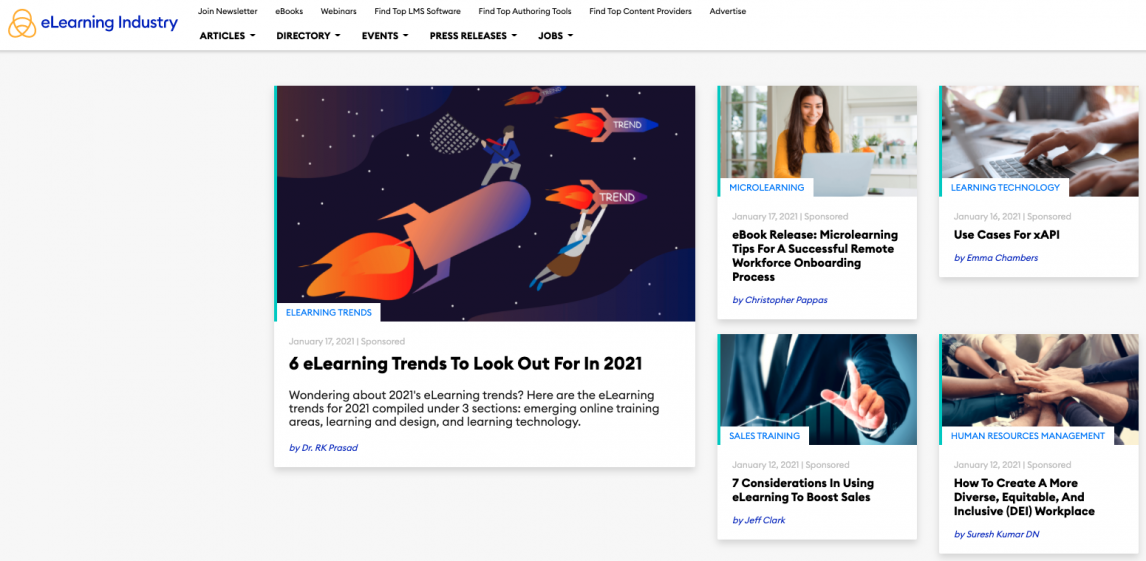 Resource Type: eLearning Blog
Featuring content from a number of industry thought leaders, eLearning Learning collects all the best resources in one handy place. Dubbed 'corporate eLearning insights your peers are reading', this is a blog you should definitely check out to keep up-to-date.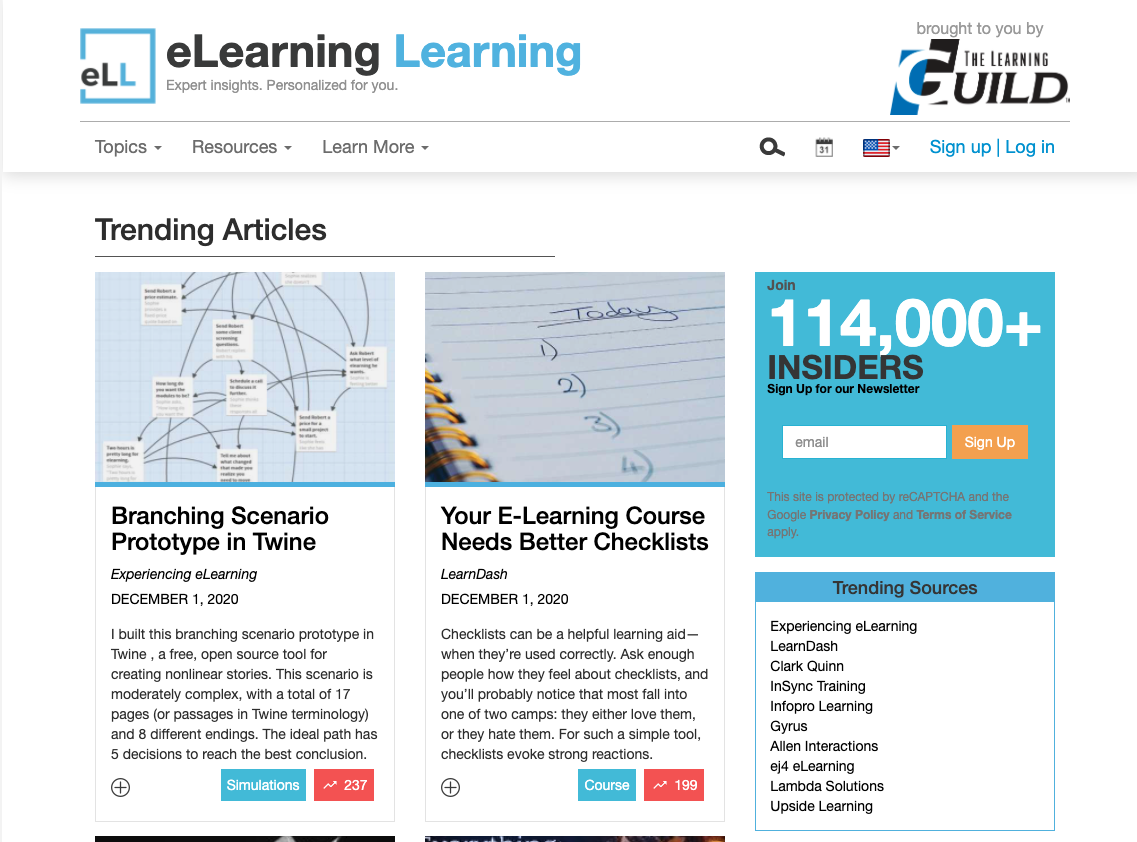 Resource Type: eLearning Company Blog and Resources
Elucidat is a great authoring tool with an equally awesome blog. From eLearning inspiration to actionable advice to better your course building, it's a must-read.
Elucidat Resources offers strategies, inspiration and tips to make your eLearning more successful. From free guides to templates, Elucidat Resources has everything you could ask for.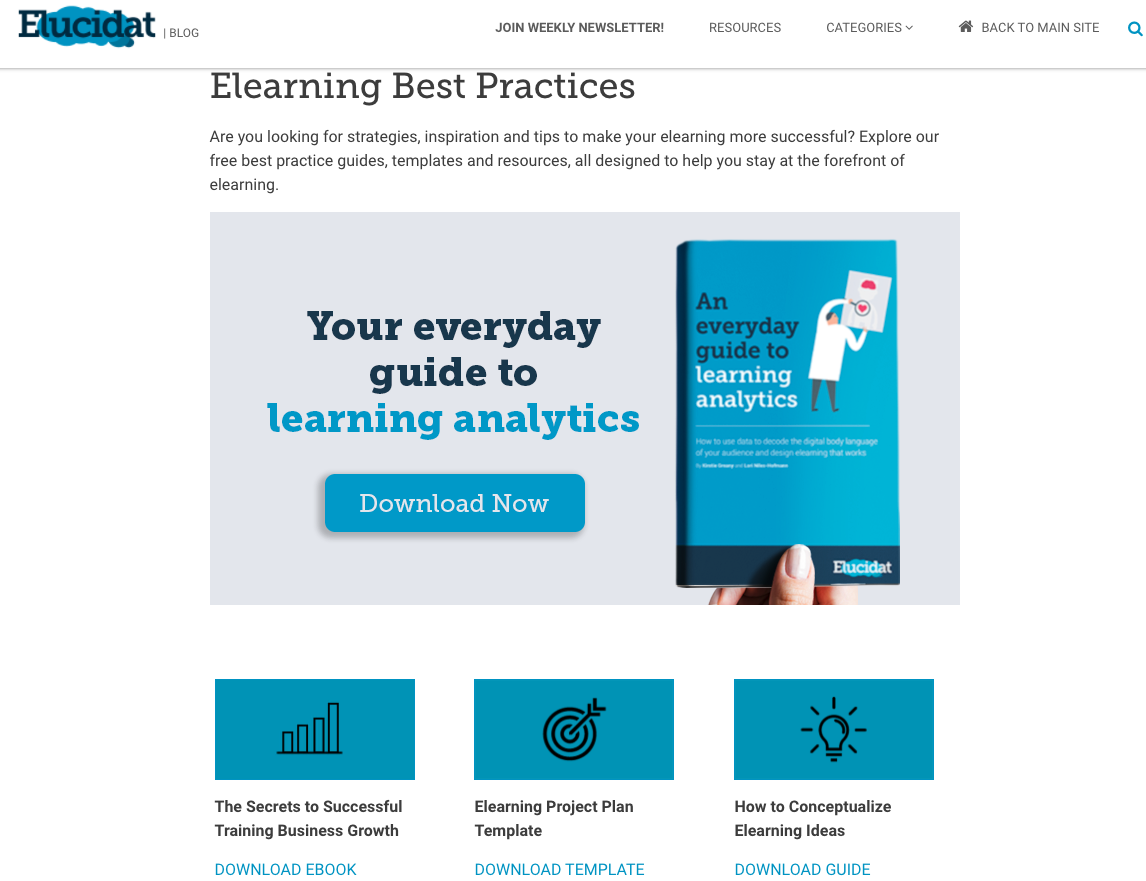 Resource Type: Business Leadership Website
The Harvard Business Review gives you access to a wealth of online content and resources. Although it doesn't solely cover eLearning, you'll find advice on strategy, innovation, and leadership. Keep an eye out, as you're sure to find an eLearning gem that could really help you.
Resource Type: Learning Leadership Resources
Learning Impact is a thought leadership digital series, powered by LearnUpon. Bringing insights and knowledge directly to you from the best and brightest minds across the learning industry. You can watch previous, and register for new, in-depth live and on-demand webinars focused on one thing: sharing wisdom that maximizes the impact you, and the learning programs you build, have on your business.
Resource Type: Learning Leadership Website and Blog
This provides a range of resources with the aim of helping learning professionals in areas like continuing education and professional development. Resources include a weekly podcast, regular webinars, and newsletter.
Resource Type: eLearning Blog
Learning Solutions Magazine is considered one of the most trusted eLearning resources out there. Covering learning management, technology, design, and development, it's an invaluable resource for anyone in the eLearning industry.
Resource Type: eLearning Company Blog and Resources
Not to toot our own horn, but if you want to be in the know about eLearning, our Resource Hub is a great place to start. Whether you're looking for an LMS Buyer's Guide or help on measuring your training's return on investment, LearnUpon has a wide range of insightful eBooks, webinars, and whitepapers. Our resources are constantly being updated so you'll always have access to the latest advice.
Our blog also has tons of advice all about the world of learning management systems, delivering corporate training, and practical tips on improving course content, it's well worth a read.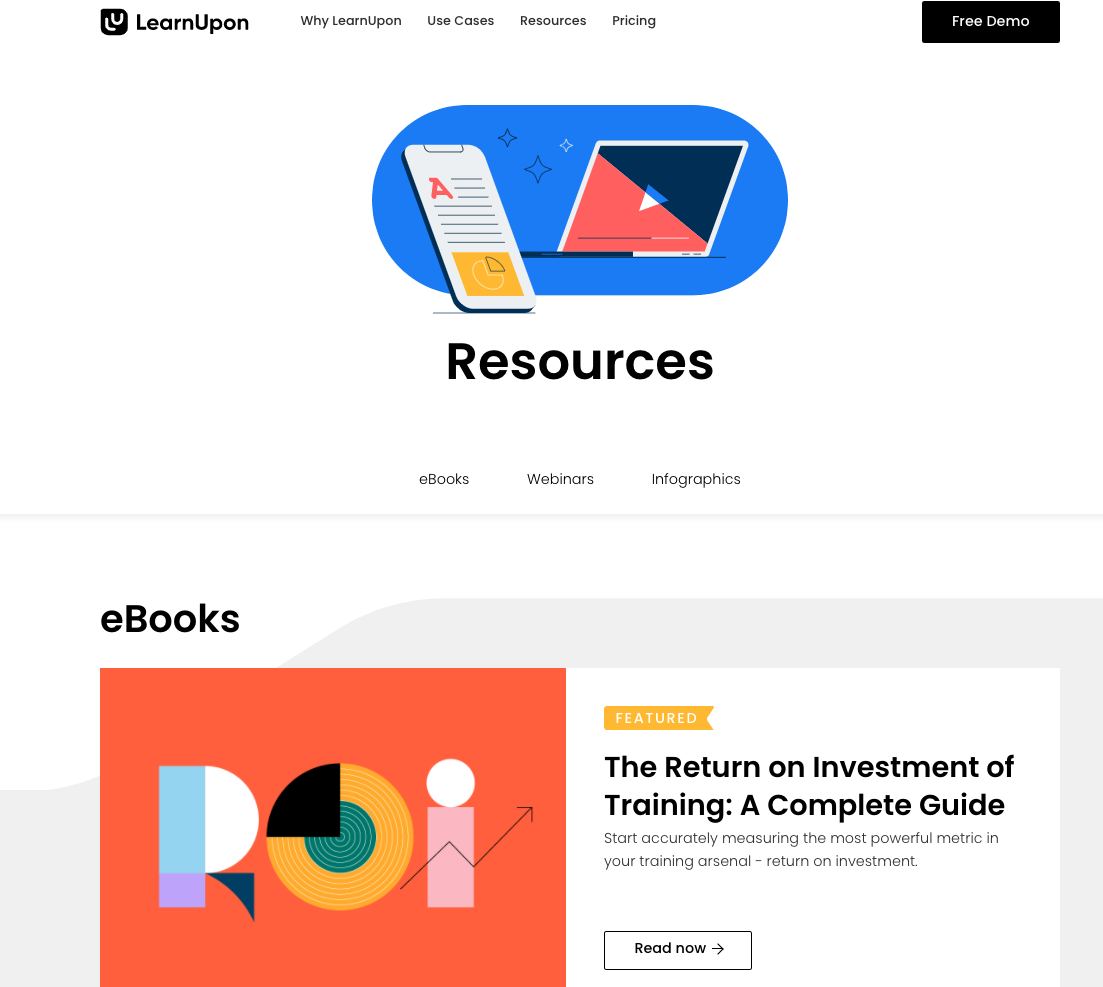 Resource Type: eLearning Industry Blog
Dubbed 'the magazine for the modern learning professional', this is an excellent resource for all things eLearning. The site has links to articles, books, resources, and workshops; there's plenty of material for people interested in bettering their business's training and supporting their learners along the way.
Resource Type: eLearning Professional's Blog
The Rapid eLearning Blog is written by Tom Kuhlmann, a training industry expert with over 20 years experience. He focuses on people working in the eLearning industry and how to become an eLearning pro.
Resource Type: eLearning Resources
Talented Learning is run by John Leh, an LMS expert with a multitude of experience. This website is a great place to discover trends, research, reports, and webinars all related to the eLearning industry.
Resource Type: eLearning Tool
This website is great for checking in on the world of xAPI, previously known as Tin Can. From spec dates to educational webinars, this website has all you'll need for xAPI resources.
Resource Type: eLearning Community
Training Zone is an extensive website, full of information on learning and training. One of the most beneficial elements of the site is the community, which is updated often with thought-provoking questions and innovative ideas.
Resource Type: Time Management Tool
Trello is best known for being a project organization tool, but they also have a fantastic blog. From tips on organization to improving productivity, this blog is a perfect read for eLearning professionals trying to juggle everything.
Resource Type: Content Design Tool
The mission of the Visual Learning Center is to become a valuable resource for those who want expert advice on how to become better visual communicators. Get inspired by beautiful presentations with this helpful resource, featuring great information on how to optimize your online training.
Resource Type: Content Design
Wistia is another really useful blog focused on video. Not only does it contain advice on how to optimize filming for better quality footage, but it also talks about how to use video to help your company. Their videos offer advice for many organizational departments, including sales, marketing, and production.
So, our A to Z of the best eLearning websites to bookmark comes to an end. If there are any learning resources you love that we haven't mentioned, be sure to share them in the comments below.