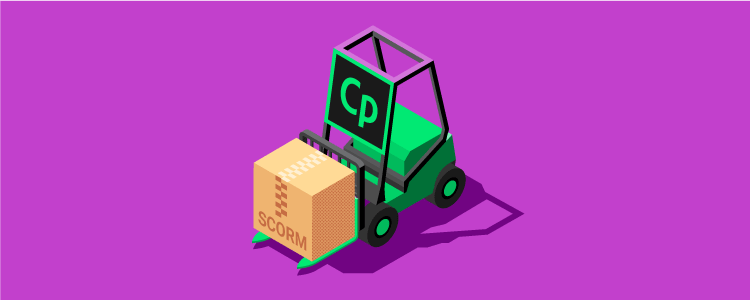 3 min reading time
How to Publish SCORM Content in Adobe Captivate 2019
Adobe Captivate is one of the best authoring tools available to eLearning professionals. In this article, we'll show you how to publish SCORM content in Adobe Captivate so you can import it to your LMS. We'll focus on SCORM version 1.2. As this is the version that is compatible with LearnUpon. If you want to publish your courses in a a superior format to SCORM, you may want to check out xAPI. We even have a guide to publishing xAPI content using Adobe Captivate. The newest release of Captivate is called the 2019 release. It added some interesting features such as VR training and interactive videos. For a full overview check out this video:
Let's run through the steps of publishing.
Step 1: Choose Preferences
'Preferences' can be found under both the 'Adobe Captivate' and 'Edit' tabs on the menu.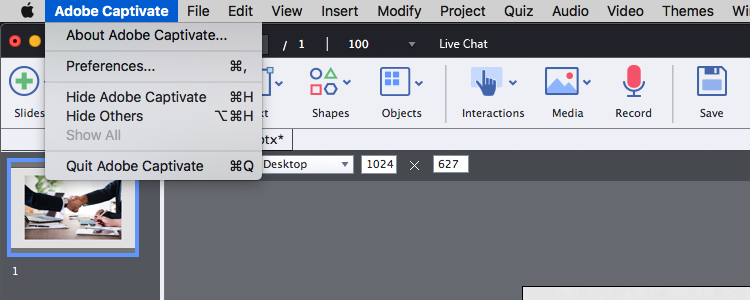 In "Preferences" you will see a list of options. The main area to focus on is 'reporting'. This is where we set the information that we want the SCORM file to send back to LearnUpon. Reporting preferences include:
Status representation
Success completion criteria
Data to report
Turn on reporting features
To Start, click on the "Reporting" option located under the "Quiz" header.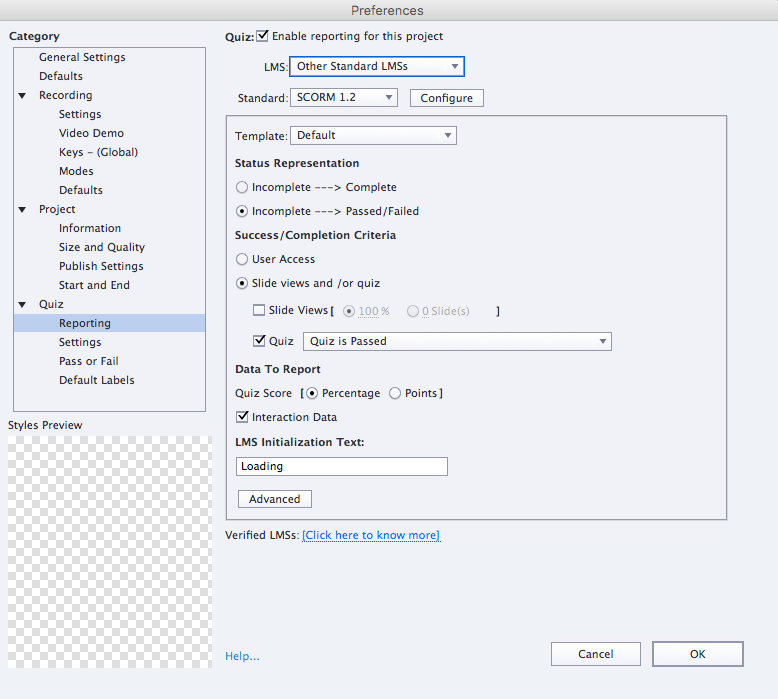 At the top of the box, you'll see a checkbox for "Quiz, Enable reporting for this project". Tick this option to enable reporting options. Underneath you'll see two other choices to be made before we go any further: 'LMS' and 'Standard'. LMS: This option allows you to choose an LMS to distribute your content. If your LMS is not on the list choose "Other Standard LMSs" Standard: The 'standard' is the version that your SCORM file will be published in. Choose the option your LMS supports from the drop-down menu. LearnUpon uses SCORM version 1.2.
Status representation
When has a course been completed? And how is this communicated to your LMS? This setting decides this. There are two options to choose from:
Incomplete – Complete
This option is for SCORM courses that don't have an exam. Once a learner meets the SCORM success completion criteria, they're marked as complete. This option will not report any scores back to LearnUpon.
Incomplete – Passed/Failed
This option should be used when the course has an exam. The SCORM will report back the scores obtained and whether the user passed or failed the exam to your LMS. To determine whether a user passes or fails, please ensure you have a passing score set on the SCORM.
Success completion criteria
This section decides how the LMS knows if  a user has passed the course.
User Access

The user can complete by simply accessing the course and/or the Quiz if you have one. You can choose how many of your slides a learner needs to access by editing the Slide Views. You can edit the percentage of slides or refine it to a certain number of slides before they are marked 'Complete'. We would recommend that if using User Access, you choose that the learner views 100% of your slides.
Slide View and/Or Quiz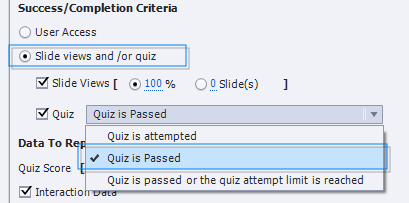 Choose that a learner is set to complete when they view your slides AND/OR when they have passed the Quiz. If you choose Quiz,  and "Quiz is Passed" or Quiz attempt limit is reached" from the drop-down, you should also choose the Status Representation of Incomplete – Pass/Fail.
Data to Report
This section dictates what data is sent back to your LMS and in what format.
Quiz Score
There are two options, percentage or points format. Choose the one that's most appropriate.
Interaction Data
Send details of any interactions your user makes with the SCORM back to your LMS. Such as the total time spent on the course. We recommend using this setting to get more granular data for your reports. Review the scoring, slide duration and styling options before moving on to the publishing stage. When you have finished applying these settings you are ready to publish your course.
Step 2: Publish options
Click on the Publish button in the main ribbon. To publish a SCORM file you choose the 'publish to computer' setting.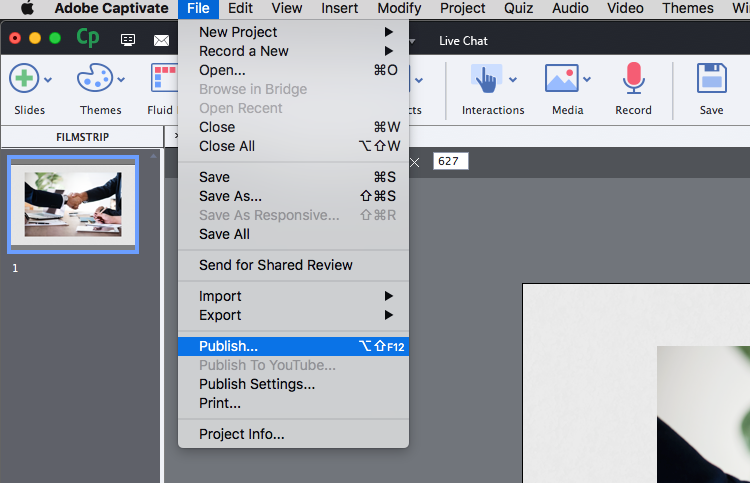 Choose the output option: Choose HTML
Choose the title of the project
Change the location for download (e.g. desktop, downloads)
Step 3: Upload to your LMS
You're ready to upload your SCORM course to your LMS. Add a SCORM module to a course in LearnUpon and upload this SCORM zip folder. Simple!