As mentioned in last weeks post we have been busy over the last few weeks pushing lots of new features live. I covered off a number of the enhancements related to the eCommerce side of the app in last weeks post which you can read here for those who missed it. This week in part 2 we cover off some of the other new features now live on LearnUpon that many of our customers find useful.

1. Internal Course Catalog
First up is the concept of having an internal course catalog which your learners can browse to self enroll in courses. Up to this point an administrator had to enroll learners in courses individually, via batch upload or by adding them to a group which had course enrollments linked to it. However, by enabling an internal course catalog, your learners can search and browse courses by topic and self enroll in those courses that interest them. Admins can quickly enable this feature from their Settings screen and once enabled it looks something like this for learners: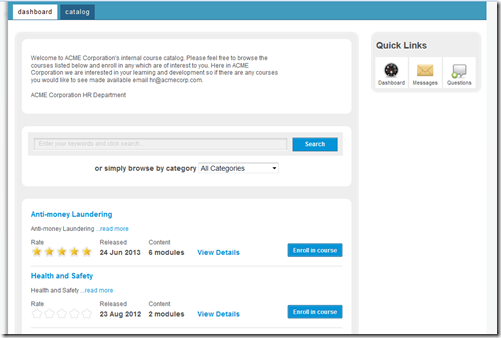 2. Ability To Customize Your Email Template
Another really useful feature which we pushed live in the last couple of weeks is the ability for Admins to customize the content of the various emails that LearnUpon sends out. So whether it is invite emails, course enrollment emails, reminder emails, etc. if you don't like the default text that LearnUpon includes then you can just go to your Custom Email Templates area in the Settings area and customize as required. In addition to changing the text included, the fonts, styling, etc. we also make it really easy for you to include variables such as first name, last name, course name, enrolled date and many more. We have had a number of our customers using this new feature for a few weeks now and they find it really useful, providing them with alot of flexibility. The screenshot below shows an example of how you can go about customizing your emails in LearnUpon: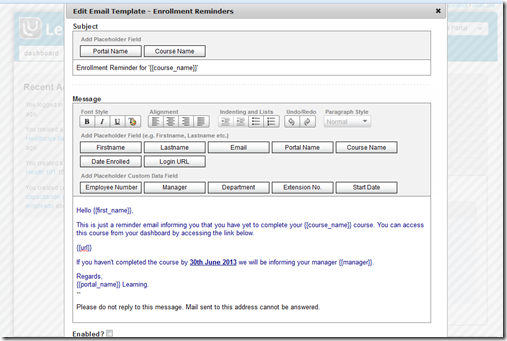 3.  New Course Completion and Purchase Confirmation Emails
Complimenting the previous item, we have just pushed live two new email templates that LearnUpon can send out. Firstly you can choose to send a course completion email to learners at the end of their course. Taking into account the previous item about being able to customize the content of these emails it makes it very easy for you to include a custom message in the completion emails, such as encouraging the learner to continue their learning by checking out your store/catalog for other courses of interest, perhaps with a link to your LearnUpon store included.

In addition we have released a new purchase confirmation email for those using the eCommerce functionality in LearnUpon which once again can be customized to include any text you want, such as thanking the learner for their purchase and details of who they should contact if they have any questions on the course materials.

4. Multiple Reminder Emails
Previously LearnUpon only allowed a single reminder email to be sent at a course level to all learners who had yet to complete the course. We have now extended this functionality allowing you to send up to 4 different reminder emails at varying intervals after enrollment. So for example you could send reminder notifications to learners who had yet to complete the course 10, 20, 30 and 40 days after enrollment. And as mentioned above you can customize the text in these reminder notifications to include details such as the date they were enrolled, contact details and so forth.  The screenshot below shows how you can setup multiple reminder notifications in LearnUpon: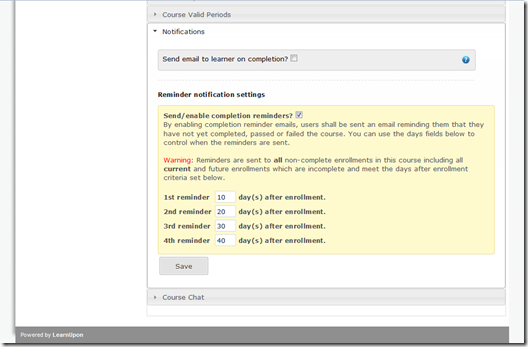 5. Ability Cc and Bcc other users on emails sent by LearnUpon
Following on with the email theme, another minor, but useful enhancement is the ability to CC or BCC email address on the various emails LearnUpon sends out. An example of where this would be useful might be Cc'ing the Compliance Manager on any Reminder Notifications LearnUpon sends out or Bcc'ing the finance manager on all new purchase confirmation emails so they have a copy for their records.

6.  End of Day Completion Report
Lastly we have included the option to enable a new Daily Completion report which can be sent to all Admin users in your portal. This report provides a high-level overview of the number of learners who completed, passed and failed courses with the option to download an excel version which includes a full breakdown of every learner course completion for that day.