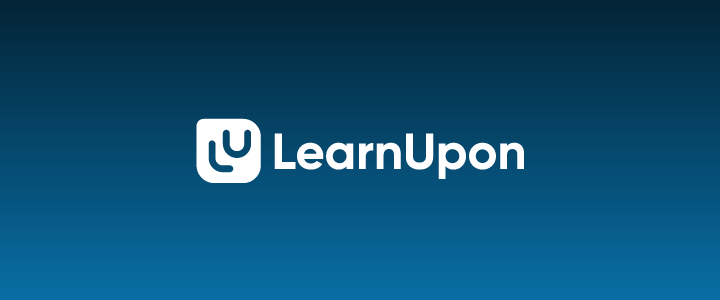 2 min reading time
What Customers Love Most About Their LMS
We talk to customers every chance we get at LearnUpon. Sometimes that's through the 24/7 free support we offer as standard. Our Customer Success team reaches out regularly so we aren't just in contact when a customer has a query. And a few times a year we share three questions to help us understand what's on our customers' minds. The insights they offer make for great reading. They give the whole team a snapshot of what matters most to customers today, what they're feeling, what they're less crazy about, and what they need next. The results are in! Here's a sneak peek at the feedback our customers shared this year.
Why customers choose an LMS
Here's a breakdown of the main reasons customers chose LearnUpon: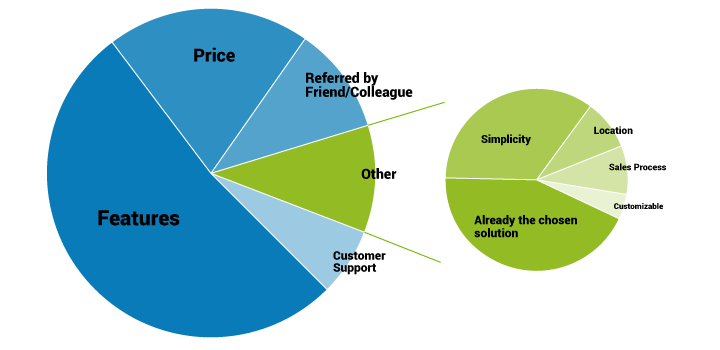 With almost 700 eLearning platforms on the market, there are any number of benefits potential customers can choose from. We love that the richness of our feature selection came in as the #1 reason organizations signed with us. Not only are our existing LMS features a big draw, customers appreciate the effort we make to roll out new ones every month. Every request we receive is reviewed for inclusion in our product roadmap, so customers play a big role in helping to shape the future of their LMS. This nugget made us extra excited to share some big surprises coming later this year. And while customers appreciate our competitive pricing right from the start, they grow to love our fast and friendly customer support team more and more.  
In our customers' words
These are the words customers used when describing their experience with LearnUpon. If you returned our survey, you'll see your words here too.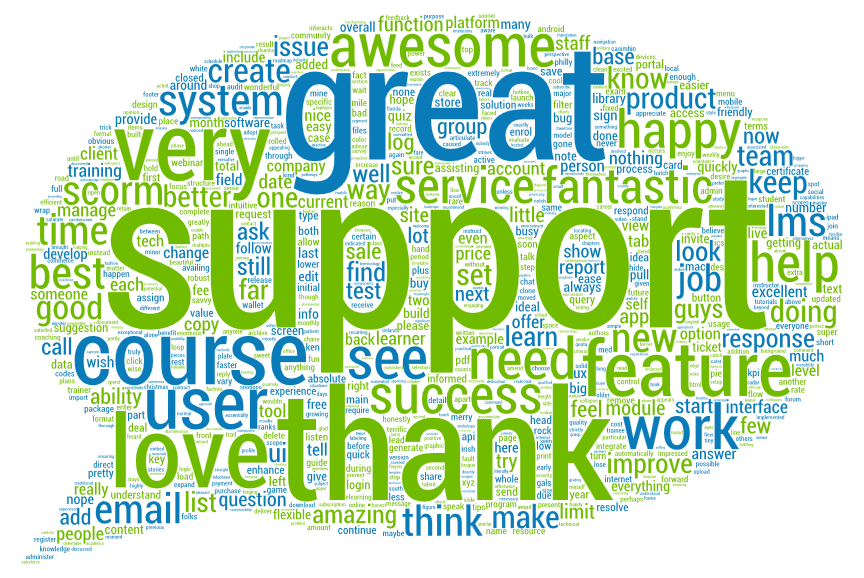 Thanks for sharing the love
We're so grateful for the time customers took to share their feedback. It means a lot to us and we put it to good use. Here are just a few of the shout outs the team received.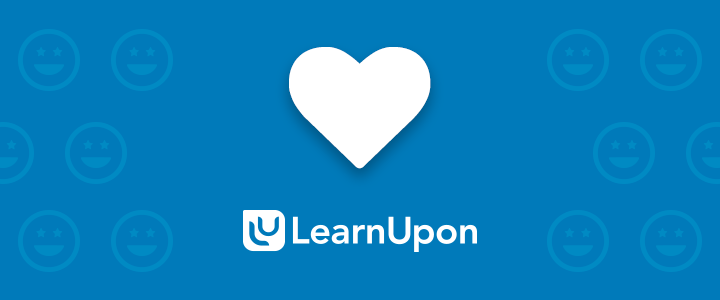 "Everything ranks highly across the board in my opinion. Customer service responsiveness and help, engagement, keeping customers in the loop, and adding new features. Keep doing what you're doing!"
Ryan, Cornerstone Learning
"If you're looking for an LMS you won't go far wrong with LearnUpon. Their learning management system is powerful yet intuitively simple to use."
Paul, Coachwise
"I searched for just over 10 years for an LMS like LearnUpon. This product is intuitive and easy to use. We took the leap with LearnUpon and haven't looked back."
Andy, PBS Systems
"You are the best. Everyone we have dealt with has been wonderful, responsive, receptive, helpful. Change nothing."
Christine, WideOrbit
"I think you guys are amazing! Price is what brought me to you but your customer service has been incredible. I have been very impressed."
Jennifer, Premium Retail Services
"LearnUpon has been one of the best vendor relationships I've had in my 20+ career in training and development. Keep doing what you are doing. I believe that is the key to your current and future success."
Marvette, SNL Knowledge Center
"I would recommend LearnUpon to anyone and everyone that needs an easy to use LMS. I can't think of anything that could be done better when they have already gone above and beyond their scope of work."
Mel, Newmont Mining
"You continue to make improvements, you continue to show customer appreciation, and you continue to provide award-winning service. I love LearnUpon. It has literally made my job as a trainer so much easier! Thank you again for being so wonderful!"
Lydia, Key Benefit Administrators And we say – right back at you! We would be nothing without our customers. Thank you all so much.