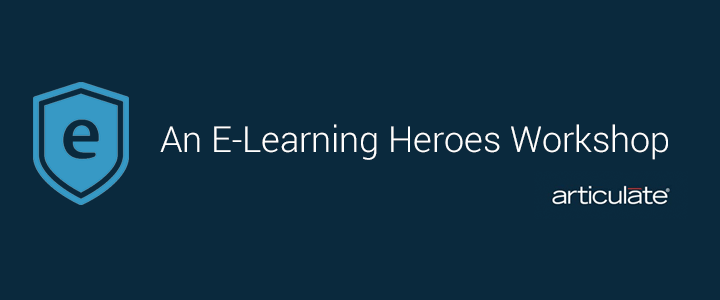 What we Learned from a Morning with Articulate
For those on the hunt for course design tips, Tom Kuhlmann's blog and the Articulate E-Learning Heroes community overseen by David Anderson are a must read. Articulate Storyline 2 is also really useful for quickly turning eLearning content into engaging interactive courses. So when we heard two of Articulate's eLearning stars were taking their expertise on the road, we had to be there. And not only did we pick up some nifty production tips, we learned that Tom and David are as generous with their time and knowledge as their work led us to expect. If you weren't able to make it along to Articulate's road trip, catch up on the morning's highlights in this post.
Session 1: Beginner's Guide to eLearning – David Anderson (Community Manager, Articulate)
As Community Manager of E-Learning Heroes, with over 250,000 members, David's very familiar with the challenges instructional designers face when adapting content to develop new courses. David's tips are particularly useful in situations where you have limited scope to edit content prepared by a Subject Matter Expert but would still like to add interactive elements.
How to make existing content interactive
David chose PowerPoint as a format that often needs to be transformed from a static eLearning document into an interactive course. Storyline works really well in this scenario, retaining the exact contents of the PowerPoint document on import. But by converting a PowerPoint presentation to Storyline, you gain the ability to add interactive elements that enhance learner experience. Some quick ways to enhance existing eLearning content include:
Chunking
Adding learner interactions
Adding design improvements
All of these enhancements can be easily made to your course in Storyline, without radically altering the essence of the content prepared by your Subject Matter Expert.
Make changes to the template
When working with existing content, you'll often need to make design changes to enhance user experience. David demonstrated how simply changing the slide background can alter the entire look and feel of a course, for example. With design details moving in and out of fashion, a change from a beveled to a flat style might be essential to remaining consistent with your brand.
It can be tempting to make these kinds of design changes to individual slides in isolation. But making local changes risks undermining the consistency of course design. To keep course development efficient, make changes to the template itself wherever possible. Primary text changes should be tied to heading and body settings, for example. Making global instead of local changes helps avoid the need to re-do work and repeat actions later.
Bonus tip:
It can be challenging to keep courses consistent with a style guide when working across multiple programs, like PowerPoint and Storyline. In this scenario, try embedding the details of your style guide into the settings of PowerPoint and Storyline before you begin to develop your course.
Layers, States and Triggers
Some of the most useful Storyline features for transitioning from static to interactive content include the use of states, slide layers, and triggers. These three features allow you to add interactive elements to help engage learners without changing the learning content itself.
Layers: Course building starts with a single layer, in David's example, the static slides imported from PowerPoint. As a course is developed, layers can be added to increase interactivity.
States: States can be added to on-screen objects like images, shapes, captions, characters, and buttons. States are most useful in scenarios where you don't want a learner to proceed without taking an action. Common states include hover, click, drag and drop, visited, selected, and disabled. Each state provides a different view of the content, triggered when a learner takes an action.
Triggers: Triggers can be added to similar kinds of objects on slide layers in the Trigger Wizard. All of a course's interactive elements will include one or more triggers. Triggers tell Storyline when to reveal additional slide layers, usually after a learner has taken an action.
Responsive course design
Interactive course design must also be alert to the demands of mobile and tablet responsiveness. Responsive design is essential to creating a positive experience for contemporary learners. All course development processes should consider usability implications for the fullest range of devices and screen sizes possible.
The use of layers, states and triggers should be balanced against the limitations of responsiveness. While adding slide layers might make your course interactive, it may also increase file size, risking the creation of usability difficulties for learners. If your course contains a lot of video content, it may be best to limit the use of slide layers. If memory shortages lead screens to time out, learners may not appreciate your efforts to make a course interactive. Think about the range of devices learners will use first and allow that understanding to inform course design.
It's also important to keep responsiveness in mind when exporting course content from Storyline. While Web is a versatile format, it isn't always the best option for supporting responsiveness. The LMS output format supports SCORM and Tin Can API options that are better equipped to track learner progress across devices and environments. Remember to check the HTML5 box on the screen below if you intend to serve courses to users on iOS devices.
Session 2: Common Interactions & How to Build Them – Tom Kuhlmann (Chief Learning Architect, Articulate)
Tom's Rapid E-Learning Blog is one of the best practical resources for course designers. In our second session with Articulate, Tom went deeper into the subject of learner interactions. Tom outlined the most common types of interaction and showed us how to create reusable versions to make course design efficient. Interactions shouldn't be added to courses arbitrarily, however. The objective of using them should be to engage learners' senses and create an active learning experience that moves beyond the simple use of multimedia content.
Before you create interactions
Tom advocates allowing time for planning before you begin creating interactions. Start by thinking about a course structure that suits your objectives and learner requirements. Determining a style at the beginning will speed up decision making throughout the development process. Understanding the limits of course development will also help you to make informed design decisions. To create an interaction you will need space for a character onscreen and space for your learner to make a decision. Identify the most common types of interaction you can accomplish in Storyline and map those options to your course development.
How interactions engage learners
Adding interactions should aim to further engage learners. Instead of passively receiving information, interactions push learners to make decisions. Tom emphasized the value of a thoughtful approach to course design. Interactions are best used as part of a considered approach that works to improve the learner's ability to absorb and consider information. Adding unnecessary interactions risks creating a frustrating experience that distracts learners from your shared goal.
Tom's eLearning philosophy focuses on three Cs:
Challenging learners' understanding
Giving learners choices
Having those choices produce consequences
When used effectively, interactions give learners control over their experience. Interactions challenge learners by pushing them to make decisions relevant to their experience. Asking learners to make choices in this way encourages them to analyze situations, making assessments they are more likely to remember.
Common interactions
Although some interactions might look impressive, Tom encouraged us not to overthink their design. Most interactions are surprisingly similar. 90% of learner interactions with a screen are click-based, for example. Other common interactions include hovering and dragging and dropping. After a learner interacts with a screen in one of these ways, information relevant to their progress can be revealed by a trigger.
Tabs interactions are an effective method for chunking learning content in Storyline. Adding tabs to a slide is particularly useful for breaking up large volumes of content so that it can be revealed in sequence to learners. Less common kinds of tabs interactions include FAQs and Checklists. Once you have prepared the most useful interactions for your course type, Tom recommends saving them for reuse as Storyline templates to speed up course development later.
After a morning filled with top production tips, we're looking forward to the next road trip already. As David said, a day with our E-LearningHeroes is like eLearning school – but a lot more fun!
Get more eLearning tips and tricks.