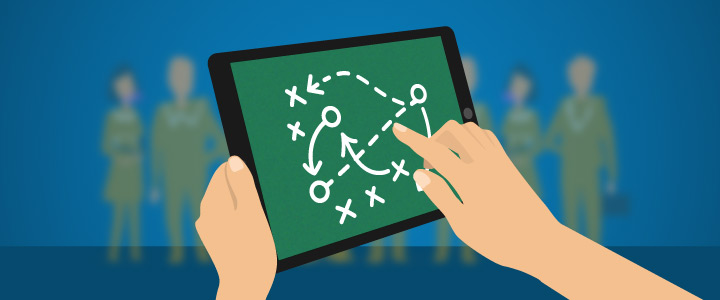 6 min reading time
Training Teams Effectively
A team is a group of people who work towards a shared goal. Without teams, managing employees on a day to day basis would be a nightmare. Individuals don't scale. This is true for training also. In this post, we look at how the mechanics of teams apply to training and how teams map across to a specific LMS feature: Groups.
Teams within teams
First things first, there are teams within teams!!! To use a timely analogy, your organization is like an American football team. There is one overall team, striving for a common goal. That team consists of several smaller teams, each led by coaches. There are the offense and the defense, which in turn can be divided into smaller teams. 
This approach allows individuals to tackle (no pun intended) specific tasks, with dedicated instruction. NFL teams consist of various groups. And these groups are trained on specific tasks. They are brought together to put that training into practice so they can perform to their optimum. 
Now, this analogy starts to break down at this point, but the underlying message still holds true. Using groups to aim specific training at teams empowers those teams to perform within an overall push for success. So how can you apply this to your training efforts?
Goals
Each team has its own set of goals and objectives. When overseeing an L&D program it's important to have a strategy that caters not only to the company but also to each group of learners. Break the training programs into multiple tiers. On the first tier take a high-level approach. 
What is the goal of training for the organization as a whole?  These goals can form the basis of company-wide training. These include training courses that are required by everyone. A common example would be a course on workplace health and safety. 
You can then drill down another layer to map out goals for each team. Talk to the team leads and managers to identify their training objectives. Setting these objectives will allow you to create courses that will achieve your training goals.
Training methods differ team by team
As previously mentioned each team requires different types of training. This is not just in terms of course content, it also applies to the delivery methods and resources required. Naturally, there'll still be standardized course content that everyone needs to be trained on. 
Ask yourself, is the delivery method suitable for the content/team? For training that requires nuanced communication a webinar is better than documentation. Consider the subject, the content and the team involved and use this to choose the delivery method. 
For example, if new members of your sales team need training on 'Effective Product Demonstration', what's the best vehicle for that training? Instructor-led training is best for tone, body language etc. You could then choose between scheduling an in-person training session or organizing a live webinar.  
By mapping out each team's required training and then looking at how best to execute that training you will be building an overall strategy whilst also catering to various groups. It's not a great idea to just apply one type of training to all without at least considering its effectiveness.
Timelines and priorities
Teams also work on different timelines and sets of priorities. Modern corporate training is about building training in line with the learner's lifestyle. It's important to look at the year ahead using the two-tiered approach. What training needs to be done this year on an organization level and a team level. Take note of busy periods for specific teams. The end of the financial year, crunch time for developers etc. Avoid training during these busy times. This not only reduces the workload of your colleagues during those periods, it also makes your training more successful.
By pushing out training programs team by team you can avoid bottlenecks and unnecessary tension. This goodwill can be used to gather support and participation from colleagues.
Involving the experts
Teams need coaches and managers. Those roles may even be fulfilled by the same person. Team specific training requires materials from those who are most familiar with the work of the team. They also need an understanding of the key objectives of the training. For an NFL team, the coach in charge of the defensive line creates training programs dedicated to exact requirements. Each drill is for the development of a skill set which leads to future success. 
To produce the best results, get the most qualified people in your organization involved in course creation. It might be a stretch to get your SME's actually building courses, but at least strive to get them to provide the ingredients. Once you can show them the impact of their initial involvement it should be easier to get greater participation. Always get your SME's to pilot the courses prior to them going live to each team. Their feedback is crucial to ensuring the courses are effective. 
And what about their managerial side? It's best to get team leads into the process of managing training. It's so easy to do so with modern tools when the only barrier is usually the fear of the unknown. Team leads are already invested in the success of their team. Show them how they can encourage effective training and they will be more likely to get involved. Soon they'll be eagerly tracking the rate of completion of their team's training.
Communication
Good communication is at the core of all teamwork. Don't neglect this. Communicate training initiatives to the company as a whole and also communicate with teams individually with information on their specific courses. This will foster a culture of learning and development on both levels. The team dynamic is so established in relation to working cultures. Infiltrate it to help you succeed. Communication at an overall company level shows that the training is a priority from a board level (which hopefully it is). 
Communication is not only used to guide learners towards their courses. It can also be used to motivate. A little competition goes a long way.
Competition
People are motivated in two ways. An intrinsic motivation is one gained from doing the task itself for the primary benefit. "By completing this task I'll learn about the subject". Extrinsic motivation is motivation from a perceived value external to the task itself. "If I complete the courses I'll be recognized for doing so". 
Competition is an extrinsic motivation that we all have a weakness for. Trainers instinctively use these motivation types to get their teams to succeed. Corporate training, and eLearning specifically, has taken to gamification as a motivator.
Learners are awarded badges and points for course completions. They are placed on levels and leaderboards. Leverage competitive spirits by recognizing and rewarding great performance on both a team vs team and individual basis.  
Using an LMS to manage Team Training
So how do you put all of this preparation into practice? The key benefits of training team-by-team can be achieved by using one central feature in your LMS. Groups. It's the unsung hero of the LMS!
Why? Because they are logical and multi-purpose. You can create a group for each team and then use the secondary feature set to:
Organize team training
Automate time-consuming tasks
Isolate team training information
You can organize your training programs team by team. You can automate tasks that would otherwise take a lot of time. It's easier to enroll the whole group at once. And you can isolate groups from the entire population of learners by filtering. This means you can look at reports and leaderboards filtered by a team.
Here are some key features that make training teams in an LMS easier and more effective.
Create a group for each team
Assign a manager to oversee each group
Automatically place users into the appropriate groups (API or auto assign rules)
Tracking and reporting (scheduled reports, isolating groups)
Leaderboards
Dedicated training for each team is the best way to improve the knowledge and skill level of the overall organization. Use the features in an LMS to make this easier to execute and manage. Why not share any questions you have in the comments section!