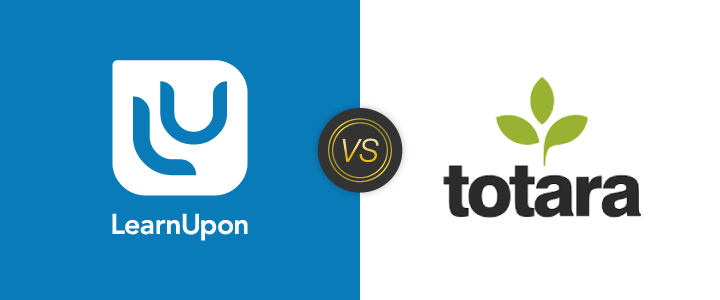 5 min reading time
Totara vs. LearnUpon Cloud LMS – How to Choose?
In a previous post, we weighed up factors to consider when selecting between Moodle or LearnUpon as your LMS. Moodle was made for the academic world rather than corporate. In an attempt to address this, Totara, a commercial distribution of Moodle came into existence.
Totara is an adaptation of Moodle code with the changes aimed at serving the corporate market. The question now is, should you choose Totara, an open source installation or a cloud-based proprietary LMS such as LearnUpon?
Background
Moodle was a 'free', open source software that could be downloaded by anyone. If you had sufficient technical resources you could customize the code to meet your organization's needs. The allure of having 'free' in the pricing column on a comparison sheet has attracted many decision-makers, but they often fail to factor in the cost of technical requirements.
Significant setup and customization are required prior to a 'go live' with your Learners. It can get complicated, time-consuming and so, it can get expensive, quickly.  It is highly flexible with a degree of customization that may not be possible with a cloud-based LMS. Questions to consider:
How many times has your team had exposure to technically supporting an LMS? Do you want to employ the services of a 3rd party to assist with an implementation?
Again, the cost is a factor here. It is not just the implementation phase (predictable stage) that should be considered, but the LMS has to be supported and maintained into the future (less predictable).
If you want more information on the pitfalls of a custom LMS check out this blog by our CEO, Brendan.
Commercial Distribution
To repeat, Totara is a commercial distribution of Moodle. It is an adaptation of the Moodle codebase, adding features to suit the needs of the commercial world. You can subscribe to Totara and download the code, documentation and access support forums for a relatively small fee.
In the majority of cases, this code will need to be customized to suit your needs. These additional services are generally provided by a member of the Totara Partnership Network and include customization, code support, patches, security updates and customer support.
The cost of the code is not expensive, the cost of getting it working and maintaining the code may be.
So, which option suits you best? Here are some points to consider on each:
LearnUpon
Is easy to set up
Has a short implementation time
Pricing is cost-effective, transparent and predictable
The solution has momentum with features being released to all customers regularly
Has a fast, clean, and modern user interface
24/7 global support
Highly scalable
Totara
Allows high levels of customization
Longer implementation time
Appraisals and 360 Feedback
Face to Face Booking system
LearnUpon is the best fit for your organization if:
You want a predictable and cost-effective price structure
Whilst enjoying the security of a commercial platform that is constantly improving, and includes 24/7 support, you will be able to accurately predict and budget the cost of the subscription. Our subscription model is more transparent and scalable than traditional licenses or subscriptions that are weighed down with extra costs.
You'd like a quick and easy setup
Cloud-based LMS's such as LearnUpon are designed for quick set-up and implementation. Implementations that last several weeks or months (sometimes even years) should be a thing of the past. You can have a learner ready LMS in a matter of hours if you need to.
You want high-quality support
LearnUpon provides 24/7 technical support to our customers as part of their subscription. We use no automation, no outsourcing. You will always speak to a member of our team who has extensive knowledge of the software and our customers.
Not only that, we have a customer success team to ensure a clear line of communication is open in relation to our LMS and its development. We listen to you and improve our software based on customer demand.
You'd like a learning management system that's easy to use
LearnUpon was designed to be deliberately simple. Our product development team focus on streamlined workflows and an intuitive user experience. This means less administration time to achieve your training goals and fewer learner questions and confusion.
You can customize a Totara offering to a great degree in order to get the exact navigation. But, do you really have the time, experience or budget to design your dream LMS?
Totara is the best fit for your organization if
You require a lot of customization
You have a greater degree of customization options with Totara. You may be able to achieve a high-level of configuration with branding and white-labeling in an option such as LearnUpon. However, if you have highly specific customization requirements that exceeds that level offered by a cloud-based solution then Totara or another custom LMS might be a better option for you.
You have a flexible budget
A bare-bones implementation of Totara is inexpensive. It is, however, very rare for the 'out of the box' version to meet the needs of a particular organization. Customization is generally required and this is where cost can be felt. If you are not sensitive to budget constraints than this will not be an issue.
You have prior experience in a Moodle or Totara implementation
If you want to go it alone without a Totara partner then you will have to have a significant amount of technical experience. If you have this within your organization then you will need to know how hard is it going to be to get their time for extended periods of time in the implementation period and in the future for ongoing support and maintenance.
If you use a Totara partner I would recommend that a member of your team evaluating the proposed customizations is important, especially to gauge cost.
You have your own ongoing technical resources
If you choose to pay for the Totara LMS you will have a significant amount of technical work to do so you will need to have your own developers in place to carry out that work and maintenance. If you choose to use a 3rd party partner to customize the LMS to your needs then I would suggest that a technical member of your team will still have to be involved to evaluate the requirements gathering phase, project plan, quotation and to monitor the implementation.
We have seen many examples where an organization is reliant on one technical resource who leaves the organization after Totara has been implemented taking much of the technical expertise to maintain the LMS with them.
Conclusion
All in all, the choice that you make will be decided by your specific requirements, time and budget. We have seen many of our customers come from  'traditional' installations. They are surprised by LearnUpon's power, yet ease of use. Some have come to us after large quotations or even failed implementations.
Obviously, we at LearnUpon are biased, Brendan and Des founded LearnUpon because they believe that the merits of a cloud-based system, in most cases, outweigh those offered by an open source solution that is customizable like Totara.
If you would like to get a consultation with LearnUpon to explore your needs further please let us know, we will take 15 minutes to tell you if we are not the right solution for you.