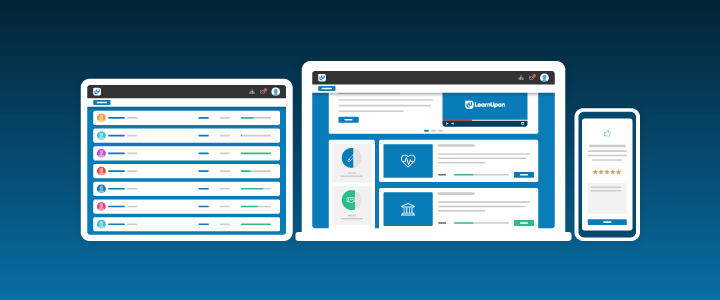 A Smarter Way to Navigate an LMS
This week we officially launched a new design for our LMS. It will deliver a faster, smoother and more consistent experience for our customers. The new layout and design makes it easier to use and has reduced time spent executing tasks. LearnUpon's LMS makes it easy for administrators to access and action the tasks they need to perform allowing them to deliver courses and track progress quicker than ever. Here we highlight some of the features that combine to deliver the new LearnUpon experience.
Enhanced navigation – makes your experience consistent and intuitive
Smart Search  – reduces the number of clicks to perform common tasks, saving you time
Admin Dashboards –  provides shortcuts to the most common actions performed and information sought
Enhanced Navigation
We have improved the navigation throughout the application so that you move through in the most efficient way possible. It is deliberately simple and intuitive. You get to execute your daily tasks faster than ever before! The layout has changed to enable this.Our administrator will become familiar with:
1. Primary Navigation Button
Our customer's loved our linear layout on our previous UI. The tabs, that were placed horizontally were ordered in a logical manner and made it very easy to use. We have kept that list, but we have placed it behind the primary navigation button. This is particularly important for our responsive design as it frees up screen space without compromising on functionality. The list now simply extends vertically as a dropdown with the touch of the button.
2. Secondary Navigation
Within each page there are different elements you may focus on. You may easily toggle through these with the Secondary navigation. For example, when you are in a course page you can navigate through the course information, the course content, the user enrollments, the groups enrollments and the instructor's that have been assigned.
3. Page Actions
On each page you can complete a number of actions. The Action button allows you to choose which specific action you would like to perform. Using my course example again, we can use the action button in this case to preview the course, create new copies or versions of the course, create enrollments and much more.
4. Breadcrumbs:
A subtle yet really helpful indication of where you are in your workflow which allows you to easily revert back to a previous step if needed.  Just like in the fairytale from which the name is derived, breadcrumbs in software applications offer users a path back to your starting point. This is as beneficial to experienced users as it is to those building their first course.
Smart Search
The introduction of the search bar changed the LMS industry. The search bar has been improved upon again and again to the point where most systems on the market now offer a global search which allows you to search across all pages. LearnUpon's new Smart Search is a leap further forward, allowing you to take the action you need straight from search results. Our customers who helped with our beta test absolutely loved it! The combination of a search bar, with the ability to instantaneously interact with it's results has doubled down on our promise of simplicity. You only need to type the first couple of letters of the course, user or group and then decide what action you want to apply. Everyone instinctively uses a search bar. We have mapped our software to your behaviour.
Admin Dashboards
The admin dashboards consist of Quick Action Cards and Admin Graphs. The Quick Action cards lay out clearly the most common actions that an admin will need to carry out. You can think of quick actions as shortcuts straight to the problem you want to solve. Similarly the graphs will allow you to quickly see usage and course uptake information at glance.
The Benefit to you:
These new features improve usability and simplify navigation. This makes LearnUpon even easier to use and has reduced administration time required to complete tasks. The effects of these changes will be felt by all types of administrators. A Veteran Trainer, who is well versed in education technology can create courses, manage enrollments, and run reports in half the time. Conversely, an individual who is a complete novice to using an LMS will have no issues picking up the functionality of the application.
For example: A trainer arrives at the airport after a three day new employee on boarding session. While sitting at the gate they login to LearnUpon on their phone or tablet. By instantly accessing information from their admin dashboard they are shown that Learners have not been enrolled in a course they need to take. The admin uses the Smart Search to access the course's enrollments, enroll the learners and the problem is solved. That's the Learnupon experience!
If you would like to experience LearnUpon for yourself, please contact us at sales@learnupon.com to arrange a demonstration with one of our account managers.