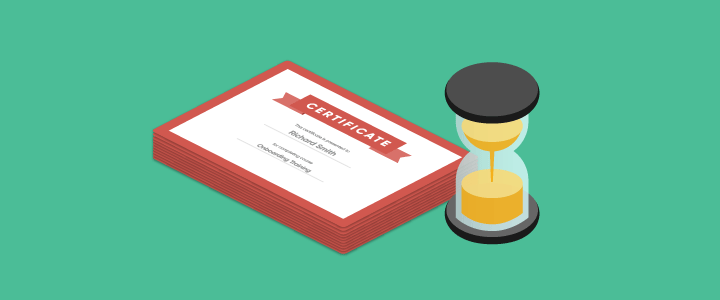 4 min reading time
Recertification: Why You Need it for Compliance Training
Compliance training is important for every organization. It reduces the risk of non-compliance by ensuring your employees are up to date on the regulations and rules that are essential to their job and industry.
With today's workforce being busier than ever, it makes sense that executing a compliance training program through a learning management system (LMS) is as straightforward and stress-free as possible.
Though managing compliance certification through an LMS is often discussed, the benefits of recertification are less focused on. In this post, we'll explain why you need recertification for compliance training, and how LearnUpon's LMS makes it easy.
What is recertification?
Certification is a vital component of eLearning, and usually essential in compliance training. But what about recertification?
Collins English accurately defines recertification and its relation to compliance training as "the act or process of recertifying someone or something". Basically, recertification is the process of certification renewal. It encourages the ongoing professional development of compliance training learners, and demonstrates their commitment to maintaining competency.
From an employer's perspective, recertification ensures your learners' skills and knowledge are up-to-date and protected. In essence, recertification ensures that your business is always compliant.
In some instances, the importance of recertification can't be understated. There can be serious consequences when your employees are not certified or recertified. For example, forklift truck drivers are not legally permitted to use their machinery if they're not certified, or become recertified, in the relevant compliance courses.
Using an LMS for recertification
Time is valuable, and since your learners have already invested time in training, it helps if you make the recertification process as easy as possible. That's where an LMS comes in. Certification and recertification can be manually intensive for those not using an LMS, or those using an LMS that's not built for this purpose.
An LMS creates a workflow to eliminate laborious tasks and gives you the certainty that learners will be certified correctly. It's of essential to choose an LMS that's easy to set up, robust, and allows you to effortlessly update course content.
Even better, an LMS that takes care of the constant loop of recertification is even more powerful. This allows you to operate a certification system that requires no manual intervention. You'll not only be saving time, but you'll also improve the training process while mitigating against risk.
Using certification and recertification through LearnUpon
With LearnUpon's LMS, recertification is a breeze. The recertification feature allows you to specify the learners that need to be re-enrolled on a course if a certificate they were awarded is expiring.
Here's how recertification happens in LearnUpon:
1. Upload the certificate
First, you need to upload an image or template of a certificate. Drag and drop the dynamic fields that are necessary.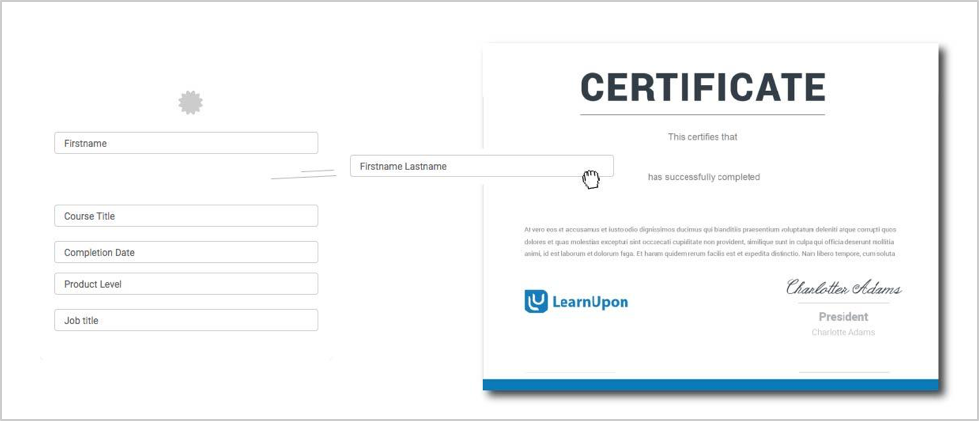 These fields often include the learner profile information, course details, date of completion and date of certificate expiry. Expiry dates are crucial for recertification. Such expiry dates are usually 365 days into the future, but re-enrollment can be set 30 to 60 days before that.
When the certificate is awarded, these fields will automatically update to display the correct information.
2. Enroll the learner
Next, you need to create a course and attach a certificate to it. The course is now a certified course. Enroll the learners that need to complete this course. The learners then get a notification of enrollment and instructions on how to access the certified course. If the learner doesn't act on this, they will receive automated reminders.
When the learner completes the course, they will automatically receive their certificate. If you've added an exam to the course, the learner must achieve a certain score (e.g. 80%) in order to successfully pass and receive the certificate.
3. Recertification of the learner
The good news is that with LearnUpon, keeping your learners up to date with compliance training is a doddle. Simply put, no work is required from your end.
If the learner's awarded certificate has an expiry date, you can set it so LearnUpon automatically re-enrolls the learner in the latest version of the course. This allows learners to get recertified before their certificate expires.
LearnUpon's recertification process works much the same as the certification process outlined above. The learner will get a notification that their certification is due to expire and that they have to be recertified. They'll receive a notification of enrollment, and will be sent automated reminders until they complete the required training.
When the learner completes the course, they will be recertified. If an exam is part of the recertification, again the learner will not be recertified unless they have achieved a certain score. When it comes to recertification through LearnUpon, the course administrator only really has to ensure that their course content is up to date.
4. Monitor reports
For compliance training, reporting tools are vital. With LearnUpon, you can monitor training progress, course completions, and the certification/recertification process.
The certification report contains all the details you need to supervise the certification of your learners. This is super time-efficient and valuable, as it allows you to manage progress without manual intervention.
Deliver your compliance training with LearnUpon
Ensure your employees are always up to date on their compliance training with LearnUpon. The powerful learning management system that has the features and a knowledgeable team you need to achieve training success.
Get your free trial and demo today!