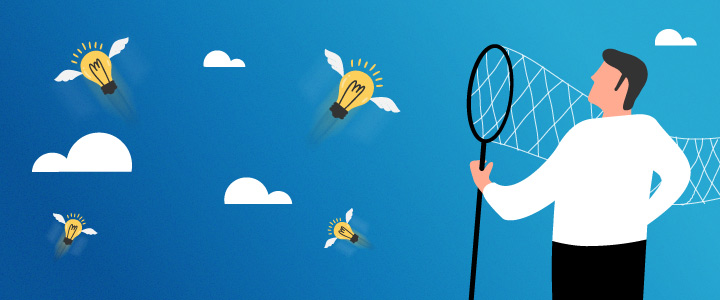 Plan Your Online Training Courses in a Single Day
Forming ideas for your online training can be time-consuming, overwhelming and let's face it, a little tedious. But it doesn't have to be! An idea generation day or ideation day, a part of ADDIE, is a practice we suggest every eLearning professional try to organize and optimize their planning.
What is an ideation day?
An ideation day is an incredibly basic concept. It's the process of generating ideas for your organization's upcoming training – within a day. It works to your advantage as it streamlines idea development, coordinates your training efforts, refines your ideas and goals and crucially, saves you time in the long run.
Arrive with a plan
To make your ideation day go as smoothly as possible a little preparation is indispensable. Before the day itself, here are a few questions you should answer:
What is the time period that these courses will be delivered in?
Knowing if these courses will be delivered over a month, 6 months or a year should provide a good indication of how many ideas you need. And how many your team is capable of delivering!
Decide on the number of ideas you need to generate
You need to decide how many courses you need to deliver. For example, over a 3 month period you may want to create 2 courses a week, therefore you'll need at least 24 ideas. We suggest striving for more ideas than you actually need. Some might not work out and if you don't use the extra ones, you can always include them next time!
It is essential that you and everyone involved has clear expectations of what will occur throughout the day. Write a list of your objectives such as to generate 24 ideas, the reason for each idea, what is expected of each person attending and so on. This will ensure you have the most effective day possible.
Divide and conquer
Another planning fundamental is to distribute your training needs into groups. 
It's likely you already have your training separated into groups. These can be internal – employee onboarding, compliance training, team training, HR training, etc. Or it can be external – members, product training, reseller training, customer onboarding, etc. 
An awareness of each group before the big day and having a grasp of their learning needs will help you ascertain what to focus on and make the day go smoother.
Who's invited?
There can be a lot of people involved in your organization's online training – managers, designers, project managers, department heads – you need to decide who is invited and who has input. 
As ideation can be a long process, it's not always possible to get everyone you would like to attend. Therefore, try having a core group of people who are most involved with your organization's training. 
If you feel you are missing out on invaluable input from other stakeholders, request them to gather their ideas before the ideation day so your team can take them into account.
What you need on the day
On the day of your ideation day, it's clever to have the right tools and resources. First and foremost is an ideation spreadsheet – a place where you and your team can record your course ideas. Here's an example of what your spreadsheet could look like.
Additionally, a whiteboard to brainstorm is invaluable for drawing out the concepts you come up with. Oh, and coffee – lots and lots of coffee!
Be smart and use research
Attempting to come up with ideas off the top of your head is more difficult than you'd think – it's important you research. 
The research comes from multiple sources. If you've carried out training before in your organization, your reports are a bountiful well of information that should show you what's working, what's not and where the key knowledge gaps are. Combing through learner feedback in surveys is also a fantastic method of spotting what needs improvement or what you're missing in your training. 
Internally, asking the various teams in your business what they believe is needed can provide you with invaluable insight. Externally, looking at competitors training, industry forums, industry reports and online resources such as Quora can offer you beneficial ideas.
Next, it's all up to you…
Once you've done this work, it's up to you and your team to start developing your ideas. 
Throughout your day, brainstorm, work in groups, write your ideas and discover the best ones for your organization. The key is to keep the goal of each course idea in mind and know that it will bring true value to your business's training – then you're good to go!