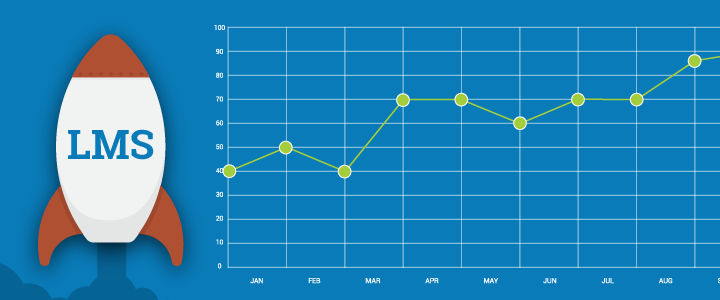 How to Measure a Successful LMS Launch
You have spent months planning your LMS launch. You selected an LMS vendor from a long list of potential partners and you decided in painstaking detail on how to deliver your training to your learners.

Launch day has come and gone and you are now reflecting on whether or not it was a success? Here are a few ideas on how to measure the success of your LMS launch.
Did the LMS launch on time and on-budget?
The first thing in determining the successful launch of your LMS is did your launch happen on time and did it arrive within budget? Sometimes uncontrolled changes or added objectives to your LMS can happen during the road to launch if the LMS launch was not thought out clearly enough.

This can incur added time and costs (and frustration), but if you have avoided these events you will have got off to a great start!
Does the LMS work?
Next, you will need to measure if the LMS works from a functional point of view i.e. does my learning workflow, flow? Measuring this will be done through a mix of your own thoughts from an admin perspective and through finding out from your users? The key question you need to answer is "can you deliver the content you need to and can you deliver it in the right way?"

Delivering standard content such as PPT, Word documents and videos are generally straightforward for most LMSs' to run. Using SCORM (or xAPI) can be a little more challenging if your LMS does not confidently support the format.

Testing your content before launch is the best approach to mitigate against potential issues, but sometimes an issue may arise once live and it is key that your vendor can best support you quickly when you need it.

Other content requirements such as webinars and mobile eLearning will be better understood on how effective they are once you have gone through the launch. You also need to analyze whether user management is straightforward i.e. Do my users have access to the portal and are they enrolled in all the training they are required to complete?

The main metric to understand functional success is to track how many support issues you experienced from your users as part of your launch. If technical issues were few, low in priority and addressed quickly they will probably be viewed as not being disruptive to the success of your launch.
Do my learners like it?
To build on the previous point you will want to get a deeper insight into the user experience on your LMS launch. When you measure LMS functionality, it is about measuring "can I do A, B or C?" Measuring the LMS experience is understanding whether doing A, B or C is a positive and engaging experience.

The more engaging the experience the better, and ideally you will want an engaging learner experience on launch as this will be a key success metric going forward.

If you have a baseline to measure your LMS launch against i.e. a previous LMS then the comparison can be made much easier as it will be mainly comparing apples to apples.

If this is your first LMS launch, it will be more like comparing apples with oranges but similarly what you want to understand is whether your users are enjoying the initial learning experience and do they think it is a better way of learning than the previous approach?

To get these insights you can run a short survey to understand user acceptance and measure initial satisfaction. A good idea is running a short survey at the end of the first course to gauge initial thoughts. You can also measure user behavior through more quantitative metrics such as the number of users logging in and completing courses during the launch phase.

An LMS report should be able to easily give you this data. Additionally, using functionality like Gamification you are able to award your users points and badges for certain learning activities such as completing a course or downloading a resource – this can not only be a nice and easy way to motivate your users but also track how engaged they are on launch.
Does our business like it?
Once you have measured the functionality and user experience success of your LMS launch you now need to understand (or at least start to understand) the improvement on your business. The key reason for launching an LMS was to improve the process of delivering learning to your staff. An LMS' goal is to improve business efficiency and to drive a return on investment (ROI). 

If you were previously delivering exclusively face to face training you will now see the reduction on resource costs per learning event. For example, you could minimize or remove fully the travel costs for instructors and learners, remove the need to hire a venue and avoid paper costs.

If you previously delivered webinars for your customers or partners, using an LMS with webinar integration you will now be able to automatically record attendance of all those who participated in the webinar which will reduce administration time and drive efficiency.

Additionally, maybe your LMS now gives you a chance to better use webinars to train your customers and partners? Are your learners now being trained during what were traditionally less productive moments i.e. commuting to and from work? An LMS designed with mobility in mind will increase learning opportunities to happen anywhere and at any time.

Measuring the LMS impact on your business just after launch will be limited in view but a successful LMS launch will give you a sense of the many positive impacts an LMS will offer you and how you can begin the track and measure your LMS output.
Conclusion
If your LMS launched on time and within budget, it works as it should and your learners are engaged, you can view your launch as being successful.

Over time if there is a demonstrable positive impact on your business i.e. better business efficiency, increased RoI and new opportunities to train other parts of the business, you are exactly where you should be with your LMS implementation.

As you continue your journey, your LMS should be with you every step of the way and my advice is to find a partner committed to your success! If you would like to find out more about how to measure your LMS success, please reach out to one of the team.
Simplify Your Training Delivery Today
Train your employees, partners, and customers with LearnUpon. The powerful learning management system that has the features and a knowledgeable team you need to achieve training success.

Get your free trial and demo today!