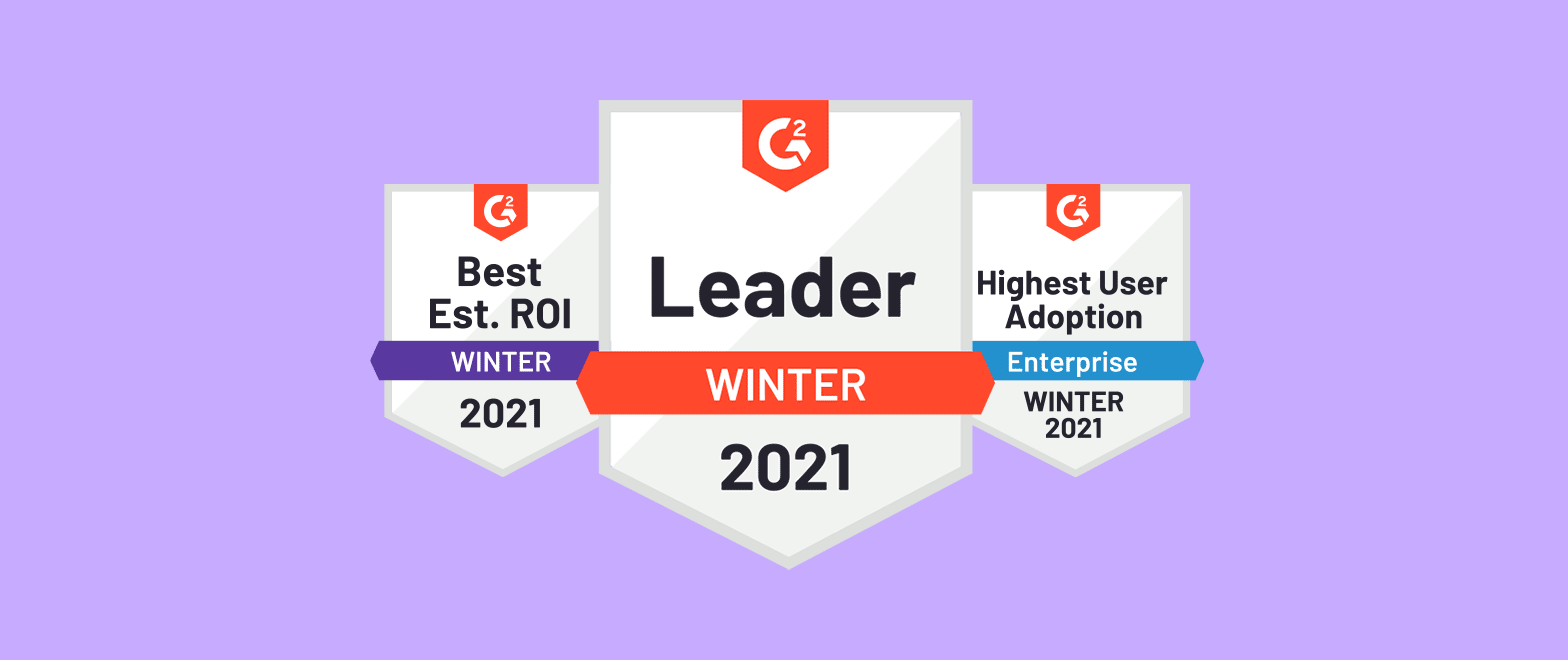 2 min reading time
LearnUpon Recognized as a Leader in G2's Winter 2021 Reports
The LearnUpon team is excited to announce fifteen wins across five software categories in G2's Winter 2021 reports.
Released quarterly, the G2 Crowd Reports rank the best software products and services worldwide by gathering reviews from verified product users and combining this customer satisfaction score with aggregated data from online sources and social networks. Vendors are scored on things like; estimated return on investment, the ability to meet requirements, user adoption, and likelihood to recommend.
"Rankings on G2 reports are based on data provided to us by real users. "We are excited to share the achievements of the products ranked on our site because they represent the voice of the user and offer terrific insights to potential buyers around the world."

Michael Fauscette, Chief Research Officer, G2
In the latest reports, LearnUpon won fifteen awards across five software categories. This achievement was driven by overall high customer satisfaction, averaging a rating of 4.6/5 – something we're exceptionally proud of!
LearnUpon was again named a leader in G2's Grid for Corporate Learning Management Systems, and as a leader in the Grid for Training Management Systems.
Other awards include:
Momentum leader in Corporate Learning Management Systems and Training Management Systems
High-performer in the Enterprise-Market for Corporate Learning Management Systems
Highest User Adoption in the Enterprise-Market in the Corporate Learning Management Systems category, earning the highest User Adoption rating in this category
Easiest Setup in the Training Management Systems category, earning the highest Ease of Setup rating in this category
Best Estimated ROI in the Training Management Systems category, earning the best estimated ROI rating in this category based on a combination of estimated time to achieve ROI and time to go live
On the awards, our own leader and CEO, Brendan Noud, had this to say:
"Customers are at the heart of everything we do at LearnUpon, and G2 is an essential channel, allowing us to learn and better understand what's important to them. We work in a highly competitive space, and receiving this recognition from G2 speaks to how our customers value our product and our people – the two things LearnUpon has always been based on."

Brendan Noud, CEO, LearnUpon
Based on real customer feedback provided by verified LearnUpon customers, we're proud to be working with some of the world's most innovative companies, helping them to unlock the power of learning. Here's a taster of the feedback we've received:
"The LMS has inspired us to revolutionize the way we deliver training and learning programs, empowering our content owners and trainers to try new things, explore blended learning options, and develop their training products across the life-cycle of learning." 

Sarah H.
"LearnUpon is a company whose culture can only be described as first-class; accessible, flexible and committed. You expect the high touch point and attention during the sales cycle, when that extends to other departments (particularly onboarding & technical support) it affirms you've made the right selection for LMS provider." 

Simon S.
These awards are the icing on the cake, as we're ending 2020 on a high. Having placed highly with Brandon Hall Excellence in Technology Awards and after experiencing a year of unprecedented growth, we're looking forward to what next year brings for the LearnUpon team.