Why LearnUpon was the best solution for this training provider

Maybo Ltd is a commercial training provider specializing in workplace violence. They train frontline staff in a wide range of sectors in Europe and Australia. In 2011/12 they invested heavily in developing a suite of eLearning courses.
In 2012 they started the long process of researching learning management systems that could support the delivery of their new eLearning direct to learners, and to learners via their employer.
The following case study details how Maybo found LearnUpon and why they decided it was the best solution for them. The case study was provided by Richard Smith, Chief Executive, Maybo Ltd.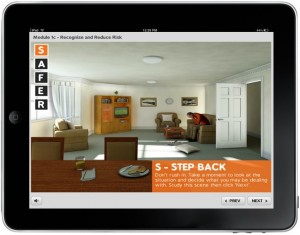 The Challenge
Our primary requirements for an LMS were:
100% cloud based with no special software requirements
Able to play SCORM content on PCs, Macs, and tablets
eCommerce capability with a discount voucher option
Branded customer portals that could do justice to our clients' brands
Easy to use – for us, our customers and their staff
In-course survey capabilities with powerful reporting
Flexible pricing model so we can 'pay as we earn'
Reliable, prompt system support and customer service
A clean, modern and intuitive user interface
The Solution
We discovered LearnUpon after months trialing a wide range of platforms. We had become disheartened as we hadn't found a single LMS that met our requirements – 90% of systems are geared completely for large employer organizations and so lack the vital customer portal and eCommerce capabilities we needed.
LearnUpon promised everything we were looking for, but we'd heard that before! After setting up a free trial we were thrilled to discover it delivered everything we needed and more. We got on the phone with the LearnUpon team and any remaining doubts we had were quickly put to rest.
The Process
We had a free trial set up in minutes and didn't need long to see that LearnUpon did everything it promised and more. Once we had decided to go ahead with it our trial account was updated to a full account immediately and we simply uploaded our eLearning content and created the first user accounts. Within 24 hours we had customers accessing our eLearning on the LearnUpon platform and haven't looked back since. It's incredibly easy and intuitive to use and the support from the LearnUpon team has been first class.
The Verdict
Adopting LearnUpon is one of the best decisions we've made in the past few years. It has met all of our expectations and so much more.
The LearnUpon team is brilliant and new features are released with impressive frequency. We put a huge investment into developing world-class eLearning content and were really struggling to find a system to match.
Thankfully LearnUpon was that system and it continues to create new possibilities for us with each new release. LearnUpon has enhanced our business more than we ever hoped for and on that basis, we wholeheartedly recommend it to any commercial training company that is serious about providing its customers with a world-class eLearning experience.
Try LearnUpon for yourself.