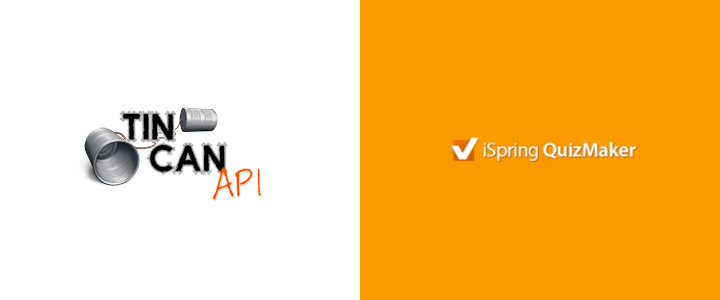 How to publish to Tin Can API with iSpring Quizmaker 7
iSpring QuizMaker 7 can be a very useful authoring tool when you need to create rich-media tests that learners can complete on desktop, tablet and smartphone devices. One of the key strengths of iSpring QuizMaker 7 is that it is compatible with HTML5, xAPI and a range of formats that allow greater flexibility for learners and admins sitting and reporting on quizzes.
xAPI, also known as the Experience API or Tin Can, is particularly good at capturing consistently-formatted data about learner and group activity across multiple platforms and devices. If this flexibility sounds useful, then read our quick guide to publishing iSpring Quizmaker 7 course content to xAPI.
Mobile learning
If you are using iSpring QuizMaker 7 to create course content,  publishing to xAPI can benefit both you and your learners. xAPI has become an increasingly popular learning technology due to the growth in demand for mobile learning or "mLearning". Mobile learning does not just mean that audiences are engaging with course content on smaller devices or phablets.
It also includes learning on the job or learning onsite without cloud connectivity. xAPI excels in these scenarios, helping to capture learning in the field – the true sense of mobile learning.
Many learning and training professionals now consider it essential to provide mobile options for learners accustomed to using multiple devices. Because xAPI is capable of communicating with cross-platform technologies and is highly interoperable, it works very well in these environments. xAPI can also provide trainers with more detailed information about learner behavior and performance.
Detailed exam analysis data is just one area in which xAPI improves upon SCORM and other learning technologies that preceded it. xAPI content created with iSpring QuizMaker 7 can also be uploaded to LearnUpon in one simple step. If you currently use an alternative learning management system, make sure it supports xAPI content before proceeding with this tutorial.
Once your iSpring QuizMaker content has been created
The process of publishing to xAPI begins once you have created your test in iSpring QuizMaker 7. The sample quiz created in this screenshot contains 7 different question types.
Click on the 'Properties' icon to check that you have set a passing score.
In this example, our quiz is set with a passing score of 80%. Click 'OK' to save your settings.
Your quiz is now ready to be published to the xAPI format. Click the 'Publish' button in the toolbar to proceed.
In the 'Publish Quiz' screen
Select 'LMS' from the left-hand menu.
Select 'Combined (Flash+HTML5)' from 'Output', as shown in the below screenshot. Selecting HTML5 enables your course to play on a range of browser types and ensures your course will play on mobile devices that do not support Flash, e.g. iPads and iPhones.
Leave the 'Use iSpring Viewer' option unchecked.
Make sure 'Zip Output' is selected.
Next, click the 'Advanced' tab, as shown in the below screenshot.
Under 'Content Properties', select the 'Fit to Window' option. This setting tells the course to fill all available screen space when your learners view the content.
Under 'HTML5 Properties', select the option for 'Extended audio and video compatibility'. This setting increases the number of supported audio and video codecs to boost the performance of your quiz across multiple browser types.
Now click the 'Learning Course' tab.
Select Experience API from the drop-down menu.
Click 'Publish'.
Nice work, you're done! Your course will be exported as a zip file, ready to be imported into LearnUpon or your chosen LMS.