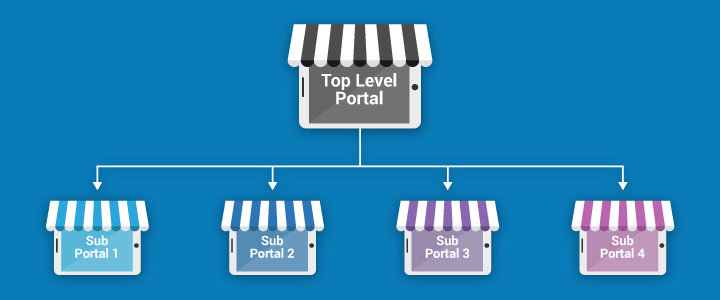 Create Individual Learning Experiences for Your Customers, Partners or Teams
Our new User Interface allows you to show your commitment to your customers, partners, or even your internal teams by creating a learning environment that is individually branded and configured to meet their needs. Through our multi-portal feature, you are able to in effect manage multiple LMS's easily through one LearnUpon login. 
LearnUpon's branding opportunities have been greatly improved and as a result, achieve a greater level of consistency between your corporate branding and the appearance of your LearnUpon Portals. In this post, I describe how these options help you to engage the different learners that you train.

Customized branding
You can easily customize the appearance of the portal by:
Choosing the header, background and link color
Uploading your Logos
Uploading a promotional banner or creating a latest news display for the dashboard
The benefits of multi-tenancy
LearnUpon enables the delivery of online training to a company's employees, clients, partners, and resellers. You may want to customize the experience of each. LearnUpon is a Multi-tenant solution that allows you to easily create such customized learning environments or "sub-portals".
You can manage them conveniently from a "parent portal". We designed LearnUpon from the ground up with 'multiple portals within the umbrella of one' functionality at its core. LearnUpon excels in an area where other LMS vendors have tried to retrofit this functionality.
How you can use our sub-portals  
The easiest way to explain the benefits of sub-portals is to use an actual use case as an example. A large Californian based software company are using LearnUpon to train their employees, partners, and customers. They have divided each of those audiences and placed them into their own dedicated eLearning environment.
An administrator can switch between these quickly and easily to create and manage users, groups, and courses. This admin can also share courses across sub-portals to avoid duplication of work, saving them a huge amount of time and effort.
A sample Multi Portal structure
Top Level Portal: Employee Portal This portal is the main portal. It is where most of the work is done. It is also where they have placed their employees. These learners have their own logins to its URL. They can see the company's corporate branding and are trained on various different subjects such as product training, health and safety and compliance.
Sub-Portal #1: Partner Portal A sub-portal is set up to accommodate the training of their partners. The admin customizes the branding and messaging to suit the audience. The URL is distinct from the parent portal. They have set up a number of courses in relation to their products so that their partners can improve their knowledge and by passing a series of examinations, becoming certified.This ensures they maintain an excellent level of knowledge of their products and the process is easy to set up and is totally automated. As far as the software partners are concerned this is an LMS created solely for them.
Sub-Portal #2: Customer Portal The next portal set up by this software company is for their customers. They use it to train their customers to become super-users of their products. This builds their user base and also reduces their overall support burden. The branding is set up to be more product focused rather than corporate.
This is a very basic example which shows only the tip of the iceberg in terms of possibilities. Many of our customers manage hundreds of sub-portals from their parent portal.  We have the technical and architectural ability to scale to large numbers effortlessly. That is actually the easy part.
The part that some LMS providers struggle with is the level of administrative effort required with large numbers of users and/or sub-portals. We have always focused on an making the administrator's actions scalable so that they can manage both easily. We have built in some great features to allow this.
Administrative actions that enable scalability
Licensing The ability to license courses is a very powerful feature. Once you license a course to a sub-portal (or portals), that portal's admins will have access to the course and will be able to enroll their users onto the course. You do not have to recreate the course so this reduces the time taken to achieve your goals. You can control the number of enrollments available, the validity period for those enrollments and even whether or not the client can resell the course. Not only that, any change you do make to your course in the parent portal, is automatically shared with your clients via the license, synchronizing any corrections to typos or updates to content.
Copying The copying of courses allows you to copy courses from one portal to another as a draft or published. You can copy a course in draft format and make some changes to suit the specific audience. Once again the benefit here is convenience and efficiency.
Control or delegate You can decide to micromanage every single portal or simply license down content and delegate management and reporting to the "client/customer" themselves.
Scheduled Reporting If you do indeed have large numbers of separate audiences, make it easy on yourself by configuring and scheduling reports so that they are delivered to the right stakeholders at the times you choose, automagically!
Our customers use our sub-portals feature to train their employees, partners, and customers. Like to see how LearnUpon would look with your company's branding? Request a demo now.