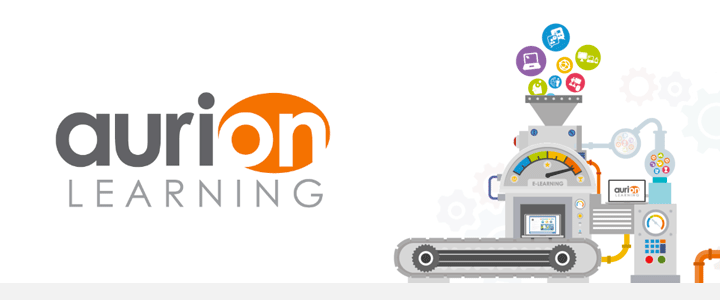 Aurion eLearning Masterclass - What we Learned
Aurion Learning's annual masterclass is becoming an unmissable event for the UK and Irish learning and training industries. The theme for the 2015 session held in October was "Getting the most out of eLearning" and focused on three core topics: learning platforms, creating efficiencies in eLearning, and using video in online learning programs.
We went along last week to spend an invaluable morning with Learning and Development managers, trainers, facilitators, consultants, and HR practitioners from leading organizations, to explore some of the most effective ways to deliver online learning today. Here's what we learned.
The next big thing in eLearning
Aurion's eLearning masterclasses are known for delivering an inspiring mix of high-level strategy and practical tactics that enhance participants' use of learning design, tools, and technology.
The first 2015 presentation touched on both, as John Curran, Chairman of eLearning Network, introduced us to the major trends we can expect to see transforming eLearning in 2016.
3 top eLearning trends for 2016 Explosion in devices
We've been anticipating the effects of the explosion in devices for a few years now – usually in the guise of mobile learning or "mLearning". But John urged that the time really is now, with users currently accessing content on an average of 4 devices. John's best practice tips included encouraging organizations to adopt a "bottom up" response to the trend.
Designing for multiple devices shouldn't be arbitrary. Course and content responsiveness can't really be successfully bolted on as an afterthought, or in hindsight. Responsiveness should, instead, be integrated into the deep design of content and programs from the beginning.
Instructional designers are advised to begin with a list of the most common devices course content will be accessed on and an understanding of its role in the learner's journey. While this attention to device type may make for slightly longer design and planning phases, it will also create a superior learner experience that does more than make a nod to a range of screen sizes.
The explosion in devices is also driving a number of smaller trends, including the creation of bite-sized microlearning tailored for different environments and mobile-friendly authoring tools that work from the cloud, such as LearnUpon favorite Elucidat.  
Life after SCORM
We've been exploring the potential of Tin Can technology for a while here at LearnUpon. So we were very interested to hear John's thoughts on the Tin Can API, also known as the Experience xAPI.
The rise of Tin Can overlaps with the explosion in use of device types, with the technology working to capture the full potential of mobile learning. Developed with the understanding that learners can learn anywhere, Tin Can provides tools for capturing and reporting on the full range of mobile learning options.
If you are interested in Tin Can, check out the tutorials we have created for exporting content in xAPI format for upload to LearnUpon or any compatible learning management system.  
The new blend
John moved beyond the familiar blended learning of yesteryear to discuss new developments in the trend. At the heart of the "new blend" is a figure John names "the self-directed learner". The new blend of learning responds to the distinct behaviors of this emerging style of learner.
John also introduced us to a new word with the concept of "heutagogy". Making the concept of pedagogy seem positively reductive, heutagogy advocates learning by a process of trial and error. Learners are encouraged to be active and self-directed in place of the passive role of watching and listening.  
How to select your online learning platform
In both the main presentations and our chats with attendees, the importance of clearly understanding your requirements when selecting a learning management system was a recurring theme. The question of how to match requirements with an online learning solution was the subject of a presentation made by Gavin Woods, Business Development Manager at Aurion.
Gavin's advice was familiar to us at LearnUpon, as he argued that no eLearning platform is the best solution for every kind of organization. From open source solutions to proprietary and SaaS platforms, Gavin unveiled a patent-pending requirements wheel to illustrate decisions made in three real-life use cases.
We were thrilled to see LearnUpon featured as Gavin's preferred SaaS online learning solution, of course!
A number of attendees we spoke with also described familiar Moodle challenges we reviewed recently. These conversations were a reminder to all eLearning professionals that, whichever solution you choose, open source does not, at the very least, mean free.
As Gavin's presentation suggested, the best online learning solution for your organization will match your budget against a set of carefully prioritized requirements.  
Creating eLearning efficiencies
Dr. Maureen Murphy, Aurion's Managing Director, presented us with a masterclass in creating eLearning efficiencies. Maureen's pragmatic presentation combined fresh insights into recent developments in eLearning with a roundup of best practices we all know we should be implementing.
Maureen sees eLearning efficiencies everywhere and began by alerting us to a number of quick and simple starting points in real-world environments. Efficient eLearning processes should be learner-centric, focused on outcomes and the measurement of results. Inefficient eLearning is often, on the other hand, weighed down by the daily practicalities of delivering learning and training.
Maureen's vision ushered us away from from outdated static processes towards an agile approach to developing learning content and programs. Instead of the old-fashioned "Linear – Knowledge – Long" model, an agile approach allows you to respond quickly to changes within your organization and learner behavior. We were challenged to assess our own eLearning efficiency with a series of probing questions, including:
What is the driver for your learning and training?
What do you want learners to be able to do once training is complete?
What is the learner's motivation?
Why is the behavior not happening?
Remaining focused on these key questions will help you to understand the behaviors you want to "Keep, Improve, Stop, Start" – integral to developing efficient eLearning programs for your organization.  
Using videos in online learning
The closing presentation outlined a series of practical tips on interesting ways to use video in online learning. Mairin Murray, Learning Services Manager at Aurion, played a range of video snippets from Aurion's vast library, all developed to enhance and support eLearning content.
Samples moved beyond the few forms typically associated with video to include variations like animated content, digital stories, product simulations, and explainer videos. Mairin advised a thoughtful approach to the use of video, focusing on how the format can be used to enhance, rather than distract from, the learning experience.
This final presentation also returned to the question of platform. The use of multiple eLearning formats is not supported by every learning management system. LearnUpon, for example, offers high-quality streaming that is compatible with YouTube, Vimeo, Wistia and Brainshark video content.
Things to consider when developing video content
Begin with an understanding of the learner behavior you aim to change
Keep the idea and execution as simple as possible
Look for ways to make learners active rather than passive
Bring your Subject Matter Expert to the shoot
Make your video accessible to all – consider accents, offer subtitles and transcripts where possible
We left Aurion's Learning Masterclass filled with excitement about the year ahead in eLearning. Many of the key trends were familiar to us here at LearnUpon, as the team is working to deliver the features that keep our customers a step ahead in the swiftly changing eLearning landscape.