8 eLearning Automation Tricks That Will Make Your Job Easier

Right now, delivering eLearning is easier than ever. With the right learning management system (LMS), we now have awesome features at our fingertips. These features enable you to stop micromanaging and start training faster and more efficiently than ever before.
8 LMS Automation Tricks
To help you find these, we've made a list of 8 features in your LMS. Each one can start you automating today.
Add learners with one simple connection
Just implemented an LMS or been using one for a while? Either way, we're sure you're trying to find the best way to add users. Many businesses choose a manual upload, adding users one by one or batch uploading with a CSV. This is fine, it works, but why not kick it up a notch by automating? 
If your business uses a database that holds the users you would like to add to your LMS, why not connect them? Be it a HRIS or CRM, API capabilities allow you to easily integrate your preferred software with your LMS. Then once a user is added to your database, they are then automatically added to your LMS too. There's no need to worry about adding your users, just sit back and watch them roll in!
Guide your learners with triggered notifications
So, now your users are added, how do you let them know it's time to start training? In your learning management system, you can send emails inviting your users to learn. Even better, these emails can be automated. 
You can set up notification emails that nurture your learners through their training. These emails are then triggered to send when a user has a certain interaction with your LMS. For example:
Portal Invites – These emails are sent to new users when they are invited to a portal

Enrollments – These emails are sent to users when they are enrolled on a course

Enrollment Reminders – These emails are sent when you have configured enrollment reminder emails to be sent for specific courses

And much more

You can also edit these emails to reflect your organization's messaging as well as add a personalized touch with a learner's name. Once set up, your emails will automatically send, giving you peace of mind that your learners know they have to get their training done.
The data you need right to your inbox
If you have an LMS, you will know that one of the most valuable aspects is the robust data you can get. From completion rates to progress reports, they show how your business's training is impacting your ROI.  
You can run reports manually within your LMS and get the information you need. However, if you are continuously running the same reports, it's time you consider automating. 
Simple to do, you can set up your reports to be sent on a scheduled basis. Whether it's daily, weekly or monthly, you can access all the invaluable information you need. Better yet, you can schedule reports to be sent out to anyone in your organization – LMS user or not – so you never have to waste time creating and sending the reports yourself.
Never miss a certification
Numerous different types of training require certification – compliance, customer software training, etc. Instead of having to manually update and send a certificate, you can handily automate this with your LMS.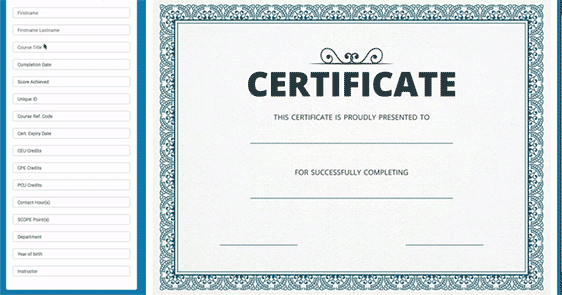 You can choose to attach a certificate to a course that is awarded to your learner after their training is completed. Added to this, you can customize the certificates you send. Custom fields, text, names – all can be added so your learner receives a personalized certificate proving they've done their work. 
And with say compliance training, it often needs to be recertified, be it every 6 months, annually, or every few years. You can automate this process too. It can be set up so learners are re-enrolled in their courses when they need to recertify. They'll receive a notification, prompting them that they need to retake their training with no administrative effort from you or your team.
Keep your learners on the right path
Once your learner has completed a course, you want to keep them engaged, continuing on their training journey. One automation method that ensures they will keep coming back is Learning Paths. 
Perfect for adding structure to learning programs, they allow you to assign your learners' multiple courses to be completed over a period of time. The courses are tied together and once a learner has completed one, the next course in the 'path' becomes available and your learner is notified.
With the ability to be rolled out well in advance of learners being enrolled, you will be assured your learners are completing all of their required courses.
Create groups, not individual enrollments
Within your LMS, you have the ability to enroll single learners into a number of individual courses. However, you can bypass the time it takes to add each learner with a clever feature – Groups.
Think of it as an enrollment engine – you create a group (e.g. your internal tech department or new customers) and then you can automatically add hundreds or thousands of learners to a course or a collection of courses in a couple of clicks.
Auto-Assign with rules
Groups have serious benefits, but you can take them a step further with auto-assign rules. This feature enables you to set up rules that allow you to place users in specific groups based on certain criteria, such as information on their user profile. 
As an admin, you set the rules (as many as you like!) and when your learners enter the LMS, they're automatically placed into appropriate groups. Once setup, it's an automation machine for sorting enrolling and scaling your users.
Know your webinar attendees
Holding webinars is an invaluable way to engage and connect with learners in remote locations. However, many companies still mark their webinar attendance manually. This is tedious, especially if you have large numbers of learners watching. 
A sigh of relief is often exhaled when admins hear the manual update is not needed. If you choose to integrate your webinar tool with your LMS, your data will then be synchronized between the two platforms. That means if a learner attends your webinar, this information is recorded in your LMS. You can clearly see who attended and you don't have to waste time checking and updating manually.
Quit laborious tasks and save your time
Quick to set up, invaluable time saved – automating your learning management system is well worth it. From enrollments to reports to groups, try out these simple automation features today and see how they can help you deliver efficient, successful training. 
Do you have an LMS? Let us know what features you find helpful in the comments below.