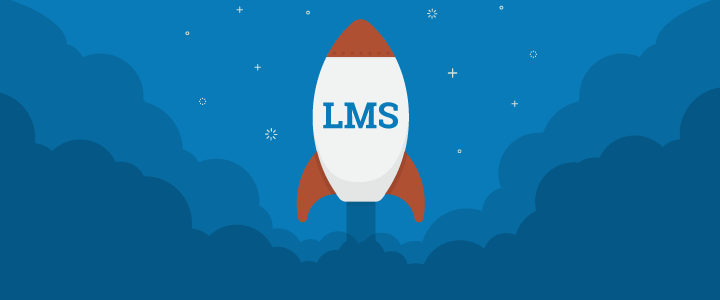 7 Signs that You Need an LMS for Your Business
Is your business ramping up its training efforts? Or becoming overwhelmed with its current training structure? It may be time for you to invest in an LMS. Quick to set up and built to streamline your business's training, it could be a savvy move that impacts your business's bottom line.
What is an LMS?
First, let's clarify what actually is an LMS? A learning management system (LMS for short) is a software application for the creation, delivery, tracking, and reporting of eLearning courses. 
Although each LMS is different, the majority are cloud-based and allow you to create courses, enroll and report your users' learning. They also come with a number of sophisticated features that can make eLearning particularly effective for your business.
Need an LMS? The Questions To Ask 
1. Do I have to train remote learners?
Training hundreds or thousands of people in an organization is a tricky operation, but when they're remote, it becomes a difficult juggling act. 

With most companies now having teams, employees, customers, members and so on situated across the world, it's vital that everyone can access their training when they want, or need to and that their training is tracked.
It's also essential that it's available on all devices as you can't always control how your learners choose to train. 

An LMS is a perfect workaround for remote training. Not only is your users training easily available to them, all they have to do is log in, you can also monitor their training and performance ensuring everyone is up to speed.
2. Do I have multiple groups of users to train?
A growing business has different groups they need to train. Internally, you can have new hire onboarding, compliance training, HR training, manager training, team training and much more! And externally, there's members, customer training, resellers, partners… the list goes on. 
The right LMS can help you train each and every one of these groups faster and more efficiently. With features including portals (train and manage multiple audiences in their own dedicated environment) and automatic enrollments, you can train every group you need.
3. Is it important for me to measure the ROI for our training?
Many businesses want to train, however, they find it difficult to measure the return on investment. This leads to it being ignored, underutilized and seen as a wasted resource. 

With an LMS, you can easily measure your online training.
Reporting enables you to track course progress, exam performance, training histories and what impact it's having on your business. You can also use these reports to enhance your online training, ensuring you get the greatest return on investment.
4. Do I need a centralized knowledge base?
As your business grows, it's training resources will grow too. Without a system in place to consolidate all of this invaluable knowledge, it may be unused, unshared or even lost, leaving your employees, customers, and partners with large knowledge gaps that could cost you money and missed opportunities for your business. 
An LMS overcomes this problem as it offers a centralized place for your learning. All of your organization's learning resources are kept together and can be accessed by all who need them.
5. Do I need to track compliance training?
If you're a business that needs to deliver compliance training to its employees, there are numerous factors to consider. You need to ensure that compulsory training has been taken within a certain time and completed by each learner. Depending on your industry you might also have external reporting requirements to organizations such as OSHA or the FDA. It's a lot to manage and track!  
LMSs that have features that meet the specific requirements of this training can really help. With course content delivery you can upload the materials, from text to video to audio, ensuring your learners get all of the information they need. Assessments can empower you to test your learner's knowledge so that you know the key learning points are being taken away. 
Reporting allows you to see who has taken the training and how they performed, reducing the manual workload of admins. And recertification automates enrollment, ensuring that your learners are re-enrolled and always up-to-date with their training. 
All of these powerful features combined take a headache out of doing compliance training and make it simple, trackable and straightforward for your learners and your business.
6. Is my time taken up with laborious manual tasks?
Traditional classroom-based training requires you to do a long list of manual tasks – book rooms, track registrants, create content for each of your learners, delivering and grading exams, track learners' progress and so on. It's time-consuming and expensive! 
Save yourself time, energy and money by investing in an LMS. These tasks can all be automated. By integrating your HR system with your LMS so that new hires are automatically enrolled in their courses or learning paths where learners are assigned a group of courses to complete, you can say goodbye to pointless micro-managing of your organization's training. And get on with other things!
7. Do I need to delegate training to people in my organization?
The bigger your training gets the more people become involved. Managing and delegating tasks to each and every one is a big burden to handle. 
One feature that eLearning managers find particularly helpful is user roles. If you have an LMS you can assign a certain role to people in your business. They can be:
Admins – have a full set of powers and privileges
Managers – a number of different privileges related to any groups they have been assigned to
Instructors – create and manage courses, receive assignments and facilitate your Instructor-led training
These roles make it easy for you to share responsibility, delegate and ensure your training is being delivered by the right people in your business.
What's next for you?
Depending on your answers, it should be clear-cut as to whether you, your learners and your business would benefit from an LMS. 

If the answer is yes, then it's time to move on to the next part of your journey – finding the right LMS for you.