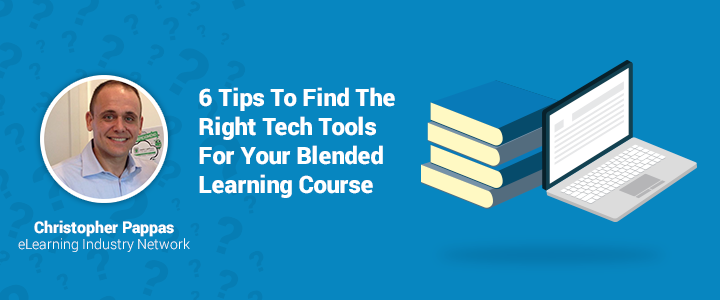 6 Tips to Find the Right Tech Tools for your Blended Learning Course
A blended learning experience combines face-to-face instruction with virtual games, interactive videos, and other web-based resources. This approach can offer a vast array of benefits, but only if you find the right tools for the task. In this article, I'll share tips that can help you find the perfect tech tools for your blended learning course. Blended learning is used by non-profit organizations, private learning institutions, and companies large and small. It is such a popular approach primarily because it capitalizes on the power of technology, without sacrificing the more personalized aspects of instructor-led training. One of the main challenges that online facilitators face is finding the right tech tools for their blended learning programs. In this post you'll find 6 top tips for choosing the ideal software and online training platforms for an effective blended learning strategy.
Identify your business goals before choosing your tools. The tools you ultimately choose for your blended learning course must serve one all-important purpose: supporting your business goals and objectives. Thus, before you actually select your tech tools for blended learning, you must clearly identify what you hope to achieve. Are you trying to boost the performance of your customer service staff? Do you need your sales team to boost their annual earnings? Do your employees need to become more proficient in a specific skill set? Sit down with your managers, staff, and any other key players to figure out how the technology must help you achieve your business objectives. Otherwise, you may end up with a top-notch tech tool that offers an abundance of features, but none of them are really suited to the needs of your organization.
Try before you buy. Many eLearning software vendors offer a free trial or demo so that you can try out the interface and features before you purchase the software. You may even want to choose a few employees, supervisors, and department heads to take the online platform for a test drive, just to make sure that it lives up to expectations. Also, don't forget to ask your IT department to try it out in order to gauge the functionality and flexibility of the tool. This can help you narrow down your list of potential blended learning tools and help increase your eLearning ROI.
Survey your learners to discover their preferences. Conduct surveys, focus groups, and interviews with members of your staff to learn as much as possible about their preferences, tech experience, and learning needs. Figure out which devices they use on a regular basis, as well as their level of comfort with technology, in general. Some employees wouldn't dream of leaving the house without their smartphones, while others may still be getting used to the idea of using mobile devices. It's important to find tech tools for blended learning that are going to serve the learning needs of every employee, not just the ones who are "digital natives".
Create a list of must-have features. It's wise to create a list of features that your new tech tool for blended learning must have, so that you can whittle down your list of choices more quickly. Once you know exactly what your tech tool must do in order to serve its purpose, you can then take a closer look at all of the options and figure out which online platforms are an ideal match for your organization. You may also want to create a list of features that you would like to have, but don't necessarily need, for example, more advanced integration options. This list can actually serve as a tiebreaker if you are debating between two tools; the one that checks more of the boxes on your "want" list is probably the best investment.
Ensure that it is intuitive and flexible. The tech tool you choose for blended learning should be user-friendly and flexible. Employees should be able to access online training activities with ease, and the interface must be intuitive. Keep in mind that some of your corporate learners may not be familiar with online training. Thus, they are likely to become frustrated if the online presentations are difficult to navigate or there are no instructions to guide them through an online exercise. If your Learning and Design department wishes to implement blended learning in corporate training using this tool, you must keep employees' skills and experience in mind as well. Ensure that the online platform offers them the perfect balance of flexibility and creative freedom, so that they aren't limited by the software or unable to use features that are too advanced.
Increase your ROI by opting for tech-forward tools. To make sure that you get the most out of your tech tools for blended learning, you must consider the needs of your organization now and in the future. If you invest in a tech-forward tool, you won't have to purchase new software when the technology changes or modern advancements become available. Thus, it can scale with your organization instead of holding you back. It's essential to carry out an in depth needs analysis before selecting your tech tools for blended learning, as this will allow you to predict where your organization is headed. More modern tools may require a larger investment, in some cases, but they can save you the expense of having to upgrade your software in the near future. Many vendors even offer free updates, particularly regarding cloud-based Learning Management Systems.
Use these 6 tips to choose the tech tools that are just right for your blended learning strategy, regardless of your corporate learner's needs or your budget. Also, keep in mind that Bring Your Own Device (BYOD) is also an option if you want to take a blended learning approach in your corporate training but don't have the necessary budget. This is a guest post by Christopher Pappas, founder of The eLearning Industry's Network – the largest online community of professionals involved in the eLearning Industry. Christopher holds an MBA and an MEd (Learning Design) from BGSU. Amongst other things, Christopher is an eLearning Blogger, EduTechpreneur, eLearning Analyst, Speaker and Social Media Addict.